PAGE CONTENT:
AOMEI Backupper is a useful backup and recovery program for Windows PCs. It is also one of the most commonly-used backup tools in the backup field. But is AOMEI Backupper safe? This article from EaseUS will tell whether AOMEI Backupper is safe to use and its pros and cons. And a better backup solution will be introduced to you. Hurry up and learn.
What Is AOMEI Backupper
AOMEI Backupper is a multi-functional backup and recovery tool compatible with Windows and Windows Server. It lets you create a backup plan that you can use for any kind of data loss. Thanks to the user-friendly UI, you can back up your data or restore it after a disaster with just a few clicks.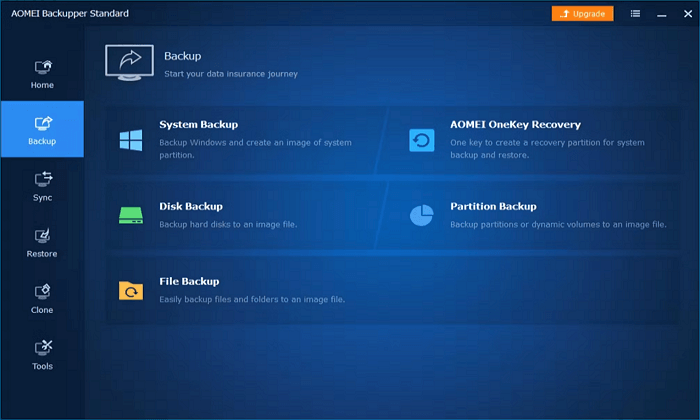 AOMEI Backupper can help back up files, OSs, disks, and partitions and install Windows 10 on a hard drive for another computer. Along with many other features, it offers full system image backups, disk partition and file-level backups, safe AES-192-bit encryption, file compression, scheduling options, and the ability to migrate Windows 10/11 from HDD to SSD.
AOMEI Backupper has 6 versions available: respectively, AOMEI Backupper Standard, AOMEI Backupper Professional, AOMEI Backupper Workstation, AOMEI Backupper Server, AOMEI Backupper Technician, and AOMEI Backupper Technician Plus.
But is AOMEI Backupper free? Yes, AOMEI offers a free backup solution - its Standard version. For the other 5 versions, you have to pay for functions.
💲Price of AOMEI Backupper
Standard - Free; Professional - starting from $39.95 per year (no Cloud); Workstation - starting from $49.95 per year (no Cloud); Server - starting from $149.00 per year (no Cloud); Technician - starting from $ 499.00 per year; Technician Plus - starting from $ 699 .00 per year.
🎯Key Features of AOMEI Backupper
Backup encryption
File synchronization
Support Cloud backup
Support restoring to dissimilar hardware
Supports command line cloning and restoring
Support disk cloning and migration operations
Bootable media creator (such as DVD, CD, USB drive)
Create scheduled, full, incremental and differential backups
✅Strengths of AOMEI Backupper
File syncing. It lets you synchronize files and folders on Windows, thus keeping files stored in several different physical locations up to date.
Disk/partition wipe. It lets you wipe all disk data and prevent recovery of those data.
Merge backup images. It enables you to merge all backup versions into a single image file.
⛔Weaknesses of AOMEI Backupper
Expensive. The price starts from $39.95 to $699.00, which is relatively higher than most backup software.
Relatively limited backup options. It has no intelligent backup and APP backup, and Cloud backup is only for files.
Low compatibility. It only works on Windows and has no version for MacOS.
Limited customer support. The Standard edition does not have technical support all day.
Is AOMEI Backupper any good? From the above, it can be concluded that AOMEI Backupper is a well-designed and reliable backup tool for Windows computers. But is AOMEI Backupper safe? Keep reading!
Is AOMEI Backupper Safe to Use
After knowing much information about AOMEI Backupper, have you been stuck on questions like "Is AOMEI Backupper safe?", "Is AOMEI Backupper Standared safe?" or "Is AOMEI safe?"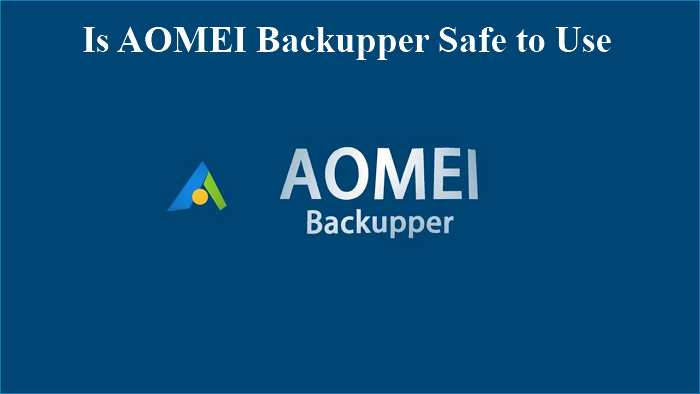 In a word, AOMEI Backupper is safe to use. It is a safe and reliable backup solution that can be trusted. It is a practical Windows backup tool that can help protect your computer and data in case anything goes wrong. You can feel free to download and use it.
But is AOMEI Backupper fully equipped as you might expect? The answer is negative. It also has some issues that cannot be ignored:
It has no dedicated online backup option.
It is not suitable for tightly budgeted users.
It does not offer its own Cloud backup option.
It is often buggy, and the compression hardly works.
One may fail to back up Outlook emails, a newly released option.
AOMEI won't be your first choice if you seek a simple backup program. Although the AOMEI Backupper's functions are tailored for business, it may be used for simple data backup. However, individual users could be turned off by the free version's inability to limit backup sizes, high cost, and the absence of a built-in cloud backup option.
Under such circumstances, using an AOMEI Backupper alternative would be your best choice to keep your computer or data safe and secure.
Best AOMEI Backupper Alternative Free Download
In the data backup and recovery field, EaseUS is a name that has to be mentioned. It has a longer history than AOMEI and a more excellent R&D team. Its own backup solution is called EaseUS Todo Backup, which can serve as a great alternative to AOMEI Backupper.
EaseUS Todo Backup Home is a multi-functional backup utility for Windows 11/10/8/7 and MacOS. It allows you to automatically back up files, systems, disks, partitions, and computer APPs or games, including Call of Duty and The Sims. Furthermore, it lets you save the backup in various locations, such as local or external drives, NAS, Security Zone, Cloud, etc. You can also utilize it to transfer your operating system from one PC to another.
💲Price of EaseUS Todo Backup
EaseUS Todo Backup has 3 versions: namely, Free, Home, and Business. The Home version has 3 pricing: Standard Yearly - $39.95; Premium Yearly - $59.85; Standard Lifetime - $79.95. The Business version also has 3 pricing: Workstation - $49/year; Server - $199/year; Advanced Server - $299/year.
🎯Main Features of EaseUS Todo Backup
Compress backup up to 80%
One-click backup and restore
Mount/unmount backup images
Encrypt backup with AES-256 encryption
Universal restore: restoring to dissimilar hardware
✅Pros of EaseUS Todo Backup
More affordable. Its pricing starts from 0 - $299.
Higher compatibility. It can run smoothly on both Windows and Mac.
Better after-sales service. You can enjoy all-weather after-sales service from professional staff.
More backup functions. You can enjoy more backup functions with EaseUS Todo Backup, such as backing up to FPT, modifying the backup plan during the backup process, file filtering, and backup image protection.
More Cloud backup options: It allows you to back up your computer to Cloud, such as Google Drive, OneDrive, and Box, and offers 250G Free Cloud Storage for any version.
More backup options. Except for full, incremental, and differential backups, it lets you create intelligent backups, hot backups, APP backups, scheduled backups, AI Smart backups, and Security Zone backups.
⛔Cons of EaseUS Todo Backup
Need an email account to register
Complex backup notification registering process
It can be concluded that EaseUS Todo Backup has more functions, more backup options, lower cost, and better after-sales services compared with AOMEI Backupper. If you want to find an AOMEI Backupper alternative, it can suit you well in various aspects.
Here is how to back up your computer to Security Zone with EaseUS Todo Backup.
Step 1. Select Backup Contents
On the main window, click the big question mark button to select backup contents. You can choose to back up individual files, entire disk or partition, operating system and mails.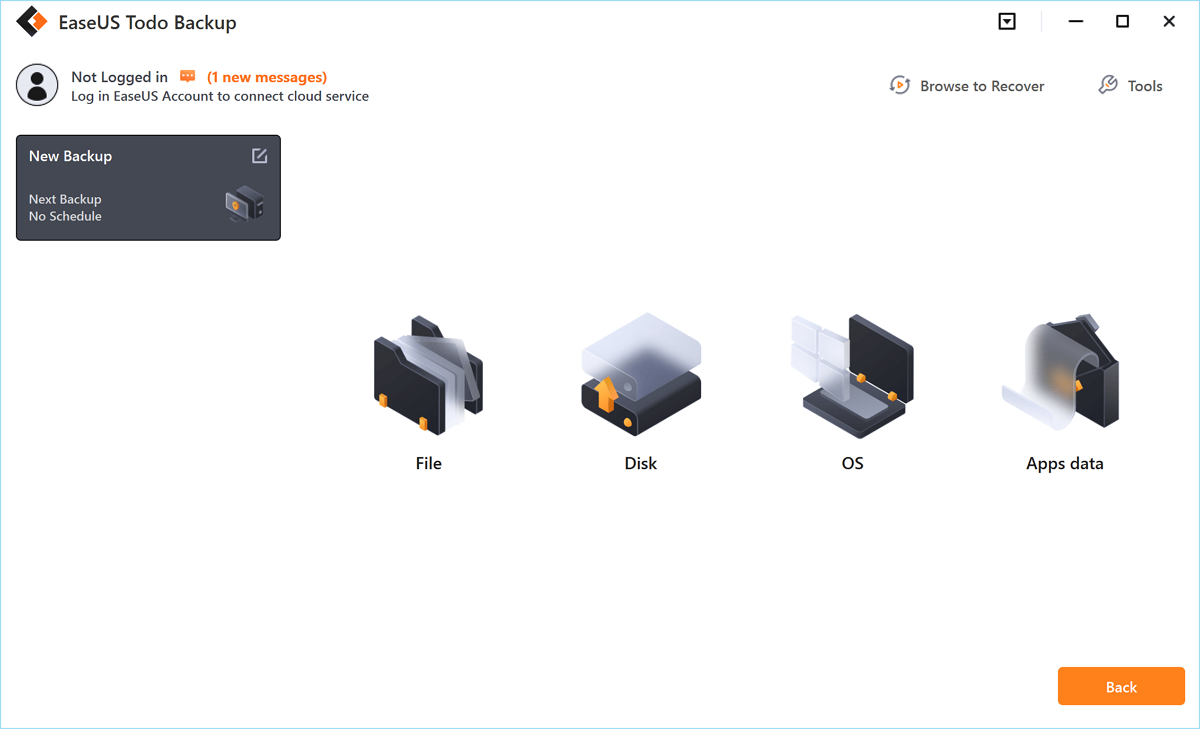 Step 2. Select Security Zone as Backup Destination
While selecting backup destination, you can see the Security Zone option. Click Security Zone and use it as a backup destination.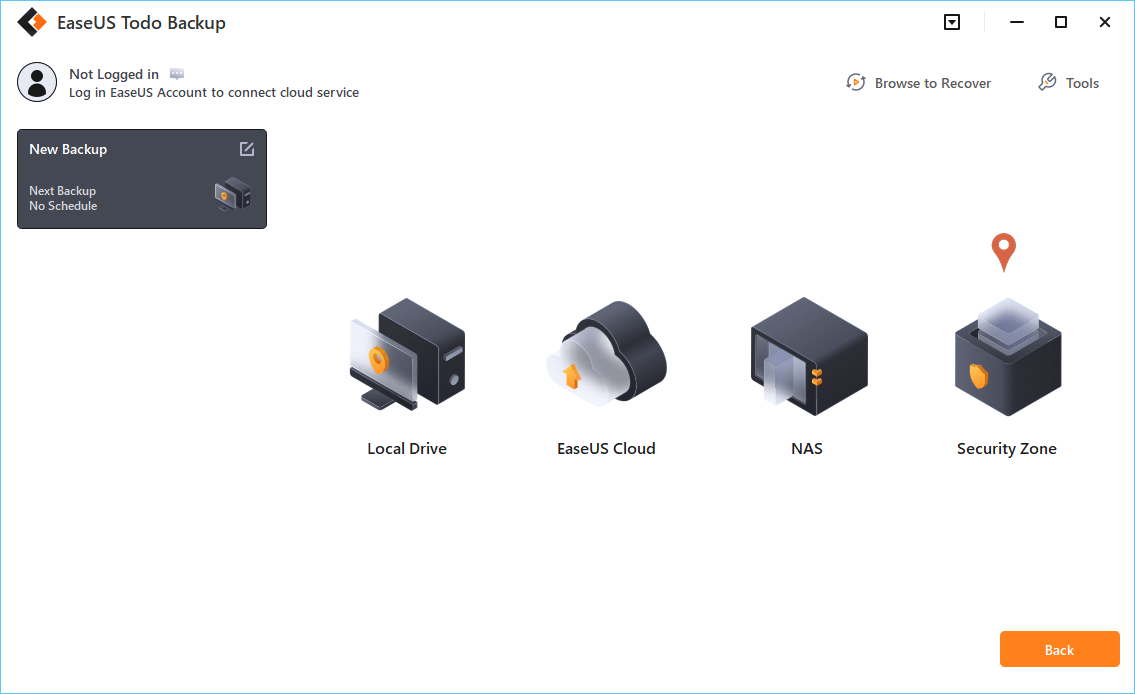 However, if you're first to use the Security Zone function, EaseUS Todo Backup will guide you to create one. Click "Create Security Zone".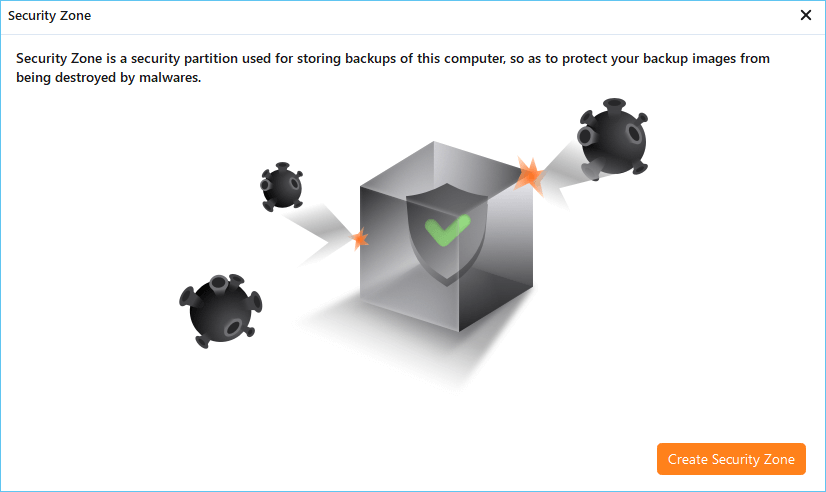 Choose a partition with enough free space for your backups and then click "Continue".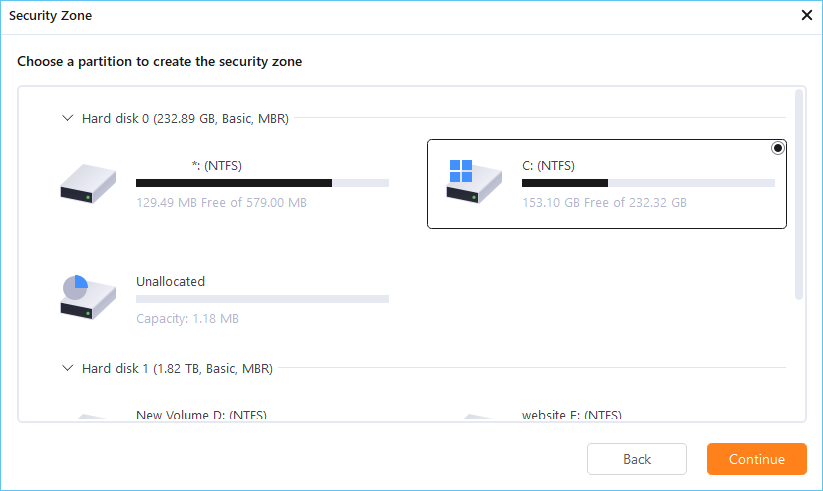 You can adjust the partition size for the security zone. Click "Create" to get it done.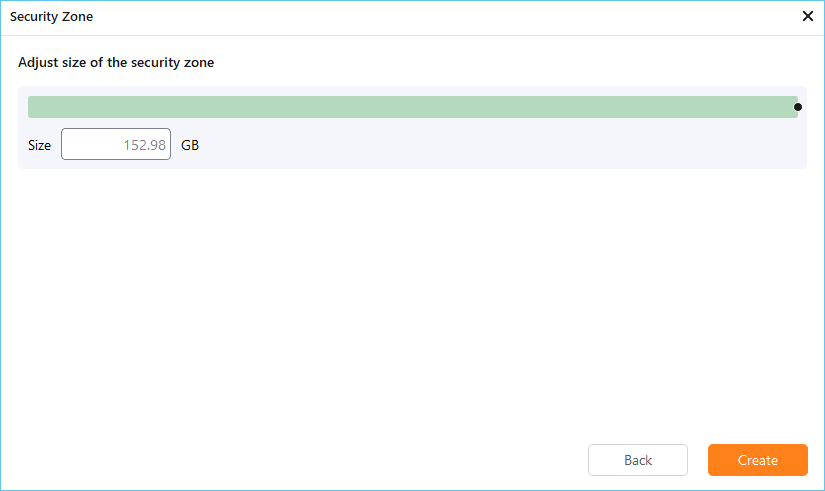 Step 3. Execute the backup task
Click "Backup Now" to start the backup process. Your backups of OS, files, drives and mails in the security zone will be fully protected from being seen or destroyed by virus, ransomeware and trojan. 
To Wrap Things Up
Is AOMEI Backupper safe? Have you got your answer now? Generally speaking, AOMEI Backupper is a safe and secure backup solution to keep your computer and data well-protected and safe to use. But it is not full-featured as you might think. Therefore, it would be better to find better backup software.
EaseUS Todo Backup is a practical backup utility with more backup options and fewer limitations. It can suit you well in different scenarios and cases. You can feel free to download and use it on your computers to safeguard your data. Just try it! It will not let you down.
FAQs on Is AOMEI Backupper Safe
1. What are the limitations of AOMEI free version?
If you are an AOMEI Backupper Standard user, you cannot enjoy the following functions, Cloud, backup, differential backup, backup encryption, real-time sync, universal restore, system clone, adjusting partition size, disk wiping, etc.
2. Does AOMEI Backupper work with Windows 11?
Yes, AOMEI Backupper is compatible with Windows 11/10/8/7. So, feel free to use it on your Windows computer to protect your data in case anything goes wrong.
3. Does Windows 11 have built-in cloning software?
Does Windows 11 have cloning software? The answer is no. Windows does not come with built-in cloning software. If you want to perform a cloning task, such as cloning a hard drive or migrating OS, you should turn to professional cloning tools, like EaseUS Todo Backup and EaseUS Disk Copy.
4. Is AOMEI really free?
The AOMEI Backupper Standard could keep your system and data safe and perform a speedy restore if necessary. But, most importantly, personal use is completely free.
Was this page helpful? Your supoport is truly important to us!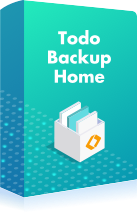 EaseUS Todo Backup
EaseUS Todo Backup is a dependable and professional data backup solution capable of backing up files, folders, drives, APP data and creating a system image. It also makes it easy to clone HDD/SSD, transfer the system to different hardware, and create bootable WinPE bootable disks.
Updated by

"I hope my articles can help solve your technical problems. If you are interested in other articles, you can check the articles at the bottom of this page, and you can also check my Facebook to get additional help."…

Read full bio