Small-to-medium business offices have dozens of computers, which were usually bought without Windows operating system pre-installed on them. Isn't it a great idea if it's possible to install Windows 10 on multiple computers at once? As Windows 10 now becomes the major Windows OS worldwide. To make Windows 10 installation easier and faster on many different hardware devices, EaseUS Deploy Manager is developed, providing an effective system deployment solution for setting up systems to new PCs and servers, returning PC and servers systems to a desirable state. It fully supports Windows 10 system deployment to different hardware all at once.
How Can You Free Install Windows 10 on Multiple Computers?
For your own experience, if a new PC was bought without Windows operating system pre-installed, it's really a time-consuming job to have a clean install of OS. What's worse, the job should become tougher for computer novice who don't know anything about Windows installation on computer's hard drive. But how about transfer system from an old computer to the new one? won't it be easier?
It's not hard to make your idea come true. Especially note that, if you prefer Windows 10, get in a hurry before the free upgrade ends in this July. Now leave the system deployment job to EaseUS Deploy Manager, which enables Windows OS restore from one Windows 10 computer to many different computer's hard drives without installing on each one. By this amazing Windows system deployment tool, you can deploy Windows 10 on countless computers for once. It should be widely applied for business owners, who have several to many computers to deal with.
How to Deploy Windows 10 to Multiple Computers with EaseUS Deploy Manager?
To make EaseUS Deploy Manager work at its utmost, you'd better do the following preparatory work:
1. There should be a Microsoft DHCP (Dynamic Host Configuration Protocol) server on your network.
2. You need to create a full system backup images which EaseUS Todo Backup generated without encryption can be deployed (The image should be stored on a network place where you can access from the master machine).
3. Ensure all the computers which you want to deploy System to are under same LAN.
4. Install EaseUS Deploy Manager.
5. Click the "Enable PXE server" to enable PXE.
After all the preparation was done, you can start to transfer Windows 10 system from one computer to others right away with the detailed guide next.
Step 1. Add computers with no system installed so far
Launch EaseUS Deploy Manager. To deploy different system images to different computers, creating machine groups would save you a lot of time from locating each computer. By default, there is a group called All machines. You can add your own group for machine management by clicking Create group.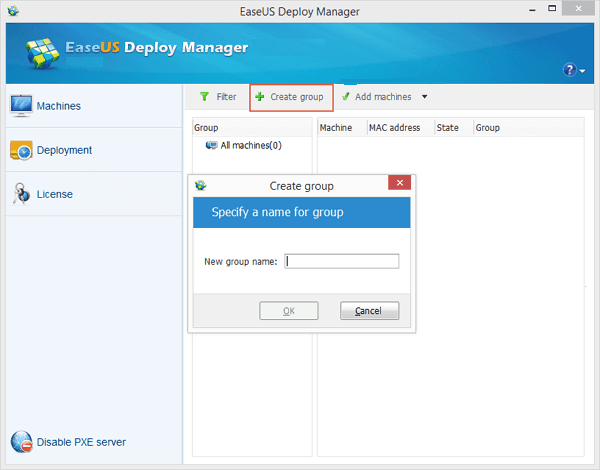 To add computers, you got two options.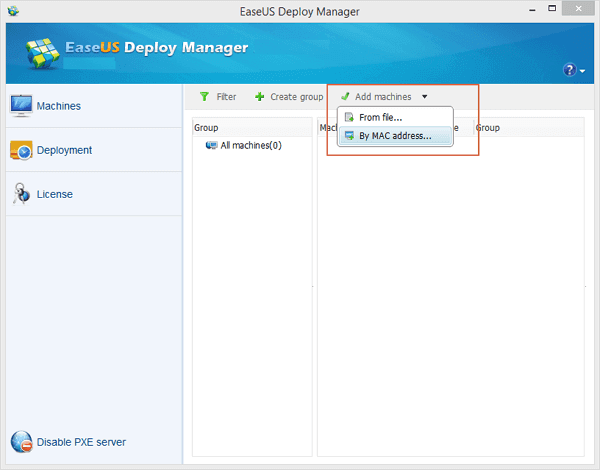 1) By Mac Address - Input the Machine's MAC address, Alias name, and choose the Group to add a single machine.
2) From file – Import a machine list file to add multiple machines. The file should be a TXT file and items should be as the follow Pic. Separate Mac address and Alias with Space or Tab.
Step 2. Create a deployment task
Click Create in the Deployment page to create a task for Windows 10 deployment, by which you could enter a task name and determine which machines would execute the task.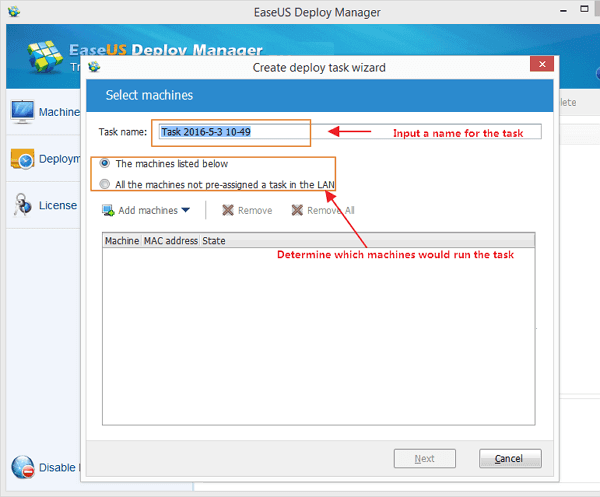 Step 3. Deploy Windows 10 to target computers
Select the created task, then click Run to execute the deployment task. After the task is complete, you could have Windows 10 system running on all the target computers without any hassle.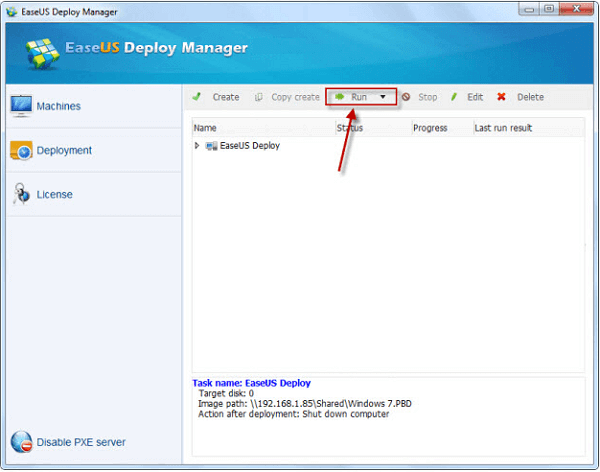 Do not wait any longer. Windows 10 free upgrade from Windows7/8/8.1 will soon put to an end. It's the prime time to install Windows 10 on multiple computers at once by applying EaseUS Deploy Manager, the best Windows deployment tool in the market.