"The default browser in Windows 11 is Microsoft Edge, but I'm used to Chrome, how can I set Chrome as the default browser in Windows 11?"  I believe that many users have the same kind of problem. 
Some people would ask the question "What is the default browser?" When the user clicks on a web file or application to open a web link (URL), the default browser is the application that is automatically launched. While some other people may ask "Is default browser necessary?" Actually, you will gain some benefits and feel convenient after setting up a default browser:
After setting the default browser, there will be no more window to prompt you to choose which browser to open the web page. Instead, it will use the specified browser by default.
Different browsers have different browsing styles and speeds. You can set the default browser to follow your favorite pages, find your saved bookmarks, and choose your favorite browsing style.
Accelerate opening web pages, and unnecessary window pop-ups will reduce.
How to Set Chrome as the Default Browser in Windows 11?
I believe that many of you are accustomed to using one or two kinds of browsers as your default browser, right? As I know many people love Google Chrome. Today I will tell you the way to set Chrome as your default browser in Windows 11.
Step 1. Open Settings (using the Windows keyboard shortcut Win + I) and go to the "Applications" tab from the left pane. Then, click on "Default Applications" in the right pane.
Step 2. In the Search Applications field, enter the name of the application that is currently the default browser on your Windows 11 PC. 
ps: My default browser is Firefox and you can search Microsoft Edge.
Step 3. There'll be a list of extensions and file types, click one extension at a time and use the pop-up menu to change the default value to Chrome.
Step 4. Reboot your computer.
Microsoft Edge vs. Google Chrome
Which browser will you prefer? Many people surf the Internet, watch online movies or play online games for quite hours. A smooth and convenient browser is essential to them. Without a doubt, for most of you, that preference will be Google Chrome, which is by far the most popular browser on both desktop and mobile. But does that mean it is the best browser? Another browser favored by people is Edge, the browser Microsoft released. To find out which browser is best, we're going to make some comparisons between Microsoft Edge and Google Chrome.
The Google Chrome and the Microsoft Edge browser are built on Chromium baseline as a backend. Chrome is supported with the Google ecosystem, whereas Edge is with Microsoft. Microsoft Edge and Google Chrome do have a lot of similarities, you can use them for searching, entertainment, etc. However, in some aspects, these two are slightly different. Let's see some of these differences.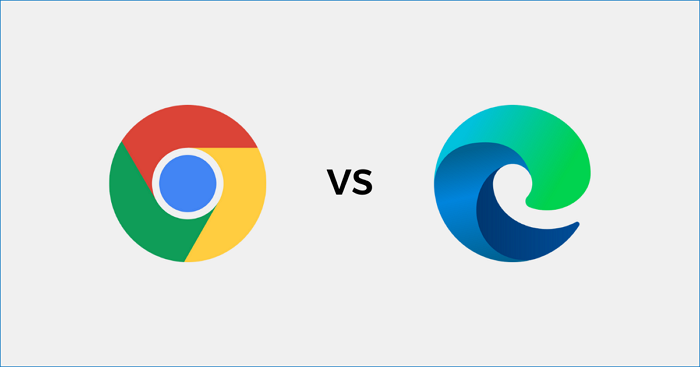 Speed and performance
Chrome's engine makes the Edge faster, and managing RAM became simple. The response speed is lightning fast and can be easily connected to all the web pages. The main difference between the two browsers is RAM usage, and in the case of Chrome, RAM consumption is higher than Edge. In terms of speed and performance, Chrome is a good choice but comes with a heavy memory. If you are running on an old configuration, I'd suggest Edge Chromium.
Extension support
A lot of improvements have been made to extension support on Microsoft Edge, and any extension that works on Chrome can now also appear on Edge. However, key features and functionality based on extensions are still missing. In Google Chrome, users can easily access extensions by simply clicking on each program's icon, it is much faster than Edge.
Security and privacy
Microsoft Edge incorporates an intelligent filtering system to protect the browsing database. However, Edge users face the problem of the delay in regular updates. On the other hand, Chrome has its database protector where malicious websites are easily detected. It also has frequent updates and a responsive alert system. However, in the aspect of protecting the database, Microsoft Edge is better than Chrome.
The Problem You May Meet
"This morning I opened up Chrome as usual and was horrified to find my bookmarks bar nearly empty. All my carefully organized and saved sites are gone. After searching a bit online, I found this isn't an uncommon issue."
It seems that sometimes things on our computers or phones disappear for no apparent reason. Google Chrome's bookmarks are no exception. The most common reason for Google Chrome's bookmarks to disappear is a badly loaded website. 
So, if you get stuck in this situation, don't be scared your Chrome bookmarks will permanently disappear. If you surf the Internet, you will find some methods that can be helpful. How to restore lost Chrome bookmarks? This article will tell you more about the workable solutions: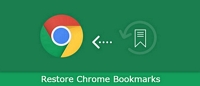 Extra Tip: How to Avoid Losing Bookmarks Again?
You lost bookmarks this time, but next time you may lose images, files, or systems due to some unexpected circumstances or personal mistakes, etc. Frequent use and access to data require you to make regular backups. Taking precautions is a wise choice. All you need to prepare is the free software - EaseUS Todo Backup. It is free backup software, which lets you create backups of your important files or your entire computer through its streamlined interface. This kind of software provides full, incremental, differential, scheduled backups. Download EaseUS Todo Backup, which is useful.  
Conclusion
All in all, you can change your default browser to whatever you like. If you want to set Chrome as your default browser, you can follow the steps mentioned above now. On the other hand, if you are interested in EaseUS Todo Backup, please visit our website.
Updated by Gemma
Gemma is member of EaseUS team and has been committed to creating valuable content in fields about file recovery, partition management, and data backup etc for many years. She loves to help users solve various types of computer related issues.
Taking everything into consideration, we can say that EaseUS Todo Backup Home can offer you a little extra sense of security with a set of advanced tools. The interface provides quick adaptation, every process guiding you all the way through so you don't get stuck or further damage your system rather than keeping it safe.

 Read More

EaseUS Todo Backup Free lets you create backups of your important files or your entire computer through its streamlined interface. Just choose the backup type you'd like to get started, and let the program do the reset.

 Read More

EaseUS includes all the features I expect from backup software like versioning, incremental backups, and scheduling. For more advanced users, EaseUS allows you to install a pre-boot environment onto your hard drive so you can use it to restore files without burning a CD or putting it on an external USB drive.

 Read More

EaseUS Todo Backup
Smart backup tool for your files and entire computer in Windows 10/8/7.
Install Windows on Multiple Computers at Once? No Problem!
Learn how to install Windows 11/10/7 and special programs/software on a batch of computers. Use 10 minutes to do the 10 hours work without making a single mistake!
Get Free Solution!