Need to Make Auto Backup? Check This Article to Know How!
Updated by
Jean
on May 07, 2022
The backup process is an integral part of data protection. By keeping multiple copies of your files, they act like spare parts – not used until the main files are lost, damaged, or must be restored due to other reasons. Many users, however, don't have a habit of backing up regularly. As a result, once there is data loss, they might not be able to restore the missing file or restore a significantly older version, losing a lot of data and time in the process.
Most backup tools support automatic backup settings, including the built-in Windows File History tool. With File History, Windows will automatically back up selected folders into an external device regularly. Using the automatic backup system ensures that you can always restore lost files in an emergency, no matter the situation. In addition, backup tools support various storage locations, such as an external drive, cloud storage, or other computers.
This article will show you the steps to enable and use a built-in automatic backup tool for Windows 10. In addition, we will also introduce another backup software, EaseUS Todo Backup. Scroll down to Part 4 for more details on this reliable automatic backup software.
How to Setup an Automatic Backup on Windows 10
To activate Windows File History, first, you will have to connect an external storage device to your computer. Next, check that there is sufficient space on the drive, then follow the steps below.
Step 1. Right-click the Windows icon, choose Settings to open.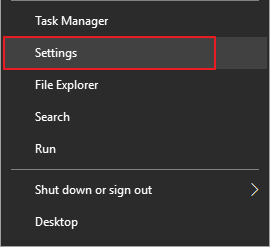 Step 2. Click on Update & Security.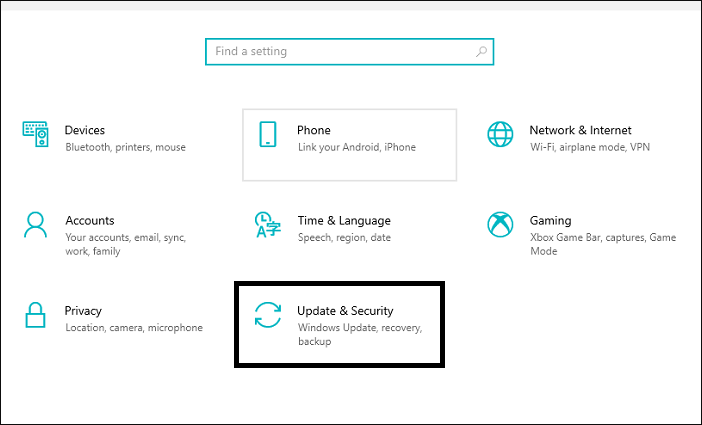 Step 3. Select Backup, click "Add a drive."
Step 4. Select the external drive that you want to use for backups.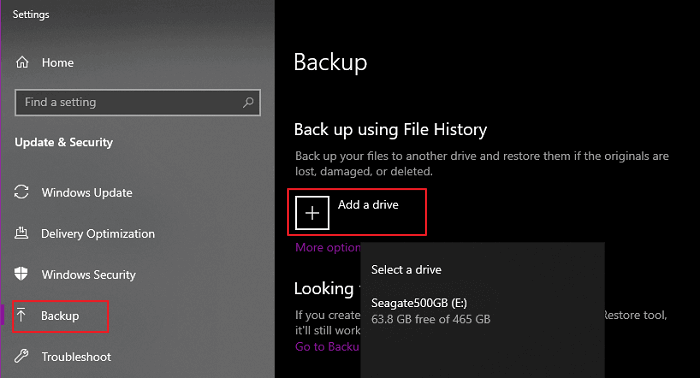 Step 5. Set "Automatically back up my files" to save your settings.
Once activated, Windows File History will back up all folders in the user account folder (C:/Users/username). Inside this folder will be many of your commonly used folders, such as Desktop, Documents, Downloads, Pictures, and some others. You can add other folders or edit the backup schedule using the following steps:
Step 1. On the Backup menu, click "More options."
Step 2. You can set the backup schedule as needed, along with how long you want File History to keep your backups.
Step 3. Click "Add a folder" and select any additional folder you want File History to backup automatically.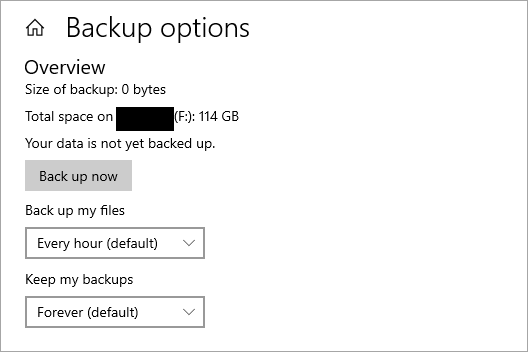 How to Restore Files from File History Backup
Once the automatic backup schedule is set up, you can restore previous versions of the backed up files using the following steps:
Step 1. Connect the external hard drive with the backup data to your computer. This backup doesn't need to be created on this computer.
Step 2. Go to the Backup menu, click "More options." Scroll down, and then click "Restore files from a current backup."
Step 3. File History will show you a list of all backed-up files at each restore point. You can select files or folders to preview by right-clicking and click Preview. Then, navigate between different backup restore points using the arrow button.
Step 4. Once you have selected the files and folders you want to restore, click the restore button.
Alternatively, if you want to restore a single file quickly, you can right-click the file then select "Restore previous versions." You will see a list of all available backups from File History. You can choose a restore point to preview, save, or copy to a new location.
Third-Party Automatic Backup Software vs Windows File History
There are many automatic backup software that you can download and try out. Unfortunately, many of them have restrictions, requiring you to purchase a license code to use the tool. This may make finding the perfect backup tool hard for users looking for a quick and easy way to secure their files.
Even though these tools have varying compatibility and features, third-party software is often a more robust alternative to the Windows Automatic Backup tool. Windows File History is primarily designed for a simplistic user experience. However, this can limit the functionalities available to the user. Thus, third party software publishers make it a selling point to provide more advanced utilities, such as:
In-depth backup plan allowing users to fine-tune as needed
Supports backing up an entire disk partition or operating system
More efficient backup performance, making the process faster
Overall, you should pick a third-party backup software when you need better functionalities or have to back up large amounts of data regularly. We recommend using our backup tool, EaseUS Todo Backup, which can quickly help you with all kinds of data backups.
Your Reliable Backup tool, EaseUS Todo Backup
At EaseUS, we have developed a professional, feature-rich backup tool suitable for all types of users. EaseUS Todo Backup can automatically back up frequently used files or any selected files and folder with an easy setup of a few clicks. Even with many features, we have designed the interface to be clean and straightforward, ensuring that you can find what you needed with ease.
With EaseUS Todo Backup, you can choose between full, incremental, and differential backup types to suit your needs. And if you are looking to store confidential data safely, we also support backup encryption, so you don't have to worry about security issues anymore. Apart from basic file backup functionalities, this reliable tool can also backup or clone the operating system. Creating a USB drive with Windows installed is also possible with EaseUS Todo Backup.
You can download the software from the button below, and follow the step-by-step guide to see how to create backup files with EaseUS Todo Backup.
Step 1. To begin the backup process, click the Select backup contents button.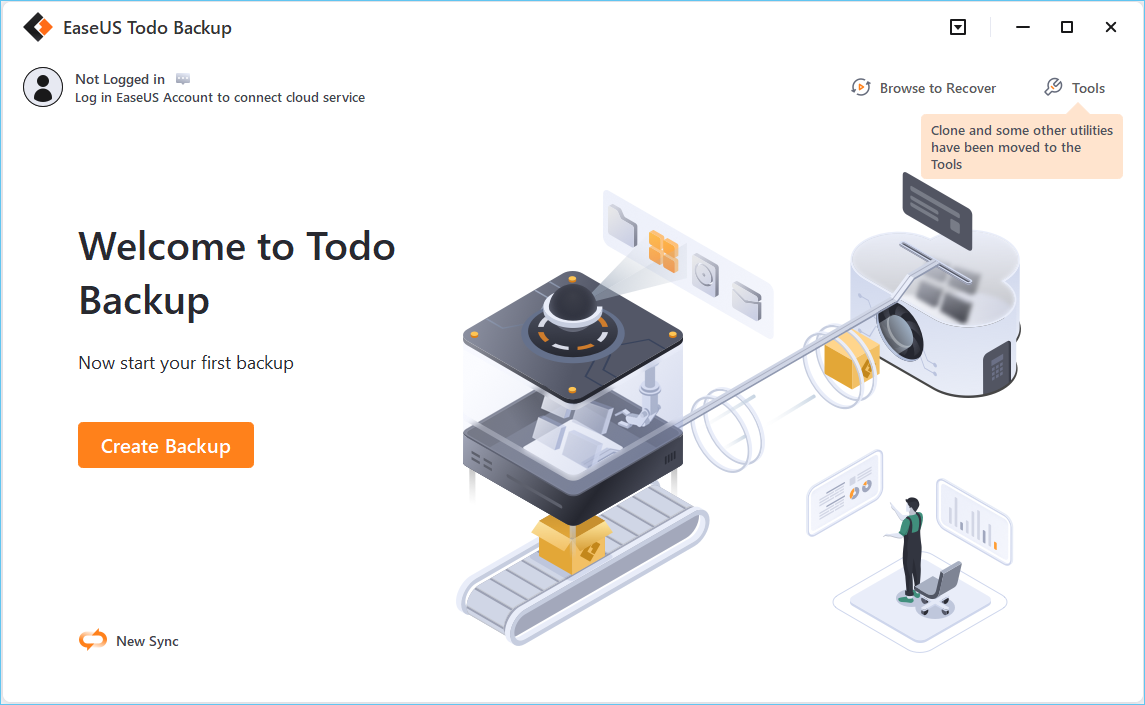 Step 2. Four data backup categories are listed: File, Disk, OS, and Mail.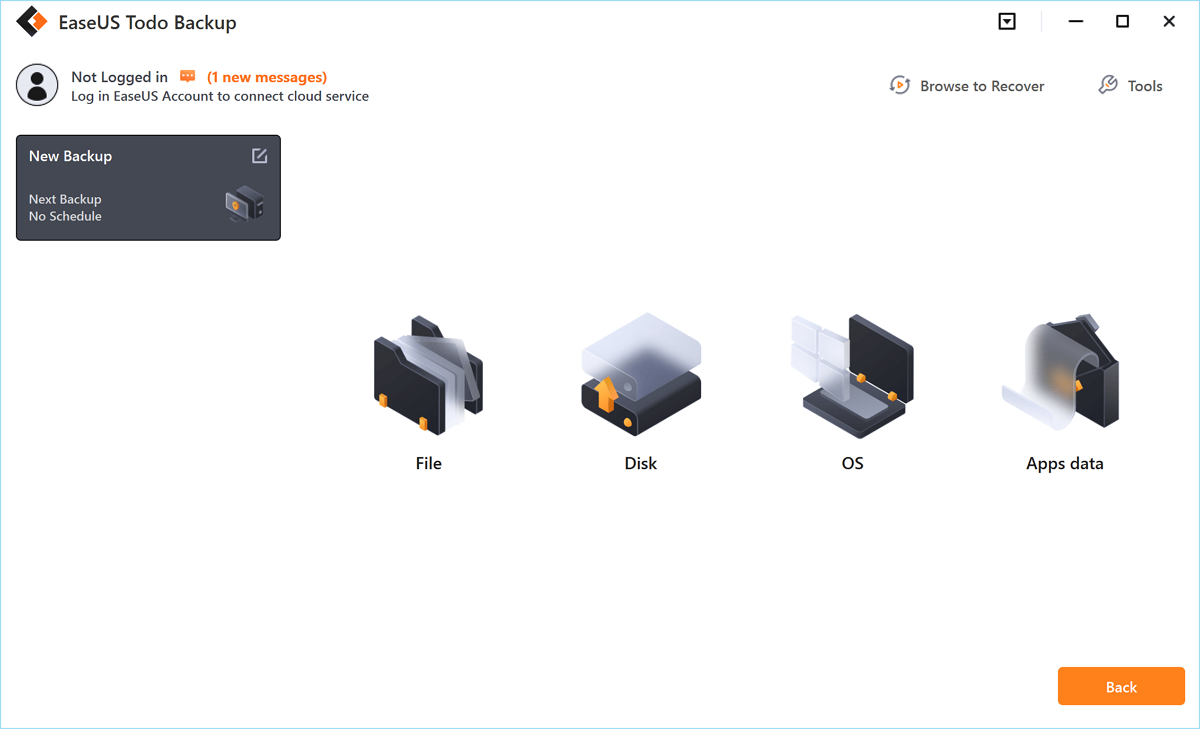 Step 3. Lists of both local and network files are shown on the left-hand side of the screen. Expanding the directory so that you can choose the files to back up.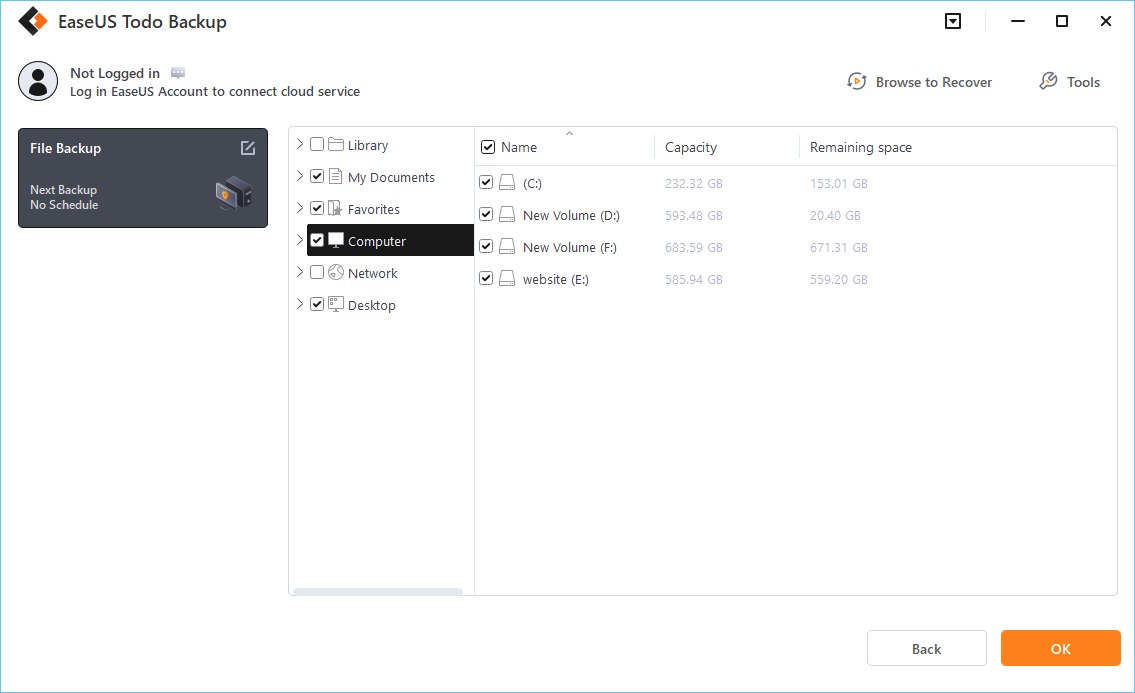 Step 4. Follow the guidance on the screen and choose the place where you want to store the back up.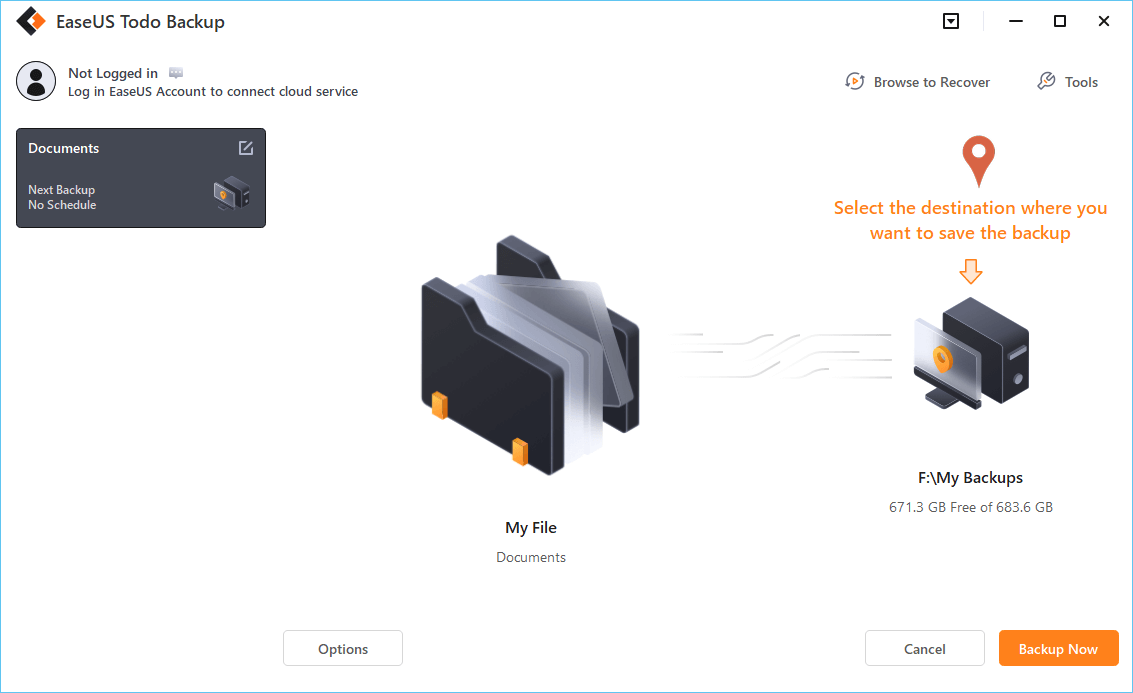 Make sure that the backup is encrypted and set the backup schedule by clicking Options in Backup Options. You can also choose to start the backup at a certain time in Backup Scheme by clicking Options. There are many other customizable options that you can look into.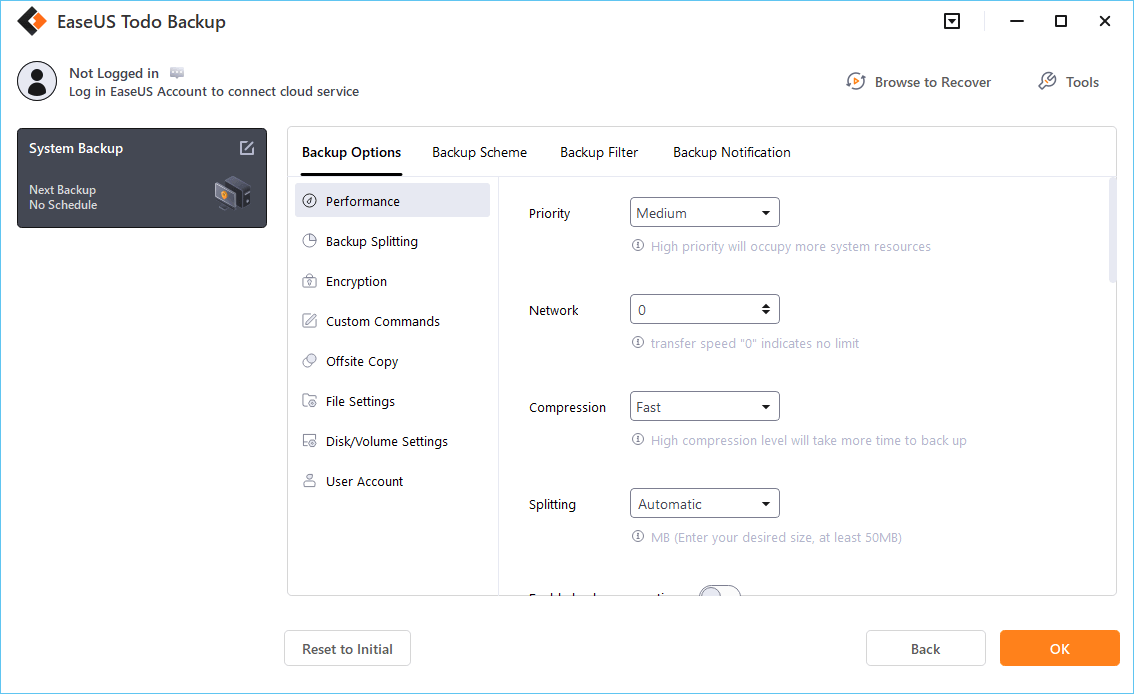 Step 5. You can store the backup file either on your computer, in EaseUS's cloud service, or on a network-attached storage device (NAS).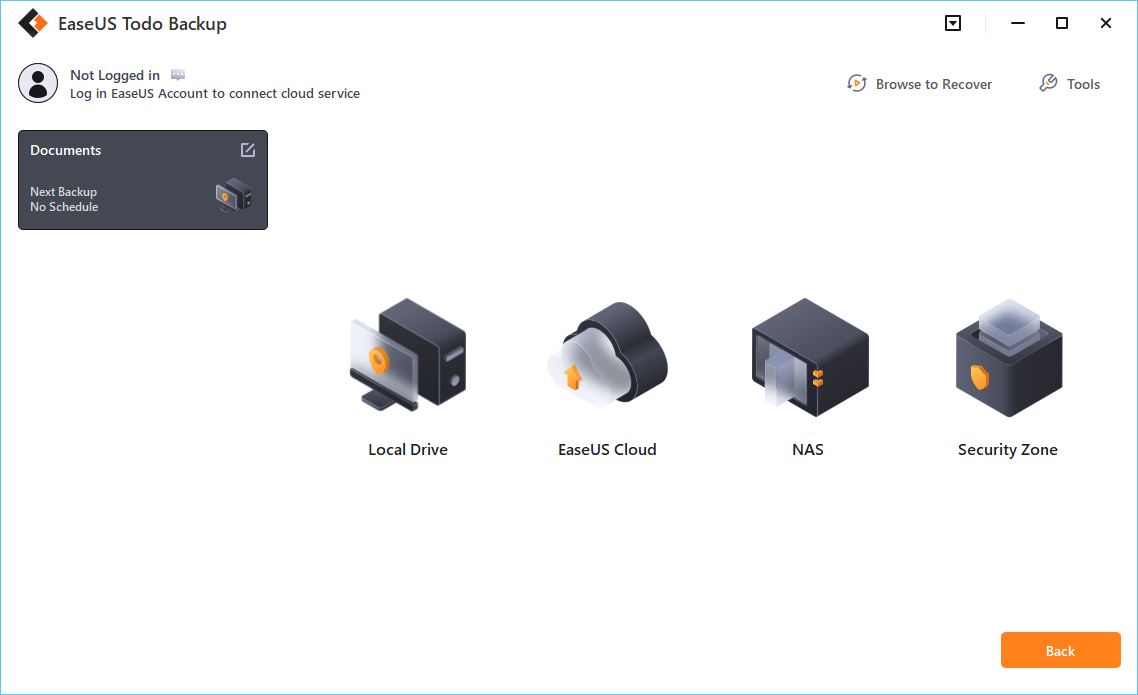 Step 6. EaseUS Todo Backup enables customers store backup copies of their files on a third-party cloud drive or on the company's own cloud storage.
If you want to back up your data on a third-party cloud drive, select Local Drive and scroll down to add Cloud Device. Then fill in your account information.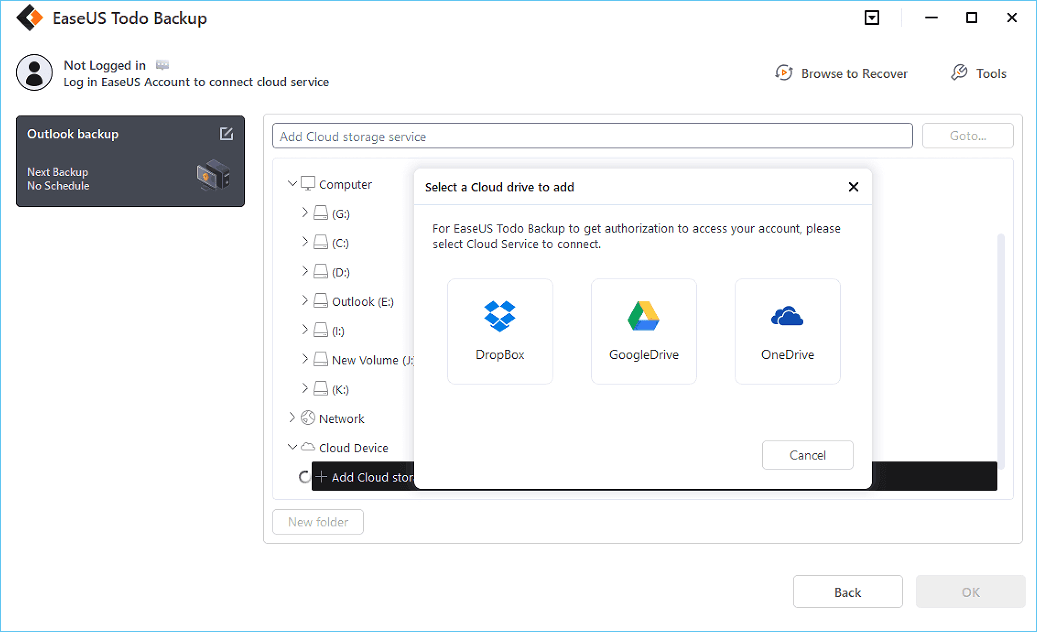 Click EaseUS Cloud, then sign up and log in with your EaseUS account if you wish to store backup files to EaseUS' own cloud storage service.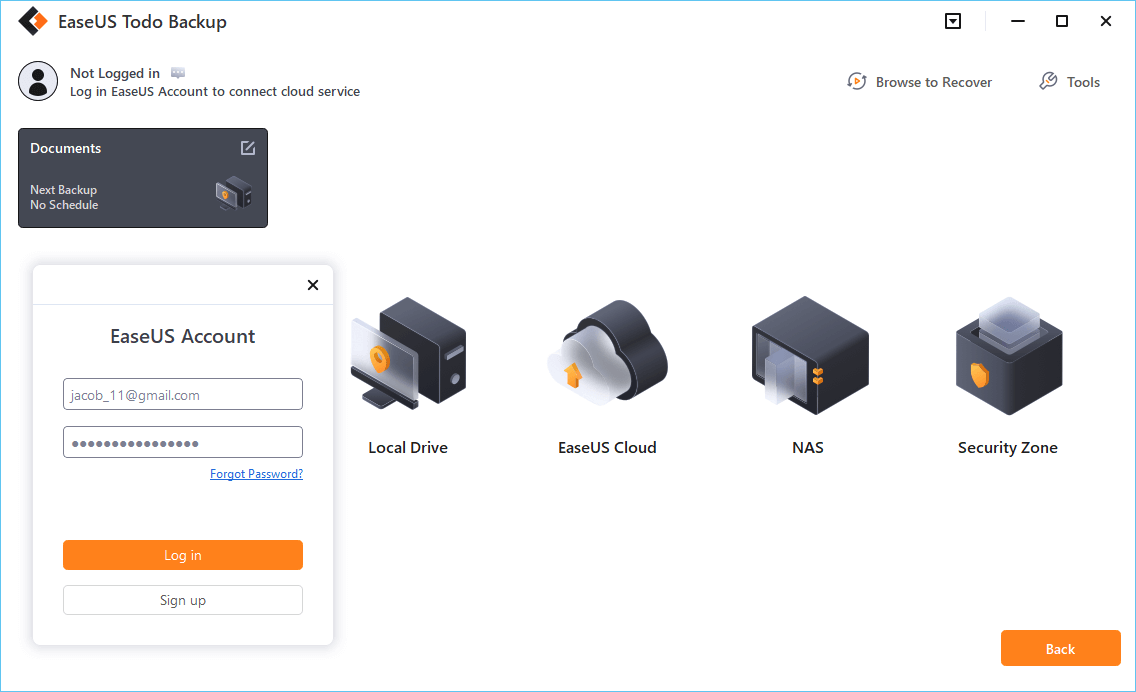 Step 7. Click on Backup Now to start a backup.  When the backup process is done, it will display as a card on the left-hand side of the screen. A right-click will let you see more about how to handle the backup job in more depth.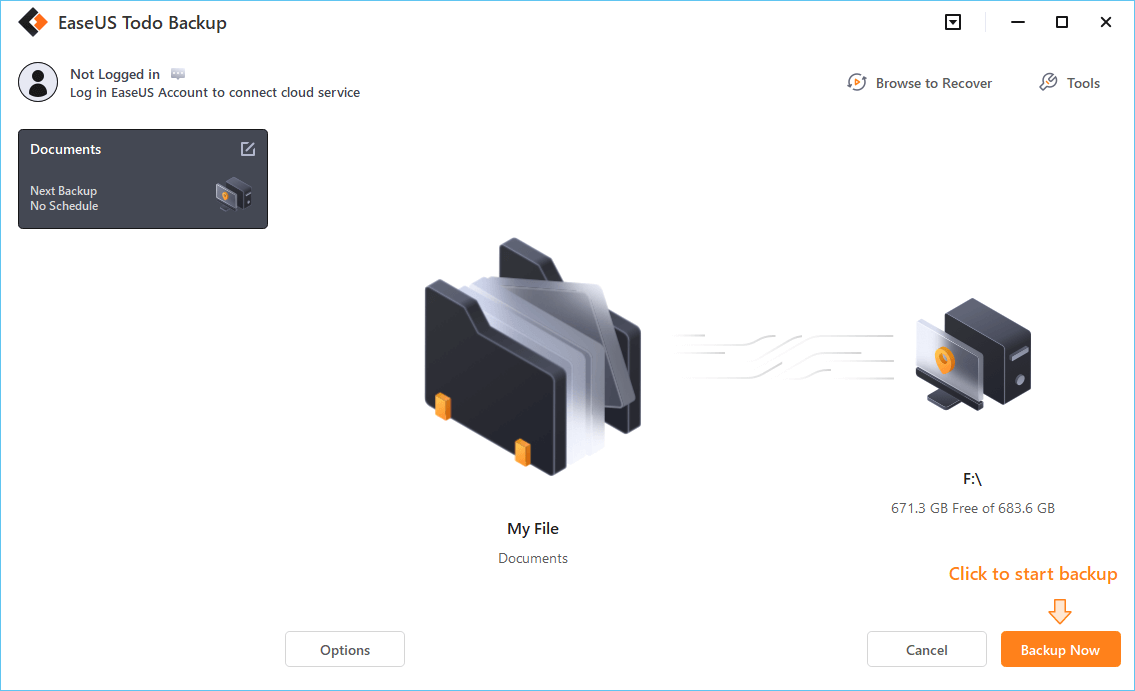 With EaseUS Todo Backup, you also have access to 24/7 technical support no matter the issue. Our skilled specialists will guide you through the backup process, answer your questions, and much more. We have also made a detailed user guide explaining various EaseUS Todo Backup Features such as file backup and system backup.
Conclusion
An automatic backup system helps you protect crucial data on your system by creating new backup regularly. Windows' built-in backup tool is capable of performing this. However, other third-party tools are more feature-rich and can be used more flexibly than Windows File History. One such tool is EaseUS Todo Backup, and we strongly recommend that you try out the free trial and start backing up your important files today.

Author Jean has been writing tech articles since she was graduated from university. She has been part of the EaseUS team for over 5 years. Her special focuses are data recovery, disk partitioning, data space optimization, data backup and Mac OS. By the way, she's an aviation fan!
Gemma is member of EaseUS team and has been committed to creating valuable content in fields about file recovery, partition management, and data backup etc for many years. She loves to help users solve various types of computer related issues.
Taking everything into consideration, we can say that EaseUS Todo Backup Home can offer you a little extra sense of security with a set of advanced tools. The interface provides quick adaptation, every process guiding you all the way through so you don't get stuck or further damage your system rather than keeping it safe.

 Read More

EaseUS Todo Backup Free lets you create backups of your important files or your entire computer through its streamlined interface. Just choose the backup type you'd like to get started, and let the program do the reset.

 Read More

EaseUS includes all the features I expect from backup software like versioning, incremental backups, and scheduling. For more advanced users, EaseUS allows you to install a pre-boot environment onto your hard drive so you can use it to restore files without burning a CD or putting it on an external USB drive.

 Read More

EaseUS Todo Backup
Smart backup tool for your files and entire computer in Windows 10/8/7.
Install Windows on Multiple Computers at Once? No Problem!
Learn how to install Windows 11/10/7 and special programs/software on a batch of computers. Use 10 minutes to do the 10 hours work without making a single mistake!
Get Free Solution!