How to Clone Windows 11 to USB? Your Guide Is Here
Updated by
Gemma
on Oct 08, 2021
Clone Windows 11 - 3 Procedures:
If you are using Windows 11 PC, it's a good idea to clone your operating system to the USB drive. You may ask why? The answer is pretty simple! In the future, if the current Windows 11 installation breaks or you want to use your account on another PC, then you can plug the USB, which has a copy of your PC, and use it.
Now the question is how you can clone the operating system on a USB drive? Many of you may feel a hint of panic, and it's obvious for a newbie that creative bootable drive seems complicated, but in reality, the task only takes a few clicks.
Today here in this post. You will get an in-depth guide on cloning Windows 11 to USB and boot it on your PC. Follow all the exact guide steps to prepare a perfect Windows 11 bootable USB for you.
Can I Copy Windows 11 to a USB? Yes!
Many people usually ask can they copy Windows 11 to a USB? The answer is yes! You can easily copy Windows 11 to a USB which has sufficient space. There are several ways to clone the entire operating system (OS) to a bootable USB drive: Microsoft's media creation tool, CMD command-line utility, PowerShell, and third-party tools. One such tool is EaseUS Todo backup, it is powerful and multi-featured. Here in this article, we will focus on how to copy Windows 11 to a USB using EaseUS Todo Backup. Keep reading and learn more details.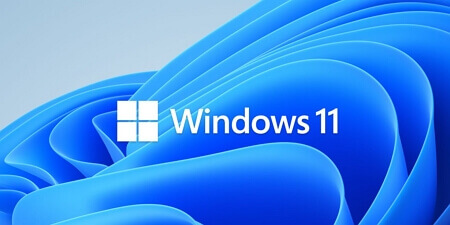 How to Clone Windows 11 to USB?
Here, you will learn the full guide of how to clone Windows to USB and make it bootable on any computer. Follow the exact steps properly. Let's start with more details. 
#1. Prepare
First, you need to prepare a USB drive having sufficient free space. The USB drive must be more spacious than the used space in the C drive of your system. To check how much space your system occupies, go to:
File Explorer> System Drive (C: Drive) > Properties > General> Used Space.
The third process is to initialize the USB drive to GPT. That's because Windows 11 requires the computer to boot in the UEFI mode, so the partition style should be GPT. Connect the target USB drive to your computer, go to Disk Management, right-click the drive and select Initialize Disk.
#2. Clone Windows 11 to USB
In this part, we will introduce how to use EaseUS Todo Backup to clone Windows 11. Download EaseUS Todo Backup from the button below and install it.
Now follow the step-by-step guide to clone your OS.
USB requirements:
1. Check how much disk space is used for the system C drive. Let's assume 40GB. Then prepare a qualified USB drive, of which the disk capacity must be larger than 40GB.
2. Do you use an empty new USB drive or an old one? Make sure that all the important data has been safely transferred because the system clone will overwrite data on it completely.
3. Correctly connect the USB drive to your machine and make sure that Windows has detected it and assigned a drive letter to it.
Follow the overall process to create a portable Windows USB drive and boot from it:
Step 1. Launch EaseUS Todo Backup. Expand the menu and click "System Clone" in the lower position.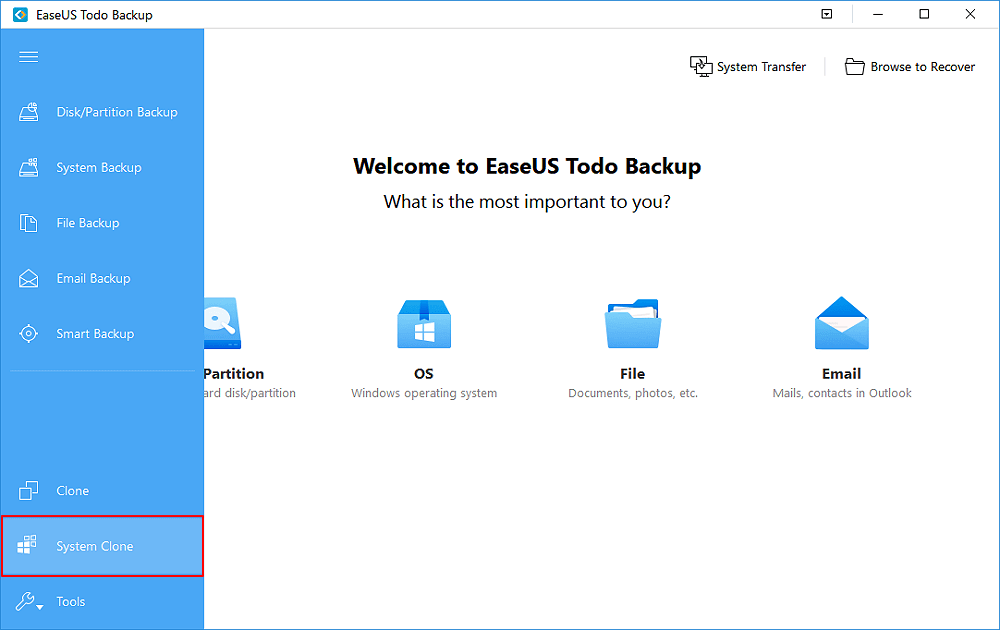 Step 2. On the "System clone" window, the software will choose the system partition and boot partition by default. Just Choose the USB drive as the destination disk. 
Click on "Advanced options" and then "Create Portable Windows USB drive". Click "OK".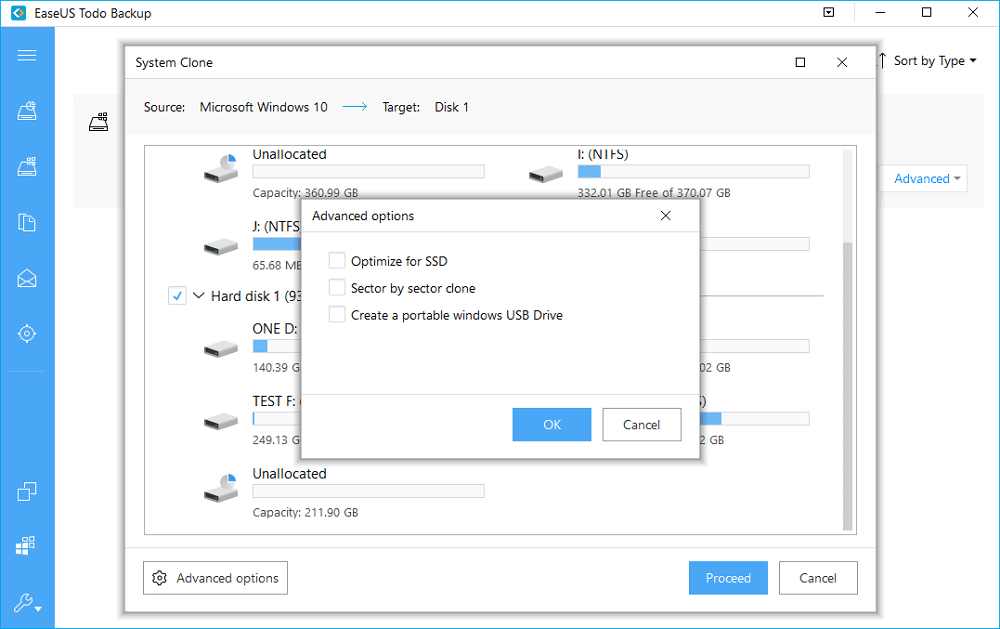 Click "Proceed". The software will start immediately cloning the default partitions of your desktop/laptop to the USB drive. After the cloning process is over, you can safely plug the USB drive out.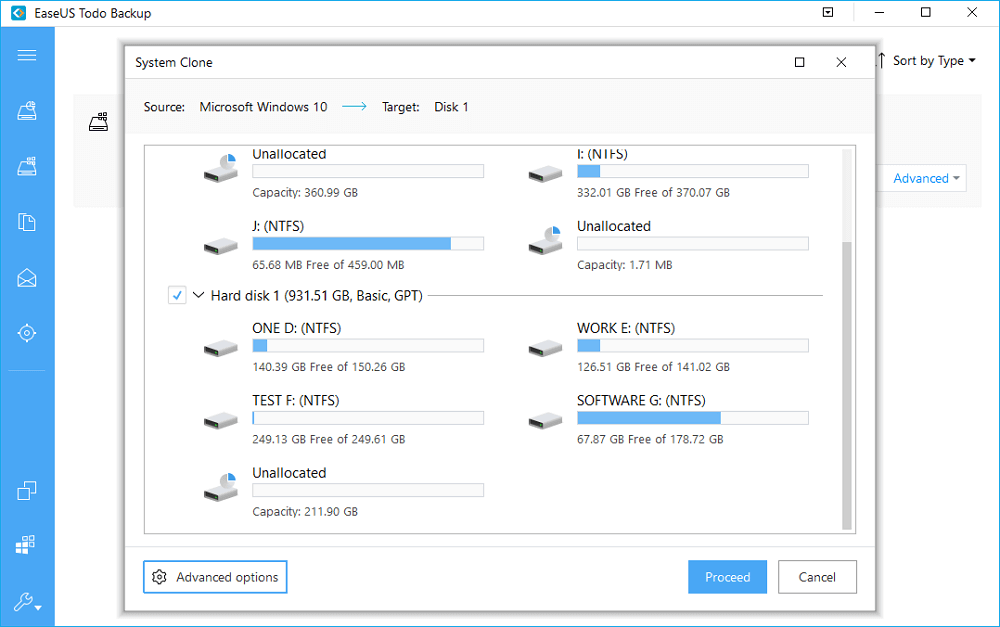 Step 3. Boot from the USB drive.
Connect your portable USB to the computer
Restart the computer and press "Del" to enter BIOS
Set the PC to boot from the portable USB by changing the boot order in BIOS under the "Boot" tab
Save changes and you'll see your system booting up from the USB drive
#3. Make Windows 11 Bootable on USB 
After successfully cloning Windows 11 on USB, now you can use that USB and boot Windows 11 on any computer anywhere. Here are the exact steps to boot your Windows operating system on your own or any other's new computer.
Step 1. Connect your USB drive to a computer.
Step 2. Restart the system and F2/F8/Del to enter BIOS.
Step 3. Change the boot order and set the portable USB as a boot drive.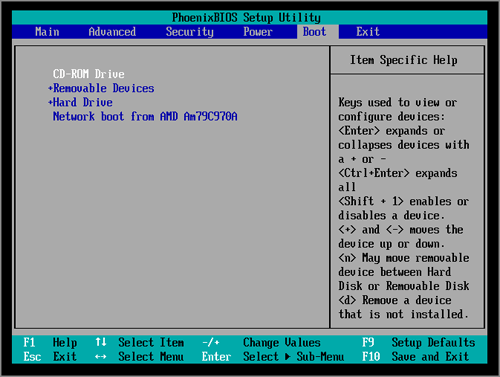 Step 4: Save the changes and exit BIOS and restart that PC.
Step 5: Now, wait for the PC to boot up and log in with your own user name and password.
Now you can use your system and install all the applications, even data, on a new computer without any issue. When you do it for the first time, Windows may install the drivers if it finds new hardware.
Conclusion 
Windows 11 cloning on USB is very simple and helpful also. With one little USB stick, users can take their own computer system anywhere and use it on any computer. One significant advantage of cloning Windows 11 to USB is, you can even run Windows 11 with the USB drive on an unsupported computer or a Mac.
Gemma is member of EaseUS team and has been committed to creating valuable content in fields about file recovery, partition management, and data backup etc for many years. She loves to help users solve various types of computer related issues.
Taking everything into consideration, we can say that EaseUS Todo Backup Home can offer you a little extra sense of security with a set of advanced tools. The interface provides quick adaptation, every process guiding you all the way through so you don't get stuck or further damage your system rather than keeping it safe.

 Read More

EaseUS Todo Backup Free lets you create backups of your important files or your entire computer through its streamlined interface. Just choose the backup type you'd like to get started, and let the program do the reset.

 Read More

EaseUS includes all the features I expect from backup software like versioning, incremental backups, and scheduling. For more advanced users, EaseUS allows you to install a pre-boot environment onto your hard drive so you can use it to restore files without burning a CD or putting it on an external USB drive.

 Read More

EaseUS Todo Backup
Smart backup tool for your files and entire computer in Windows 10/8/7.
Install Windows on Multiple Computers at Once? No Problem!
Learn how to install Windows 11/10/7 and special programs/software on a batch of computers. Use 10 minutes to do the 10 hours work without making a single mistake!
Get Free Solution!