| Page Navigation | Executive Summary |
| --- | --- |
| Cloning Windows 11 to SSD Merits | SSD can help improve the performance of your...Full steps |
| Preparations for Windows 11 Clone | Screwdriver - for opening desktop's mainframe...Full steps |
| How-to: Clone Windows 11 System | After cloning the system, all the program files, user files...Full steps |
| How-to: Clone Windows 11 Partition | You can also clone a single partition...Full steps |
Windows 11 is the latest operating system from Microsoft. It comes with a number of new features and improvements. If your computer is still using an HDD (Hard Drive Disk), you should consider switching to an SSD.  An SSD can greatly improve your computer's speed and performance, and it's easy to do. In this article, we'll show you how to clone Windows 11 to SSD in just a few simple steps. No matter whether you need to clone a whole disk, a single partition, or just your C drive to the SSD, you can find the solution here.
What will Cloning Windows 11 to SSD Get You?
If you are new to the terms "clone" and "SSD" and are even not sure whether should you perform a disk clone in order to use the new SSD. Don't worry, this part is to help you to have a better understanding of cloning and the advantages of SSD.
What is Clone?
A clone is a copy of an original object or software. To clone in computing is to create an identical copy of something. For example, you can clone your hard drive to another hard drive, or you can make an exact copy of a software program. 
What're the Advantages of Cloning Windows 11 to SSD?
As mentioned at the beginning of the article, one obvious merit is that SSD can help improve the overall performance of your computer. This is because an SSD is much faster than a traditional hard drive, so cloning your operating system to one can help speed up boot times.
Additionally, cloning to an SSD can also help extend the life of your computer. Because an SSD has no moving parts, it is less likely to fail than a traditional hard drive. This means that your data will be better protected in the event of a hard drive failure.
Finally, cloning Windows 11 to SSD can also free up space on your hard drive. If you have a small hard drive, cloning your operating system to an SSD can help you regain some much-needed storage space.
Now that you know the advantages of cloning Windows 11 to SSD, let's take a look at how to do it.
What Do You Need to Clone Windows 11 to SSD?
The first thing you'll need is a computer and a new SSD. If you don't have one, you can purchase one from your local computer store or online. Other things you need include:
A screwdriver - for opening your desktop's mainframe case
A USB adapter - for connecting the SSD to your laptop
A power cable and a SATA cable - would be attached with the purchase of an SSD
A cloning software - Windows does not have an in-built one, we suggest you choose a reliable third-party software.
If you're looking for an easy way to clone your Windows 11 to an SSD, look no further than EaseUS Todo Backup. With just a few clicks, you can create an exact copy of your existing hard drive, including all your files, settings, and applications. And because EaseUS Todo Backup is optimized specifically for Windows 11, you can be confident that the cloning process will go smoothly and without any issues. So if you're ready to upgrade to an SSD, be sure to give EaseUS Todo Backup a try.
How to Clone Windows 11 System to SSD?
Cloning Windows 11 system to SSD also means only cloning the C drive or system partition to SSD. After cloning the system, all the program files, user files, and Windows configuration files will be exactly copied to the target SSD, and you can boot your computer from the new SSD. Only clone Windows 11 system disk to SSD is suitable for situations when users want to make space for the original HDD or want to improve the computer startup speed. Now, follow the steps here to learn how to use EaseUS Todo Backup to clone Windows 11 system to SSD.
Step 1. Open EaseUS Todo Backup and click "Tools", and then you can choose any function presented to you.
Step 2. EaseUS Todo Backup will automatically select the boot and system partition, what you need to do is choose the target disk and click "Next." 
(Make sure that the partition style of the source disk and the target disk are the same.)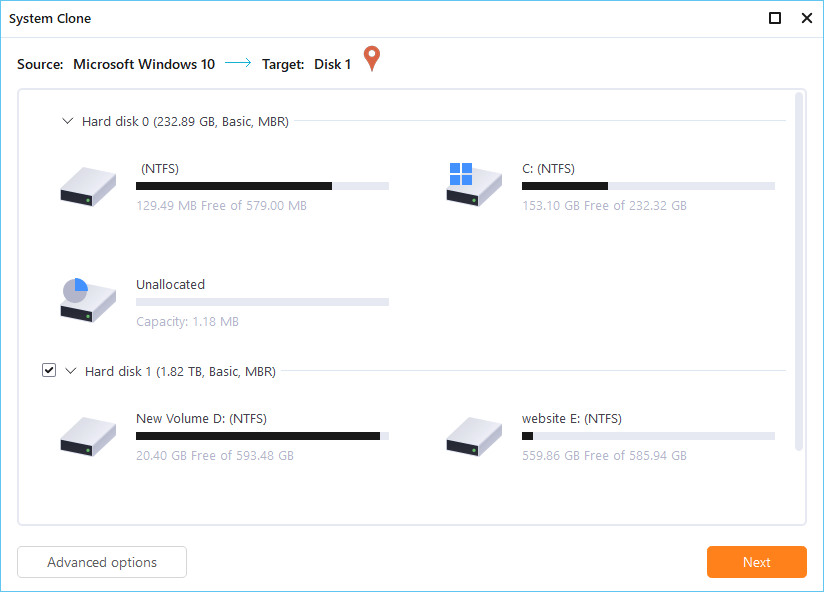 *System clone will wipe out all data, please make sure you backup your data in advance.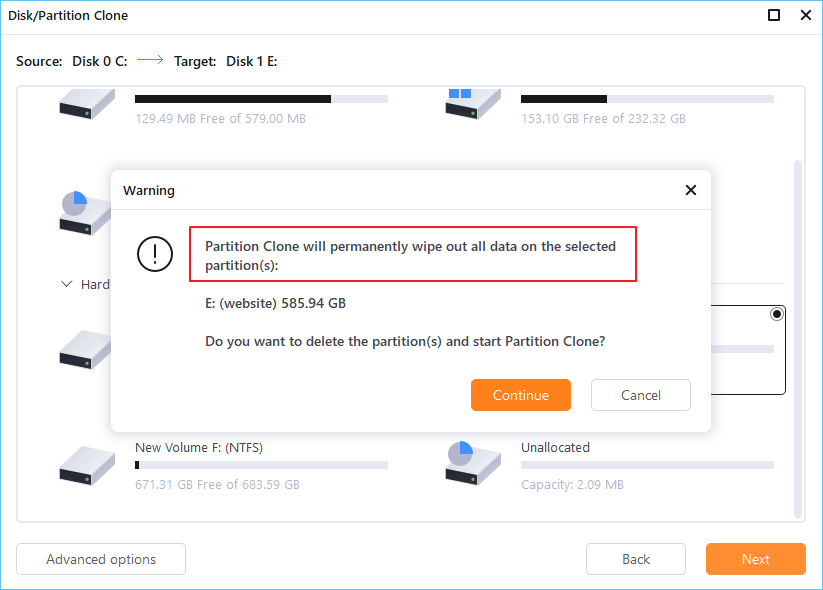 Step 3. If you want to clone your system to an SSD, you can choose "optimize for SSD" in the advanced options.
Step 4. Click "Proceed" to start cloning.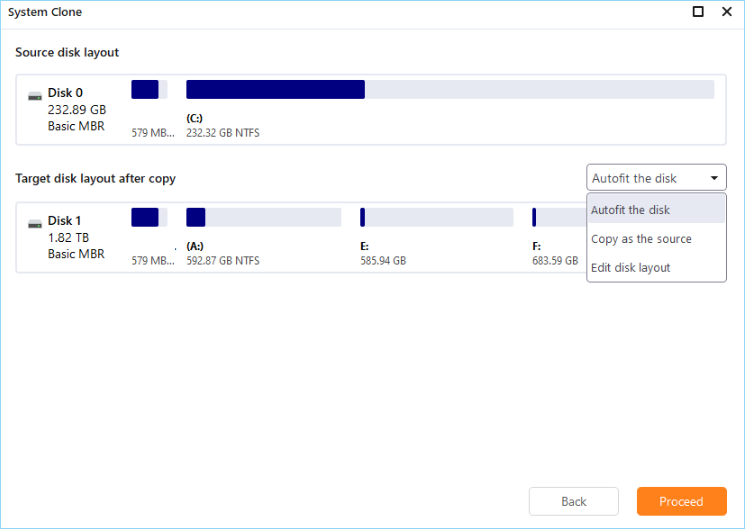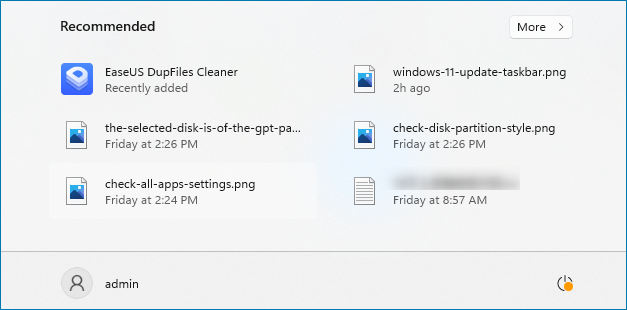 How to Clone Disk/Partitions to SSD on Windows 11?
Most Windows users must be familiar with the drives in This PC. Actually, in computing, these drives are called partitions. A disk can be divided into several partitions, which are known as C drive, D drive, E drive, etc. With EaseUS Todo Backup, you can clone a whole disk or a single partition to SSD. If you have such a need, here's the guide to tell you how.
Step 1. On the main page, find and click "Tools". You can see clone and other utilities.
Step 2. Choose the source disk or partition, click "Next".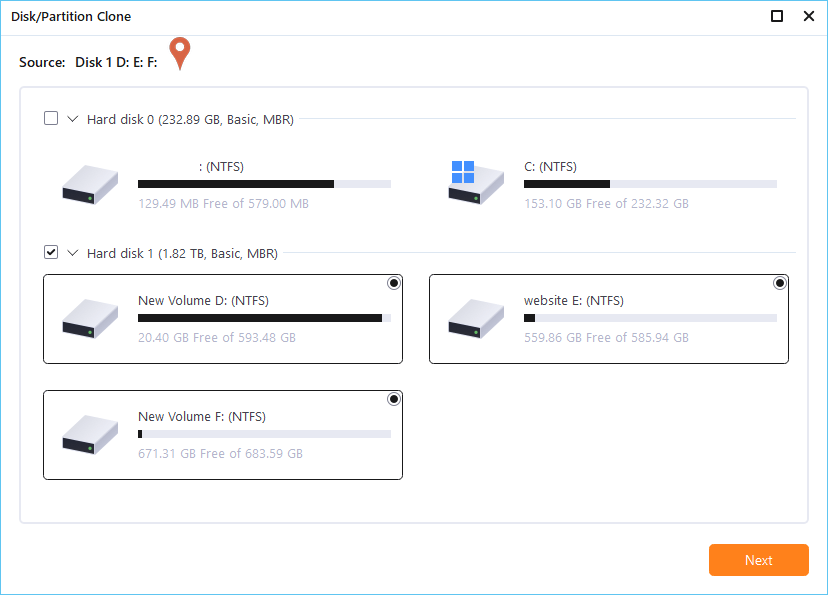 Step 3. Then you need to choose the target disk. Make sure the target disk is larger than the source disk or partition.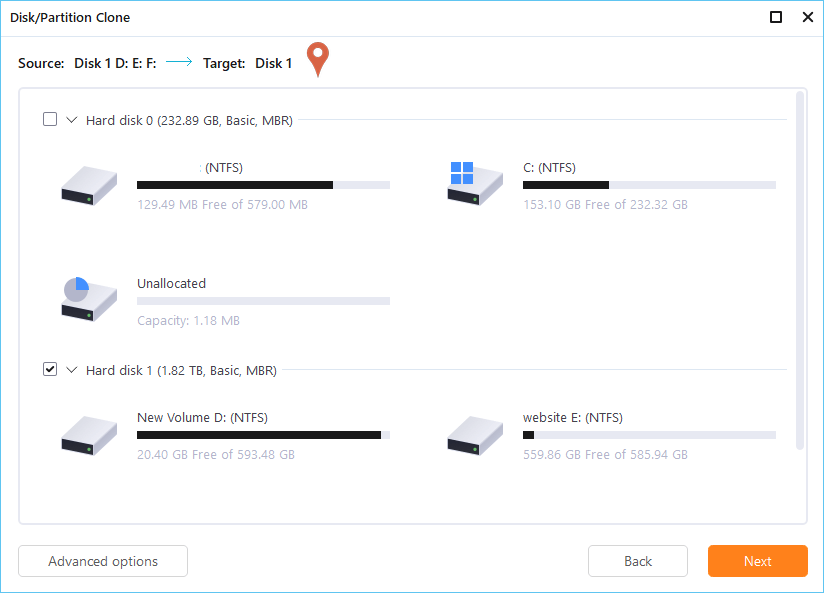 Step 4. A warning window will inform you that clone would permanently wipe out all data on the target disk/partition, if you want to start clone, click "Continue."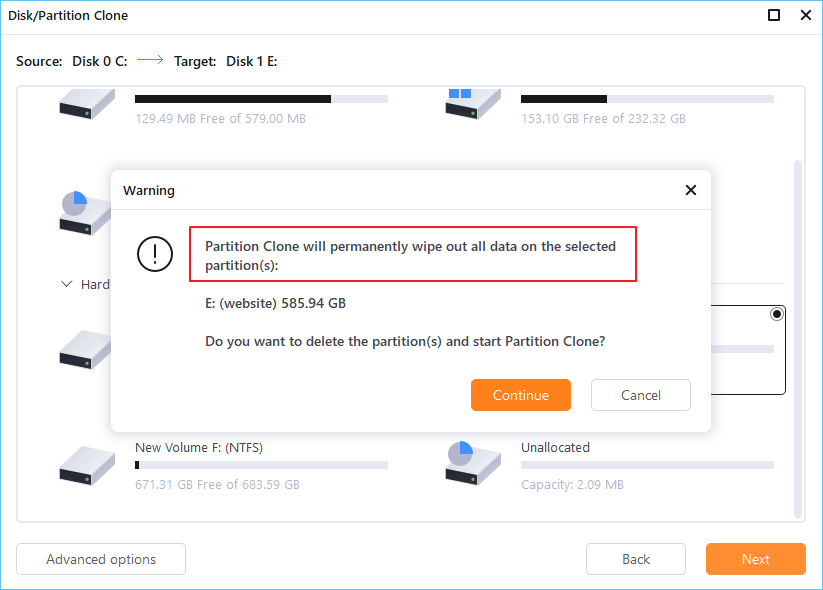 Wrap Up
There are a few things to consider when cloning Windows 11 to SSD. The first is the size of the SSD. Make sure the SSD is large enough to accommodate all of the data on the original drive. Secondly, you'll need to choose a cloning software that is compatible with Windows 11. There are several options available, so be sure to do some research to find the one that best meets your needs. Finally, make sure to connect the SSD right and follow the guide step-by-step. This will ensure that everything is copied over correctly and that you don't run into any problems later on. With these steps in mind, cloning Windows 11 to SSD should be a straightforward process.
Updated by Gemma
Gemma is member of EaseUS team and has been committed to creating valuable content in fields about file recovery, partition management, and data backup etc for many years. She loves to help users solve various types of computer related issues.
Taking everything into consideration, we can say that EaseUS Todo Backup Home can offer you a little extra sense of security with a set of advanced tools. The interface provides quick adaptation, every process guiding you all the way through so you don't get stuck or further damage your system rather than keeping it safe.

 Read More

EaseUS Todo Backup Free lets you create backups of your important files or your entire computer through its streamlined interface. Just choose the backup type you'd like to get started, and let the program do the reset.

 Read More

EaseUS includes all the features I expect from backup software like versioning, incremental backups, and scheduling. For more advanced users, EaseUS allows you to install a pre-boot environment onto your hard drive so you can use it to restore files without burning a CD or putting it on an external USB drive.

 Read More

EaseUS Todo Backup
Smart backup tool for your files and entire computer in Windows 10/8/7.
Install Windows on Multiple Computers at Once? No Problem!
Learn how to install Windows 11/10/7 and special programs/software on a batch of computers. Use 10 minutes to do the 10 hours work without making a single mistake!
Get Free Solution!