How to Backup Windows 10 with [1] EaseUS Todo Backup and [2] File History
Updated by
Jean
on Nov 29, 2021
When people search how to backup Windows 10, they approximately want to find a tool or method that can help create a full backup image of the operating system, system configurations, applications, personal data files, a specific hard drive, or its partitions/volumes. The significance of having a computer backup is too obvious to emphasize twice: without a prior backup, how to protect your Windows against hardware failure, apps or upgrade problems, malware attacks that can corrupt your files and damage your Windows 10 installation?
There are many backup solutions available for Windows users to choose from. Here, what really matters is to find a way you're accustomed to, and make sure that the backup is always valid to be restored after a disaster. Windows has a legacy built-in File History feature (Previously known as Backup and Restore in Windows 7) for creating backups of pre-set folders. If you're asking for a more comprehensive backup solution in Windows 10, regarding the smart backup, compressed backup image, cloud backup, and other backup abilities that facilitate the backup routine for every hour in every day, you should spend a minute coming to know some third-party backup and recovery plans. Here, EaseUS Todo Backup is what we're going to introduce to you.
[1] EaseUS Todo Backup: How to Backup Windows 10 Fully, Smartly and Safely
EaseUS software company is consisted of a big family of many star products regarding data recovery, data backup and disk/partition management, to name a few. Many authoritative websites like Techradar and PCWorld comment EaseUS Todo Backup as the greatest way to ensure that your sensitive data is protected.
Product Overview - Price, Operation and Performance
Regular computer backup should be simple operations, but a powerful program like EaseUS Todo Backup will make the backup even easier. The reason we put third-party Windows backup program before the native Windows File History includes three uncomparable parts: No cost, ease of use, and uniqueness.
EaseUS Todo Backup Free is open to all the home and office users who have a basic backup demand of OS, data, files and hard drive/partitions. Though commercial editions are there too, which provides advanced users with a wide range of extra capabilities like disk cloning, system migration, system restore to dissimilar hardware, Outlook/Exchange backup and more, the free edition can solve the 99% case of backup requests except for emails.
It's all too easy for starters to cope with EaseUS backup application on their Windows 10 PC. The home menu on the left pane displays clearly the backup options of disk/partition, system, file and email. On the home interface in the middle, at the same time, present users what people back up the most on their computer, including OS, files and emails. Hence, clean navigation is the first impression the program leaves to its users when they open EaseUS Todo Backup on computers.
After selecting any backup plan to begin, you'll be guided with a very intuitively designed wizard with simple steps, generally choosing a backup location and modifying some advanced backup options should be done.
To put it simply, general third-party programs can do all the things completed by native tools, and additionally be developed with auxiliary functions. What EaseUS Todo Backup differs itself from the File History is that it can backup more items including but not limited to files & folders, and enhanced backup options to compress a backup image, set a scheduled backup task, encrypt a sensitive backup and so on.
Advantages and Disadvantages - What EaseUS Todo Backup Does Good and Bad
In conclusion, regardless of the paid features that definitely attract users' eyes and give the confidence to take care of crucial data in Windows 10, the free open backup functions have already covered all sides of the backup needs for Windows 10. You can take a quick glimpse of what the EaseUS backup program can do and cannot do at the moment.
1. User-friendly interface and backup operation
2. 24x7 in-house technical support
3. Cost-free for 99% backup options
4. Recovery from any backup is also free
5. Able to backup without booting into Windows 10
6. Advanced options with a wide range of management plans to minimize the backup image size and security
If we have to list some bad parts of the EaseUS backup tool, there is still a 1% feature that asks for an upgrade.
Outlook email backup is available to only paid customers
How to Guide: Simple Steps to Backup Windows 10 on Your Computer
Step 1. Launch EaseUS Todo Backup on your computer, and click Create Backup on the home screen and then hit the big question mark to select backup contents.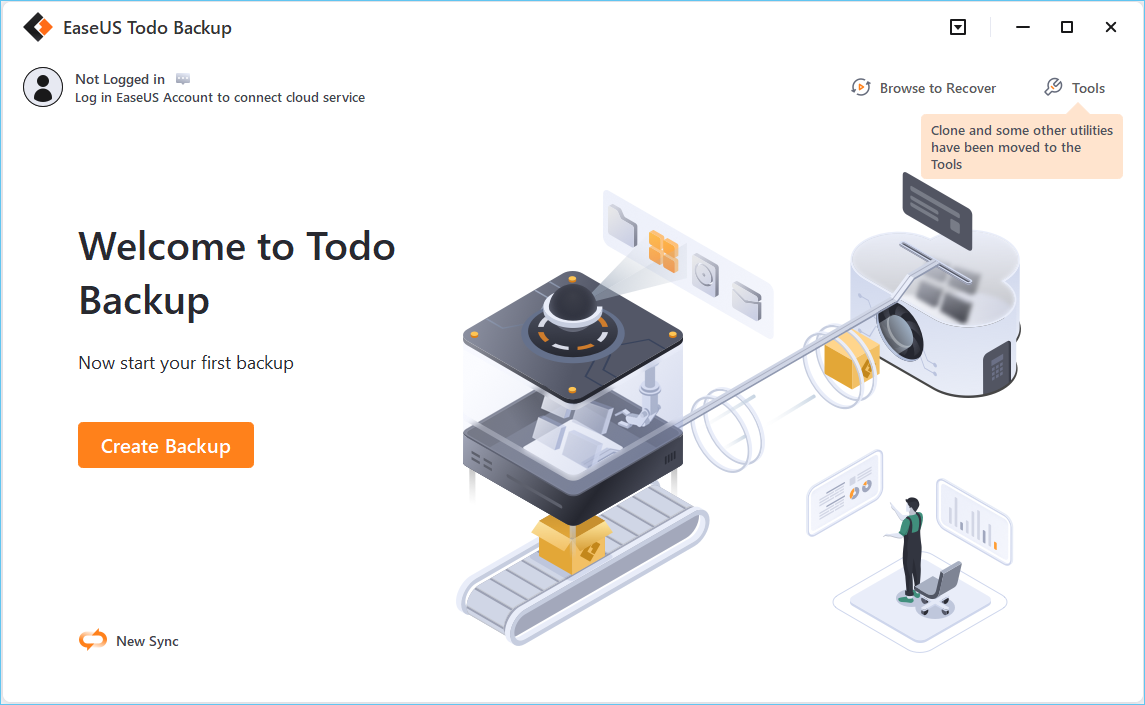 Step 2. To back up your Windows operating system, click "OS" to begin the backup task.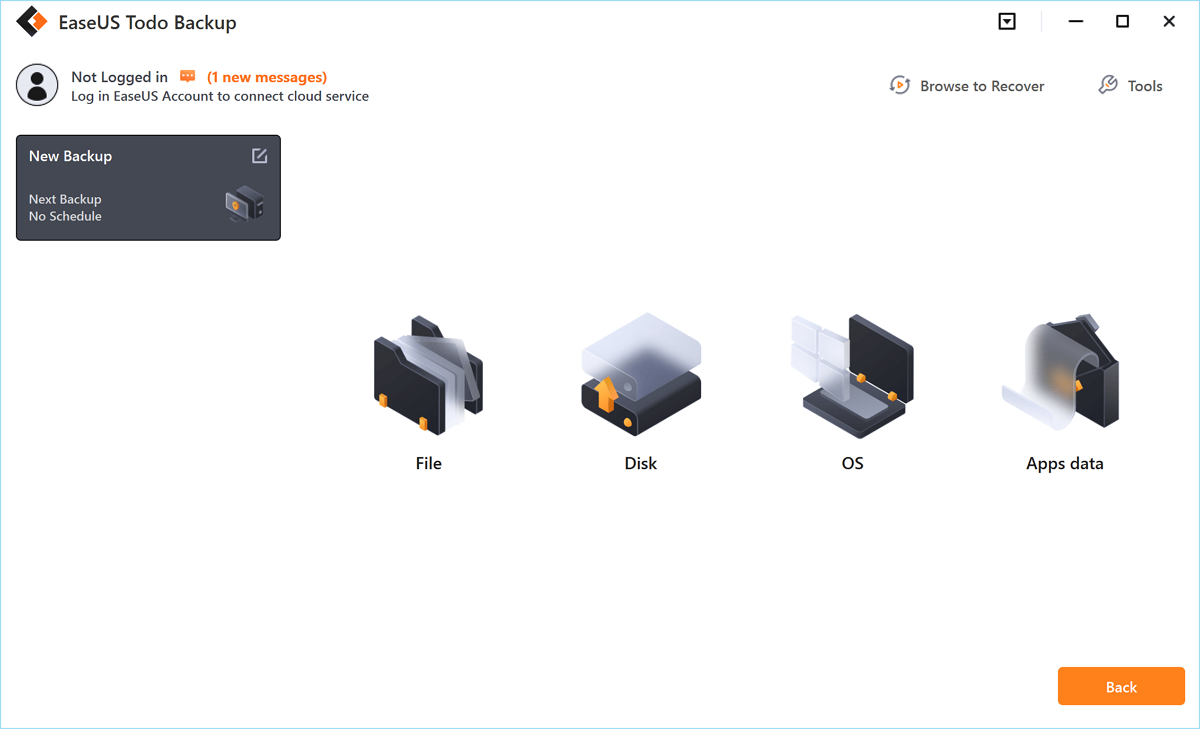 Step 3. Your Windows operating system information and all system related files and partitions will be automatically selected so you don't need to do any manual selection at this step. Next, you'll need to choose a location to save the system image backup by clicking the illustrated area.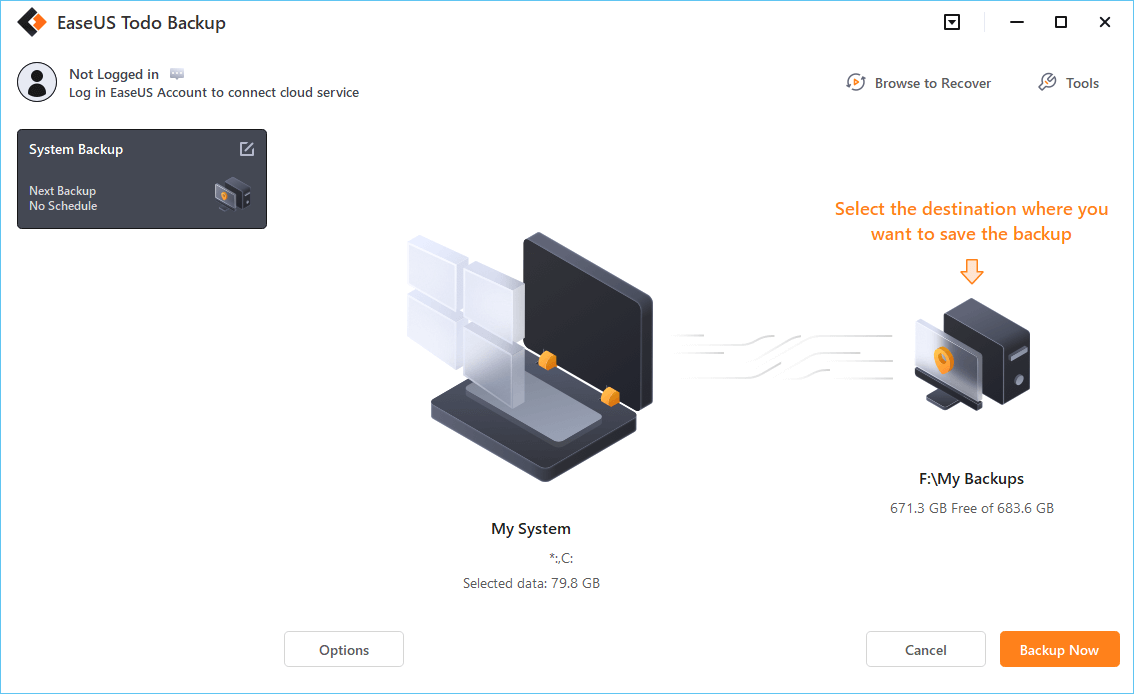 Step 4. The backup location can be another local drive on your computer, an external hard drive, network, cloud or NAS. Generally, we recommend you use an external physical drive or cloud to preserve the system backup files.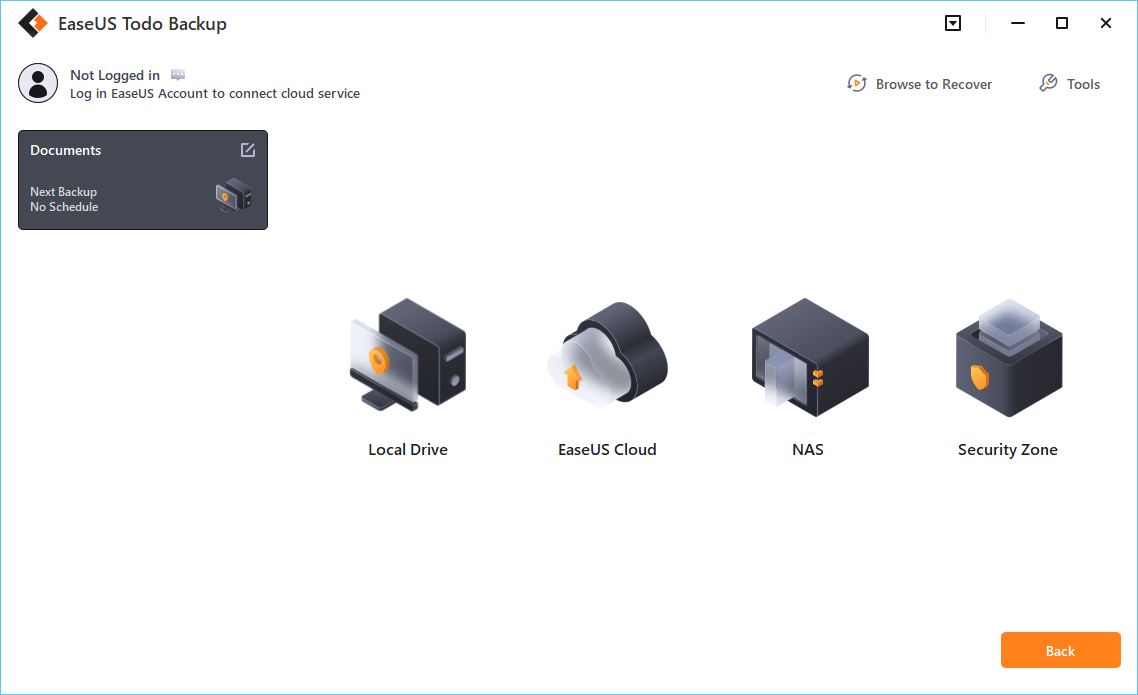 Step 5. Customiztion settings like enabling an automatic backup schedule in daily, weekly, monthly, or upon an event, and making a differential and incremental backup are available in the Options button if you're interested. Click "Backup Now", and the Windows system backup process will begin. The completed backup task will display on the left side in a card style.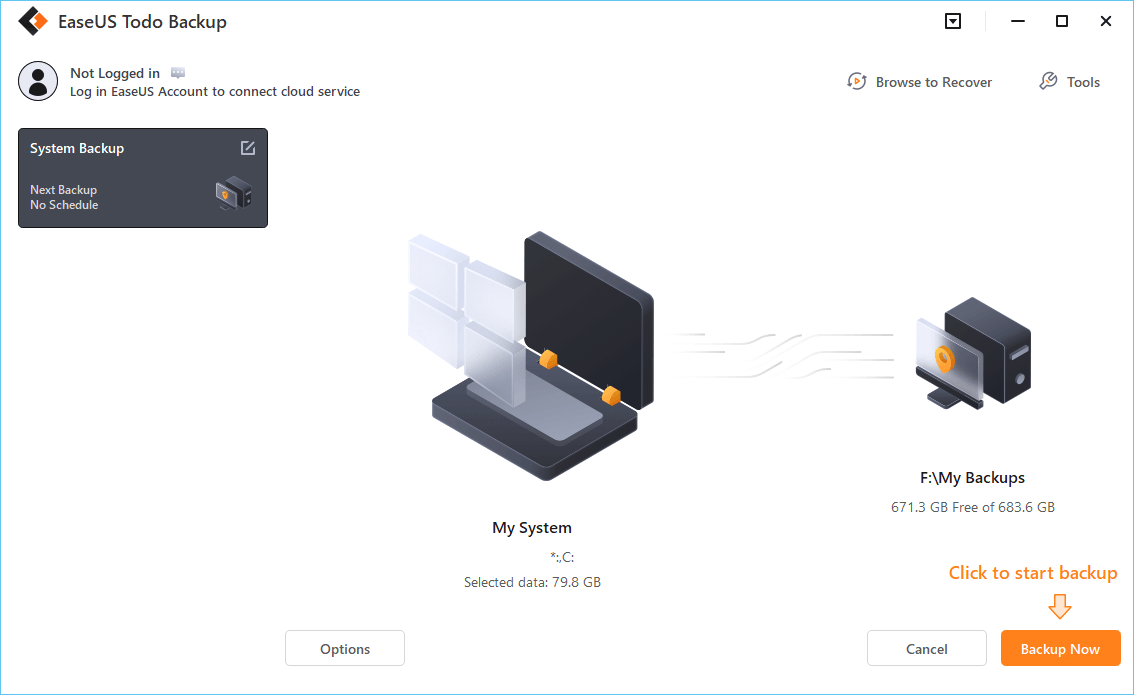 [2] Windows File History: A Complete Guide to Backup Specific Files/Folders
Windows 10 File History can only let you backup files or folders to an external hard drive or network location, so prepare a drive in advance and then follow the below guide to backup your Windows 10 PC with the built-in backup program.
Step 1. Select Start​  > Settings  > Update & Security > Backup > Add a drive , and then choose an external drive or network location for your backups.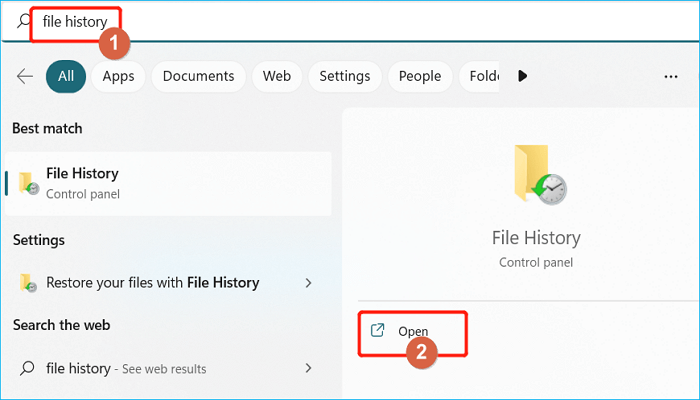 Step 2. After choosing a drive, the Automatically back up my files option will be enabled, and then please select More Options to set up the cycle time and folder of backup settings.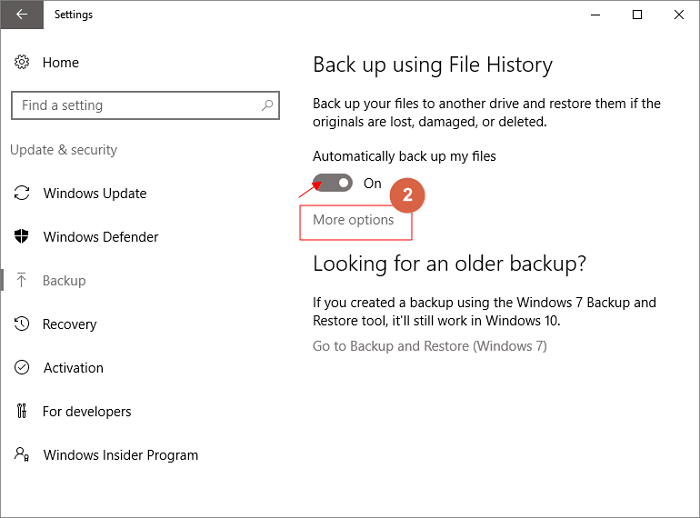 Step 3. Choose the cycle time of how often you want to back up your files once, and the period of how long you want to keep your files.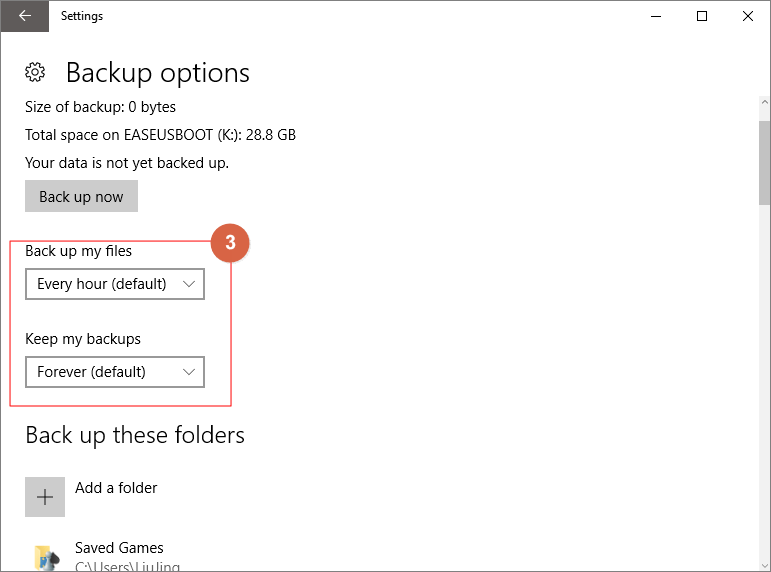 Step 4. The following will list which folders are backed up, and you also can select Add a folder to add the folders you want to back up.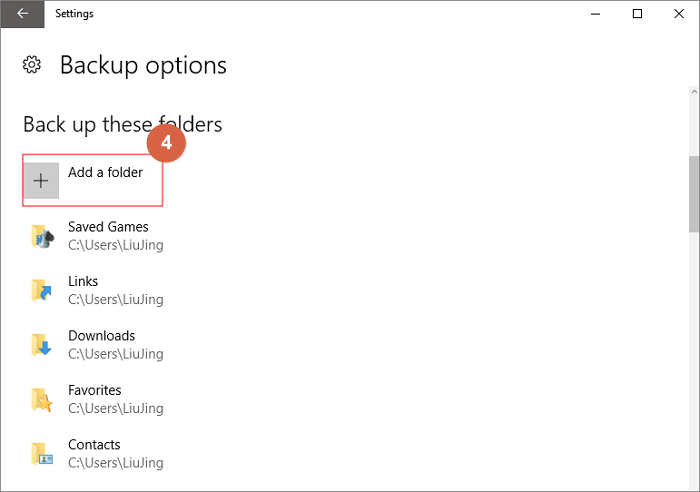 Step 5. At the same time, you can exclude some folders you don't want to backup. Click "Add a folder" under the option "Exclude these folders".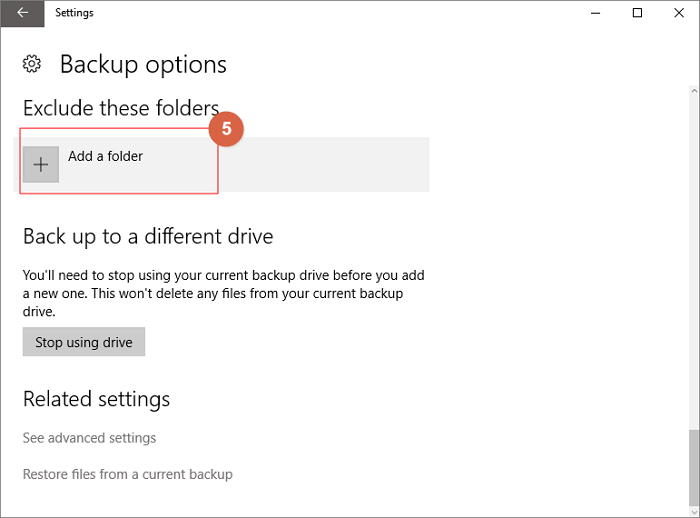 Step 6. After the setup is completed, please select Back up now.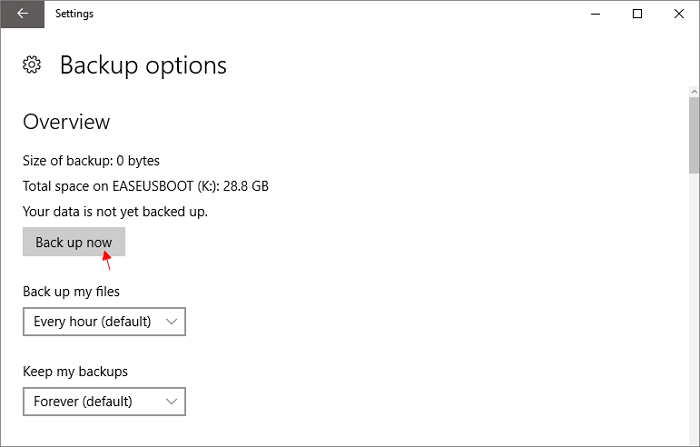 Step 7. If you want to change to a different backup drive, you need to stop using your current backup drive first. Please select Stop using drive, then you will be able to choose another drive to back up your file.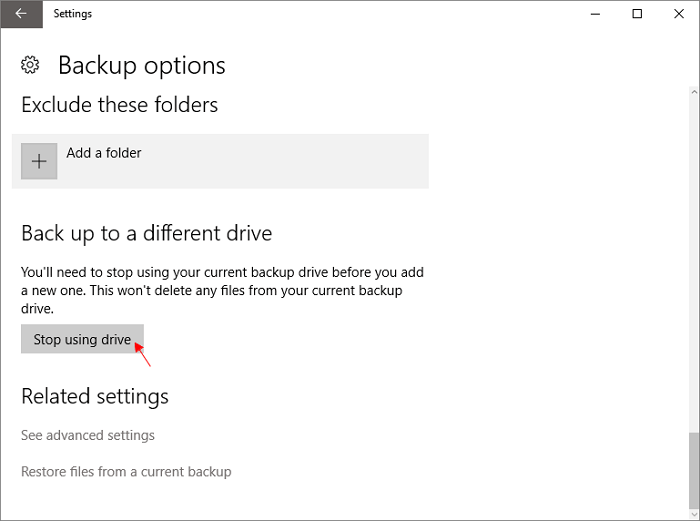 Author Jean has been writing tech articles since she was graduated from university. She has been part of the EaseUS team for over 5 years. Her special focuses are data recovery, disk partitioning, data space optimization, data backup and Mac OS. By the way, she's an aviation fan!
Taking everything into consideration, we can say that EaseUS Todo Backup Home can offer you a little extra sense of security with a set of advanced tools. The interface provides quick adaptation, every process guiding you all the way through so you don't get stuck or further damage your system rather than keeping it safe.

 Read More

EaseUS Todo Backup Free lets you create backups of your important files or your entire computer through its streamlined interface. Just choose the backup type you'd like to get started, and let the program do the reset.

 Read More

EaseUS includes all the features I expect from backup software like versioning, incremental backups, and scheduling. For more advanced users, EaseUS allows you to install a pre-boot environment onto your hard drive so you can use it to restore files without burning a CD or putting it on an external USB drive.

 Read More

EaseUS Todo Backup
Smart backup tool for your files and entire computer in Windows 10/8/7.
Install Windows on Multiple Computers at Once? No Problem!
Learn how to install Windows 11/10/7 and special programs/software on a batch of computers. Use 10 minutes to do the 10 hours work without making a single mistake!
Get Free Solution!