How to Back up Computer? What's the Best Way for Computer Data Backup
In our daily lives, we spend most of our time using a computer, and most data are kept on them. Digital data are prone to be lost due to various causes such as hardware issues or accidental file deletion. When one such incident happens, it will save you the trouble if you have backups of the missing data ready. So computer users must keep regular backups of their important files.
Part 1: The Importance of Computer Data Backups
Apart from protecting against sudden data loss, keeping backups of your files can also be beneficial in other ways. You can save multiple backups for each version of the file, allowing you to revert a file to a previous version if you encounter an issue or made a mistake when editing it.
Keeping backups is not limited only to files and folders; You can create backups of an entire partition, a disk, or the operating system using reliable backup software. By keeping the second copy of your computer's data, you will restore everything to normal even if the system is damaged or destroyed.
The process of backing up data can be done in multiple ways, such as manually copying needed files, syncing files to cloud storage, or using software to store copies of necessary data automatically. In this article, we will show you how to backup files using these three methods while comparing the advantages and limitations of each one.
Part 2: List of Ways to Backup a Computer
As mentioned above, there are multiple approaches to data backup, which we will compare in the list below. We recommend that you use reliable backup software like EaseUS Todo Backup to automatically backup your files, system, and disks into a hard drive, external device, or cloud storage. With this tool, you can easily schedule your automatic backup, encrypt confidential files, compress backup images, clone your operating system, and much more.
Simple methods are generally only used for backing up individual files and folders. Users looking to clone a hard disk partition or the operating system may refer to Method 3 for detailed guides on EaseUS backup software.
Method 1: Copy to External Hard Drive or USB Drive
The simplest way to back up your files is to copy them into another device, such as an external hard drive or a USB drive. While this method is simple and quickly done for users that only want to back up a few files or folders, it may be inefficient if you need to back up large amounts of data regularly.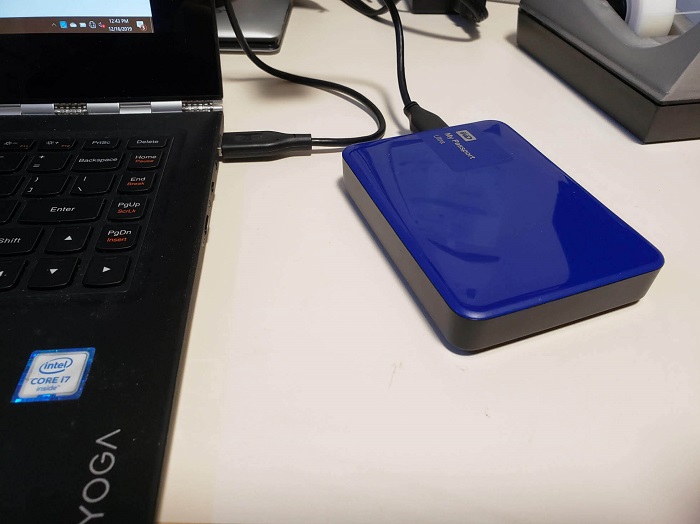 Time spent copying files depends on the external device and the connection type used to transfer data. I recommend an external SSD used and connected through the computer's USB 3.0 port for better write speed.
Step 1. Locate all files and folders that you want to backup.
Step 2. Copy and Paste (or click and drag) the files into your external hard drive or USB drive.
Step 3. Once finishing the copying process, safely eject the device.
Pros:
· Simple and intuitive
· Easily done and efficient for small files
Cons:
· Is time-consuming and not suitable for regular backup of larger files
· Risks running into errors when copying
· Prone to user error when selecting files to copy
Method 2: Backup via Cloud Storage and File Sync
There are many free and accessible cloud storage services such as Dropbox, Google Drive, OneDrive, which you can use to store important files. With some services, you can sync files across multiple devices, keeping your data secure if one of your devices becomes inaccessible.
Users looking to store large amounts of data on the cloud may have to pay for storage capacity upgrades, depending on the service used. A slow internet connection can impede file transfer and cause syncing failure. You will also have to download the files to your device beforehand if you want to access them while offline.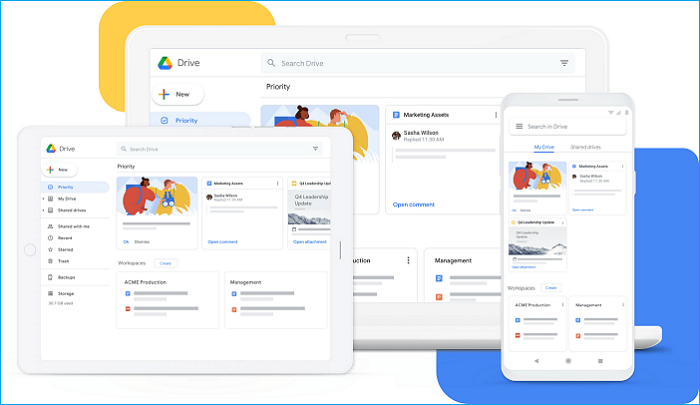 Accessing cloud storage can vary for each service mentioned above and others. For example, here are the steps to use Google Drive
Step 1. Go to Google Drive on your web browser
Step 2. Log in with your Google account or register one
Step 3. Upload files or create new files as needed
You can access your drive on mobile devices by installing the Google Drive application and log in with the Google account used above.
Pros:
· Easily access your stored files from any device
· Any edits are synced to the cloud immediately
Cons:
· Limited storage for free services
· Requires stable internet connection to function properly
Method 3: Use a Backup Software to Backup the Computer Data
Alternatively, you can install backup software to manage your important data easily automatically. This method is suitable for all beginners looking to backup files to an external hard drive. You can also choose to backup an entire hard drive partition or the operating system as a whole with a few simple clicks.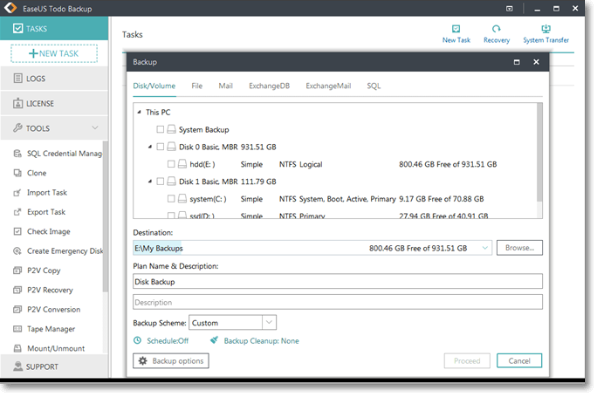 EaseUS Todo Backup is an easy-to-use data backup software that can help users with various tasks to ensure that your necessary data is always protected. For example, you can have the software automatically create scheduled backups of the selected files or safeguard files that are often changed. Another helpful feature of EaseUS Todo Backup is that you can migrate your operating system to another drive without having to reinstall Windows. You can also clone Windows into a USB drive to have your OS be portable everywhere.
EaseUS Todo Backup includes versatile backup methods and strategies. With these features, you are capable of managing data backups efficiently. Please follow a detailed user guide below for EaseUS Todo Backup to protect your essential data.
Step 1. Open EaseUS Todo Backup and select "File" as the backup mode.
You may have a large amount of vital data to be protected as time goes on, such as documents, pictures, music, and videos, etc. It is always a good habit to have a backup on a regular basis. File Backup is one of the best choices for you to get over unexpected data loss.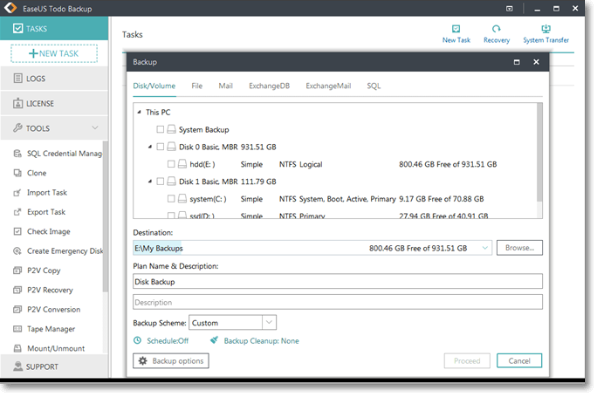 Step 2. Select the files that you want to back up.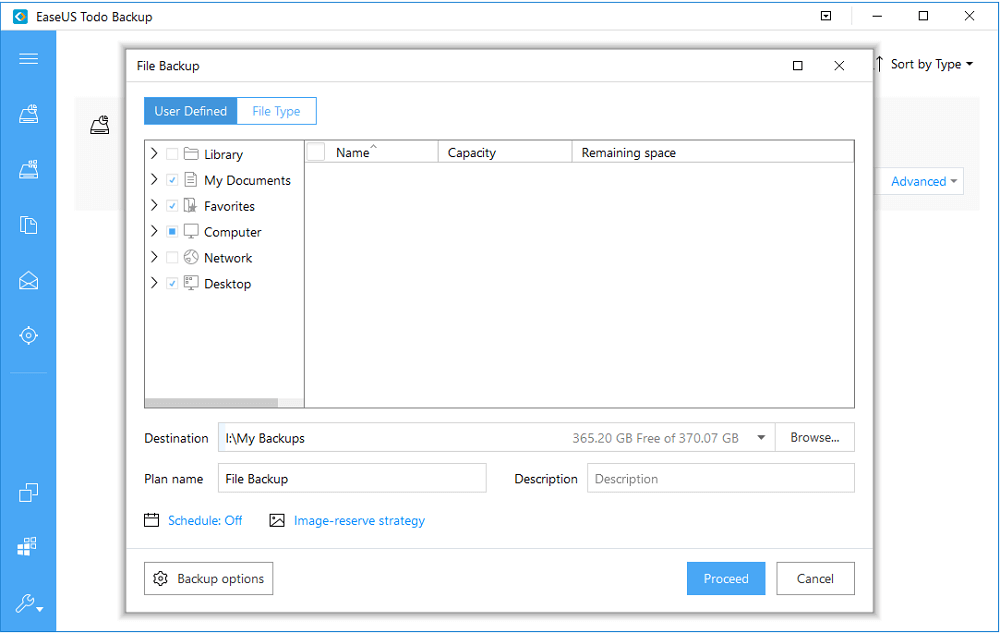 Step 3. Select a destination to save your backup of the selected files.
You'd better create the backup file in some other storage media or in some other drive. If not, there may be a risk of the backup file getting corrupted or destroyed.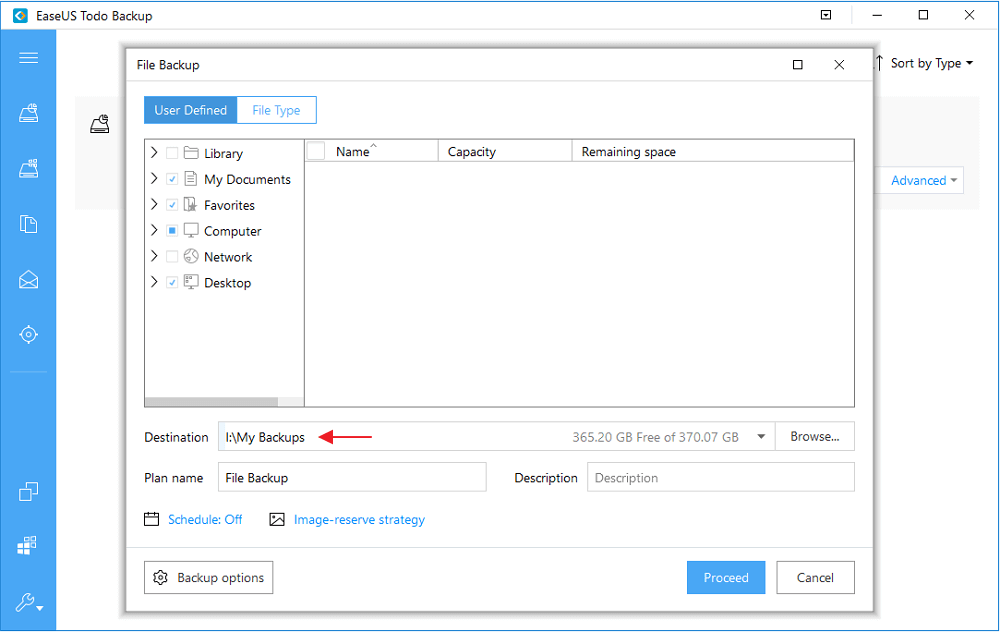 Advanced backup settings are useful when you want to create a flexible and automatic backup plan.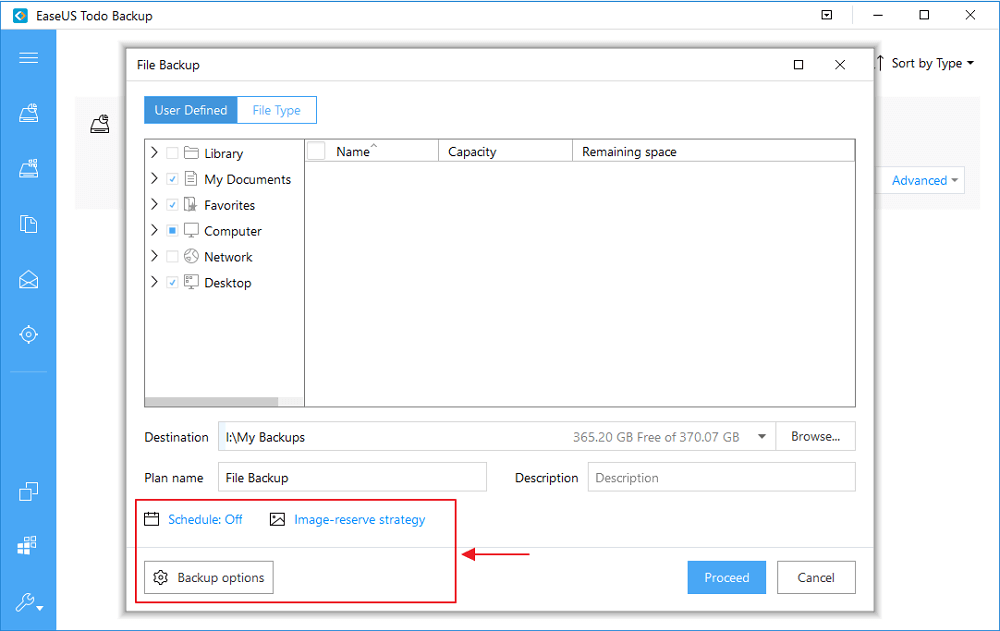 The schedule is to create an automatic backup plan.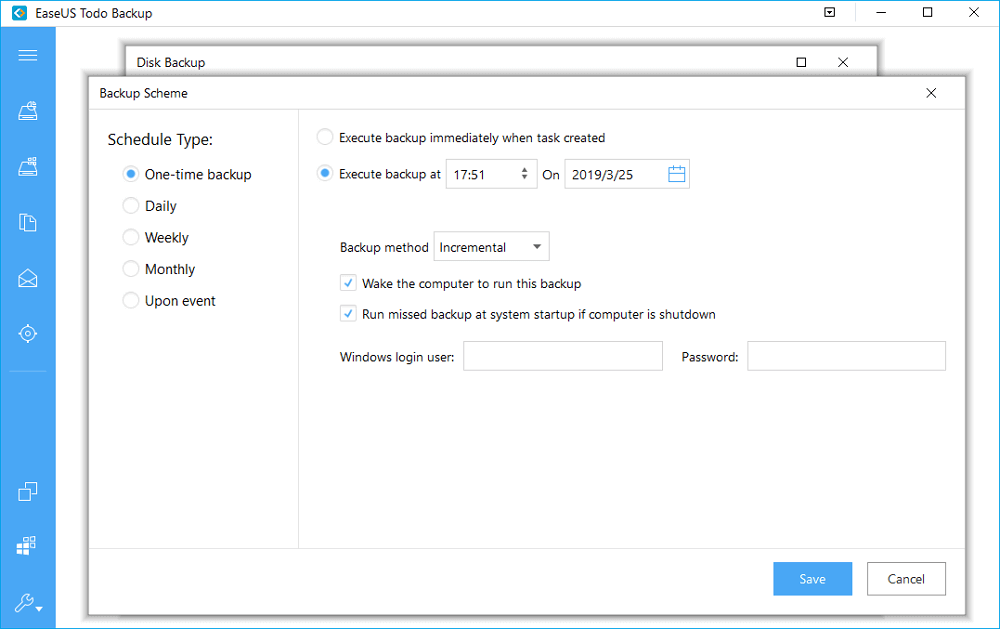 Backup options are to edit the advanced parameters.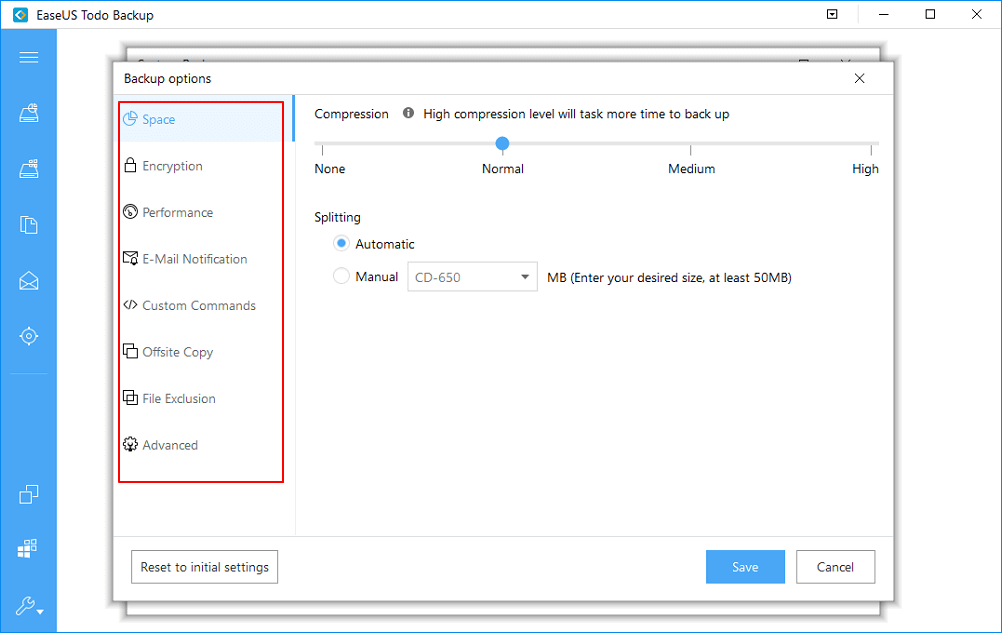 The Image-reserve strategy is to reserve the limited image as per image retention rule.
Advanced backup settings are for reference only but not a prerequisite for backup.
Step 4. Click "Proceed" to execute your operation.
Pros:
· Easy to understand interface, simple design
· Various valuable features that can do more than just backing up files
· Can create secure backups with encryption for confidential files
· 24/7 technical support to help you with any issues
Cons:
· Users must purchase a software license after the free trial period ends
· Maybe excessive for situations that only require simple file copying
Part 3: Conclusion
Digital data can experience damage and loss similarly to physical data, so it is vital that computer users regularly maintain backups of all files on an external device or uploaded to the cloud. By doing this, your system will be safe and intact from any potential risk, such as data corruption or hardware damage. For users looking for a simple way to keep automatic backups, reliable backup software will manage backups for you.
Download EaseUS Todo Backup now to start protecting your computer from data loss issues, manage your drives, and much more.
Daisy is the Senior editor of the writing team for EaseUS. She has been working in EaseUS for over ten years, starting from a technical writer to a team leader of the content group. As a professional author for over 10 years, she writes a lot to help people overcome their tech troubles.
Taking everything into consideration, we can say that EaseUS Todo Backup Home can offer you a little extra sense of security with a set of advanced tools. The interface provides quick adaptation, every process guiding you all the way through so you don't get stuck or further damage your system rather than keeping it safe.

 Read More

EaseUS Todo Backup Free lets you create backups of your important files or your entire computer through its streamlined interface. Just choose the backup type you'd like to get started, and let the program do the reset.

 Read More

EaseUS includes all the features I expect from backup software like versioning, incremental backups, and scheduling. For more advanced users, EaseUS allows you to install a pre-boot environment onto your hard drive so you can use it to restore files without burning a CD or putting it on an external USB drive.

 Read More

EaseUS Todo Backup
Smart backup tool for your files and entire computer in Windows 10/8/7.