How Do I Backup Entire Computer to a Flash Drive in Windows 11? 2 Ways
Updated by
Gemma
on Oct 11, 2021
Nowadays, backing up your whole system is highly essential. There are several ways you can take back up your system, but one common question people usually ask is whether they use a flash drive to back up their Windows 11 system? The answer is yes! It's possible to take the backup of the entire Windows 11 system to a flash drive. This process is called bootable backup, and this backup usually helps a lot during hardware failure, malware attacks, or operating system corruption to restore your files safely. 
If you are one of them who wants to take the backup of your entire computer to a flash drive on Windows 11, then you are at the right place. Here we will provide you exact steps to take your whole system backup on a flash drive. So read the post till the end to know the precise process.
Two Ways to Backup Windows 11 Computer to Flash Drive 
If you want to take back on Windows 11 computer, you can try two methods: Windows 11 Backup and Restore and EaseUS Todo Backup. We will discuss these two methods in detail, but before that, let us understand these two methods clearly with a short comparison table in terms of different aspects.
| | | |
| --- | --- | --- |
| Comparison  | EaseUS Todo Backup | Backup and Restore  |
| File Backup  | Back up individual file or folder | Doesn't support  |
| Backup method  | Incremental, differential backup, and Full backup  | Only full backup  |
| Schedule back up | Automatic scheduled backup upon time or event  | Doesn't support  |
| Backup Storage  | USB drive, external hard drive local disk, DTP server, network share, One drive, Google Drive, Dropbox, NAS, CD/DVD  | USB drive or Local disk |
| Image compression  | Compress backup images at different levels to save disk space  | Doesn't support |
| Restore Method  | Local Restore and Universal restore  | Local Restore |
Backup Computer to a USB Flash Drive With EaseUS Todo Backup 
When it comes to taking Windows backup to a USB flash drive on your Windows 11 system, there are no doubt several third-party tools available that can perform this process. Still, if you are looking for a reliable and user-friendly tool, I will always recommend using the EaseUS Todo Backup.     
EaseUS Todo Backup is one of the top-rated and reputed Windows backup and recovery software that can back up your complete computer to a USB drive within few minutes with the help of some simple clicks and restore everything immediately without any issue.
Now the question is, why should you use EaseUS Todo Backup? The answer is pretty simple! Because this tool comes with many advanced features such as clone OS to HDD/SSD and backup system, which make your backup process quick and straightforward. Now you can download this tool from the button below and follow our guide to see how to back up your computer to flash drives.
Preparations:
Connect your USB to your computer
Download EaseUS Todo Backup
Step 1. Launch EaseUS Todo Backup and choose "File".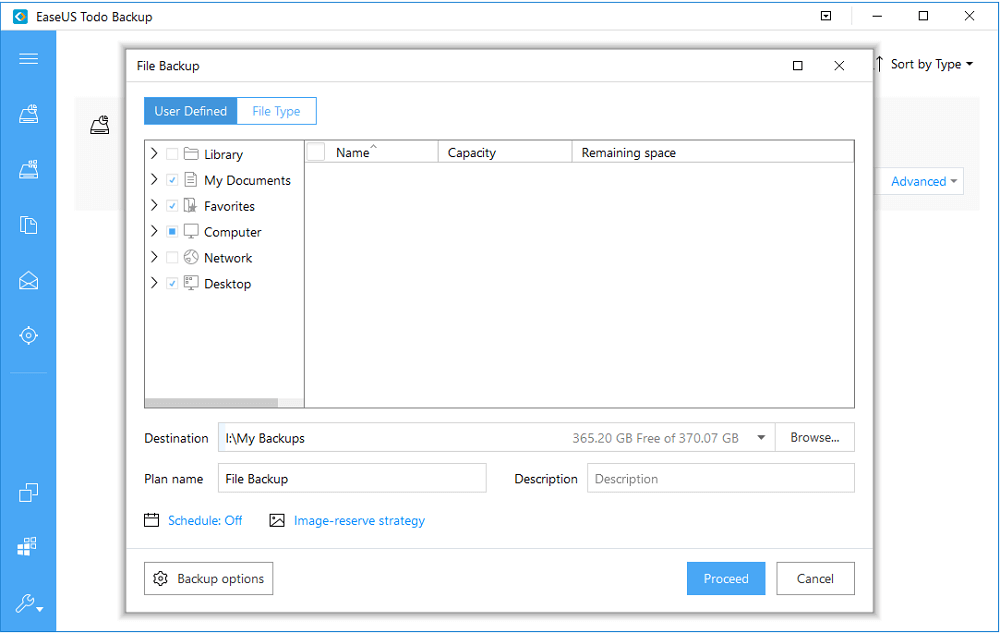 Step 2. Click "Browse" to decide a backup image location to save your files. Be aware of the "Schedule" part, and go to start a scheduled backup plan by setting "Upon event".
 Product News

EaseUS Todo Backup now supports users to back up files to the cloud. All you need to do is sign up with an EaseUS account, then you could enjoy a large cloud storage space. More advantages of backing up to the cloud include accessing backup files anytime and anywhere, saving file copies offsite, so you don't need to worry about virus attacks or computer failures, and easier and faster backup and recovery operations.
Upon event
The backup is to be automatically executed in the event of:
System startup - Backup runs automatically when the system starts up.
System shutdown - Backup runs automatically when the system is shut down.
User logon - Backup runs automatically when Windows logs in.
User logoff - Backup runs automatically when Windows logs off.
USB device plugged in - Backup runs automatically when the USB device is plugged in provided that it is set to be the destination.
Step 3. Choose start at "USB device plugged in..." and click "Save". Note the warning message, the automatic backup or copying will only happen to the exact device on which you created the task.
Step 4. After saving all changes, re-plug or reconnect your USB drive. Then when your computer recognizes the USB drive, the automatic copying and backup process starts.
Note: every new automatic backup plan requires the backup image saved at the last time, or else the backup software won't work as planned even it detects the same USB device.
Backup Windows 11 Computer to Flash Drive via Backup and Restore 
If you want to take back up Windows 11 Computer to flash drive, then the Backup and Restore method is always an effective way to take backup. Follow the exact steps given below to perform the backup to the flash drive. 
Step 1. Open Control Panel. Once it opens, locate Backup and Restore (Windows 7).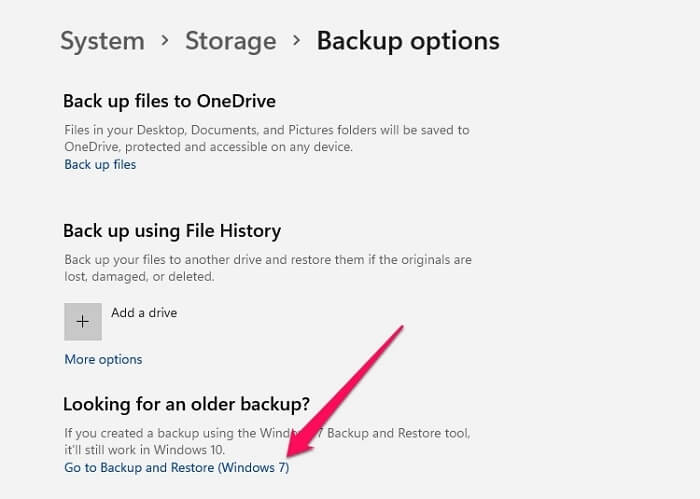 Step 2. Click on the Setup Backup link to start the process. In the setup Windows, select a destination drive. It is preferable to choose external storage instead of the drive on the computer.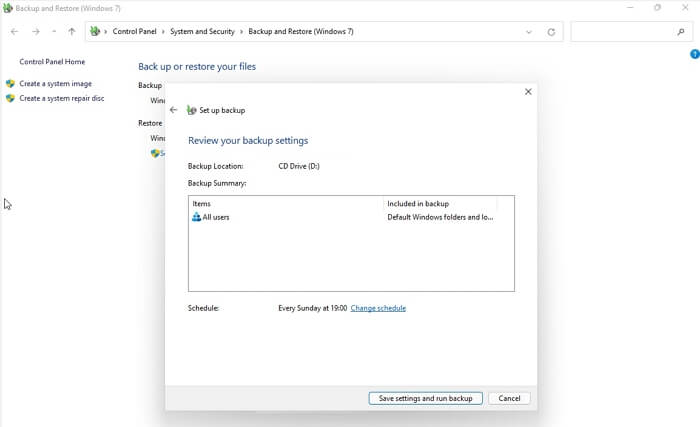 Step 3. Next, you need to choose to let Windows choose what files to backup, or you choose it yourself. The latter is better as you can add additional files and folders with it.
Step 4. In the review screen, check if all the included option is as you needed, and then save the settings, and start the backup. 
Once done, you can later change the backup location, backup files, and the backup schedule if you wish to change.
Conclusion  
If you are following this post till now, no doubt you now know the process to take backup of your whole system on Windows 11. Instant system backup is always necessary and crucial to keep your data safe and secure, and you can do it easily by following the given steps above. So what are you waiting for? Start backing up your system data now with the help of Windows in-built backup and restore methods or use advanced tools like EaseUS Todo Backup to quickly and effortlessly finish your backup process.     
Gemma is member of EaseUS team and has been committed to creating valuable content in fields about file recovery, partition management, and data backup etc for many years. She loves to help users solve various types of computer related issues.
Taking everything into consideration, we can say that EaseUS Todo Backup Home can offer you a little extra sense of security with a set of advanced tools. The interface provides quick adaptation, every process guiding you all the way through so you don't get stuck or further damage your system rather than keeping it safe.

 Read More

EaseUS Todo Backup Free lets you create backups of your important files or your entire computer through its streamlined interface. Just choose the backup type you'd like to get started, and let the program do the reset.

 Read More

EaseUS includes all the features I expect from backup software like versioning, incremental backups, and scheduling. For more advanced users, EaseUS allows you to install a pre-boot environment onto your hard drive so you can use it to restore files without burning a CD or putting it on an external USB drive.

 Read More

EaseUS Todo Backup
Smart backup tool for your files and entire computer in Windows 10/8/7.
Install Windows on Multiple Computers at Once? No Problem!
Learn how to install Windows 11/10/7 and special programs/software on a batch of computers. Use 10 minutes to do the 10 hours work without making a single mistake!
Get Free Solution!