How to Back Up Windows 11 to USB [How-to] Step by Step Guide
Updated by
Jean
on May 07, 2022
Some users may have early access to development builds of Windows 11. If you have just installed Windows 11, we can also help you with data protection tips and Windows backup and recovery recommendations. In this guide, we mainly discuss how to backup Windows 11 to an external USB drive.
The Necessity of Daily Computer Backup in Windows 11
From what we know so far, Windows 11 backup system is similar to Windows 10 and regular data backup methods should work the same. Users should be aware that Windows 11 is currently not stable and there are higher risks of data loss and other system errors. However, most data loss cases are still caused by user errors or hardware issues. Apart from mindful usage of your computer, you should also pay attention to the computer system. Make sure that the power cord and data cables are plugged in properly, keep an eye on CPU temperature to prevent overheat, etc. These simple checks can easily reduce data loss from occurring without much effort.
But even if everything is checked and maintained regularly, sometimes unfortunate problems can also cause data loss and there's nothing you can do about it. Therefore you should always have a backup plan at all time to completely prevent the risk of permanent data loss as you can easily restore the backed up files in no time.
What Items Are Important to Backup
If you have limited backup storage or simply need help with the backup priority for important files, here is a rough list of personal data as a reminder of files that should be backed up.
Important work files such as reports, documents, spreadsheets, etc. These files can also be kept in cloud storage such as Dropbox to prevent data loss and allow you to work from any device. See how to backup files to OneDrive.
Other personal files should be backed up as they cannot be obtained if the original files are gone.
Large files that while downloadable can take too much time, such as movies, games, etc.
Apart from backing up files and folders, you can also backup the Windows 11 operating system itself using various tools available as we will introduce in the section below.
Guide: How to Back Up Windows 11 OS and Data to USB Drive
When creating data backups, it's recommended to keep the backup on a separate storage device entirely. Usually, you should use an external HDD/SSD, flash drives, or other devices available. Backing up to other devices will give you better protection from data loss problems, as when your entire system crashes and becomes inaccessible, you won't be able to restore from backup if it's kept on that device. Similarly, you should also keep the backup device disconnected from any computer system when not in use. The more you use that device, the risk of data corruption increases.
There is much software that can be used to backup your important files and operating system. In this article, we are introducing EaseUS Todo Backup, a reliable Windows backup tool that can be used to backup all your files automatically. This program can also backup and transfer operating system data onto a portable device such as create a portable Windows USB flash drive. With this feature, you will be able to use Windows 11 on other computers as needed.
Step 1. To start backup, click the Select backup contents.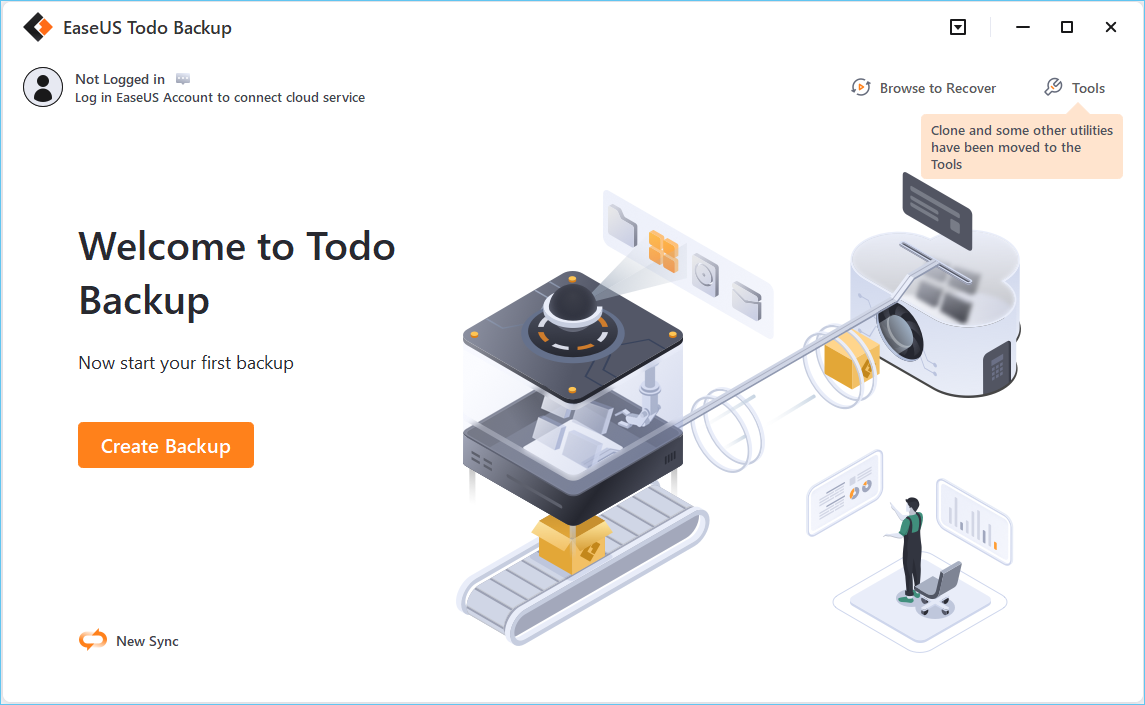 Step 2. There are four data backup categories: File, Disk, OS, and Mail.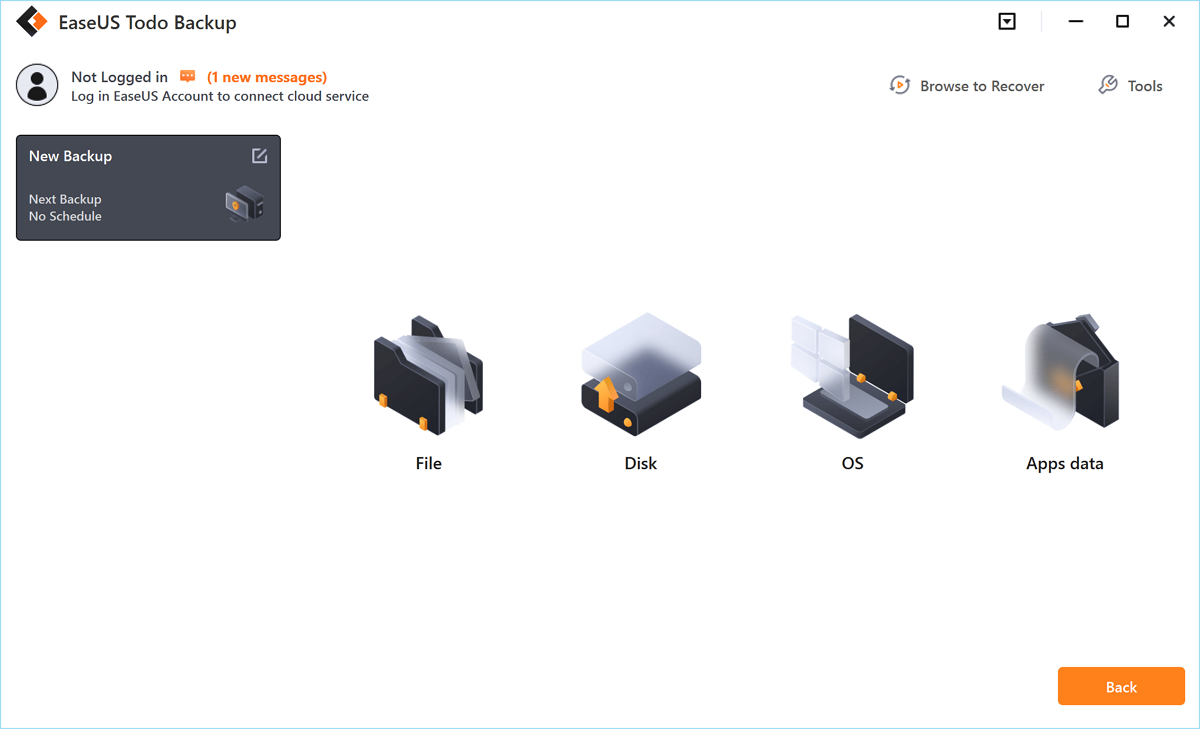 Step 3. On the left-hand side, you'll see a list of local and network files. Selecting the files to be backed up by expanding the directory.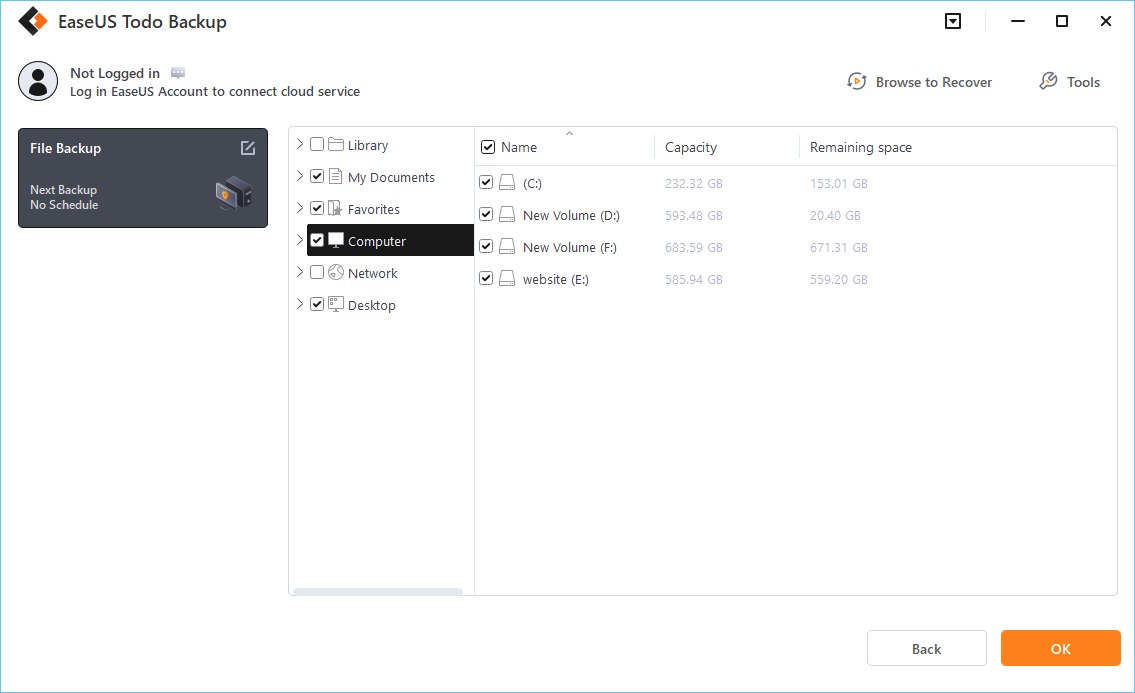 Step 4. Follow the instructions on the screen and pick the location where you wish to store the backup.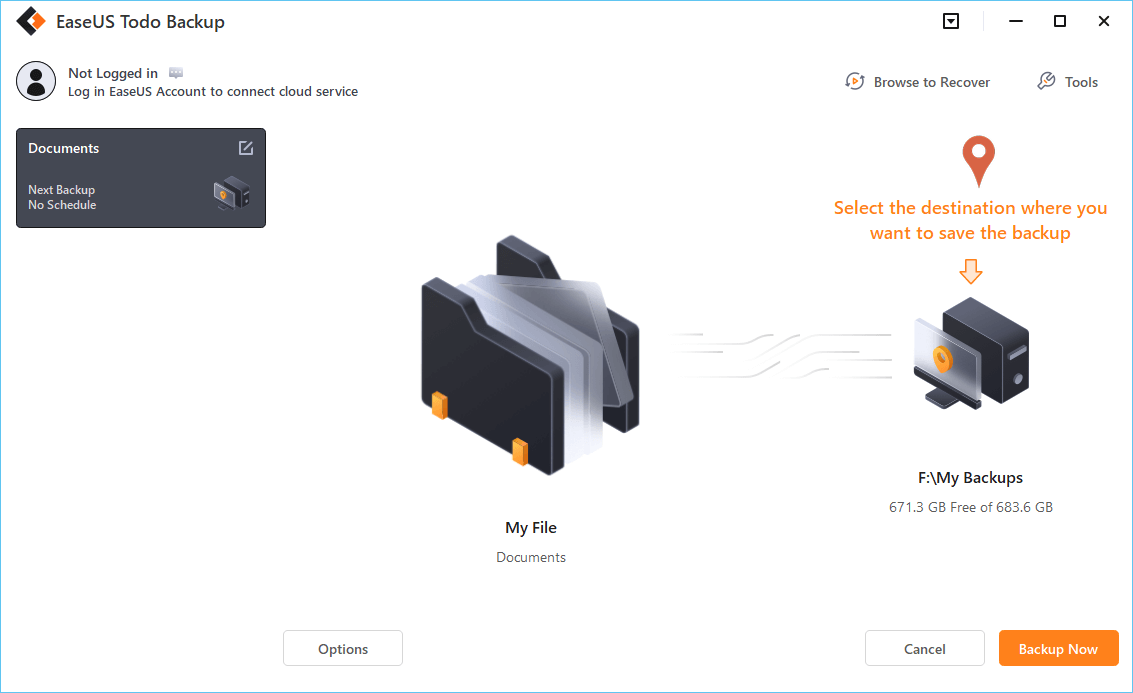 In Backup Options, click Options to encrypt the backup with a password, specify the backup schedule, and choose whether or not to start the backup at a certain event in Backup Scheme. There are a variety of customizable features available for you to explore, and you may tailor the backup operation to meet your specific requirements.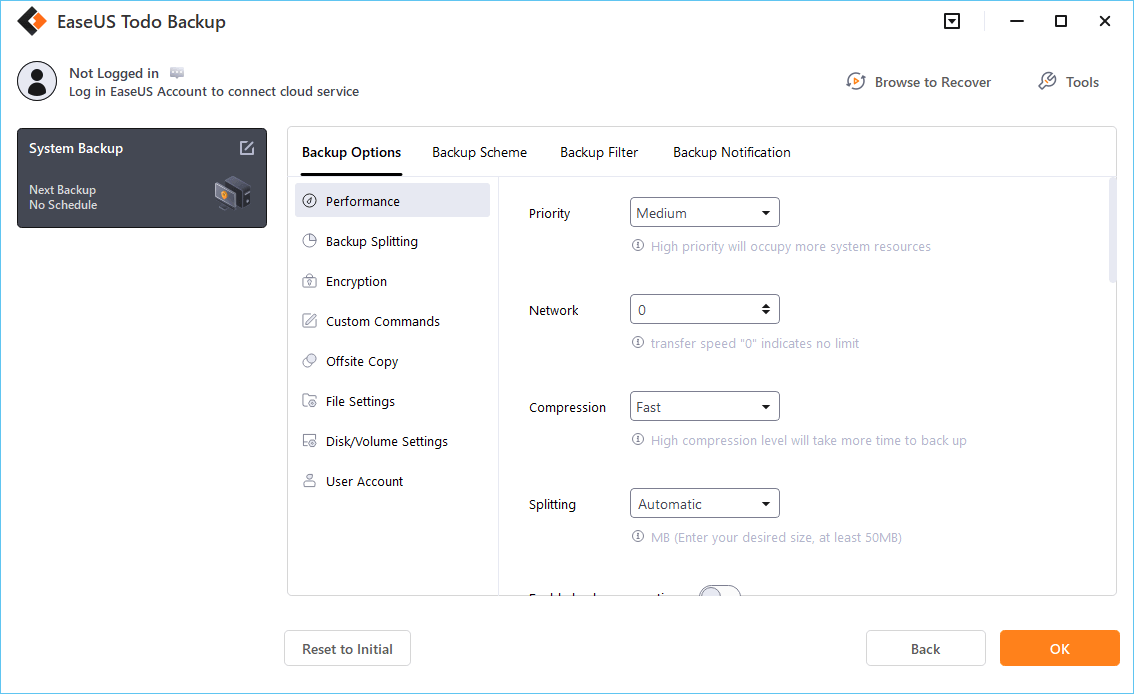 Step 5. Backups can be stored on a local disk, in EaseUS's cloud service, or on a network attached storage device (NAS).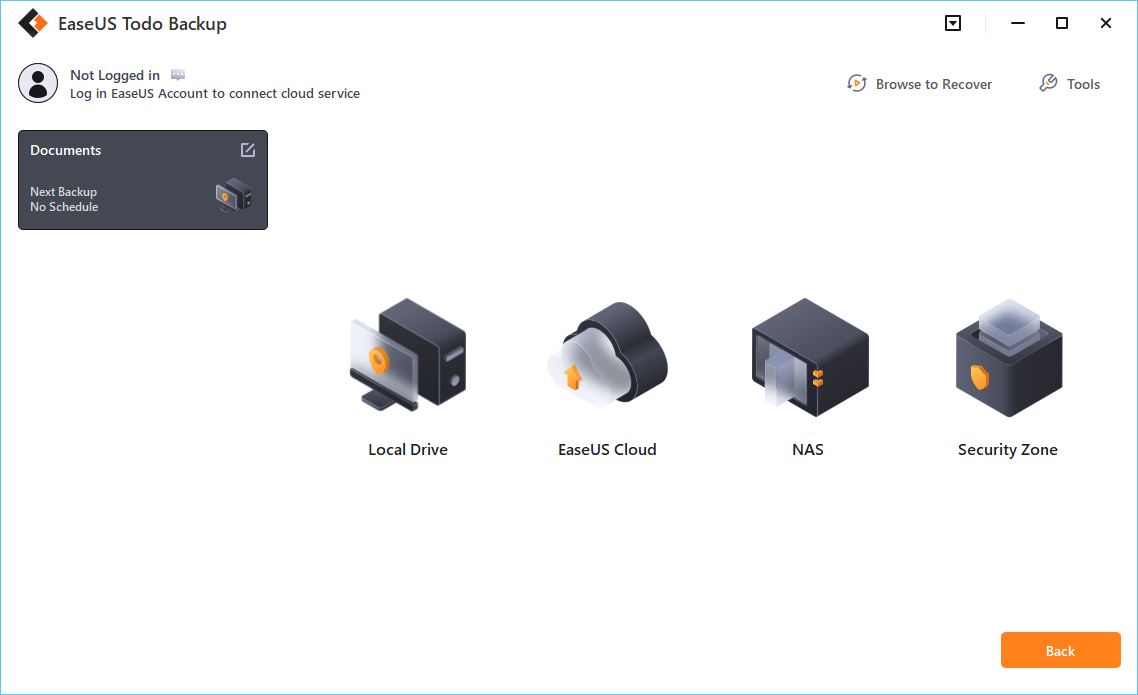 Step 6. EaseUS Todo Backup allows customers to back up data to a third-party cloud drive or the company's own cloud storage.
If you wish to back up your data to a third-party cloud drive, select Local Drive, scroll down to add Cloud Device and enter your account information.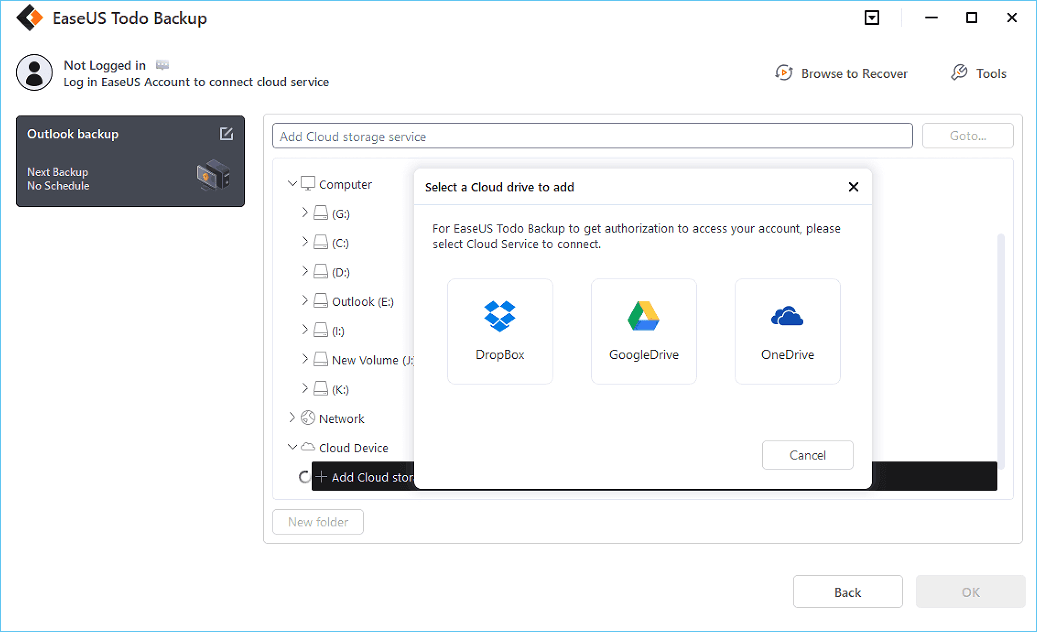 You may also use EaseUS's own cloud storage service. Click EaseUS Cloud, create an account using your EaseUS Account, then log in to your account.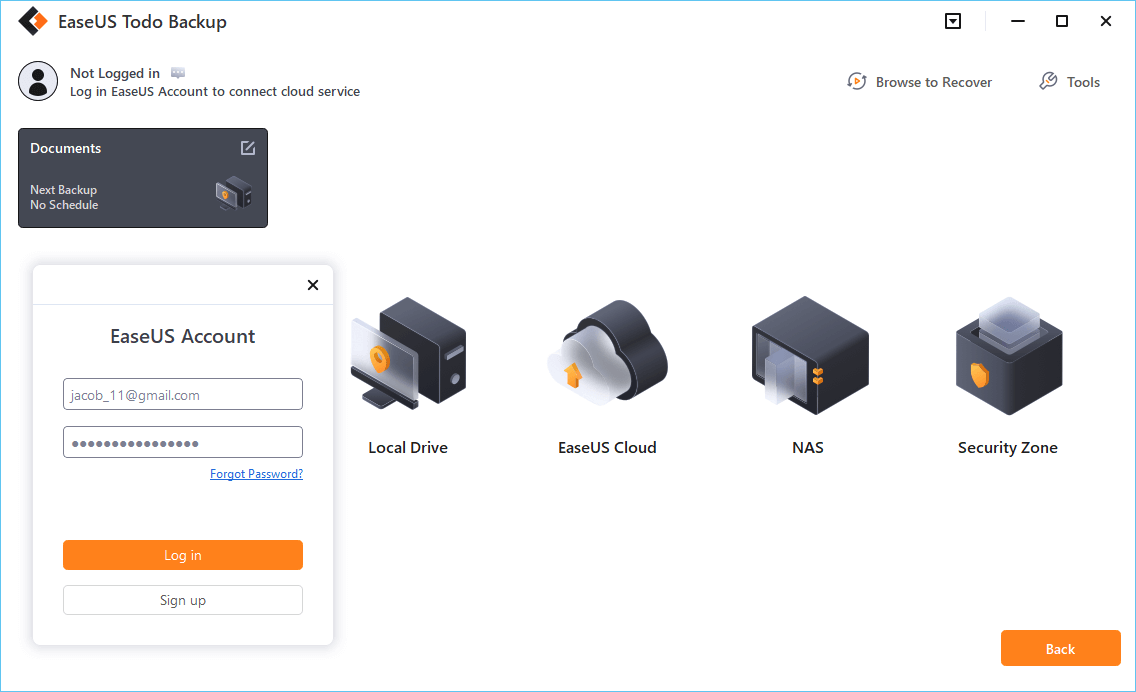 Step 7. To begin a backup, choose Backup Now. It will appear in the shape of a card on the left-hand panel when the backup process has been successfully finished. To handle the backup job in more detail, right-click on it.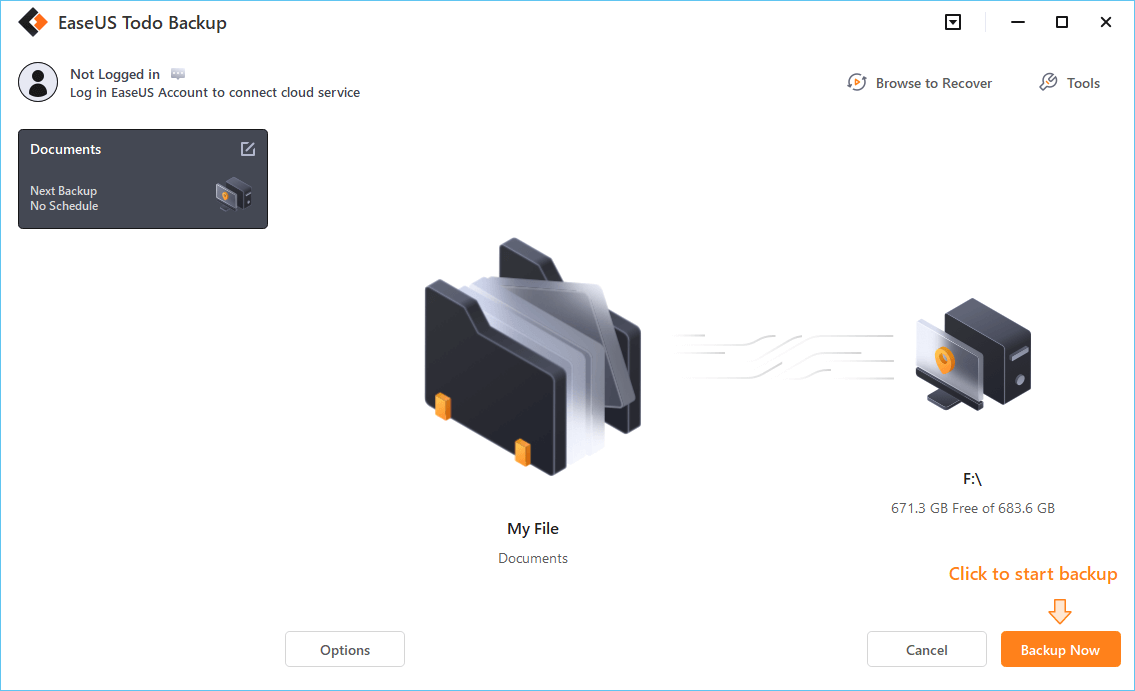 Conclusion
Windows 11 is still in development so early access versions are still unstable. With this added data loss risk, users are encouraged to make regular data backups of important files. With a powerful tool like EaseUS Todo Backup you can automatically backup your documents, reports, movies, music, games, and other files without hassle. You should keep these backups on a separate storage device to prevent data loss issues from also affecting the backup itself. Additionally, you can back up the operating system data on an external drive to transfer it to another computer as needed. See how to transfer systems from dissimilar hardware.

Author Jean has been writing tech articles since she was graduated from university. She has been part of the EaseUS team for over 5 years. Her special focuses are data recovery, disk partitioning, data space optimization, data backup and Mac OS. By the way, she's an aviation fan!
Taking everything into consideration, we can say that EaseUS Todo Backup Home can offer you a little extra sense of security with a set of advanced tools. The interface provides quick adaptation, every process guiding you all the way through so you don't get stuck or further damage your system rather than keeping it safe.

 Read More

EaseUS Todo Backup Free lets you create backups of your important files or your entire computer through its streamlined interface. Just choose the backup type you'd like to get started, and let the program do the reset.

 Read More

EaseUS includes all the features I expect from backup software like versioning, incremental backups, and scheduling. For more advanced users, EaseUS allows you to install a pre-boot environment onto your hard drive so you can use it to restore files without burning a CD or putting it on an external USB drive.

 Read More

EaseUS Todo Backup
Smart backup tool for your files and entire computer in Windows 10/8/7.
Install Windows on Multiple Computers at Once? No Problem!
Learn how to install Windows 11/10/7 and special programs/software on a batch of computers. Use 10 minutes to do the 10 hours work without making a single mistake!
Get Free Solution!