How Does Windows Backup Work? Explanation to All 3 Windows Backup Tools
Updated by
Jean
on May 07, 2022
| Workable Solutions | Step-by-step Troubleshooting |
| --- | --- |
| 1. Back Up Using File History | Select Start​ > Settings > Update & Security...Full steps |
| 2. Using Backup and Restore | In Windows 10, for example, open Control...Full steps |
| 3. Using EaseUS Todo Backup | Click the "Select backup contents" button...Full steps |
"There are two kinds of computers - Those that have failed and those that will" 
It's a widely spread sentense that emphasizes the importance of backing up your computer with entire Windows OS installation, customized configuration, programs, and files. It's nothing but painful to rebuild your computer from scratch after a long time use due to a severe system crash, hardware failure, malware attacks and all kinds of unexpected disasters that damage your hard drive and corrupt your files. With a full backup of everything you care, you would certianly be released to handle the accident by recovering your computer from its previous state, without reinstalling OS or suffering from permanent data loss.
Windows Backup Strategy - What Is It?
Generally speaking, for all PC and laptop users, the Windows backup strategy can be divided into two categories: One is the native Windows backup tool preinstalled along with the system, and the other is a third-party alternative that needs a manual download. Both strategy is for providing users with a solution to back up desired data, though the solution of each is selected to be a basic one or an advaned one.
The native Windows backup tool is made-ready, which is rarely changed from one Windows version to the other; while a third-party Windows backup program is usually your best bet, for that it has been optimizing, updating and upgrading in every aspect that facilitates the whole backup process and guarantees the best result of a slim, secure and solid backup image.
In Windows 7, the default Windows backup program is "Backup and Restore"
In Windows 8, the default Windows backup program is "File History"
In Windows 10, Microsoft decided to keep both. "File History" is the prior backup choice, while you can still choose to restore an old backup via "Backup and Restore (Windows 7)"
When it comes to downloading a third-party backup application on your PC, it has to be EaseUS Todo Backup. It's acknowledged the most cost-effective yet powerful Windows backup and recovery solution among the third-party ones. Particularly, as for the "backup" area, 99% of the options are FREE.
OUT SOURCE: EaseUS Todo Backup Review 2022 →
How Does Windows Backup Work?
No matter which side of the backup strategies you choose, the first thing you should do is set up the backup task, and in the first place, create a full backup. Any backup task that is later running on your PC is based on the previous full backup.
In the default Windows backup plans, the configuration options are limited when it comes to select what items to back up, while the EaseUS free backup software covers almost everything our users tend to back up. Compare the difference in the below table.
Backup Configurations
File History & Backup and Restore
EaseUS Todo Backup
Hard Drive or Partition

File History: ×
Backup and Restore: √

√
Operating System

File History: ×
Backup and Restore: √

√
Files and Folders

File History: √
Backup and Restore: √

√
Outlook/Exchange Mail

File History: ×
Backup and Restore: ×

Free: ×
Home: √

Cloud Backup

File History: ×
Backup and Restore: ×

√
Compress Backup Image

File History: ×
Backup and Restore: ×

√
Encrypt Backup Image

File History: ×
Backup and Restore: ×

√
Backup Automation

File History: ×
Backup and Restore: ×

√
How to Back Up Files and Folders Using File History
Windows File History is the primary backup strategy for Windows 10 computers. It's exclusively for creating backups of files and folders of saved games, downloads, favorites, pictures, documents to name a few. You can choose to add more folders on your computer hard drive, or remove those folders you think they're unnessary. For example, we do not recommend back up OneDrive folder as it's syncing to the cloud drive automatically.
To make File History work, you must:
Use an external hard drive, USB flash drive or SD card to save the backups
Use additinal backup method to create a system backup image
Step 1. Select Start​ > Settings > Update & Security > Backup > Add a drive , and then choose an external drive or network location for your backups.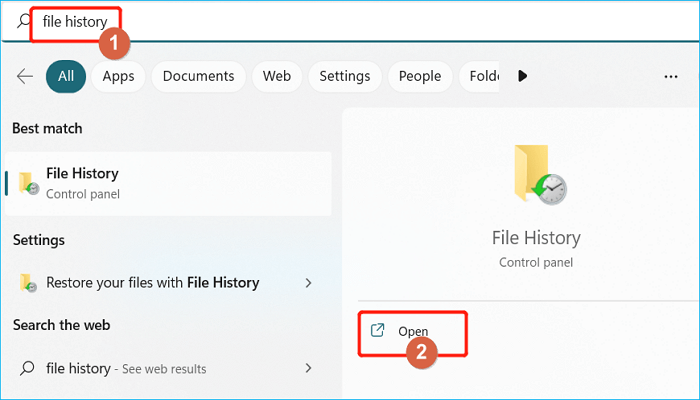 Step 2. After choosing a drive, the Automatically back up my files option will be enabled, and then please select More Options to set up the cycle time and folder of backup settings.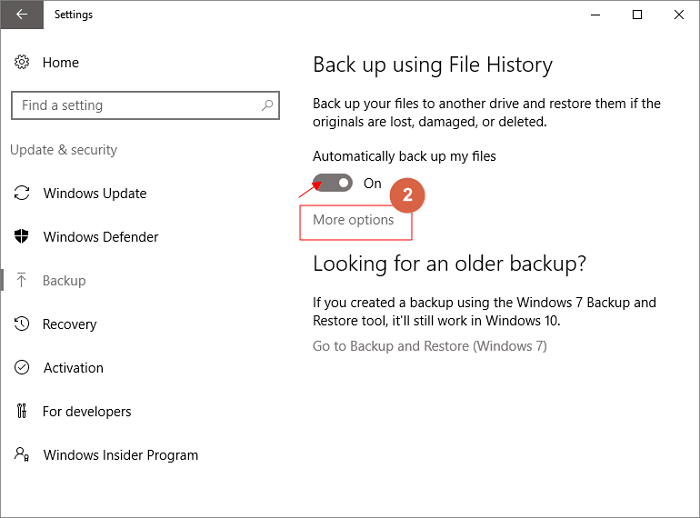 Step 3. Choose the cycle time of how often you want to back up your files once, and the period of how long you want to keep your files.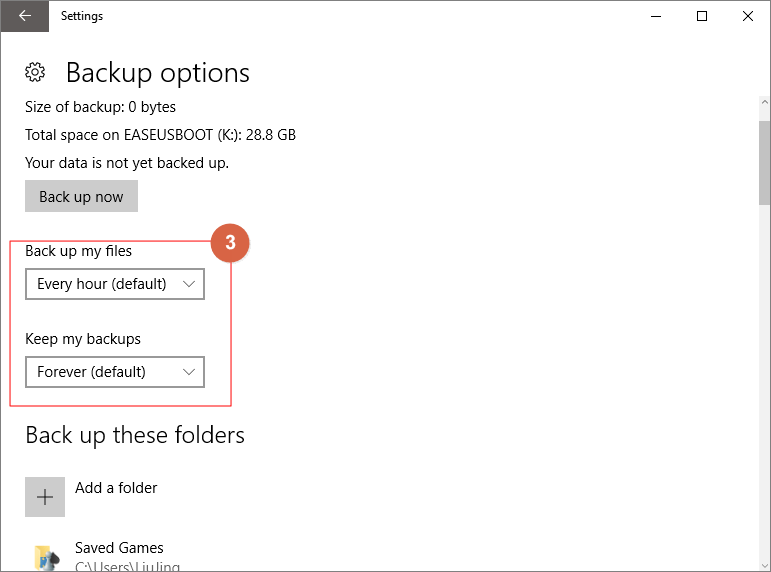 Step 4. The following will list which folders are backed up, and you also can select Add a folder to add the folders you want to back up.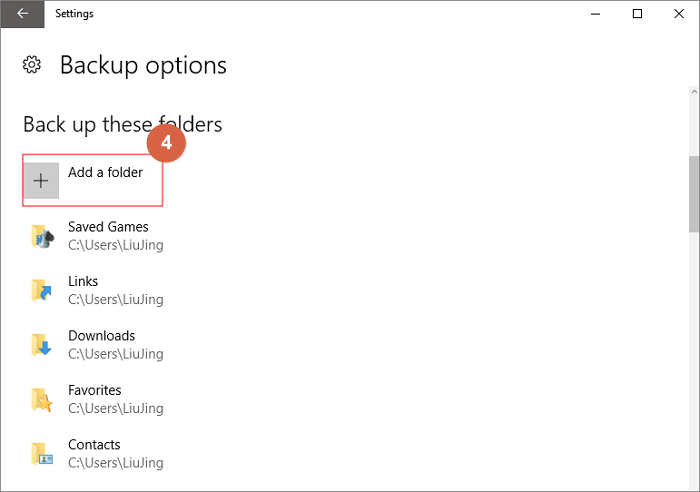 Step 5. At the same time, you can exclude some folders you don't want to backup. Click "Add a folder" under the option "Exclude these folders".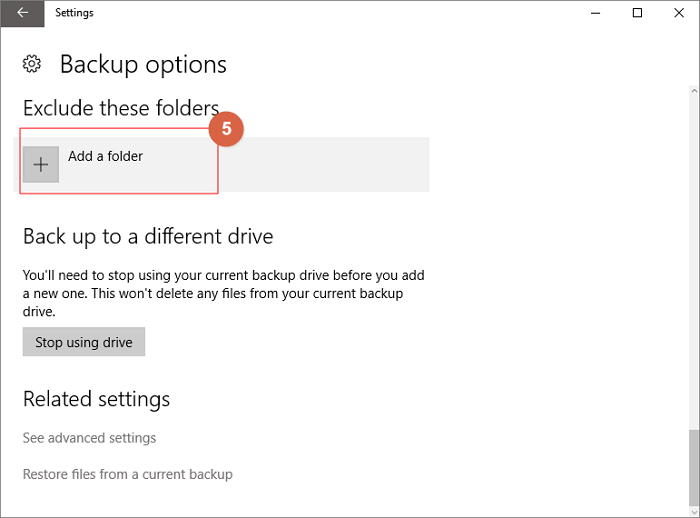 Step 6. After the setup is completed, please select Back up now.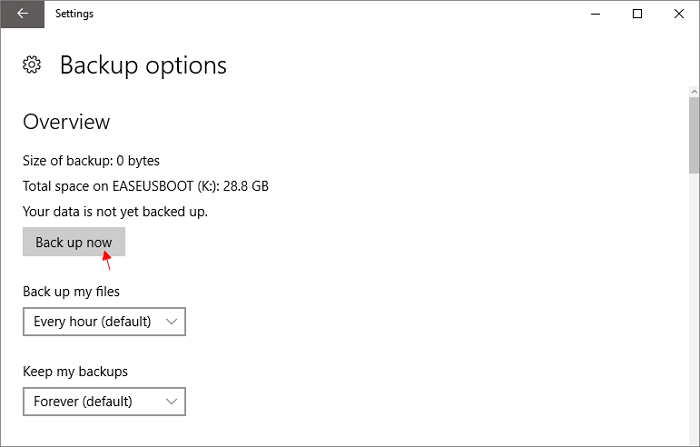 Step 7. If you want to change to a different backup drive, you need to stop using your current backup drive first. Please select Stop using drive, then you will be able to choose another drive to back up your file.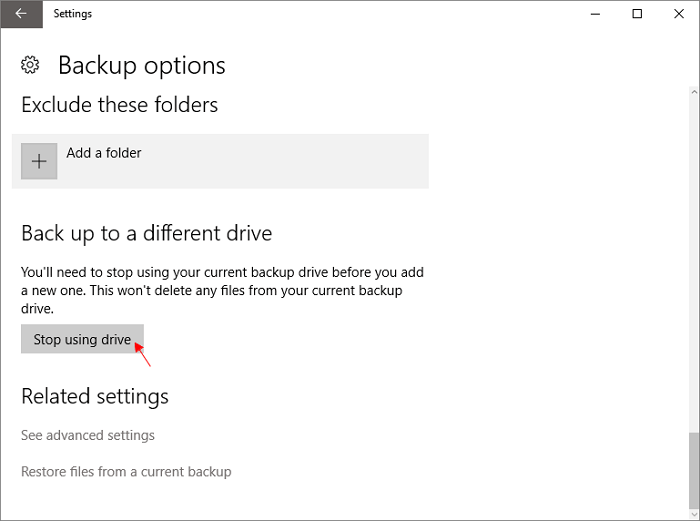 How to Back Up PC Using Windows 7/10 Backup and Restore
Compared with File History, the older Backup and Restore program can do much more work in creating backups of operating system and files/folders. To be able to restore files and folders from a backup, you must choose what to back up by youself instead of using the default Windows choice. 
Windows 7 and Windows 10 Backup and Restore lets you:
Create a backup of any items on your PC, including a drive, seletected files and folders and operating system
Save the backup images to a local hard disk, an external hard disk or network drive
Step 1. In Windows 10, for example, open Control Panel and find the option "Backup and Restore (Windows 7)" and open it.
Step 2. To begin with, click the Set up backup link if it's the first time you set up a backup file on your computer.
Step 3. The next new windoww will provide a list of available drives for saving your backups, which can be a local drive or an external drive. Windows recommend that you save your backup on an external hard drive for the sake of safety. You can also choose a network drive if possible. After selecting the destination drive to save the backup, click "Next".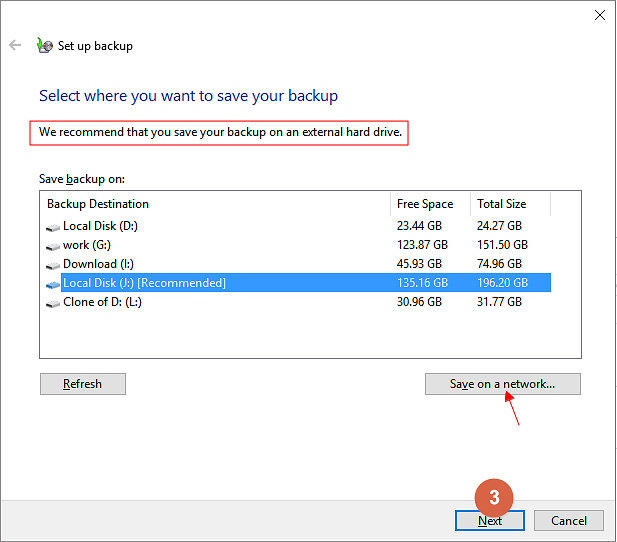 Step 4. Now you need to choose what the backup will contain according to two options: "Let Windows choose (Recommend)" and "Let me choose".
If you want to use the default option "Let Windows choose", Windows Backup creates two backup types in a single operation: a system image, that can be used for disaster recovery, and a backup of data files found in your user's libraries, the Windows desktop, and default Windows folders.
Whereas the second option "Let me choose" allows you to back up individual folders, drives or libraries according to your own needs.
Let's continue with "Let me choose". There you can choose simply all desired items in every drive and folder. We advise you always tick the option "Include a system image of drives" in case you'll use it to restore your computer if it stops working.
Step 5. Next you can review the backup task and have the possibility to select how your backup process will run. To configure your scheduled backups use the "Change schedule" link. When done, click "Save settings and run backup".
"Change schedule" lets you to configure how often/what day/what time you want to run a backup. For an efficient backup task, the recommended schedule is reasonable to adopt.
Step 6. After all the configurations made, the complete window will display the backup in progress, and detailed information of the backup status is showing in below, such as the next and last backup, the contents and schedule.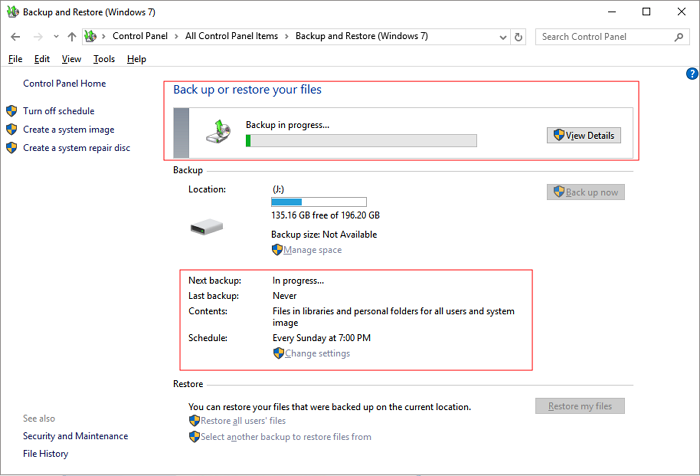 How to Back Up Everything Using EaseUS Todo Backup in Windows 10/8/7
After viewing the overall steps to create a backup in File History or Backup and Restore, most of you may feel upset because the procedures are quite long and complex to follow. Things can turn much easier in EaseUS Todo Backup, of which the ease of use is the top priority we would consider.
Besides, as the above comparison table displays, the third-party free backup software can do more backup jobs, and let you customize your backup files smartly, which both native Windows backup tools cannot:
Create a full backup as well as incremental backup and differential backup
Support one-click smart file backup without manually configuring the first backup
Compress the accumulative backup images in a minimized size
Encrypt the backup image with passwords
Allow you to save backups to a cloud drive like Google Drive, Dropbox and OneDrive
Automatically backup files to external hard drive and USB flash drive after being plugged in
Step 1. To start backup, click the Select backup contents.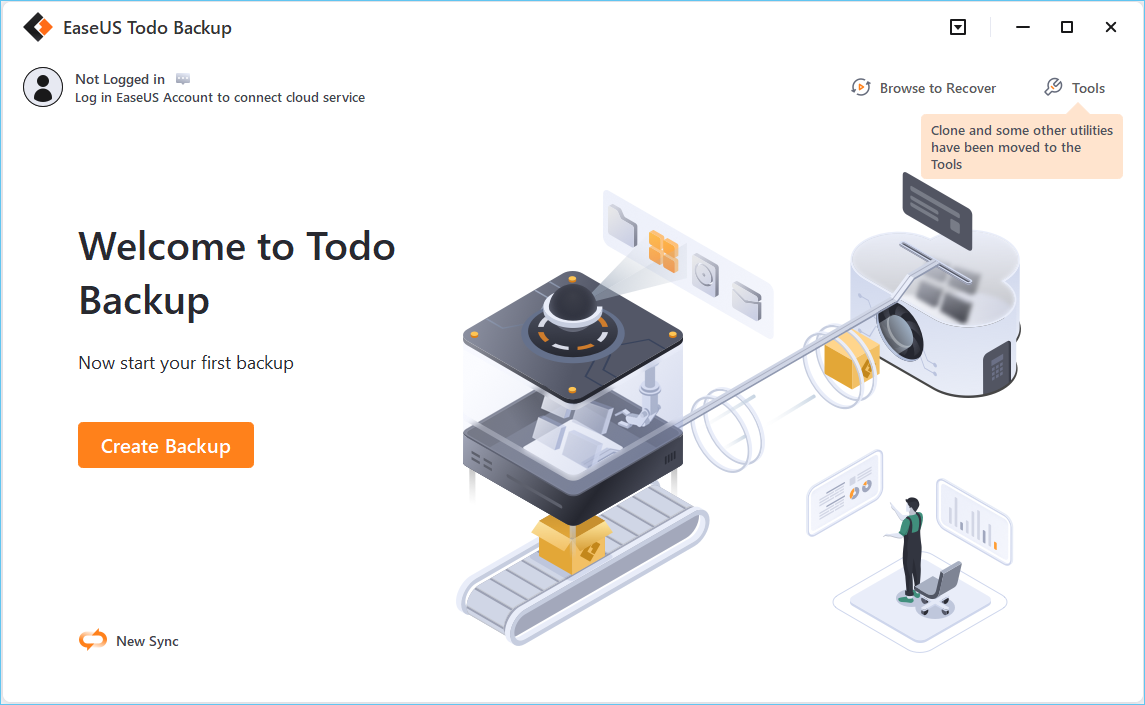 Step 2. There are four data backup categories: File, Disk, OS, and Mail.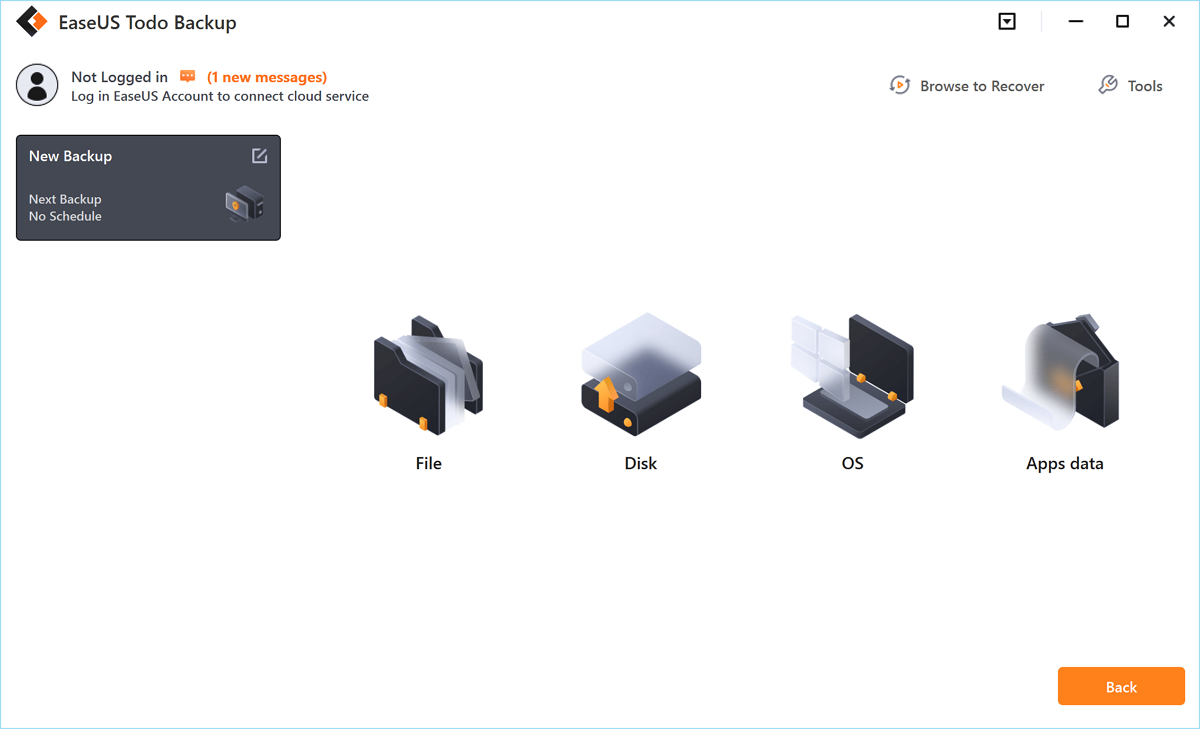 Step 3. On the left-hand side, you'll see a list of local and network files. Selecting the files to be backed up by expanding the directory.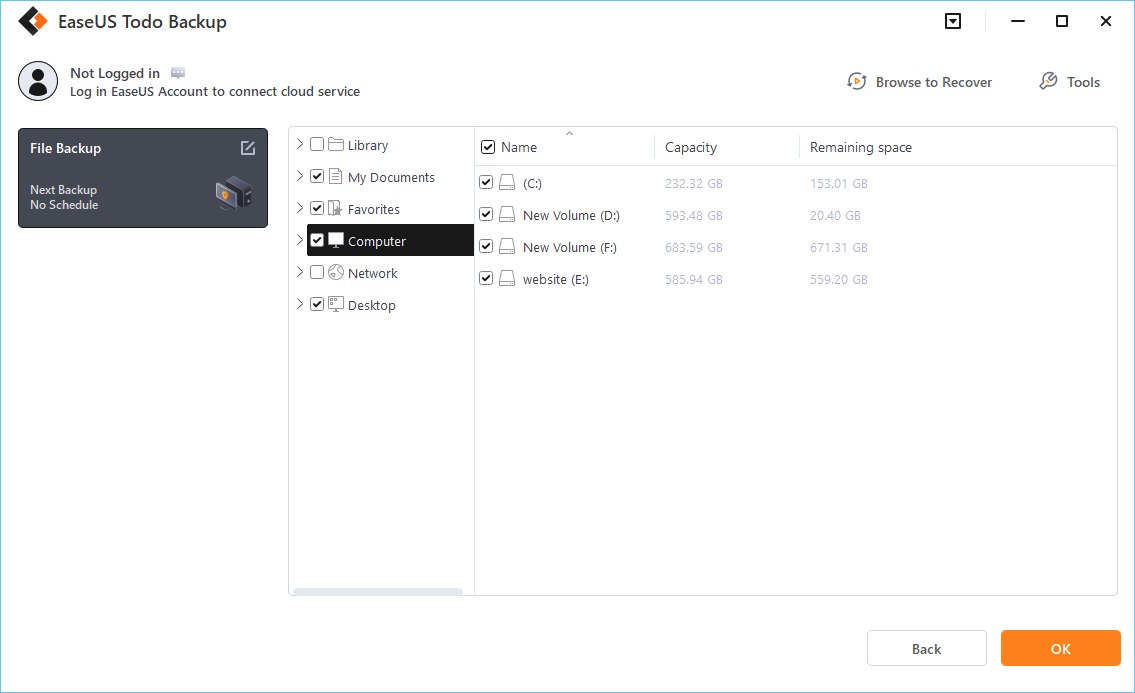 Step 4. Follow the instructions on the screen and pick the location where you wish to store the backup.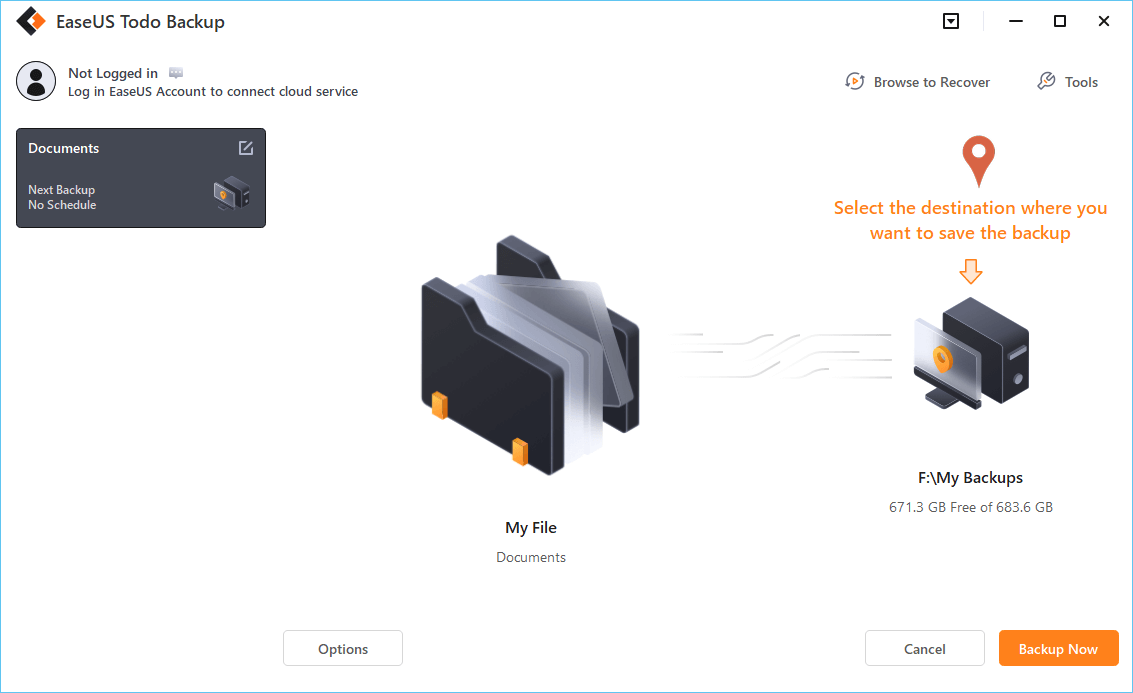 In Backup Options, click Options to encrypt the backup with a password, specify the backup schedule, and choose whether or not to start the backup at a certain event in Backup Scheme. There are a variety of customizable features available for you to explore, and you may tailor the backup operation to meet your specific requirements.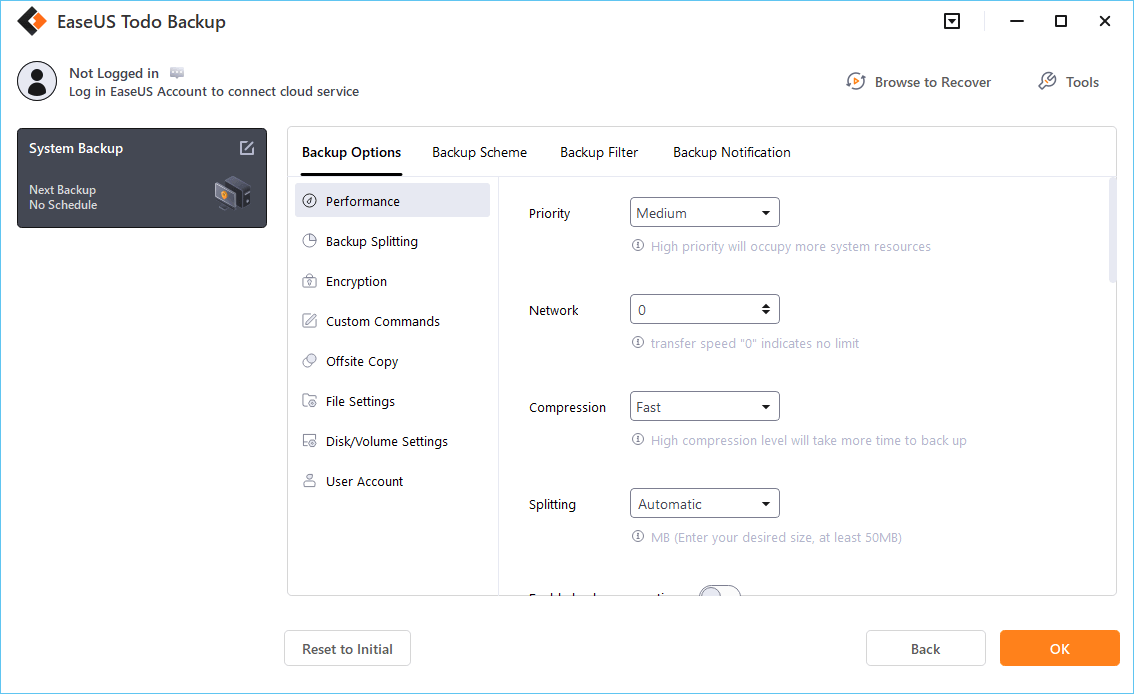 Step 5. Backups can be stored on a local disk, in EaseUS's cloud service, or on a network attached storage device (NAS).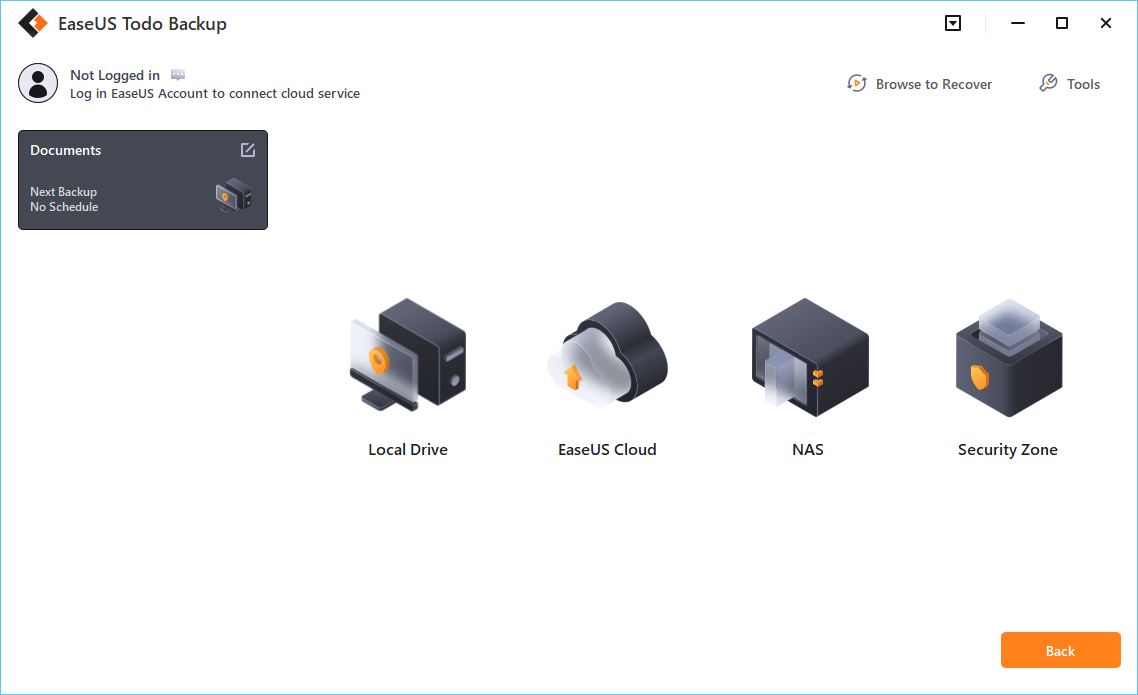 Step 6. EaseUS Todo Backup allows customers to back up data to a third-party cloud drive or the company's own cloud storage.
If you wish to back up your data to a third-party cloud drive, select Local Drive, scroll down to add Cloud Device and enter your account information.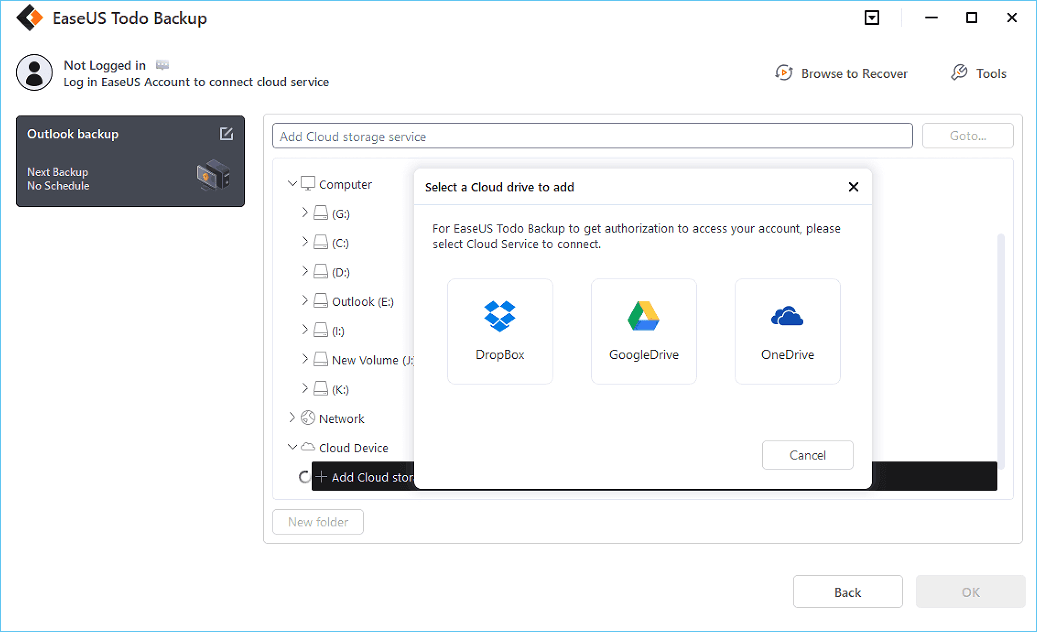 You may also use EaseUS's own cloud storage service. Click EaseUS Cloud, create an account using your EaseUS Account, then log in to your account.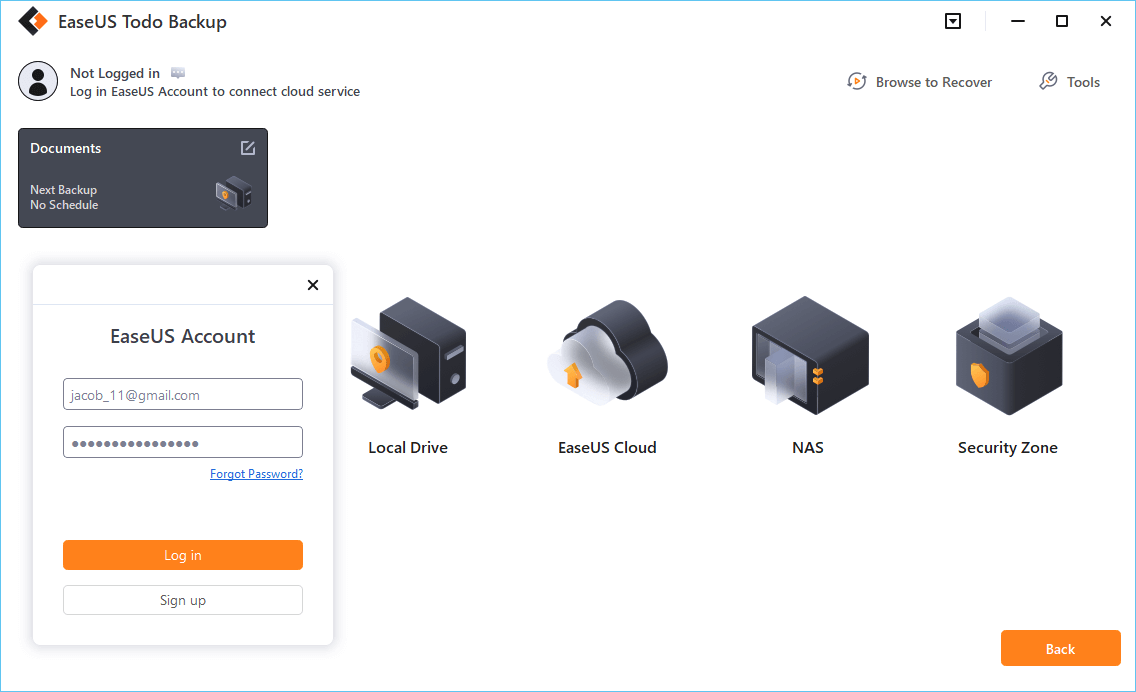 Step 7. To begin a backup, choose Backup Now. It will appear in the shape of a card on the left-hand panel when the backup process has been successfully finished. To handle the backup job in more detail, right-click on it.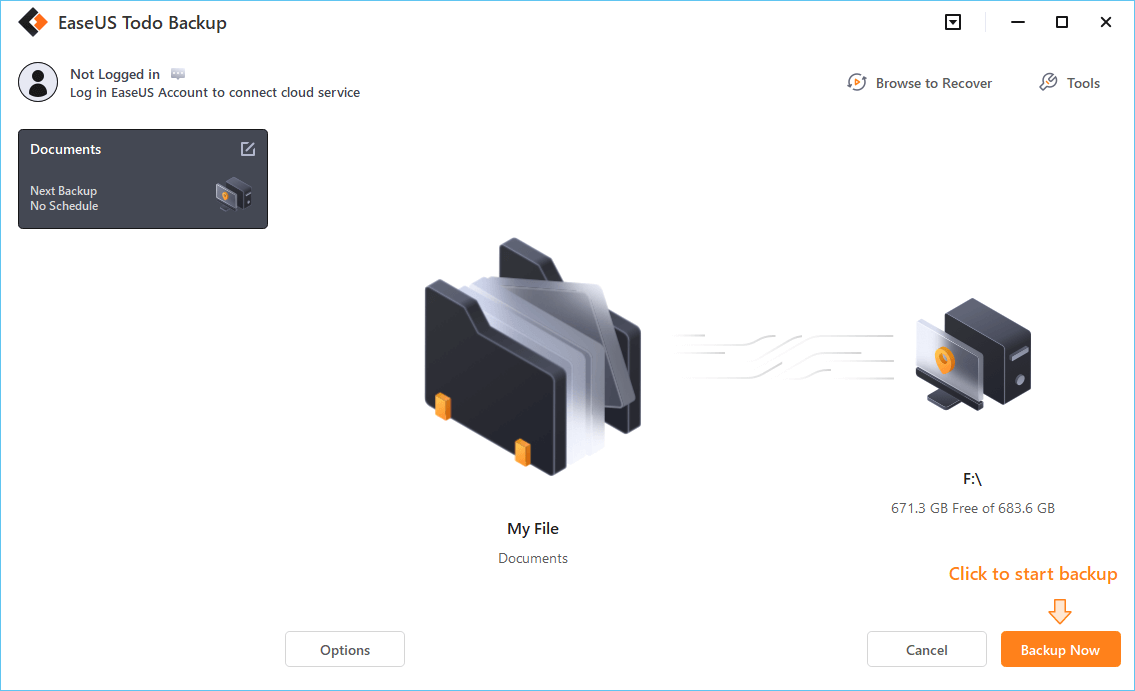 Author Jean has been writing tech articles since she was graduated from university. She has been part of the EaseUS team for over 5 years. Her special focuses are data recovery, disk partitioning, data space optimization, data backup and Mac OS. By the way, she's an aviation fan!
Taking everything into consideration, we can say that EaseUS Todo Backup Home can offer you a little extra sense of security with a set of advanced tools. The interface provides quick adaptation, every process guiding you all the way through so you don't get stuck or further damage your system rather than keeping it safe.

 Read More

EaseUS Todo Backup Free lets you create backups of your important files or your entire computer through its streamlined interface. Just choose the backup type you'd like to get started, and let the program do the reset.

 Read More

EaseUS includes all the features I expect from backup software like versioning, incremental backups, and scheduling. For more advanced users, EaseUS allows you to install a pre-boot environment onto your hard drive so you can use it to restore files without burning a CD or putting it on an external USB drive.

 Read More

EaseUS Todo Backup
Smart backup tool for your files and entire computer in Windows 10/8/7.
Install Windows on Multiple Computers at Once? No Problem!
Learn how to install Windows 11/10/7 and special programs/software on a batch of computers. Use 10 minutes to do the 10 hours work without making a single mistake!
Get Free Solution!