Are you annoyed by the Windows update not working out smoothly? Let's find out how you can stop that from happening.
Every Windows released by Microsoft is a work in progress. That's why they keep updating it, including build numbers, versions, etc. So, when you get these updates, you might be annoyed that thousands of megabytes of content downloading slows down your bandwidth and your computer.
On the other hand, sometimes these updates aren't necessarily good for computers. That's why many users report problem after problem whenever a new update is released. Even windows 11 reported some significant issues since its release in late 2021.
So, let's dive in and find out how you can stop windows update errors efficiently.
Introduction To Windows Update
Windows Update is a service by Microsoft for its operating systems. From 9x family to Windows NT, these update occurs regularly. The primary purpose of these updates is to maintain the integrity of your operating systems.
However, whenever a Windows is updated, it comes bearing various essentials, such as:
Updated drives & software
Updated windows interface
New and improved visuals or animations in Windows
Fixes bugs and troubleshoots common problems
Improve performance of windows components
Enhance the usage of computer hardware
But, if your windows update is showing some sort of error, then it cannot be possible to achieve this. Some of such errors might be:
Windows Update Error "Potential Windows Update database Fan Error Detected"
Other error codes, as stated by Microsoft, include 0x80240034; 0x8007000E, 0x80242006​, 0x80244018​, 0x80D02002​, 0x80246017​, 0x80240438​, 0x80070070​, 0x8007000D​, 0x80246008​, 0x80096004​, 0x80070020
All these potential errors can stop your computer from getting updated. Whether you turn it off entirely or wish for it to work correctly, you need to ensure your windows update works flawlessly and error-free.
Here's what we can do to make it work:
1. Run the Windows Update Troubleshooter
Microsoft had introduced an in-built troubleshooter from Windows 8 and onwards. It's in Windows 10 and 11 as well. This tool aims to fix any and all errors that your computer might be facing.
The good thing is that it happens to troubleshoot Windows Update as one of the standard features that run into trouble.
So, the first step is to let the Windows fix the problem itself. Many times, the problem isn't that big or not that difficult to deal with. However, a few bugs and minor errors might be stopping it from getting an update.
Alternatively, there could be problems with Windows Update settings on your computer. This is the most common cause since we're still used to Windows 10. So, to fix Windows 11 updates error, we need to look closer.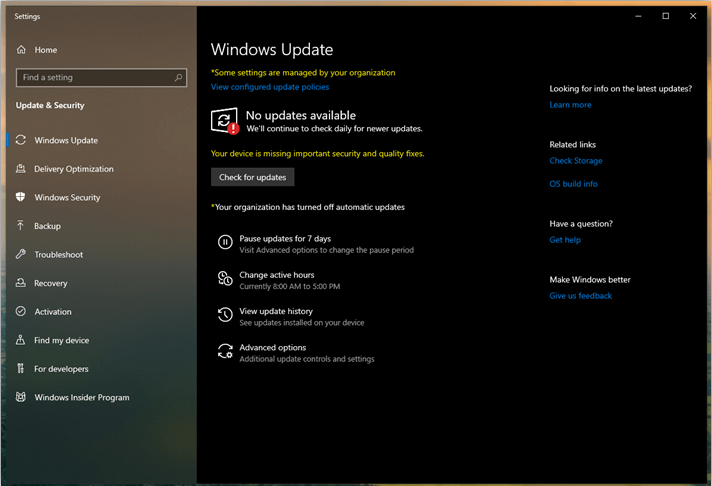 This is the Windows Update section in Settings. As you can see, this computer isn't receiving Windows Updates because "Your organization has turned off automatic updates." Now, this setting can simply be reverted.
But, since we're looking to fix various errors, we'll head to the Troubleshoot section.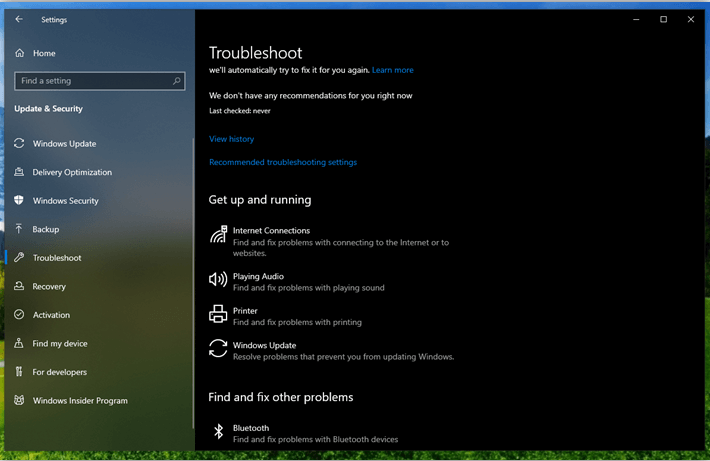 Scroll down to "Get up and running," then click on Windows Update. After that, click on "Run the troubleshooter."
Once the program finishes troubleshooting, restart your computer. So, for a little recheck, here's what to do:
Once you restart your device, then do this:
Then click on Windows Update
In most cases, this would end up fixing your windows update problems. Since the troubleshooter knows how to deal with common issues, such as the errors mentioned before, it's most likely to fix any errors you might face.

Windows 11 KB (KB5012592) Update Improvement: Settings Change, Security Improvements
Windows 11 has a regular update called KB update to improve Windows quality and fix some small bugs. Generally, every Windows user will receive the KB update notice on the second Tuesday of every month. In April 2022, Windows 11 has the KB5012592(22000.613) update, in this article, we will introduce what has been improved in this KB update.
2. Reset the Windows Update Component
Windows Update components are tools and elements that the operating system might have updated recently. Sometimes, these elements end up making your computer more problematic, and it could ruin the Windows Update system itself.
In other words, after a specific botched update, you may not be receiving any newer ones. Microsoft knows this, and besides the in-built one, it also presents a downloadable troubleshooter. Now, here's how you can use it to reset said Windows Update components:
Download and run the MS Troubleshooter
Here's the next window you will see: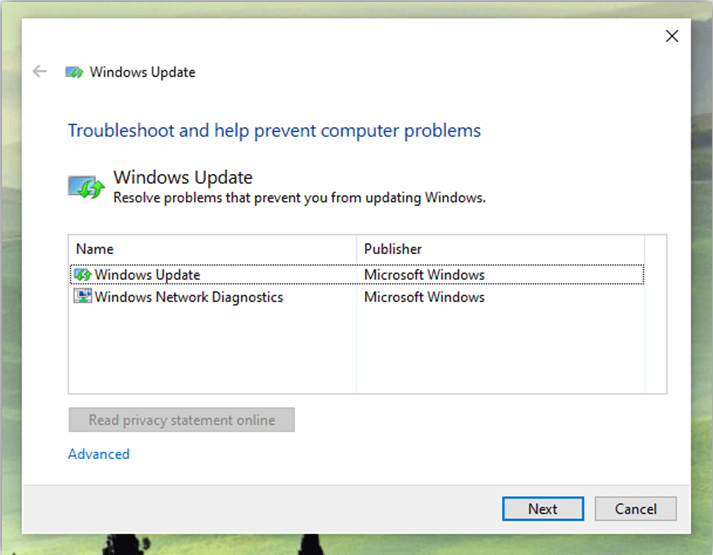 Pick Windows Update and click next
Click "Close" once done
This will fix any additional errors that your computer might be running into. However, at times, network-related problems are also a significant cause of Windows not updating properly. Here's what you should do to ensure that doesn't happen:
Open the MS Troubleshooter once more
Pick Windows Network Diagnostics this time
Follow the instructions on the screen
This will fix any additional network error your computer might have. Therefore, restart your computer, head to the settings, and try to run Windows Update once more.
3. Perform a Repair Upgrade
A repair upgrade is basically just a reinstallation of your Windows without compromising your personal data, programs, and files. However, to perform this, first, you must download the ISO file from Microsoft – either Windows 11 or Windows 10.
You will have to use any ISO mounting tool to access the ISO file. Once you do, enter the drive letter with the mounted ISO file.
Let the installation files prepare
Accept Windows License Terms
Wait for the "Ready To install" screen to show up
Click on "Change what to keep"
Pick the tools you wish to keep and remove the ones you don't
Click on Install and let it run its course
Once the process is over, sign in to your Windows account and run Windows Update once more. This procedure is guaranteed to fix any additional errors, besides any troubles you might be facing with the windows.
Conclusion
There's how you fix Windows 11 updates error, folks. Follow these steps to ensure your computer receives all the necessary updates from Microsoft. Each of these steps can resolve any issues—so follow each one until your problem no longer persists.
Daisy is the Senior editor of the writing team for EaseUS. She has been working in EaseUS for over ten years, starting from a technical writer to a team leader of the content group. As a professional author for over 10 years, she writes a lot to help people overcome their tech troubles.
Written by Gemma
Gemma is member of EaseUS team and has been committed to creating valuable content in fields about file recovery, partition management, and data backup etc for many years. She loves to help users solve various types of computer related issues.
Taking everything into consideration, we can say that EaseUS Todo Backup Home can offer you a little extra sense of security with a set of advanced tools. The interface provides quick adaptation, every process guiding you all the way through so you don't get stuck or further damage your system rather than keeping it safe.

 Read More

EaseUS Todo Backup Free lets you create backups of your important files or your entire computer through its streamlined interface. Just choose the backup type you'd like to get started, and let the program do the reset.

 Read More

EaseUS includes all the features I expect from backup software like versioning, incremental backups, and scheduling. For more advanced users, EaseUS allows you to install a pre-boot environment onto your hard drive so you can use it to restore files without burning a CD or putting it on an external USB drive.

 Read More

EaseUS Todo Backup
Smart backup tool for your files and entire computer in Windows 10/8/7.
Install Windows on Multiple Computers at Once? No Problem!
Learn how to install Windows 11/10/7 and special programs/software on a batch of computers. Use 10 minutes to do the 10 hours work without making a single mistake!
Get Free Solution!