Overview of Smart Failure Predicted on Hard Disk 0, 2, 4 Issue
"Recently, every time when I start my Dell laptop which runs Windows 7, it shows the error message: "Smart Failure Predicted on Hard Disk 0 : ST9640320AS - (S1)". But the Windows 7 boots normally and everything still works Well. So, what does it mean? What caused the error?"
What Is a Smart Failure
When getting 'Smart Failure Predicted on Hard Disk' error message, you may first ask what smart failure is. Here we will give you the answer. SMART (Self-Monitoring, Analysis, and Reporting Technology) is a self-diagnostic utility that is built into a hard drive (HDD) and solid-state drive (SSD) to continuously monitors drive condition such as performance and error rates and reports the results to the system. It uses a technology known as predictive failure analysis to tell you failure on the hard disk is imminent, not an actual failure.
Reasons and Common Cases
A 'Smart Failure Predicted on Hard Disk' error message usually comes with WARNING: IMMEDIATELY back up your data and replace your hard disk drive. A failure may be imminent. Press F1 to Continue.
It usually appears on Dell laptop, Sony Vaio, Lenovo ThinkPad and many other devices in Windows 7, 10 due to excessive bad sectors, shock, overheating, not defragmenting if your disk is almost full, wrong shutdown, etc.
How to fix or disable Smart Failure Predicted on Hard Disk on 0, 2, 4
'Smart Failure Predicted on Hard Disk' error suggests the hard disk in your computer will be dead soon, maybe in several days, in one week or in one month even it is not yet right now. So, you'd better repair smart hard drive failure issue as soon as possible just in case the possible disasters following the unexpected hard disk failure.
1. Back Up Data Before Repairing Smart Hard Drive Failure Issue
Download and launch EaseUS free backup software. Choose the right backup option.
Step 1. To back up an entire hard disk or simply its several partitions, the best backup plan is "Disk/Partition Backup". Choose this backup mode and let's begin.
Step 2. On the popup window, choose the hard drive or partition(s) you're going to back up. A check symbol  appears after you clicked the mouse.
Step 3. Click the "Browse..." button in the "Destination" area to choose a backup location. Here, you can choose any location that is available to you, such as the local hard disk, folders, Network drive, NAS device or Cloud storage, including GoogleDrive, DropBox and OneDrive. You can explore all the connected drive by clicking the  icon in front of each directory.
Step 4. Now edit your disk backup image by adding a "Plan name" and "Description" to it.
Do not forget the advanced backup plans in "  Backup options", where you can compress the backup image, encrypt the backup for privacy protection and even enable a sector by sector backup.
At the same time, you can turn on the "Schedule" in order to create a hard disk/partition backup on a regular basis like daily, weekly, monthly or upon an event according to the schedule set on your own.
And the "Image-reserve strategy" lets you manage the increasingly growing backup images economically, you can preserve the backups in a setup time or quantity.
Step 5. Not all the customizable hard disk/partition backup solutions are necessary but try to make full use of the necessary ones. Finally, click "Proceed" to start at once.
For safety, disconnect the physical storage device you used as a backup drive after the backup process is over.
The program also allows you to clone disk in Windows 10. In this case, you can move to a new hard disk without Windows installation. It will save you all the tedious work to manually fix Smart Failure Predicted on Hard Disk on 0, 2, 4 issue.
2. Fix/Disable Smart Failure Predicted on Hard Disk
There are two ways you can apply.
Method 1. Run CHKDSK to check and Fix Bad Sectors
Step 1. In Windows 7, click "Start" -> "Computer", in Windows 10, click "File Explore".
Step 2. Right click on any one partition on the hard disk with SMART failure error.
Step 3. Select "Properties" -> "Tools" and hit "Check now" under the "Error-checking".
Step 4. Enable the "Automatically fix file system errors" and "Scan for and attempt recovery or bad sectors" options.
Step 5. Click on "Start" to begin the process.
If you check the partition that contains your Windows 7 or Windows 10 installation, you will be prompted to schedule disk check after the restart.
If you don't have any technical know-how and want to minimize data risks, using third-party software could be a better choice. The Command line is suitable for computer professionals since wrong commands can cause severe problems. Therefore, we strongly recommend you to try an automatic command line alternative.
EaseUS Tools M is a practical computer fixing tool that is safe and light-weighted. It's a perfect alternative to CHKDSK command. Use this one-click tool to solve your computer issues.
To fix file system error or disk error:
Step 1:  DOWNLOAD EaseUS Tools M for Free and install it.
Step 2: Open the software and select "File Fixing" on the left pane.
On the right pane, choose the drive and check off the box at the bottom - "Check and fix file system error". Then, click "Fix" to start repairing the error.
Step 3: Wait until the operation completes. Wait until the operation completes. After the operation completes, click the "View" button to check the drive.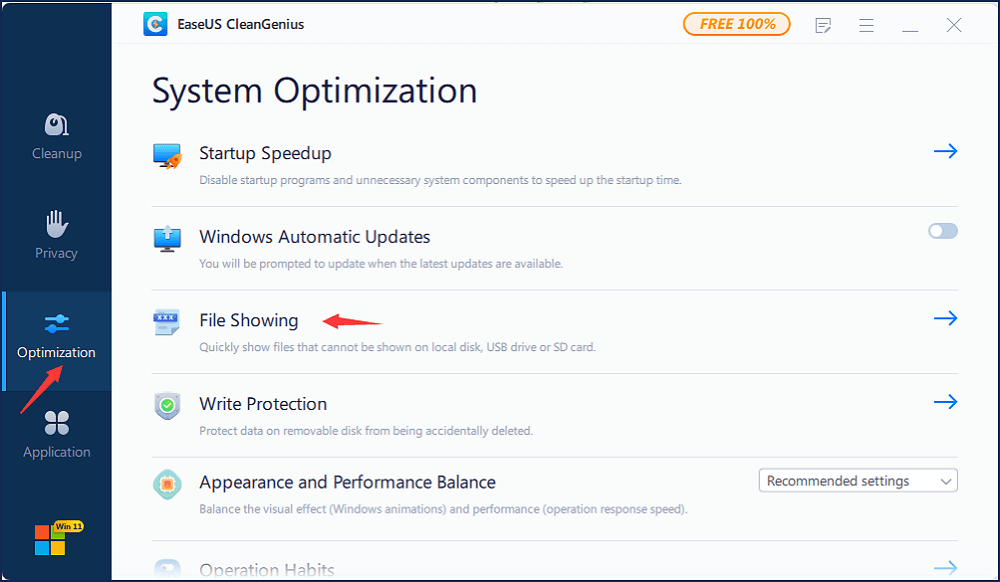 Method 2. Defragment Disk
It is common that a SMART hard drive failure warning is according to disk fragmentation, and can sometimes be repaired by defragmenting disk.
Step 1. Click the "Start" button.
Step 2. In the search box, type Disk Defragmenter and then select "Disk Defragmenter" in the list of results.
Step 3. Select the drive you want to defragment and click "Defragment Disk".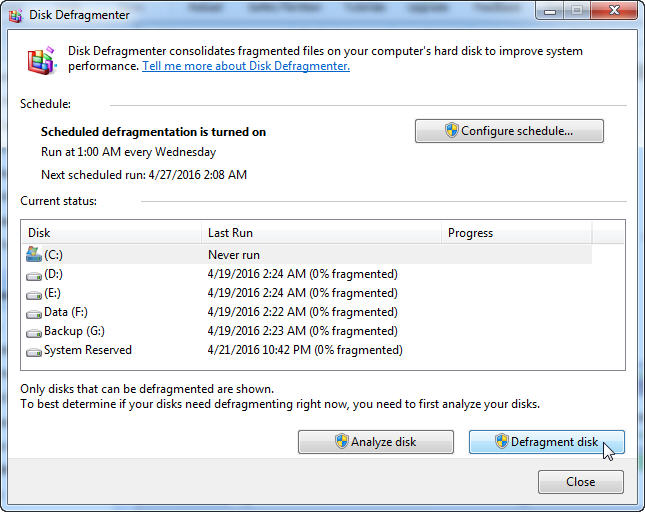 These are all the possible solutions that might help to fix or disable Smart Failure Predicted on Hard Disk on 0, 2, 4 issue. Try them one by one to repair smart hard drive failure when the issue occurs on Dell laptop, Sony Vaio, Lenovo ThinkPad and other devices in Windows 7, 10 with ease.
100% of people found this article helpful.
Frequently Asked Questions
Why choose EaseUS Todo Backup?

"The easiest way to protect your data and system files." —techradar

"EaseUS Todo Backup Free is one of the most popular free data backup applications available. This software offers a myriad of features and is extremely user-friendly. It provides a full system backup, meaning you can back up your entire operating system." —TopTenReviews

"EaseUS ToDo Backup Home is a great backup program, well suited to the home and SMB space." —PCWorld
What is the difference between Clone and Backup? In what cases should I use Clone?

Clone will copy one disk to another or one partition to another (unallocated space is also supported). Usually, this option is used to upgrade the current disk by creating an identical copy. Backup will generate a .PBD image file containing the selected files or system that can be restored from the .PBD image if needed.
What is the difference between System Backup and Disk Backup?

System Backup will auto-select the system boot related partition(s) as the backup source to make sure the system image can be restored properly. Disk/Partition Backup will allow you to manually select a whole disk or speficy a certain partition as the backup source. You will get the same backup result as System Backup if you manually select the system and boot partitions with the Disk/Partition Backup option.
As a computer newbie, what features should I use to protect my computer?

You can use System Backup to back up the system and boot partitions, use Disk/Partition backup to back up the data partition and add plans to run an automatic backup. If you use the computer frequently or have software that may cause boot failure of the computer, we would suggest you back up the computer every 1 to 2 days. For other situations, you can backup the computer once a week. In addition, you can schedule File Backup to back up the files which are changed frequently.
What kind of storage service should I use to save my backup images?

EaseUS Todo Backup can save backup images to internal disks, external disks, network drives, or free cloud(Google Drive, Dropbox, and OneDrive) and CD/DVD. It is suggested to save the images to the internal/external/network drives to save time as those kinds of disks have a better read-write speed. It is suggested NOT to save the image on the source disk, because once the disk is damaged, all the files on the disk will become unavailable and you will be unable to restore the image.
As a company network administrator, what features should I use to protect our internal computers?

It is recommended that you use the SQL Backup feature to back up your company's SQL server and Exchange Backup feature to back up the Exchange server. In addition, you can execute System Backup to back up the system and boot partitions on every computer and set a plan to execute the backup once a day or twice a week to ensure that the computer can be restored timely when it has boot issues. File Backup feature can be used to back up important user data. If there are a large quantity of computers, you can purchase EaseUS Backup Center to manage the backups on the client computers centrally.
About EaseUS Todo Backup
Be it a file, system, partition, or disk, EaseUS Todo Backup will help you back up or clone the item and provide you with multiple backup plans.