How to Choose a Good External Backup Drive for Windows 10 Backup?
When choosing an external backup drive, the first thing that you want to consider is its speed in terms of backing up and retrieving files. Here, external SSDs (solid state drives) will top the list because, unlike HDDs (traditional hard disks) that use spinning platters, they store files in flash memory. This makes such drives have improved performance.
Storage capacity is the second factor you must consider when choosing an external backup drive. Compared to SSDs, HDDs offer large storage capacities at affordable prices. Lastly, the price is another significant aspect you should remember when determining the right external system backup drive.
Everyone wants something affordable that compliments their storage needs. Generally, HDDs cost less than SSDs. For instance, an HDD of 4TB will cost you around $100, while a similar capacity for an SSD will be relatively higher.
A Backup Software: Help You Complement External Backup Drives in Windows 10
In addition to saving your files and data on Windows 10 using external backup drives, you can also use EaseUS Todo Backup software. This backup software allows you to back up files, system settings, and program files. You can save these files to internal hard drives, external drives, the cloud, or NAS.
You can then recover the files whenever your computer system crashes or faces a malware attack. EaseUS Todo Backup offers a free cloud storage space of 250GB for each user. This helps to enhance the safety of your files using password-enabled protection.
In addition to making full backups, the software allows you to make incremental backup and differential backup. It also provides multi-path backup storage, bootable backup and recovery, and basic backup scheduling. To get started with EaseUS Todo Backup Free, you can download and install a trial version of the software on your computer today.
If you want to back up your files via EaseUS Todo Backup, you can follow the steps below:
Step 1. Open EaseUS Todo Backup and choose "Create Backup" on the home page, click "Select backup contents".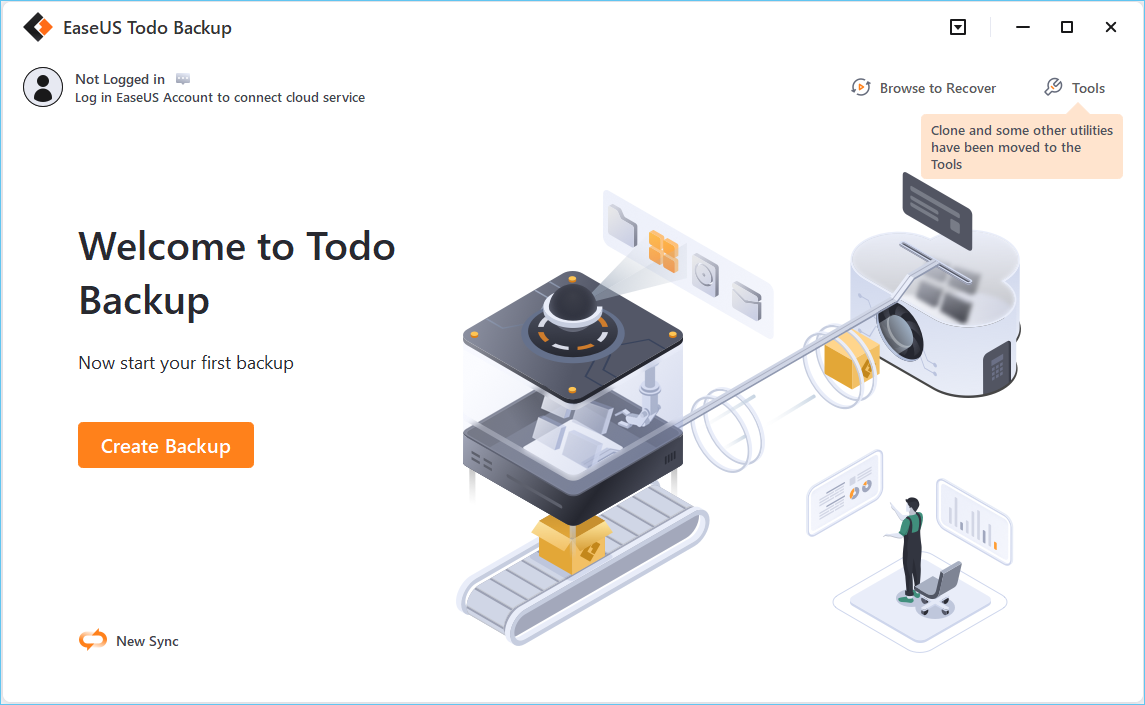 Step 2. As you want to back up your Disk, just click "Disk" to start back up.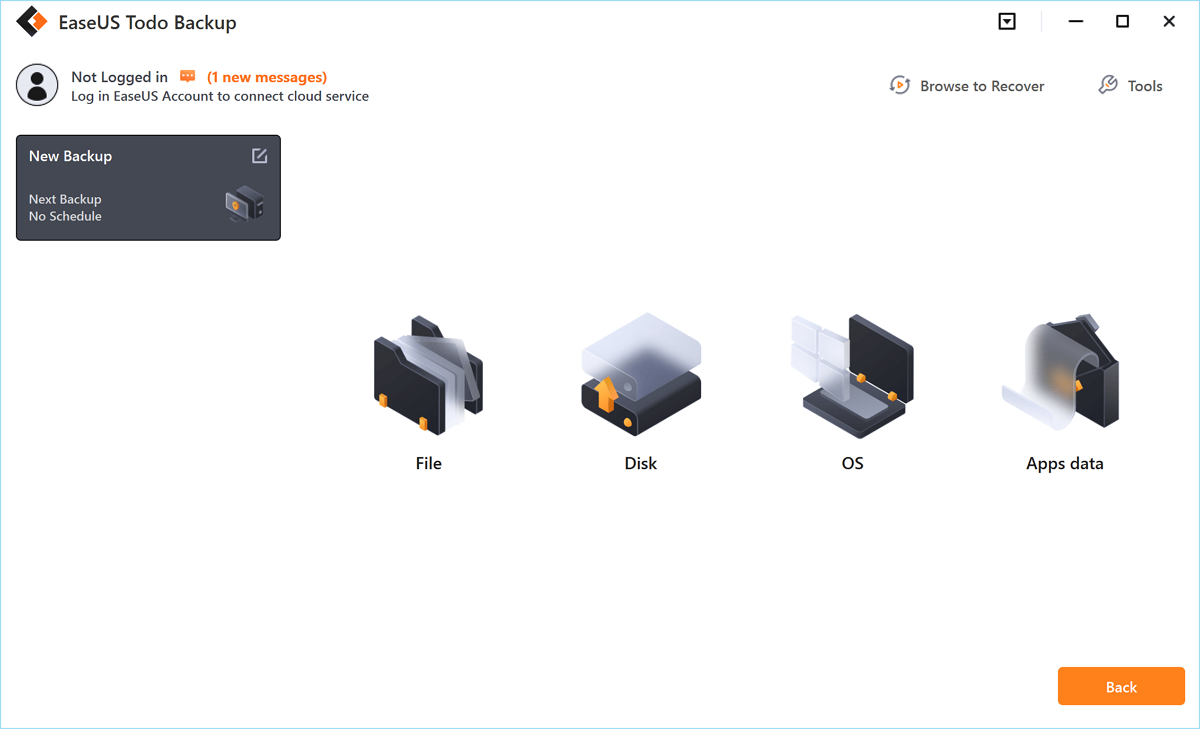 Step 3. EaseUS Todo Backup offers you options. You can choose to back up a whole disk or a certain partition as you need. And then click "OK".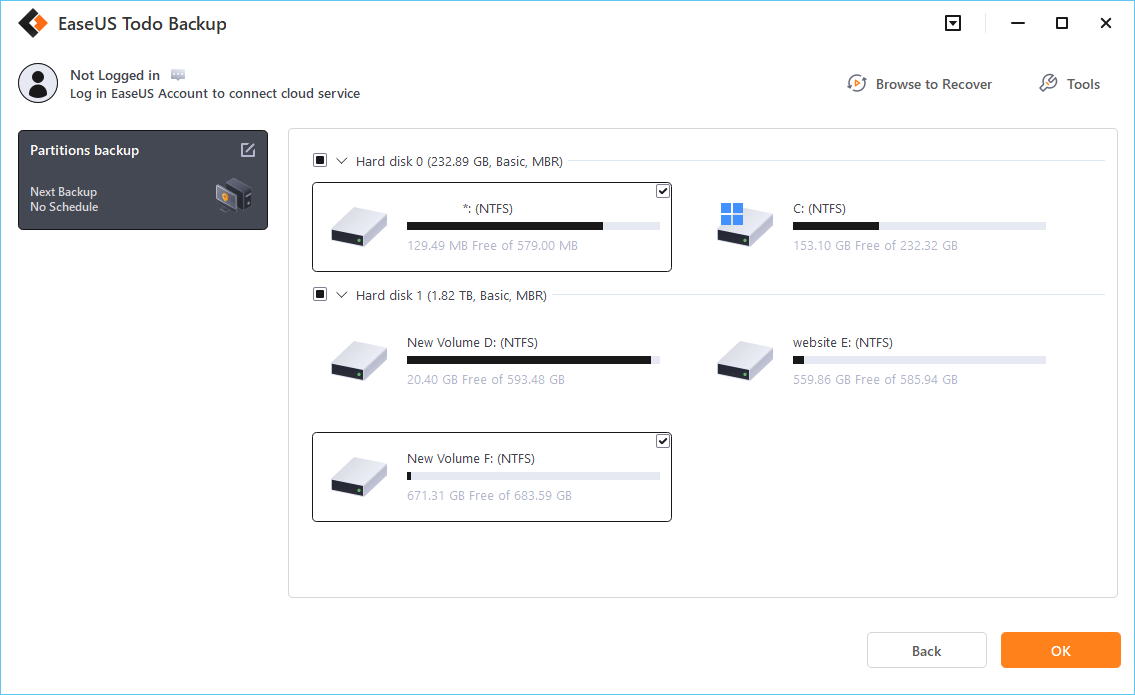 Step 4.  Select the destination where you want to save the backup. You can choose to save the disk to a local drive or to NAS.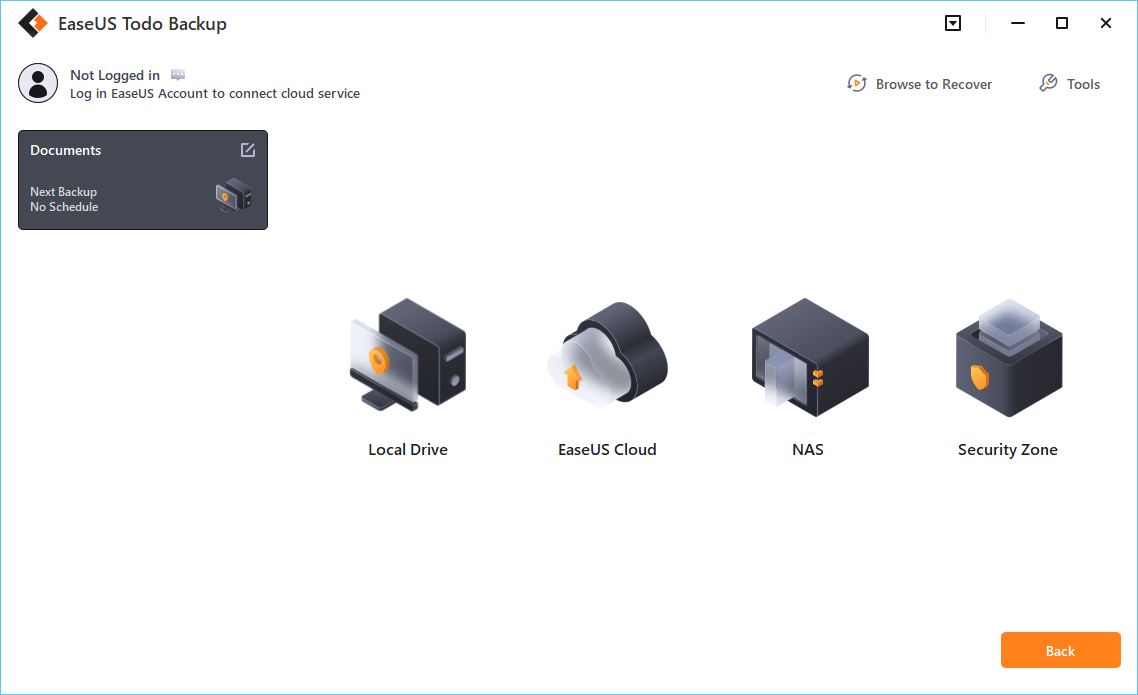 Step 5. Click "Backup Now", after the backup process is completed, you can right-click any one of the tasks to further manage your backup such as recover it, create an incremental backup, etc.
5 Best External Backup Drives Windows 10
External backup drives are vital in providing different options to save files and data on Windows 10. We've got you covered if you want to know the best external backup drives in 2022. Below, we'll discuss the 5 best external backup drives in Windows 10. Read on to know the best one for you! 
Top 1. WD My Book (WDBBGB, USB 3.O, 4TB)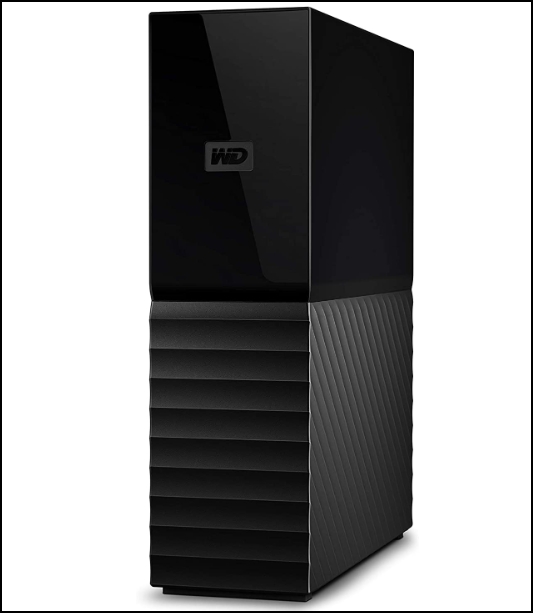 WD My Book tops our list of the best external backup drives for Windows 10 because it offers a storage capacity of between 3TB to 18TB and has a USB 3.0 interface. This external hard drive weighs 2.2 pounds and measures 6.7x5.5x1.9 inches. Regarding data transfer, it has a write speed of 177.3MBps and a read speed of 171.5MBps.
Although it's a bulky and less portable hard drive, it offers a large storage space to store all your files. Its cost-per-gigabyte is relatively low, i.e., it will only cost you $100 to purchase a 4TB drive. WD My Book offers 256-bit AES encryption (hardware-based) and WD backup software.
Pros
It has an encryption functionality
Inexpensive
Has a backup software
Fast speed for hard drives
Cons
It needs a power outlet
Bulky
Top 2. SanDisk Extreme Pro Portable SSD (SDSSDE80, USB 3.1, 1TB)
SanDisk Extreme Pro Portable SSD has storage capacities of 500GB, 1TB, and 2TB. It supports USB 3.1 interface and weighs 2.8 ounces. Concerning size, this product measures 4.3x2.3x0.4 inches. It has a write speed of 906.1MBps and a read speed of 857.7MBps.
SanDisk Extreme Pro Portable SSD is small and lightweight hence suitable to carry on your bag or pocket. It has a good appearance, thus classy and modern. Its black-red color and rounded corners make it a top-notch external drive for Windows 10.
This drive compares well with others regarding speed since it can perform sequential reads of up to 1050MBps. It also has an encryption feature that guarantees the safety of your files and data safety.
Pros
Its software comes with a basic encryption feature and a backup functionality
It has a nice cross-balance in design, price, and speed.
Cons
Its integrated loop is too big and hence may not suit some uses.  
Top 3. WD Black P10 Game Drive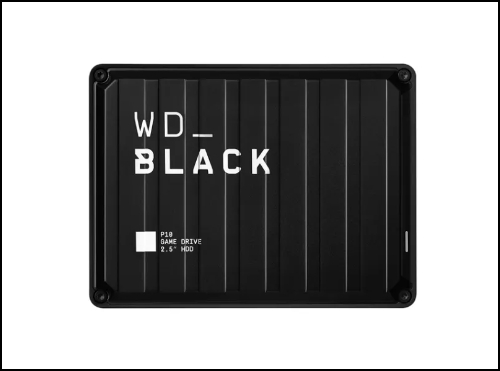 As the name suggests, WD Black P10 Game Drive is a gamer's companion. It supports plug-and-play and allows you to store several games. It comes in the capacities of 2TB, 4TB, and 5TB. This drive connects to a USB 3.0 interface and weighs approximately 250g. In terms of physical size, this drive measures 11.81x8.79x2,08cm. Gamers highly rate this external hard drive due to its compatibility.
It has a pre-formatted exFAT file system hence compatible across many PCs and Macs. This is in addition to its compatibility with Sony PlayStation 4, Microsoft Xbox One, and PS5. On average, this drive has a read speed of 140MBps, which suits its primary function of keeping downloaded games.
Concerning file and data security, you can set passwords using the WD Security app and the WD Drive Utility app. These apps can also help in monitoring the drive's health and performance.
Pros
Comes with a pre-formatted exFAT file system.
Compatible with most gaming consoles
Provides an ample storage space
Cons
There's no adapter for USB-C devices.
Top 4. Samsung Portable SSD T7 (MU-PC, USB 3.2, 1TB)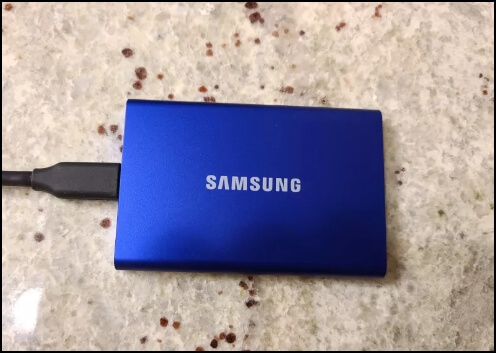 Samsung Portable SSD T7 bears a close resemblance to its T5 counterpart. It has a rectangular figure with rounded corners, although slightly heavier than T5. It comes with various storage options i.e. 500GB, 1TB, and 2TB. The drive supports USB 3.2 interface (Gen 2). It has a considerable weight (2.1 ounces) and measures 3.4x2.2x0.3 inches.
Regarding speed, the Samsung T7 comes with reading and write speeds of 848.2MBps and 838.7MBps respectively. The cost per gigabyte is $0.23 ($235.52 for a 1TB disk). Although it's among the most expensive drives,  its unique features, and brand name justify the price. The drive has great copy speeds of more than 1,050MBps.
Pros
Fast
Support basic password encryption, which guarantees the safety of user data and files.
Cons
Top 5. WD My Passport SSD (WDBAGD, USB 3.2, 1TB)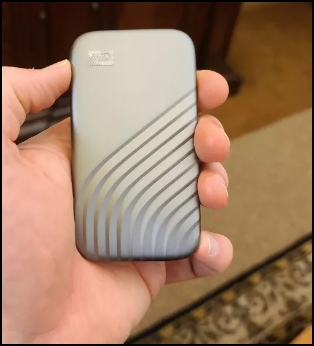 WD My Passport SSD has improved drive performance, thanks to its USB 3.2 interface. Its shiny, ridged surface makes the drive attractive and gives different color choices, including red, blue, silver, gray, and gold. It has three main storage capacity options: 500GB, 1TGB, and 2TB. It has a relative weight of 1.6 ounces and measures 3.9x2.2x0.4 inches.
The indicated write speed is 855.3MBps, while the read speed is 855.9MBps. The cost-per-gigabyte is $0.19 ($194.56 for 1TB). The price is quite affordable compared to the features this SSD provides. Something else that makes WD My Passport SSD outstanding is that it lets you download additional WD utilities due to My Cloud Home Storage access.
In terms of drive performance, WD My Passport is relatively fast due to the "SSD" tag. One major setback with this drive is that it comes with a shorter USB Type-C cable (6.5 inches). This doesn't outshine its benefits, however.
Pros
Enhanced performance speed
It grants you access to many WD utilities
It has many color options
Cons
It comes with a short USB Type-C cable
FAQs about External Backup Drive Windows 10
To give you an in-depth understanding of external hard drives, we've provided answers to some of the commonly asked questions below.
1. How Can I Backup My Entire Computer to an External Hard Drive?
You can achieve this through the following steps:
Step 1. Connect the external drive to your PC.
Step 2. Open File Explorer.
Step 3. Hold the CTRL button and select all the files and folders you want to copy to the external drive.
Step 4. Once the system has highlighted all the files and folders, navigate to the Home tab. Select "Organize" then "Copy to". Click on the name of your external storage drive from the provided list of options.
Step 5. All the selected files will then copy to your external hard drive. Wait for the backup process to complete. You'll now have a backup of your entire PC on the hard drive.
2. What's the Best External Hard Drive for a PC?
The best external hard drive for a PC is WD My Book (WDBBGD, USB 3.0, 4TB). This drive is inexpensive (costs only $100 for 4TB) and has larger storage capacities between 3TB and 18TB. The drive also comes with a high-performance speed that enhances the transfer of files and data.
The 256-bit AES encryption feature also makes this external backup drive secure concerning the storage of personal files. Although somehow bulky, this drive allows you to hold large file sizes that would have otherwise been impossible with external drives with lower storage capacities.  
Was this page helpful? Your supoport is truly important to us!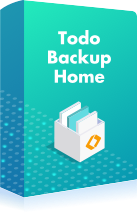 EaseUS Todo Backup
EaseUS Todo Backup is a dependable and professional data backup solution capable of backing up files, folders, drives, APP data and creating a system image. It also makes it easy to clone HDD/SSD, transfer the system to different hardware, and create bootable WinPE bootable disks.
Updated by

Daisy is the Senior editor of the writing team for EaseUS. She has been working in EaseUS for over ten years, starting from a technical writer to a team leader of the content group. As a professional author for over 10 years, she writes a lot to help people overcome their tech troubles.…

Read full bio

Written by

Jean is recognized as one of the most professional writers in EaseUS. She has kept improving her writing skills over the past 10 years and helped millions of her readers solve their tech problems on PC, Mac, and iOS devices. …

Read full bio