Overview of EaseUS Clone SSD Software
Since 2009, EaseUS has started its data protection journey. However, when speaking of EaseUS Todo Backup, most of the users are attracted by its disk clone feature. With the development of storage devices, there is a more advanced storage device emerged, and that is Solid State Disk (SSD). Compare with the traditional HDD, the new SSD performs better in the speed of reading and writing, it's more durable and performs superiorly, and utilizes less energy.
For most of the users, when they want to improve their PCs, they can just replace the old HDD with a new SSD. This method is simple and cost-efficient. Disk cloning is the most common method to upgrade a hard drive. EaseUS Todo Backup makes it easier for novice users to clone SSD. Connect your new SSD to the computer, and leave the next to EaseUS. Here is the detailed guide on how to clone an SSD using EaseUS Todo Backup, you will have a full-scale understanding of what you should do before and after disk cloning.
What Else Can You Do with EaseUS Todo Backup
As mentioned above, most of the users are only interested in the clone feature of EaseUS Todo Backup. Stop for a few minutes, you can do more with this software. Just as its name suggests, it is quite good backup software. EaseUS Todo Backup is one of the most feature-rich backup software in the market. If you care about your data safety and want to protect your data from accidents, EaseUS Todo Backup is a good choice.
#1. System Backup
Windows Operation System is very important for a computer. It is very necessary to protect it in the event of system crashes. EaseUS Todo Backup provides the easiest way to protect your operating system. The necessary partitions for system boot will be selected as the backup target automatically. It is recommended to back up the system to an external hard drive so that you can recover the system to a new disk or a new computer.
#2. Disk/Partition Backup
Suppose there is only one disk with more than one partition on your computer. System Backup is only to back up the system and boot partition. You can use Disk/Partition Backup to help you back up the rest data partition.
#3. Scheduled Backup
Differential Backup: Differential Backup copies those files that have been changed since the last full backup took place. It is faster to create than a full backup but slower than an incremental backup.
Incremental Backup: Incremental Backup only backs up the files that have changed since the last backup, no matter the last one is Full, Incremental, or Differential backup image.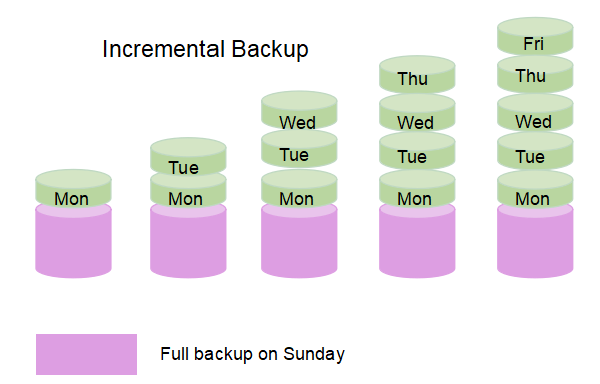 #4. Smart Backup
Smart Backup can create an intelligent schedule to monitor specified files or folders every half an hour, and generate a new backup image provided any changes are made within 30 mins.
You can use Smart Backup to back up database files that are frequently changed; shared files that are frequently updated by shared users.
Conclusion
This article mainly introduces the clone and backup features of EaseUS Todo Backup. Actually, we don't write everything about EaseUS Todo Backup in this article. There are still many features waiting for you to explore.
Daisy is the Senior editor of the writing team for EaseUS. She has been working in EaseUS for over ten years, starting from a technical writer to a team leader of the content group. As a professional author for over 10 years, she writes a lot to help people overcome their tech troubles.
Written by Gemma
Gemma is member of EaseUS team and has been committed to creating valuable content in fields about file recovery, partition management, and data backup etc for many years. She loves to help users solve various types of computer related issues.
Taking everything into consideration, we can say that EaseUS Todo Backup Home can offer you a little extra sense of security with a set of advanced tools. The interface provides quick adaptation, every process guiding you all the way through so you don't get stuck or further damage your system rather than keeping it safe.

 Read More

EaseUS Todo Backup Free lets you create backups of your important files or your entire computer through its streamlined interface. Just choose the backup type you'd like to get started, and let the program do the reset.

 Read More

EaseUS includes all the features I expect from backup software like versioning, incremental backups, and scheduling. For more advanced users, EaseUS allows you to install a pre-boot environment onto your hard drive so you can use it to restore files without burning a CD or putting it on an external USB drive.

 Read More

EaseUS Todo Backup
Smart backup tool for your files and entire computer in Windows 10/8/7.
Install Windows on Multiple Computers at Once? No Problem!
Learn how to install Windows 11/10/7 and special programs/software on a batch of computers. Use 10 minutes to do the 10 hours work without making a single mistake!
Get Free Solution!