A computer or laptop you play or work with has a configured hard drive pre-installed in it. It can be a traditional type, usually with several TBs of large-sized hard disk drive (HDD), or a modern type, relatively with around 250GB solid state drive (SSD). Not all the time when your computer lags behind or crashes, you have to purchase a new computer. The issue can be associated with a hard drive problem, such as it's running out of space, developed bad sectors, or too aged to run fast. Hence, find out the real reasons and decide to buy a new computer or just change to a new hard drive. Below are signs you can follow to replace a hard drive rather than invest in a new computer.
Your hard drive has been 4 years old
The hard drive becomes extremely slow
The hard drive is out of free space to store data
Windows operating system is crashing or freezing a lot
You can hear some strange noise or clicking sound
Download EaseUS Cloning Software for Hard Drive Replacement
Whenever there is a demand to replace a hard drive, there is a recommendation of a disk cloning utility to help make a 100% duplicate of the original hard drive to the new one, including the Windows operating system, configuration, settings, programs, games and individual data. Being the best hard drive cloning software, EaseUS Todo Backup comes again to the top position.
When it comes to a hard drive replacement, what does EaseUS cloning software do?
It automates a smooth process of cloning every bit of data from a source hard drive or partition to a destination one. By cloning, it preserves all data and your booting system on a new hard drive, so you don't need to worry about not being able to clean install Windows 11 or 10 on your new hard drive, or you have to spend a day to make a full backup of everything on the old hard drive before Windows clean install.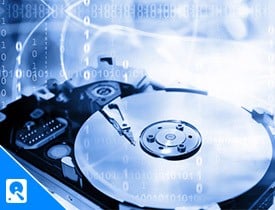 3 Reasons to Download EaseUS Todo Backup for Disk Cloning (Infographic)
Indeed, there is plenty of hard drive cloning software available in the market, and the well-branded ones are, for example, EaseUS Todo Backup, Macrium Reflect, Paragon Hard Disk Manager, and Clonezilla. If you didn't set up your mind to favor a certain utility here, our summaries of the top five reasons to download EaseUS Todo Backup, the all-in-one disk cloning software will help you make a decision.
#1. 2-in-1 Software Combined with Backup and Clone
It's a prominent hard drive cloning software, and at the same time, works seamlessly with a variety of computer backup strategies that aim to fully protect your personal files, system, mails and disk/partitions. Every feature integrated into EaseUS Todo Backup is valid to take effect in our daily work and use. Let's name a few.
Complete Backup: Supports full, incremental and differential backup of files, OS, mails, disk & partitions.
Local and cloud backup at one roof: Supports to save backups to local drive, network drive, NAS drive, OneDrive, Dropbox, Google Drive and EaseUS Cloud drive.
Smart Backup: Creates an intelligent schedule to monitor specified files or folders every half an hour, and generate a new backup image provided any changes are made within 30 minutes.
HDD to SSD Clone: Supports even a bigger HDD to a smaller SSD clone as long as the SSD is no less than the used space of HDD.
Clone C to D, D to E: Supports clone a single partition to the other, mainly for a backup purpose.
Migrate OS from HDD to SSD: Clone only the OS to a new SSD so you don't need to reinstall Windows from scratch.
#2. 2 Advanced Cloning Options Cover All Disk Cloning Needs
Being a disk cloning tool for Windows 11, 10, 8 and 7 users, there are some noticeable benefits that users cannot enjoy from other equivalent software. Besides the primary clone feature of cloning a hard disk across MBR and GPT, EaseUS cloning software outpaces others by providing a one-click system clone and Windows portable USB creation.
One-click system clone: When your goal is to migrate OS, transfer system from one computer to the other without reinstalling, this system clone feature is for you. The software will automatically detect the system drive and boot drive for you, so all you need is to choose a destination drive. Only with one click, you can migrate Windows operating system without a hitch.
Windows Portable USB drive creator: This is an exclusive feature you can find in EaseUS Todo Backup's system clone option. It's to clone a whole system drive to an external USB hard drive or flash drive and make it bootable on any other device. It's of great importance when you want to use a company's computer at home on a business trip.
#3. Clone Hard Drive with Bad Sectors
Many cases are pushing us to replace a hard drive, and one of the cases is that the hard drive is upon failing due to bad sectors being scanned and beyond repair.
To clone a hard drive with bad sectors, only advanced disk cloning software can handle it. EaseUS Todo Backup is able to ignore bad sectors during cloning, to maximumly copy all accessible data from the failing hard drive to the new one without getting stuck.
In case your hard drive is badly corrupted and cannot boot, it's better to initiate the cloning process in a WinPE environment. So, first of all, create a bootable EaseUS Todo Backup USB drive. Next, you can follow the standard procedure to clone a hard drive with bad sectors.
Step 1. Connect the New Second Hard Drive to the PC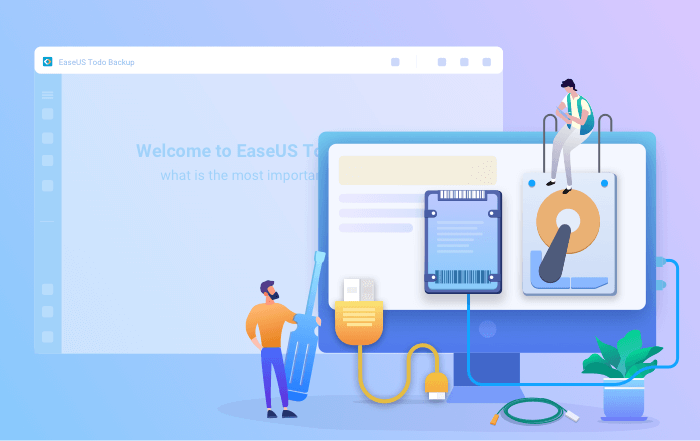 Preparations before cloning start:
1. To connect the target disk to your PC, you may need a screwdriver, a Power Splitter Adapter Cable, a SATA cable, or a USB to SATA adapter. 
2. Make sure the target HDD/SSD has an equal or bigger capacity than the used space of the old drive.
3. Check whether the style of the new disk is the same as that of the old disk. If not, Initialize a new HDD/SSD to MBR or GPT.
3. Download a Disk Cloning Tool – EaseUS Todo Backup
EaseUS Todo Backup is the cloning software that integrates multiple functions, including , etc. In the disk clone field, this tool stands out due to the following aspects:
Support system/disk clone, backup, restoring , and system transfer.
Covers as many as disk cloning demands, such as update hard drive to a larger one, clone OS, etc.
Disk cloning has the highest success rate among all similar products on the market.
Supports all kinds of disk types, including IDE, EIDE, SATA, ESATA, ATA, SCSI, iSCSI, USB 1.0/2.0/3.0.
Supports cloning of basic/dynamic disks and MBR/GPT disks.
Step 2. Step by Step Guide
System Clone: Choose System Clone > choose the destination disk > click Next to start. In Advanced options, you can choose the option of Create a portable Windows USB drive to clone the system to a USB drive.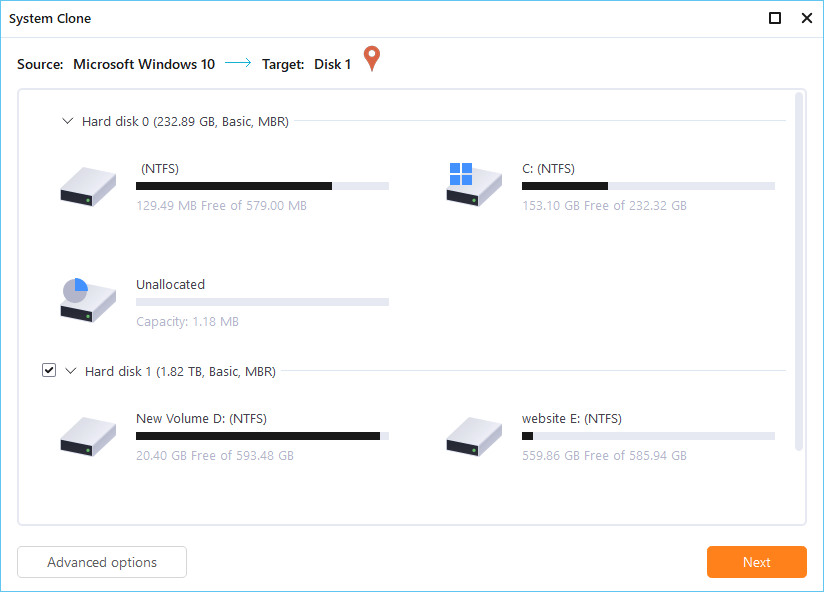 Disk/Partition Clone: Choose Clone > Select the resource disk or partition > Select the target disk > Click Next to start.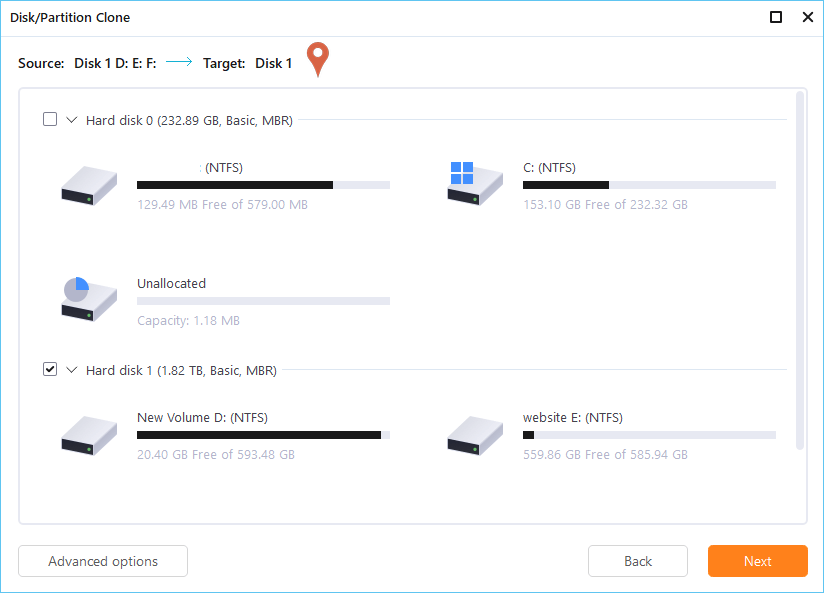 Step 3. Boot from the Clone Hard Drive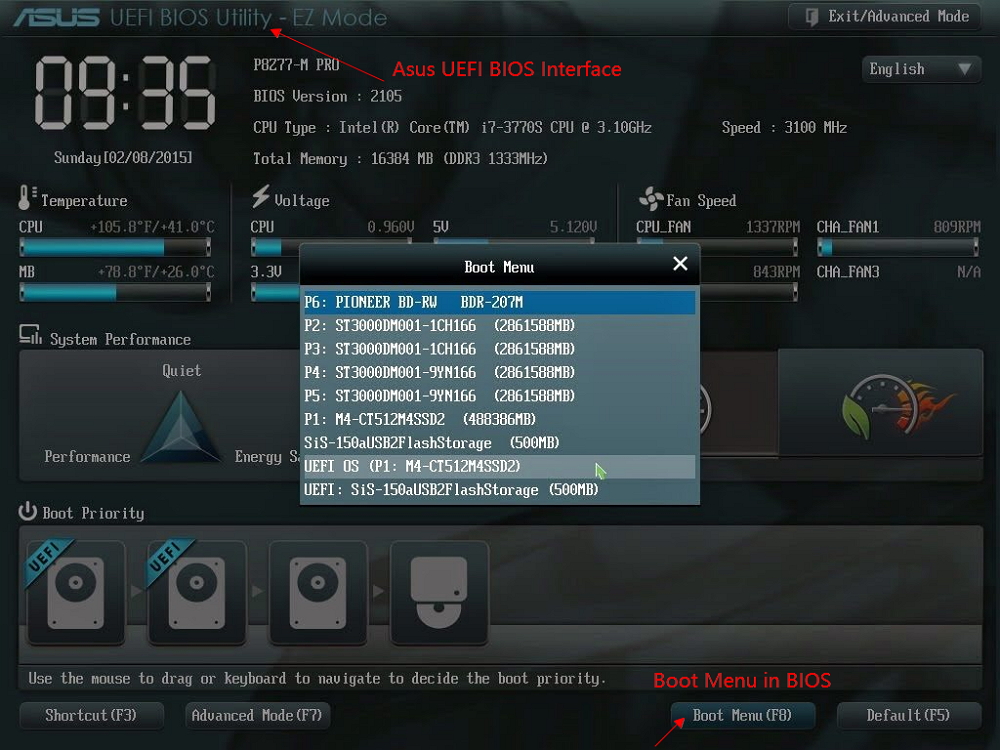 Case 1. If you want to keep both the old disk and the new disk
Restart PC and press F2 (F8,F10, DEL...) to enter BIOS settings.
In the Boot option, select new HDD/SSD as the new boot drive.
Exit BIOS and restart the computer.
Case 2. If you want to only keep the new disk
Unplug the old disk and make sure the new disk is well connected.
Connect the new disk and make sure it can be detected by the computer
Restart your computer.
Overall Best User Experience with EaseUS Clone
We think the three reasons to download EaseUS cloning software are far good enough to present its value. In general, if you're the one who is looking for safe and reliable software that provides a smooth cloning experience, and what's more, ensures 100% success of booting Windows from the cloned hard drive, EaseUS Todo Backup is the overall the best.
Our 24x7 customer support can be another good reason for you to download the EaseUS clone software. Any technical issue that happens during the clone and you cannot handle, the support team will reach you remotely to get the trouble resolved as fast as they can.
Why not download EaseUS disk cloning software and give it a try?
Was this page helpful? Your supoport is truly important to us!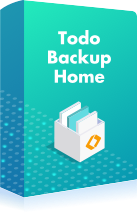 EaseUS Todo Backup
EaseUS Todo Backup is a dependable and professional data backup solution capable of backing up files, folders, drives, APP data and creating a system image. It also makes it easy to clone HDD/SSD, transfer the system to different hardware, and create bootable WinPE bootable disks.
Updated by

Daisy is the Senior editor of the writing team for EaseUS. She has been working in EaseUS for over ten years, starting from a technical writer to a team leader of the content group. As a professional author for over 10 years, she writes a lot to help people overcome their tech troubles.…

Read full bio

Written by

Jean is recognized as one of the most professional writers in EaseUS. She has kept improving her writing skills over the past 10 years and helped millions of her readers solve their tech problems on PC, Mac, and iOS devices. …

Read full bio