Does Windows 10 have backup software? For many users, a computer is still the final destination for most of their data. For example, if you use both a Windows computer and a phone, you may transfer data from your phone to the computer to save space on your phone. All the essential data you create on your computer, plus the data you moved to it, are some vital data you probably want to protect. Windows 10 in-built backup programs and a Windows backup application can help you do that.
Two Native Windows 10 Backup Programs
If you are looking for a built-in Windows 10 backup program to save essential files locally, you might not have to look too far. Depending on your Windows version, your computer may already have the native Windows backup utility by default. Over time, many versions of Windows have native backup tools that allow users to create primary backups of important files.
As Windows has evolved, its backup features have developed as well. Generally speaking, the built-in backup tools included in Windows (i.e., Windows 7, 8, 10, and 11) are File History and Backup and Restore.
Backup and Restore (Windows 7)
Introduced with the release of Windows Vista, Backup and Restore did not win much attention until the emergence of Windows 7. Included in Premium, Professional, Enterprise, and Ultimate versions of Windows 7, Backup and Restore is a relatively good backup tool for users to back up Windows. It allows you to choose what to back up, where to save your backups, and how often to do the backups. In addition, you can use it to create a system image for recovery in case of a system crash.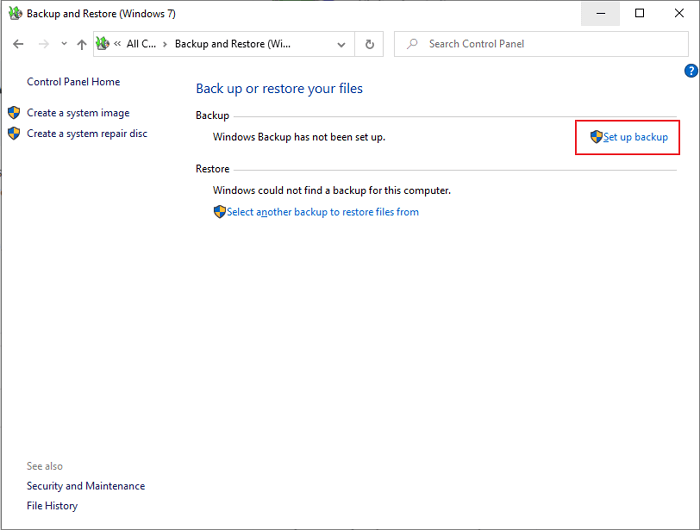 File History
Introduced with the release of Windows 8, File History has become the primary backup tool for the Windows operating system. Even though Backup and Restore is also available in Windows 10, File History is still the backup utility Microsoft recommends for users to back up files. File History is considerably different from Backup and Restore because its primary purpose is to allow users to back up personal files instead of creating a complete system image.
Limitations of Windows Native Backup Tools
Despite being very practical for making some workable backups, the backup utilities included in Windows 10 do fall behind in some areas! 
Limited Backup Options. Backup and Restore only has two backup options: "Let Windows Choose" and "Let Me Choose." If you prefer to choose the files or folders yourself, it will not allow you to back up the following: Files stored on a hard drive formatted with the FAT file system; Files in the Recycle Bin; and Disks and partitions without drive letters.
Limited backup content. The built-in backup programs can only back up files, folders, and the system, while other contents, including disks and partitions, are unavailable.
No Cloud Backups. Backup and Restore and File History enable you to save the backups on local drives. However, neither introduces a way to back up files to the cloud.
No Single-File Recovery. Although File History allows you to recover individual files, the Backup and Restore utility does not. Therefore, if you want to recover a file from a backup file set, you must restore them all.
Any Better Backup Software to Backup Windows 10 Computer?
Using Backup and Restore or File History to create a Windows 10 backup is better than not using any backup tool. Unfortunately, the in-built Windows backup tools can only meet basic backup needs. Neither of the two backup programs offers the advanced solutions needed to protect your data. This is no longer the case with third-party backup software. Professional backup software, such as EaseUS Todo Backup, can help address the limitations of the native Windows backup tools. 
EaseUS Todo Backup Home is an easy-to-use and multi-purpose backup utility. It allows you to automatically make a system backup, a disk backup, a file backup, a partition backup, etc. You can also create a backup of different files, including photos, videos, documents, audio, etc. You can use it to make incremental and differential backups, which can help save time and storage space. You can also restore the backups easily and quickly with the help of this software. Besides, it can clone a hard drive and clone HDD to SSD. More importantly, it offers 250G of free cloud storage, which means you can store the backups in the Cloud to protect the data better. This can help you to follow the 3-2-1 backup rule. 
Guide: How to create a Windows 10 computer backup with a system backup tool
The following are the detailed steps for backing up a Windows 10 computer using EaseUS Todo Backup Home.
Step 1. Launch EaseUS Todo Backup on your computer, and click Create Backup on the home screen and then hit the big question mark to select backup contents.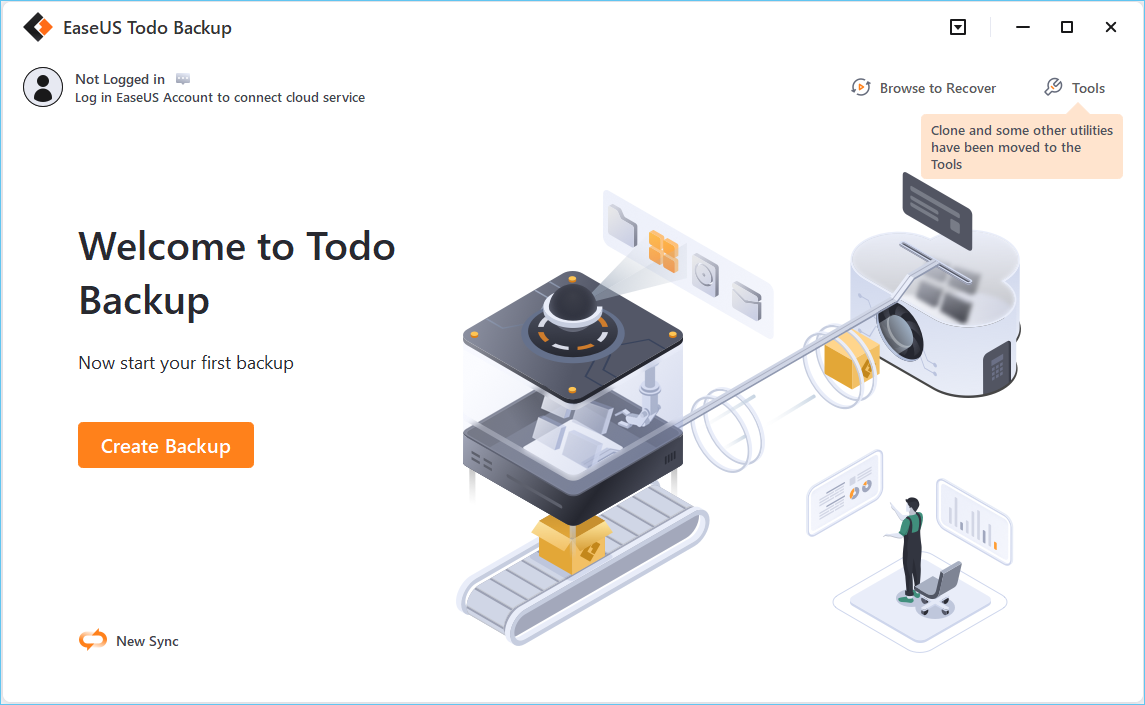 Step 2. To back up your Windows operating system, click "OS" to begin the backup task.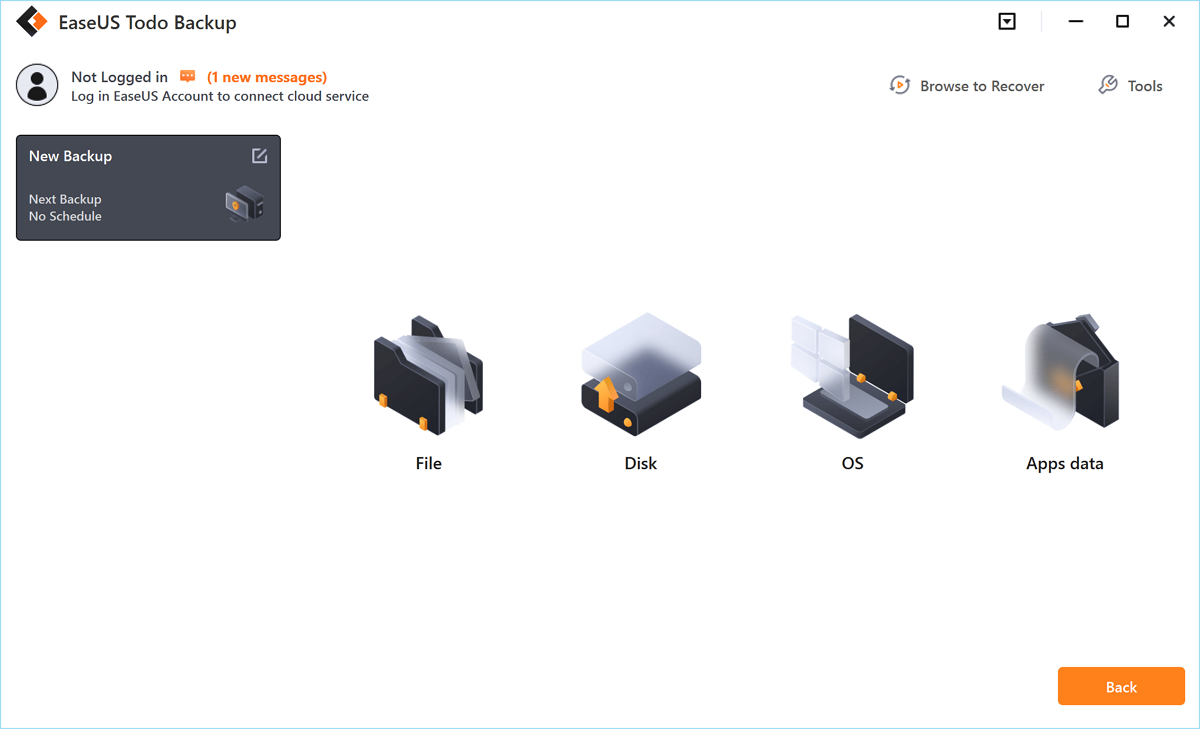 Step 3. Your Windows operating system information and all system related files and partitions will be automatically selected so you don't need to do any manual selection at this step. Next, you'll need to choose a location to save the system image backup by clicking the illustrated area.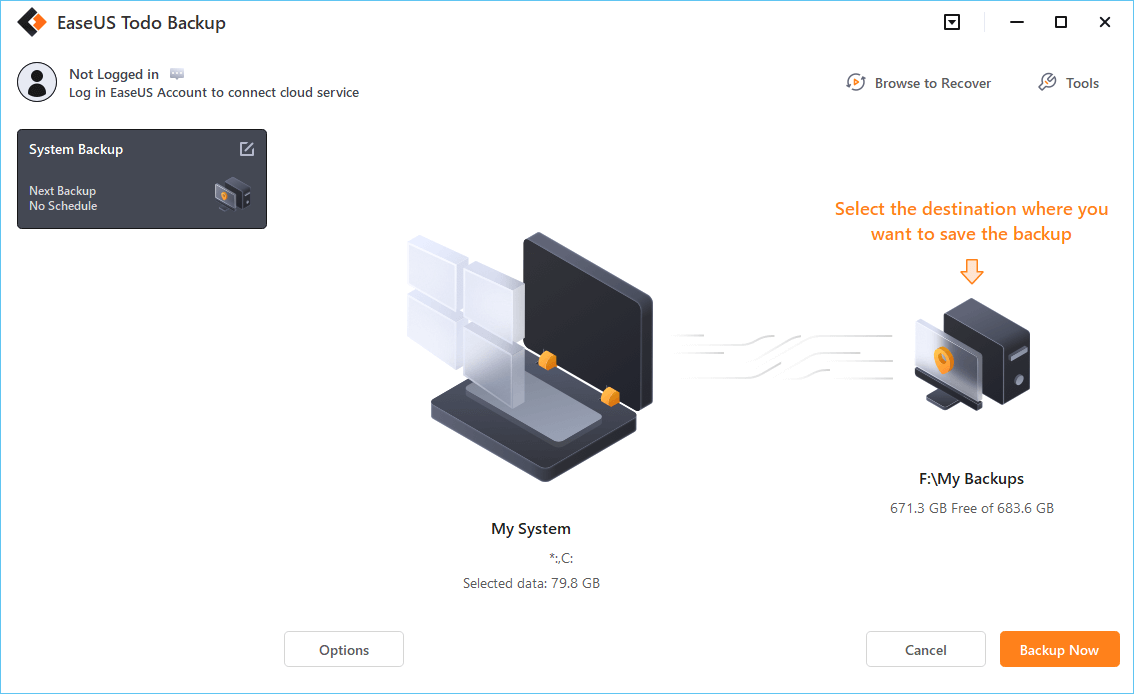 Step 4. The backup location can be another local drive on your computer, an external hard drive, network, cloud or NAS. Generally, we recommend you use an external physical drive or cloud to preserve the system backup files.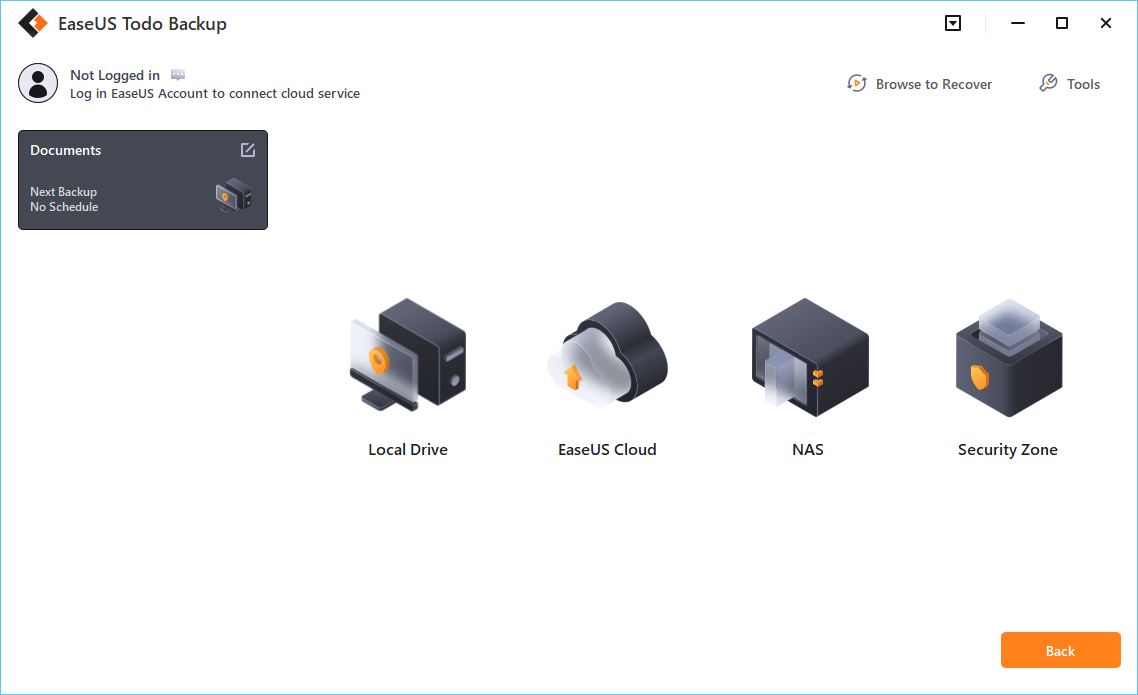 Step 5. Customiztion settings like enabling an automatic backup schedule in daily, weekly, monthly, or upon an event, and making a differential and incremental backup are available in the Options button if you're interested. Click "Backup Now", and the Windows system backup process will begin. The completed backup task will display on the left side in a card style.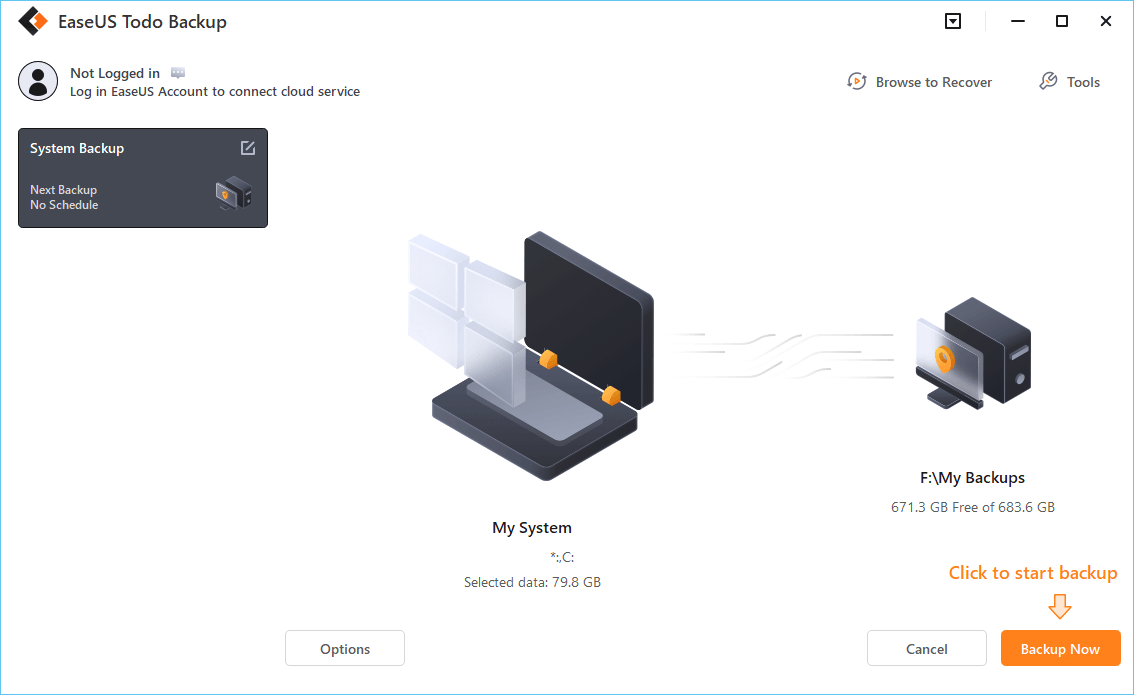 Windows 10 Native Backup Tool vs. Professional Windows 10 Backup Software
Suppose you only want to make a quick backup of your Windows 10 computer without additional costs or time wasted on configuring professional backup software. In that case, you can use the built-in Windows 10 backup tools. However, if you want anything more than this basic offering, you should try a third-party backup tool. Spending a few bucks protecting your Windows computer might be better than you can imagine.
EaseUS Todo Backup Home is a highly recommended backup utility to back up your Windows 10 computer. It supports various storage media types, better automation and scheduling, and stores backups to the cloud. You can also use it to perform other backups.
FAQs
1. Does Windows 10 Backup Backup everything?
File History is the primary backup tool in Windows 10, which focuses on backing up personal files. By default, File History can back up the desktop, downloads, media, and other folders. You can roll down to remove some folders from the backup list. Go to the Backup option window and click on the Remove button to exclude any file you do not want to back up.
2. How do I know if my files are backed up Windows 10?
To check whether File History is backing up your files, go to File Explorer, select This PC, and then double-click on the target backup drive. Right-click on the File History folder and choose Properties. If the backup process is in action, a progress bar and information about the file size will be visible on the screen.
3. How do I backup my entire computer to an external hard drive?
You can use File History to back up your computer to an external hard drive or network location. Select Start > Settings > Update & Security > Backup > Add a drive, and then select an external storage device to store your backups.
4. Is Windows 10 Backup good enough?
The built-in Windows backup tool is not as good as it is expected. Like Windows 7 and 8 before, Windows 10 backup is only acceptable. It can meet basic backup needs, which means something is better than nothing.

Jean has been writing tech articles since she was graduated from university. She has been part of the EaseUS team for over 5 years. Her special focuses are data recovery, disk partitioning, data space optimization, data backup and Mac OS. By the way, she's an aviation fan!
"I hope my articles can help solve your technical problems. If you are interested in other articles, you can check the articles at the bottom of this page, and you can also check my Facebook to get additional help."
Taking everything into consideration, we can say that EaseUS Todo Backup Home can offer you a little extra sense of security with a set of advanced tools. The interface provides quick adaptation, every process guiding you all the way through so you don't get stuck or further damage your system rather than keeping it safe.

 Read More

EaseUS Todo Backup Free lets you create backups of your important files or your entire computer through its streamlined interface. Just choose the backup type you'd like to get started, and let the program do the reset.

 Read More

EaseUS includes all the features I expect from backup software like versioning, incremental backups, and scheduling. For more advanced users, EaseUS allows you to install a pre-boot environment onto your hard drive so you can use it to restore files without burning a CD or putting it on an external USB drive.

 Read More

EaseUS Todo Backup
Smart backup tool for your files and entire computer in Windows 10/8/7.
Install Windows on Multiple Computers at Once? No Problem!
Learn how to install Windows 11/10/7 and special programs/software on a batch of computers. Use 10 minutes to do the 10 hours work without making a single mistake!
Get Free Solution!