5 Best Disk Imaging Software for Windows 10/7 in 2022 | Paid & Free
Updated by
Jean
on Dec 06, 2021
A sudden disk failure or OS crash could destroy years of hard work on your computer. A disk image can save you from the disaster, bringing life back to your computer hard drive or target storage device immediately. To create a disk image, you'll need to turn to reliable disk imaging software for help. 
What Is Disk Imaging Software
Disk imaging is basically a large backup file of a hard drive or an entire storage device for protecting your work from system failure, hard drive error, etc. Issues. Disk imaging software is an application that supports creating a large compressed backup image file of your drive. 
Here, we viewed 5 best disk image software in 2022 with both paid and free versions for you to back up hard disks on Windows 10/7.
List of Five Best Disk Image Software
Here comes the 5 best disk imaging software in 2022 that you can apply to create a full backup of essential hard disk or external hard drive data successfully on your own.
This list includes both paid and free tools for Windows and macOS, and we'll highlight the key features of each tool, including disk imaging backup, disk clone, partition backup, incremental & differential backup, etc. that can help you fully protect the most valuable content on your drive. 
Follow the overview of each disk imaging tool and select the best one to start to protect your hard drive, operating system, and individual files now.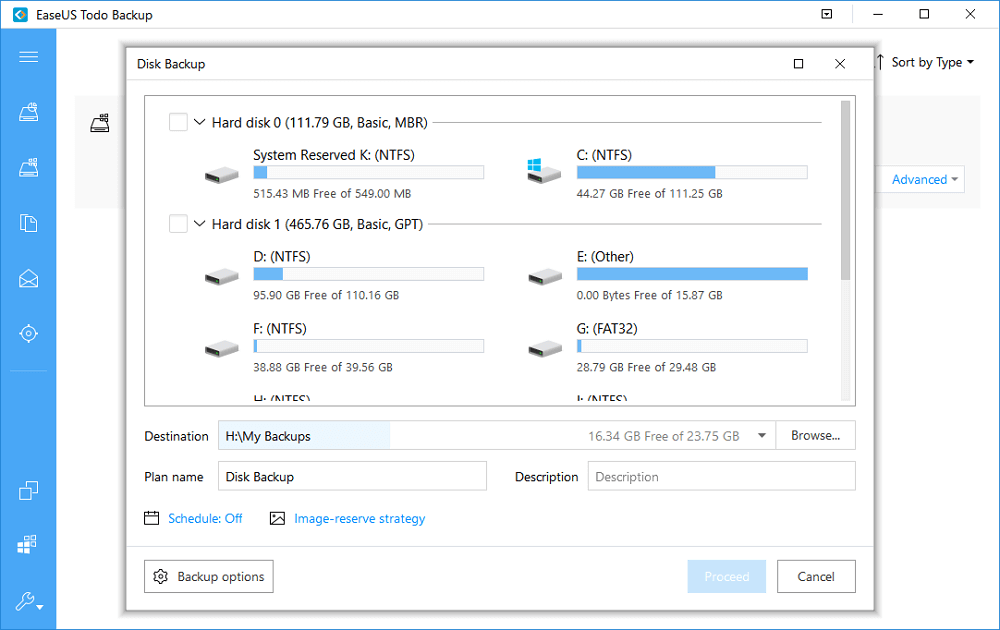 EaseUS Todo Backup is a disk imaging software that supports creating a full disk image with individual files. EaseUS Todo Backup enables you to continuously back up hard disks, SSDs without rebooting the PC. It guarantees a secure circumstance for creating disk images and saving the image into a unique format that only EaseUS Todo Backup can access and restore. It also prompts a desktop notification to remind you of the status of backups to keep your disk images up-to-date.
Key Features:
Fully back up disk images and individual files
Back up disk image to a local drive, external hard disk, cloud, and network drive like NAS
Support disk imaging on local disk, as well as on Hyper-V, VM virtual disks
Automatically back up disk or partitions
Full, incremental, differential backup disk/partition data
Create a bootable drive for disk imaging, OS, and individual files backup
Migrate OS to SSD/HDD, such as Migrate Windows 10 to SSD
Besides local disk file backup, its cloud storage feature also allows you to replicate local disk to a cloud drive, such as OneDrive, Google Drive, or Dropbox. Hence, you can back up everything on your computer to a cloud drive. 
When it comes to disk imaging restoration, you can directly restore it from a local backup, an external disk, a cloud, or the cloud. Moreover, you can even restore it from bootable media without booting into OS. 
Best Free Disk Imaging Software - EaseUS Todo Backup Free. This free edition of EaseUS disk imaging software also works for full, incremental, differential disk imaging. Automatic backup and cloud backup are also supported. The free edition works the same as the paid edition in disk imaging.
Prices: $39.95 for a year subscription
Available for: Windows 10/8/7, and macOS. You can start a 30-day free trial. 
Pros:
Cons:

Full, incremental, differential backup takes just a few minutes.
Support universal restore
Easy to use for both home users and business owners.
Both Windows and Mac users can create a disk image.
Back up everything in the background, not disturbing nor affecting the computer's performance.

Features of the Mac edition are not as qualified as the Windows version.
 PCWorld EDITOR'S CHOICE:

"If that seems like too much of a daily hassle, or if you have an earlier version of Windows, consider a third-party backup program. My current favorite is EaseUS Todo Backup. The free version is more configurable and thus more powerful than File History. The paid one is even better."   -Lincoln Spector
Start 30-day Free Trial: https://www.easeus.com/backup-software/tb-home.html
OS: Windows 10/8/7 and macOS
You May Also Be Interested: Hard Disk Backup in Windows 10/8/7.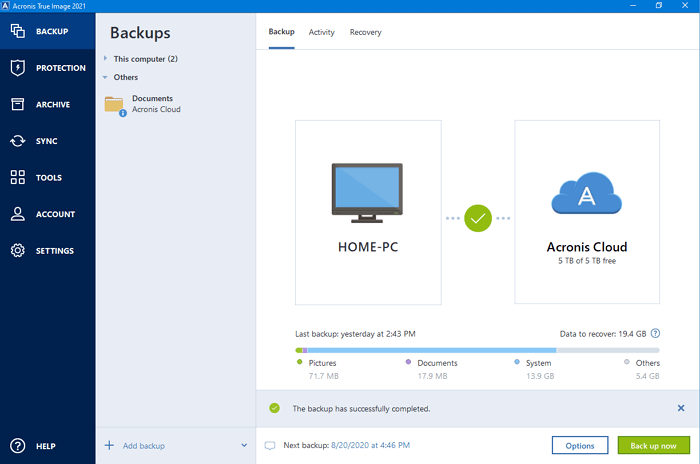 Acronis True Image is a complete disk imaging software for personal users to protect their disk files, OS information, and individual files. It supports partition backup that keeps working, running in the background without affecting the computer's performance. Its cloud-based backup feature allows you to backup your computer to cloud. 
Key Features:
Dual-Protection - replicate local backup to the cloud automatically.
Non-stop backup - keeps working with continuous backup, save all changes every five minutes.
Universal restore - restore OS to the same or new hardware.
Cloud restore
Its cloud storage feature duplicates everything on your hard drive to a cloud drive, allowing you to access all disk image files from a mobile device with the Dual Protection and Anywhere access features. 
When it comes to restoring a disk image, you have cloud backup or external backup to restore the backup to a local or a universal device. 
Prices: $49.99 for a one-year subscription.
Available for: Windows & macOS. Support 30-day free trial.
Pros:
Cons:

For both home and business users
Supports access backup via OS and Android app from mobiles.
Anti-ransomware

Don't support network drive backup.
Can't create a whole disk image at one time.
No mere OS migration option.
No free disk imaging version.
You May Also Be Interested In: Hard Disk Drive Imaging Software Free Download.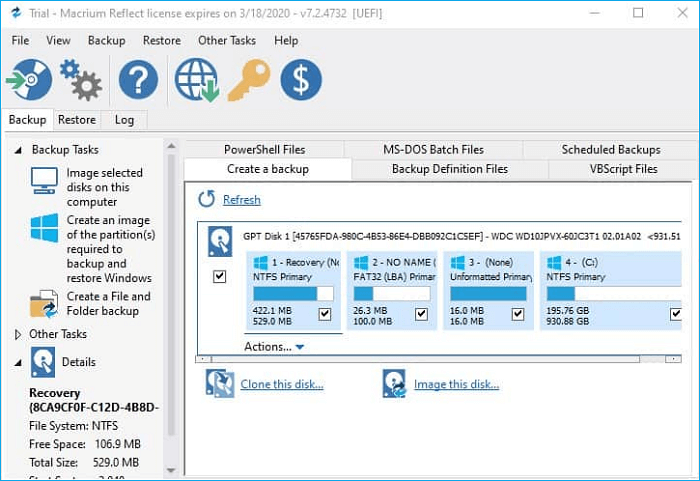 Being equipped with advanced disk imaging technology, Macrium Reflect provides a complete backup solution for personal and business users for protecting documents, data, and operating systems. It's more like a workstation disk imaging software that provides instant Hyper-V virtualization and Macium Image Guardian features. 
Key Features:
File and folder backup, save backups to a single compressed archive file.
Rapid Delta Cloning
Protect backup from ransomware with Macrium Image Guardian.
Recover partitions and the entire disk image. 
Restore image to dissimilar hardware.
Macrium Reflect guarantees fast disk cloning with its Rapid Delta Clone feature and also a fast restoring speed. As for image recovery, you can either select partition recovery or try entire disk restoration with the created disk images. 
Free Disk Imaging - Macrium Reflect Free. This software offers a free edition that you can create an image of OS, browse backup image content in Windows Explorer.
Prices: $69.95 for a single license.
Available for: Windows 10/8/7, Visa & XP.
Pros:
Cons:

Full backup
SSD trim
Mount images in Windows Explorer
Rapid Delta Restore
Protect backup from ransomware

Enterprise pricing is a bit high compare to home tools.
No for beginners.
You May Also Be Interested In: How to Clone HDD to SSD without Reinstalling Windows. 
4. Clonezilla (Free, Open Source)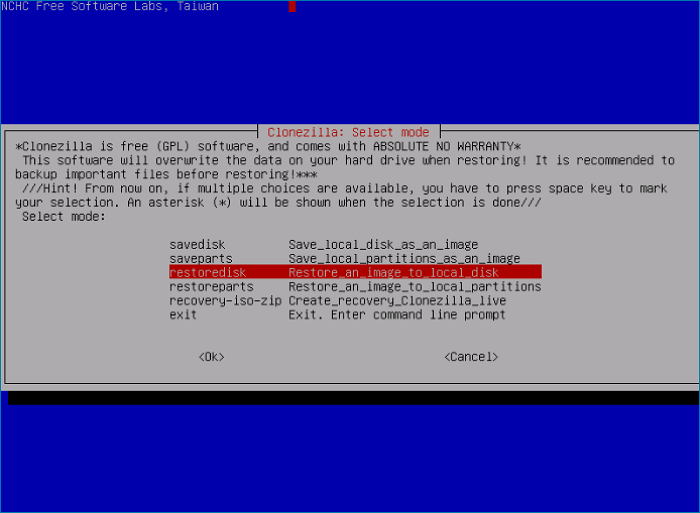 Clonezilla is an open-source and free disk imaging software. It offers three editions for users - Clonezilla live, Clonezilla lite server, and Clonezilla SE. Clonezilla live is a single machine backup and restore software. 
Key Features:
Free computer and disk imaging
Support to restore one image to multiple local devices. 
Image encryption is supported.
Clone over 40 computers simultaneously on its SE edition.
Clonezilla, though a free disk imaging software, however, is not user-friendly to beginners. It requires a Linux kernel and a minimal GNU/Linux OS to make Clonezilla work on your computer. 
Pricing: free.
Available for: X86 or X86-64 processor.
Pros:
Cons:

Free & open-source software
3 editions cover individual, business, and server users' needs.
One-time cloning on 40 machines.

The interface is not intuitive, not beginners' choice.
Clonezilla Live edition requires to install on a CD/DVD or USB flash drive to boot and run.
Destination partition must be equal to or larger than the source one.
​You May Also Be Interested In: 2022 Paid/Free Disk Cloning Software.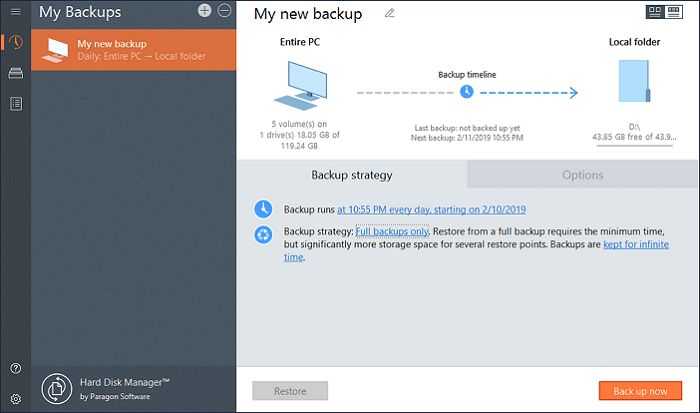 As you can judge from its name, Paragon hard disk manager is more like a disk management tool rather than a disk imaging tool. Still, its Backup & Recovery feature enables you to create backup images of desired files, folders, and disk partitions on a computer or external storage device.
Key Features:
Backup and Recovery - restore data from backups, including an entire hard disk or its partitions.
Drive Copy - Replicate a drive to another disk.
Verify backup data viability.
Email notifications.
Backup excludes.
Regardless of its partitioning features, the Paragon disk manager also supports full backup, incremental backup of your target disk, and partitions. You can also use it to backup systems, volumes, and files. 
Pricing: $79.95 
Available for: Windows 10/8/7
Pros:
Cons:

Support basic partitioning, including creating, formatting, deleting, converting partitions.
Support backup OS, files, and volumes, and compress backup images.
Supports restoring backup image without booting into OS.
Support file transfer between storages.

Higher price than average tools.
No cloud nor network backup access.
You May Also Be Interested In: 7 Free Imaging Software for Windows 10/8/7.
 What Is the Best Disk Imaging Software? Editors' Pick
On this page, we viewed 5 best disk image software for different platforms and diverse disk imaging needs. However, some of you may still have doubts about what is the best imaging software. 
And here is EaseUS Editors' Pick:
For the best free disk imaging software, try EaseUS Todo Backup Free. It's free to fully back up everything on your disk.
For budget & best disk imaging software, turn to EaseUS Todo Backup Home Edition. It's advanced disk cloning, OS backup, OS migration, bootable backup, etc.
For workstation disk imaging, Macrium Reflect with its sophisticated disk imaging and cloning features is more reliable.
In a word, if you are a beginner in disk imaging, EaseUS Todo Backup with its easy-to-use & intuitive interface is more reliable in creating a disk image and backup on Windows 10/8/7. 

Author Jean has been writing tech articles since she was graduated from university. She has been part of the EaseUS team for over 5 years. Her special focuses are data recovery, disk partitioning, data space optimization, data backup and Mac OS. By the way, she's an aviation fan!
Written by Tracy King 
Tracy joined in EaseUS in 2013 and has been working with EaseUS content team for over 7 years. Being enthusiastic in computing and technology, she writes tech how-to articles and share technical solutions about Windows & Mac data recovery, file/system backup and recovery, partition management and iOS/Android data recovery.
Taking everything into consideration, we can say that EaseUS Todo Backup Home can offer you a little extra sense of security with a set of advanced tools. The interface provides quick adaptation, every process guiding you all the way through so you don't get stuck or further damage your system rather than keeping it safe.

 Read More

EaseUS Todo Backup Free lets you create backups of your important files or your entire computer through its streamlined interface. Just choose the backup type you'd like to get started, and let the program do the reset.

 Read More

EaseUS includes all the features I expect from backup software like versioning, incremental backups, and scheduling. For more advanced users, EaseUS allows you to install a pre-boot environment onto your hard drive so you can use it to restore files without burning a CD or putting it on an external USB drive.

 Read More

EaseUS Todo Backup
Smart backup tool for your files and entire computer in Windows 10/8/7.
Install Windows on Multiple Computers at Once? No Problem!
Learn how to install Windows 11/10/7 and special programs/software on a batch of computers. Use 10 minutes to do the 10 hours work without making a single mistake!
Get Free Solution!