What if I don't have the Dell backup & recovery installed?
I got a Dell laptop, gently used, from my elder brother after he bought a fabulous new Mac pro, and some days ago I upgraded the Dell Windows 8.1 laptop to Windows 10. But why don't I have the Dell backup and recovery? Isn't it the automated backup application that every Dell laptop or computer should have? I don't know whether it's the application that hasn't be installed or Windows 10 upgrade has removed it from the laptop, but I really need Dell laptop backup and recovery Windows 10 to regularly backup important files. What should I do?
Dell Backup and Recovery is just for those who have a Dell with all the Dell software still installed. Lately the software has been updated the recovery partitions for Windows 10, with which users can have a full Windows 10 backup and protect against data loss from virus attack, accidental file deletion, operating system corruption and hardware failure. If your device does not come with Dell Backup and Recovery pre-installed and still feel doubt about the compatibility with Windows 10, we suggest you a sound Windows 10 backup and recovery tool for your Windows 10 Dell machine.
Solution: Dell backup and recovery Windows 10 alternative
EaseUS backup and recovery software can be treated as the best alternative for Windows 10 Dell laptop, which is designed for all brands of Windows computers not limited to Dell and comes with outstanding backup features. You can directly go to download EaseUS Todo Backup Free if you don't require the Outlook email backup and recovery, because this free backup software satisfies most of the backup demands. For example, Windows 10/8.1/7 OS backup, all types of file backup, disk/partition backup with multiple choices of backup locations including external hard drive, network and cloud. What's more, you can schedule the backup as you want from day to night.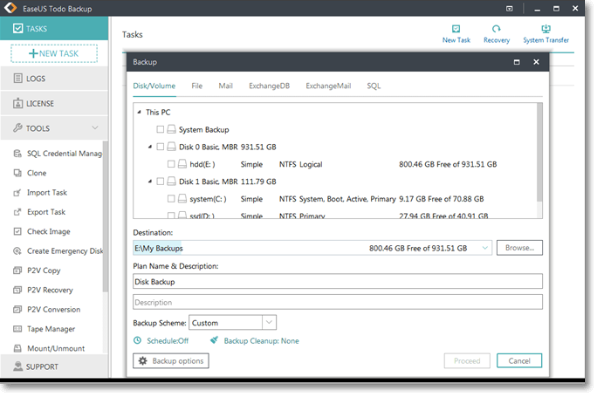 Learn more about what you can do with EaseUS Todo Backup, please refer to EaseUS Todo Backup Free user guide.