Data Dackup: Do It Right, Do It Now!
Updated by
Daisy
on Mar 04, 2021
When I wrote PCWorld's Answer Line column, I received three or four emails a week from desperate people who lost their photos, or their tax returns, or their contacts. One lost his master thesis (and no, he wasn't majoring in Computer Science).
Backup: Protect your files by regularly copying them to other media
It's easy to lose these important data files. All you need is a crashed drive, an accidental edit, a Ransomware attack, or a stolen laptop. When any one these disasters happen, you might be able to recover some of your files, but not without a lot of work and money.
You can avoid these catastrophes by following two simple rules: Never have only one copy of anything and keep each set of copies on separate media.
You make those extra copies by daily backing up your data. That used to be a difficult job - I remember swapping floppy disks - but it isn't difficult anymore. Large capacity external media, along with fast Internet connections, makes it simple. Many companies, including EaseUs, have tools that make the job even easier.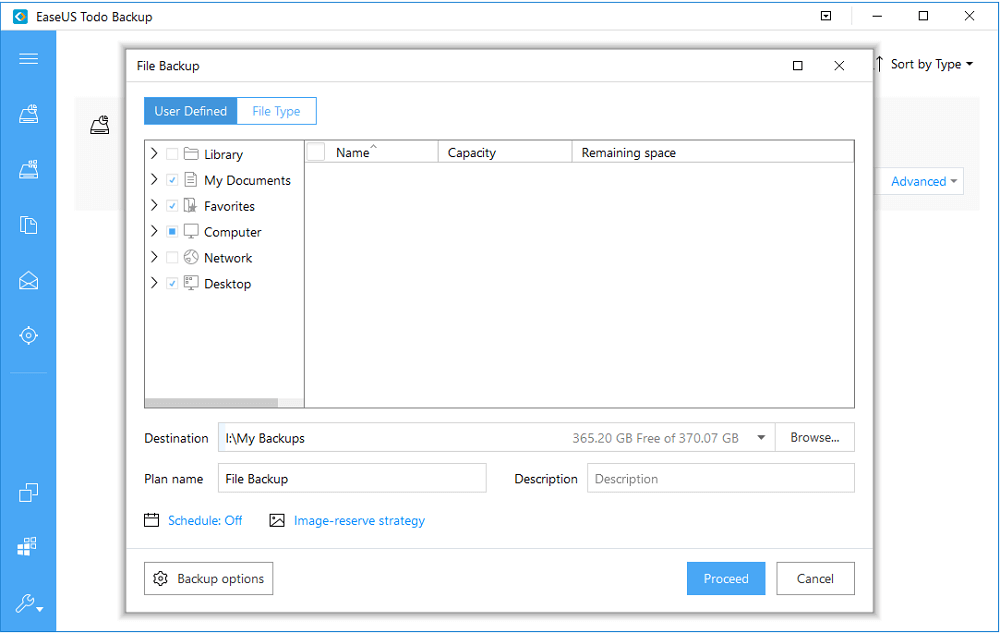 It's your data - photos, documents, and so on - that need to be protected
I'm focusing here on data backup - protecting your photos, documents, songs, spreadsheets, and so on. You can also back up your operating system and programs, but that's a very different job and nowhere near as important. Not backing up the system is like driving without GPS. Not backing up data is like driving without brakes.
All backup programs basically do the same thing. The first time you run the program, it backs up all your data files. That takes quite a long time. Subsequent backups only copy new or recently-changed files. That takes a few minutes; sometimes seconds.
You can back up your data locally or to the cloud. Each has its own benefits and problems.
Backups that stay in your home
Local backups, where your files are copied to an external drive plugged into your computer, are fast and cheap. You only have to buy a large-enough external drive and maybe a backup program. I say maybe because Windows and the macOS come with backup software, and if you don't like them, you can download one of many data backup programs. Another advantage: You can backup and restore files even when the Internet is down.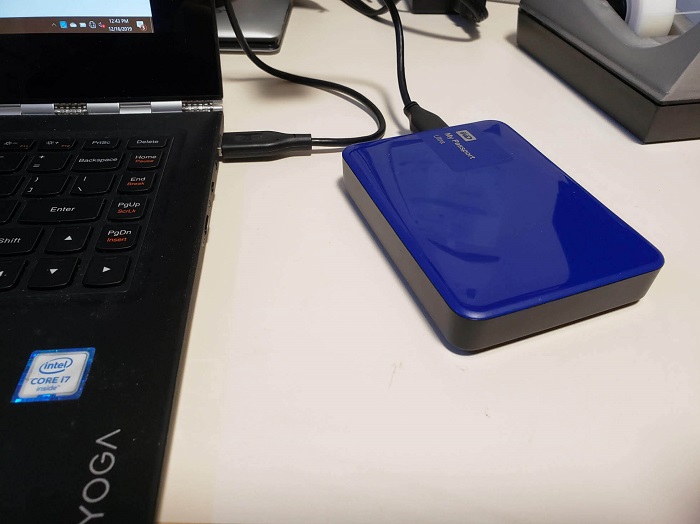 But local backup has its own problems. A burglary or a fire could take away both your computer and your backup.
Backups that go to the cloud
That won't happen if you pick a cloud-based backup strategy. Your backup is stored somewhere far away; probably in another state. When it comes to safety, cloud-based backup easily beats local.
But cloud backup has its flaws. You usually must pay a monthly or yearly subscription fee; after all, your files are taking space on someone else's server. Carbonite, for instance, costs $72 a year for one computer - and it doesn't back up videos unless you manually tell it to.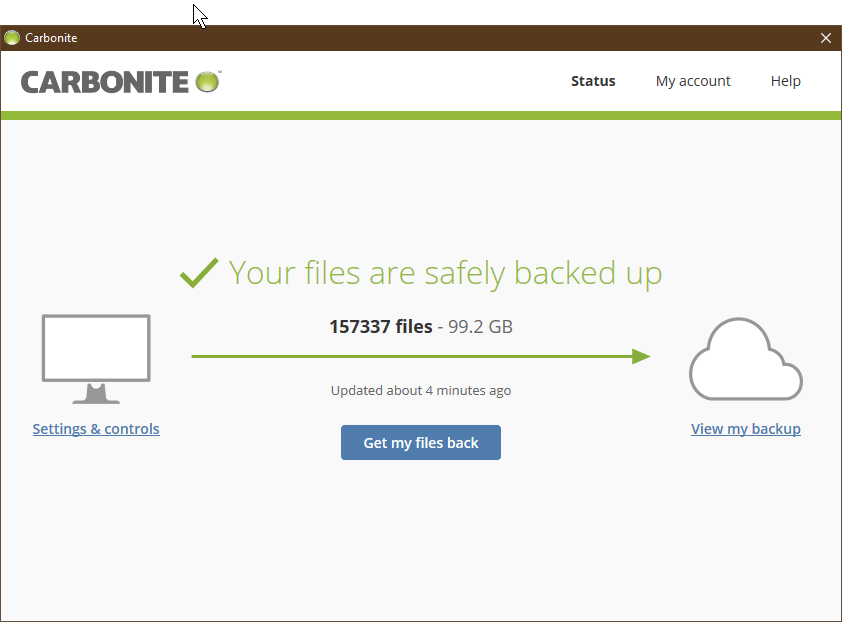 Another problem with cloud backup: It's slow. Unless you have a symmetrical fiber connection, it can take days, or even weeks, to do the first, full backup. You can, of course, keep working during the backup.
This doesn't have to be a yes-or-no decision. I use Easeus Todo Backup to back up locally, and Carbonite to the cloud. Two backups are better than one.
Online storage services, such as Dropbox, OneDrive, and Google Drive, feel very much like cloud backup and can be used for those purposes - if you pay for enough storage. And while they work in a pinch, they don't do everything that an online backup service can do. For instance, OneDrive can retrieve an earlier version of a file, but not a folder. If ransomware forces you to retrieve what your computer was like last week, you don't want to do that one file at a time.
Comparison
Local Backup
Cloud-based Backup
Online storage services
Cost
One purchase
Monthly or yearly payments
Monthly or yearly payments
Speed
Fast: May be able to backup all your data in an hour
Depends on Internet connection
Depends on Internet connection.
General Risk of Loss
Sofware or human error could ruin backup

Solution: Restore backed up files and folders occasionally to make sure backup is worthing correctly.

Sofware or human error could ruin backup

Solution: Restore backed up files and folders occasionally to make sure backup is worthing correctly.

Sofware or human error could ruin backup

Solution: Restore backed up files and folders occasionally to make sure backup is worthing correctly.

Catastrophic Risk of Loss
Burglary, fire, or flood could also ruin files on computer and on backup
No problem
Under certain conditions, restoring may have to be one file at a time
Automatic Backups
Set it and forget it

Unexpected errors could destroy backup

Set it and forget it

No worry about the possible disasters

Set it and forget it

But with a possibly more difficult restore

Manual Backups
Safer than automatic, but you have to remember to back up
No such thing as a manual cloud backup
No such thing as a manual cloud backup
Restore old version of file
Plugin backup drive and open backup program
Either right-click file and select the appropriate option or go to service's website
Either right-click file and select the appropriate option or go to service's website
Purging old files
Set it up in your backup program
Does it automatically
Does it automatically
Back up daily or let an app do it for you
There's another decision to make: Automatic or manual. Do you want to manually back up every day, or set it up so that you don't have to think about it?
I know; the answer seems ridiculously obvious. Why not just turn it on and forget it? Here's why: For a local set-and-forget backup to work, your external backup drive must be plugged in all the time. If a power surge fries your computer, it could fry your external drive, as well.
More likely, if your external drive is always connected, ransomware could encrypt not only the files on your computer but the ones on your external drive. Without a usable backup, you'd have to pay blood money to criminals to get your files back. That's not likely to be a problem if your backup drive is unconnected.
The automatic vs. manual issue doesn't come up in cloud backups. These services are always set-and-forget. But the very nature of cloud storage, including the slowness, protects your files.
Versions and purges: Housecleaning your backup
Major disasters like ransomware aren't the only problems that a backup can fix. You may, occasionally, need to get last Wednesday's version of a file you edited on Thursday. That's where versioning comes in. A good backup program keeps multiple versions of each file that you alter.
But you will run out of space if every version of every file, including the ones you deleted, is still on your backup media. You need a way to remove files you no longer need.
In the bad old days, you had to delete everything on the backup drive and do a full backup every week or so. Now, most backup tools have a better solution: purging. You can set up your backup so it deletes files you no longer need. For instance, it can remove deleted files and versions after 30 days. Easeus calls this an Image Reserve Strategy.
One more thing: Every so often, restore a file or a folder from your backup. You don't want to wait for a disaster to discover that your backup hasn't really been backing anything up.
We all know that we need malware protection. Backup is just as important.
Daisy is the Senior editor of the writing team for EaseUS. She has been working in EaseUS for over ten years, starting from a technical writer to a team leader of the content group. As a professional author for over 10 years, she writes a lot to help people overcome their tech troubles.

Myra joined EaseUS in 2017. As a big fan of Apple products, she mainly focuses on iOS data transfer and iOS troubleshooting tips. Meanwhile, she is expanding her knowledge and skills in other fields like data recovery and disk management. Myra is open-minded and likes both extensive and intensive reading. Other than reading and writing, she is also fond of mobile games and K-pop stars.
Taking everything into consideration, we can say that EaseUS Todo Backup Home can offer you a little extra sense of security with a set of advanced tools. The interface provides quick adaptation, every process guiding you all the way through so you don't get stuck or further damage your system rather than keeping it safe.

 Read More

EaseUS Todo Backup Free lets you create backups of your important files or your entire computer through its streamlined interface. Just choose the backup type you'd like to get started, and let the program do the reset.

 Read More

EaseUS includes all the features I expect from backup software like versioning, incremental backups, and scheduling. For more advanced users, EaseUS allows you to install a pre-boot environment onto your hard drive so you can use it to restore files without burning a CD or putting it on an external USB drive.

 Read More

EaseUS Todo Backup
Smart backup tool for your files and entire computer in Windows 10/8/7.
Install Windows on Multiple Computers at Once? No Problem!
Learn how to install Windows 11/10/7 and special programs/software on a batch of computers. Use 10 minutes to do the 10 hours work without making a single mistake!
Get Free Solution!