How to Create A System Restore Point Windows 10/8/7 for Disaster Recovery (One Way to Make It)
Updated by
Jean
on May 27, 2021
A Windows system restore point is useful when somethings wrong corrupts the operating system and damages the data. You can revert the Windows back to an old yet functional system state without reinstalling Windows and losing data. This article provides you with a step-by-step guide to create a system restore point, namely create a system backup for Windows 10/8/7. In total, there are two ways available for you to create a system backup image. One is a third-party Windows backup and recovery tool - EaseUS Todo Backup and the other is the inbuilt Windows System Restore feature.
Before proceeding with either of the system backup options, you need to figure out several questions in connection with creating a system restore point.
Q1: What does creating a restore point do?
By creating a restore point, you can save the state of the operating system and your own data so that if future changes cause a problem, you can restore the system and your data to the way it was before the changes were made.
Q2: Are system restore points created automatically?
No. System Restore comes disabled by default, which means that you must enable it before Windows 10 can create restore points automatically. If you use third-party programs, the situation is the same. You must first create a full system image backup in order to enable the automatic backup the next time and in the future.
Q3. Should I create a restore point?
Yes, you should always keep a system backup image that contains a usable system restore point, particularly for those average computer users who can hardly reinstall Windows operating system by themselves. With a ready-made system restore point, it's all too easy to revive a computer from a crash or corruption.

A system image, in short, is a snapshot or an exact copy of an entire hard drive. A system image is a complete backup of everything on your computer's hard drive...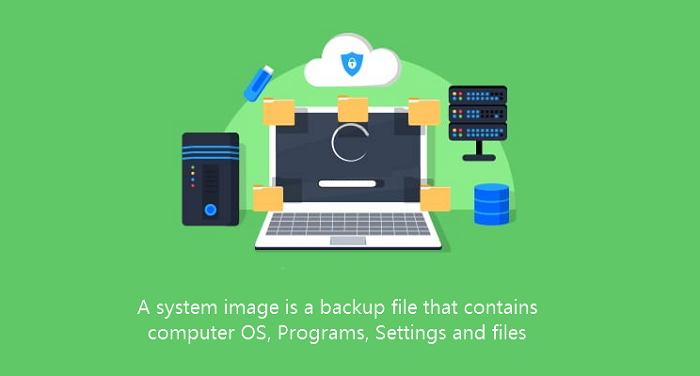 Where to Start to Create A System Image?
Since no tools will create a system restore by default for you, you need to set up the first full backup of a perfectly running operating system state by yourself. In the first place, you have to select a proper backup way that enables you to create a backup and allows you to easily restore the system after a disaster coming. Each Windows backup tool creates a unique backup image with a particular file extension. That is to say, you cannot use one system restore point across two different backup utilities.
On top of that, to minimize the file size of the growing system restore points, it's of great importance to be able to create differential or incremental backups that the previous/outdated system backups will be replaced by the fresh ones.
Last but not the least, you must take the recovery procedure and the recovery speed into consideration. At the same time, ensure that the chance of system recovery is 100% working, which won't be interrupted or stopped during the course.
Regarding those aspects we mentioned above, we suggest every user of Windows 10/8/7 choose EaseUS Todo Backup over the default Windows System Restore feature. Since EaseUS Windows backup software provides more comprehensive backup solutions to Windows operating system, as well as many other objects like hard drive/partition, files, emails, etc.
 Tip

Despite the Windows System Restore function is limited in creating a system backup image very intelligently, and sometimes you may encounter issues like "System restore failed and did not complete successfully" while trying to restore your compute from a previous system restore point, the default Windows solution is still an option to safeguard your computer. You can add it as a secondary protection method beyond the primary choice of EaseUS Todo Backup.
How to Create A System Restore Point for Windows 10/8/7
The advantages of creating a system restore point with EaseUS Todo Backup are as follows:
Simple to go, several mouse clicks would complete the backup task
Auxillary backup options that make the backup efficient, like compress, or encrypt the image; set an automatic backup schedule; let Windows start back up OS while it's turning on or turning down, able to restore a system image to different computers.
Step 1. If you want to back up your current Windows Operating System to an external storage device, connect it to your PC.
And note that the device should be as equal to or even bigger than your system drive.
Step 2. Launch and run EaseUS Todo Backup and click "OS". Or, you can also click the menu at the left top corner and select "System Backup" to start.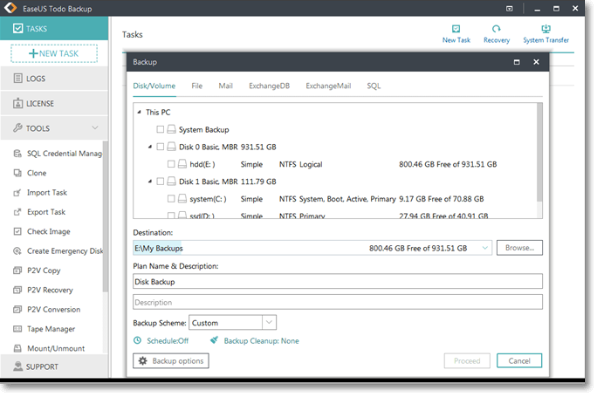 Step 3. Select the Windows System that you want to back up and specify the destination - local Windows computer hard drive, cloud/network drive or external storage device to save the OS image.
Click "Proceed" to start backing up your Windows OS now.
PLUS: If you want to create an automatic backup plan for your Windows system image, please refer to the below tips for a tutorial guide:
1. After selecting System Backup, click "Schedule: Off" option, then set up backing up your OS by daily, weekly, or monthly.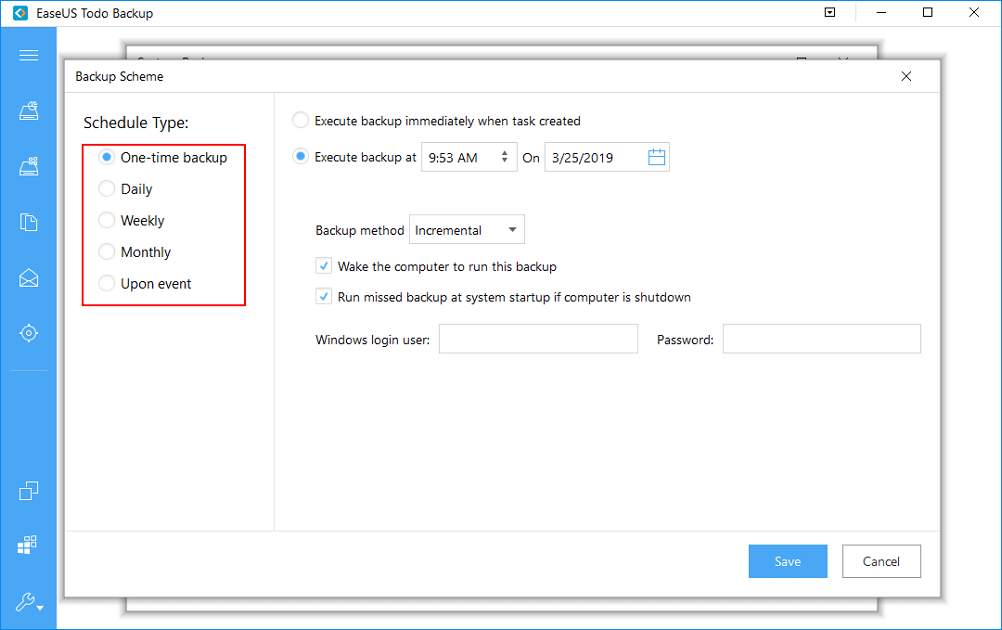 2. Save the changes. And finish the process by following the step.
3. After the first full backup of your Windows OS, EaseUS Todo Backup will automatically to run an OS backing up on itself as your settled schedule.
How to Recover Windows 10/8/7 from A System Restore Point
The regular system recovery is simple enough via the Recovery button on the home interface. But the real situation when you need to restore your computer from a system restore point is that the computer cannot boot properly. In this case, you need to boot your computer from a bootable EaseUS Todo Backup USB flash drive, and then perform the disaster recovery.
Procedure One - Create an emergency bootable disk and system backup with EaseUS Todo Backup
1. Use a USB drive, CD or DVD to create the WinPE emergency disk.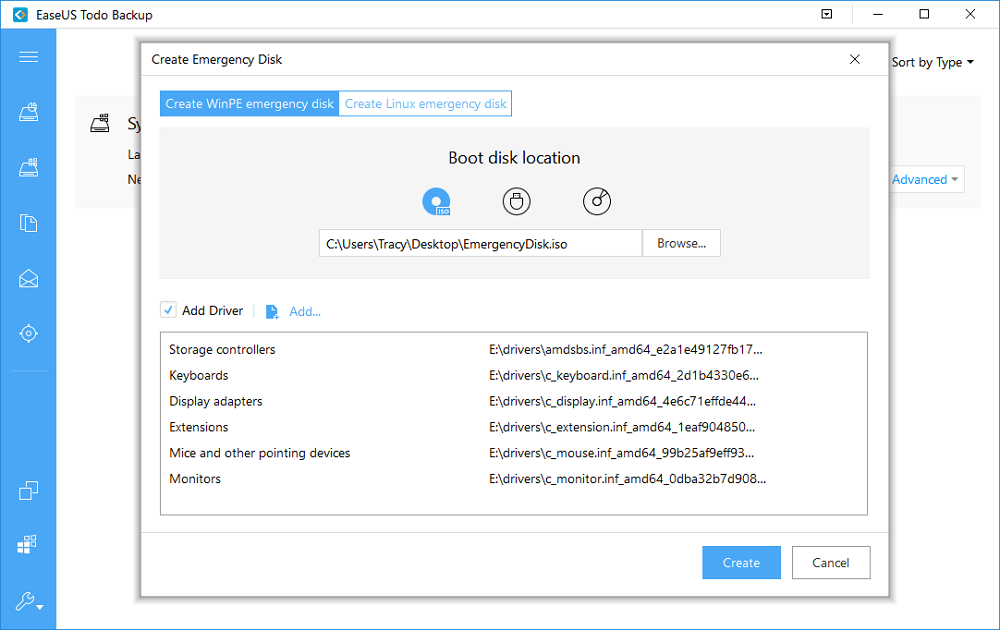 2. Run EaseUS Todo Backup and click "OS" to do a system backup. Select the Windows System that you want to back up and specify the destination. (You'd better choose a cloud/network drive or external storage device to save the OS image).
When the Windows operating system encounters a boot issue, and the computer can't boot up. You can use the emergency disk and system backup files with EaseUS Todo Backup to quickly fix the boot problem and make the computer boot.
Procedure Two - Boot the Computer from EaseUS Todo Backup Emergency Disk and Restore the System Image
1. Insert the EaseUS emergency disk to the new computer and press "F2/F8" to boot into BIOS. 
2. Go to the boot menu and set the computer to boot from the EaseUS Todo Backup emergency disk.
3. Find the system backup task on the main window of EaseUS Todo Backup and click  "Recovery" to restore the system.
4. Choose a system backup version that you need and click "Next".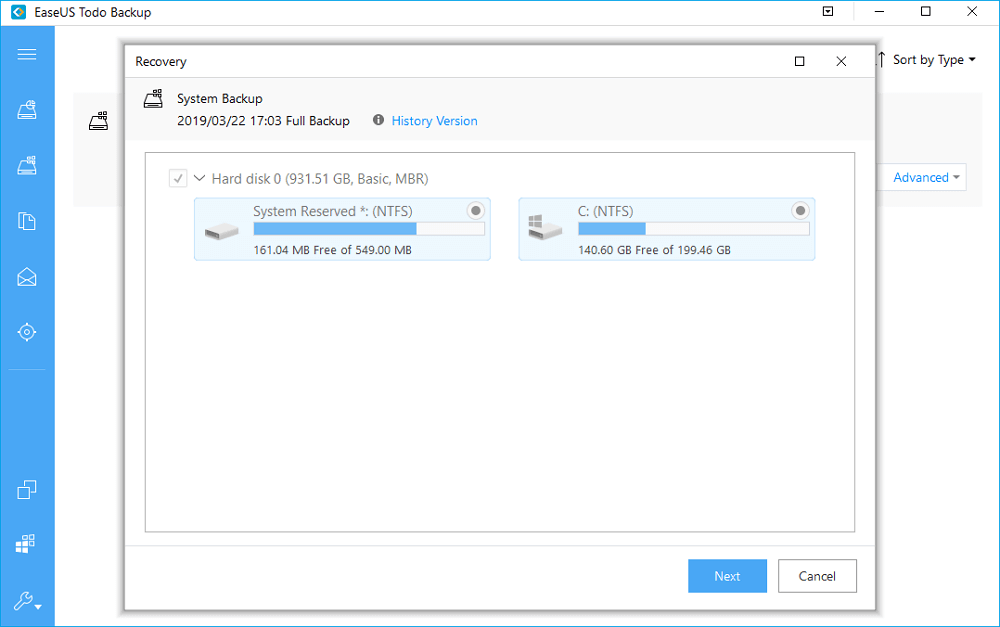 After the system recovery, restart the computer and boot into the Bios again. Set the computer boot from the hard drive where the system installed.

Author Jean has been writing tech articles since she was graduated from university. She has been part of the EaseUS team for over 5 years. Her special focuses are data recovery, disk partitioning, data space optimization, data backup and Mac OS. By the way, she's an aviation fan!
Taking everything into consideration, we can say that EaseUS Todo Backup Home can offer you a little extra sense of security with a set of advanced tools. The interface provides quick adaptation, every process guiding you all the way through so you don't get stuck or further damage your system rather than keeping it safe.

 Read More

EaseUS Todo Backup Free lets you create backups of your important files or your entire computer through its streamlined interface. Just choose the backup type you'd like to get started, and let the program do the reset.

 Read More

EaseUS includes all the features I expect from backup software like versioning, incremental backups, and scheduling. For more advanced users, EaseUS allows you to install a pre-boot environment onto your hard drive so you can use it to restore files without burning a CD or putting it on an external USB drive.

 Read More

EaseUS Todo Backup
Smart backup tool for your files and entire computer in Windows 10/8/7.