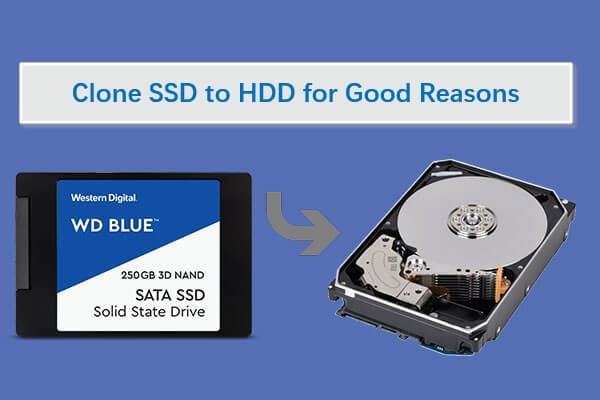 Replace a faster SSD with a slower HDD to save money? It might not seem like the best idea at first, but when you consider all of the benefits, it starts to make a lot of sense. In this blog post, instead of cloning HDD to SSD which is quite common, we'll discuss when and why you might want to clone your SSD to HDD and introduce EaseUS HDD/SSD clone software for the job. With its easy-to-use interface, fast cloning speed, and comprehensive backup features, EaseUS Todo Backup is the perfect tool for migrating SSD to HDD for many good reasons.
Reasons for Cloning SSD to HDD
Generally speaking, there are four main reasons for users to clone SSD to HDD:
1. Upgrade to a larger HDD
When your SSD is nearly full and you want to upgrade it to a larger one with the lowest cost, a traditional hard disk drive is an option. You can clone the existing SSD to the new HDD in advance. In this way, you don't need to reinstall Windows and applications or copy files from the old SSD to the new HDD.
2. Keep SSD as boot drive only
Another reason you might want to clone SSD to HDD is if you're trying to improve your computer's performance. While SSDs are much faster than HDDs, they're also more expensive. So, if you're looking to upgrade computer performance but don't want to spend a lot of money on another SSD, you can clone your SSD Data to a cheaper and larger HDD and then use the SSD as your primary drive. This will give you the speed benefits of an SSD without the high price tag.
3. Replace a failed or damaged SSD
If your SSD is corrupted or damaged and you can't access any data on it, you may clone it to an external HDD for data recovery. After that, you can format the SSD and use it again.
4. Completely erasing SSD before selling away
Finally, you might want to clone your SSD to HDD if you're planning on selling your computer. If you have sensitive data on your SSD that you don't want to fall into the wrong hands, cloning it to an HDD and then wiping the SSD will ensure that your data is safe.
What's SSD to HDD Cloning Software to Use?
No matter what your reason is for wanting to clone SSD to HDD, EaseUS Todo Backup is the perfect tool for the job. It supports both MBR and GPT partition styles, so you can use it regardless of which type of drive you have. Plus, its fast clone speed means that you won't have to wait around for hours for the clone to finish. And if you run into any problems, the in-house expert support team is always available to help.
01
Easy to use:
It offers an intuitive interface and allows you to clone SSD to HDD within simple steps, even if you're a beginner.
02
Efficient clone:
Built with intelligent clone feature of both disk/partition clone and exclusive system clone.
03
MBR & GPT compatibility:
It supports cloning SSDs with MBR and GPT partition styles to an HDD and ensures a successful boot.
04
More than clone:
It is also a comprehensive backup tool for Windows users and protects data from losing, damaging, or corrupting by viruses.
Guide: How to Easily Clone SSD to HDD Without Boot Problems
Step 1. Connect the New Second Hard Drive to the PC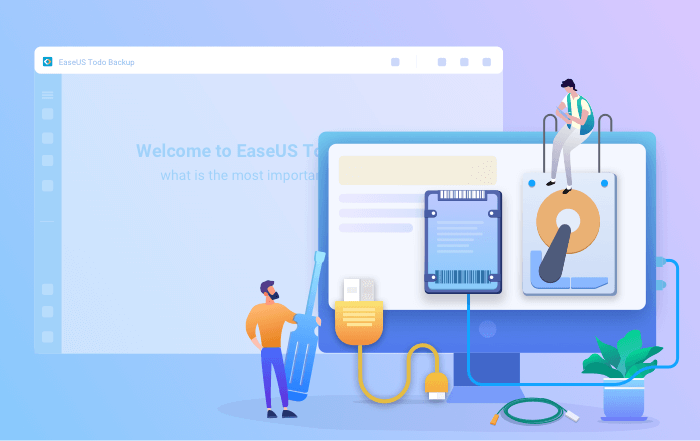 Preparations before cloning start:
1. To connect the target disk to your PC, you may need a screwdriver, a Power Splitter Adapter Cable, a SATA cable, or a USB to SATA adapter. 
2. Make sure the target HDD/SSD has an equal or bigger capacity than the used space of the old drive.
3. Check whether the style of the new disk is the same as that of the old disk. If not, Initialize a new HDD/SSD to MBR or GPT.
3. Download a Disk Cloning Tool – EaseUS Todo Backup
EaseUS Todo Backup is the cloning software that integrates multiple functions, including , etc. In the disk clone field, this tool stands out due to the following aspects:
Support system/disk clone, backup, restoring , and system transfer.
Covers as many as disk cloning demands, such as update hard drive to a larger one, clone OS, etc.
Disk cloning has the highest success rate among all similar products on the market.
Supports all kinds of disk types, including IDE, EIDE, SATA, ESATA, ATA, SCSI, iSCSI, USB 1.0/2.0/3.0.
Supports cloning of basic/dynamic disks and MBR/GPT disks.
1
Step 2. Step by Step Guide
System Clone: Choose System Clone > choose the destination disk > click Next to start. In Advanced options, you can choose the option of Create a portable Windows USB drive to clone the system to a USB drive.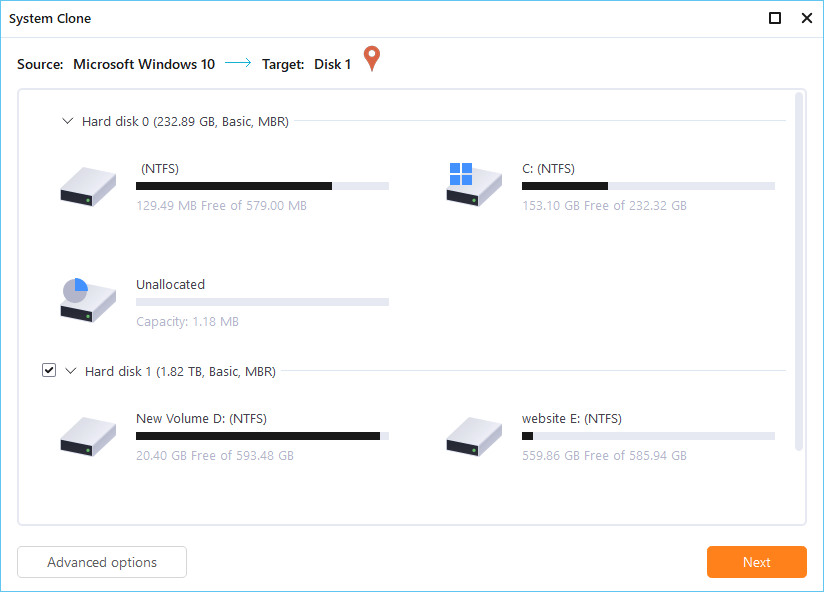 Disk/Partition Clone: Choose Clone > Select the resource disk or partition > Select the target disk > Click Next to start.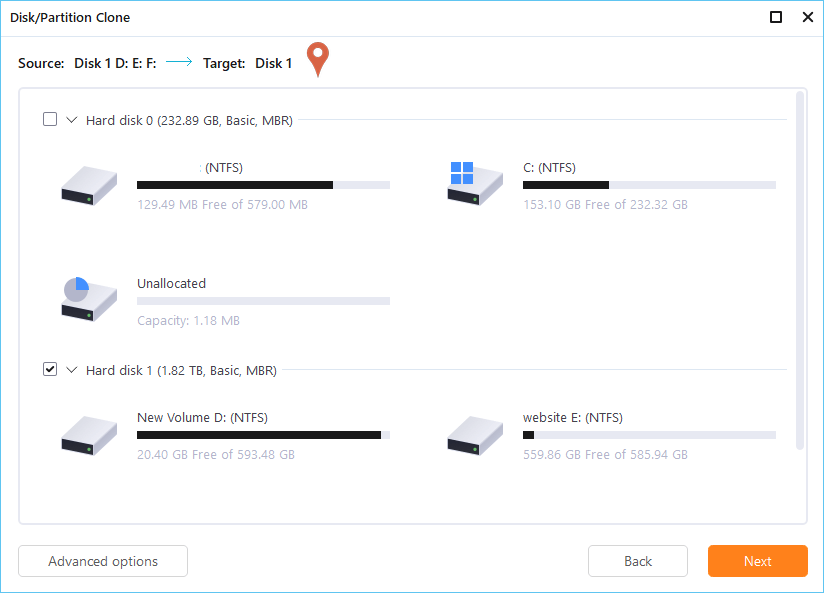 Step 3. Boot from the Clone Hard Drive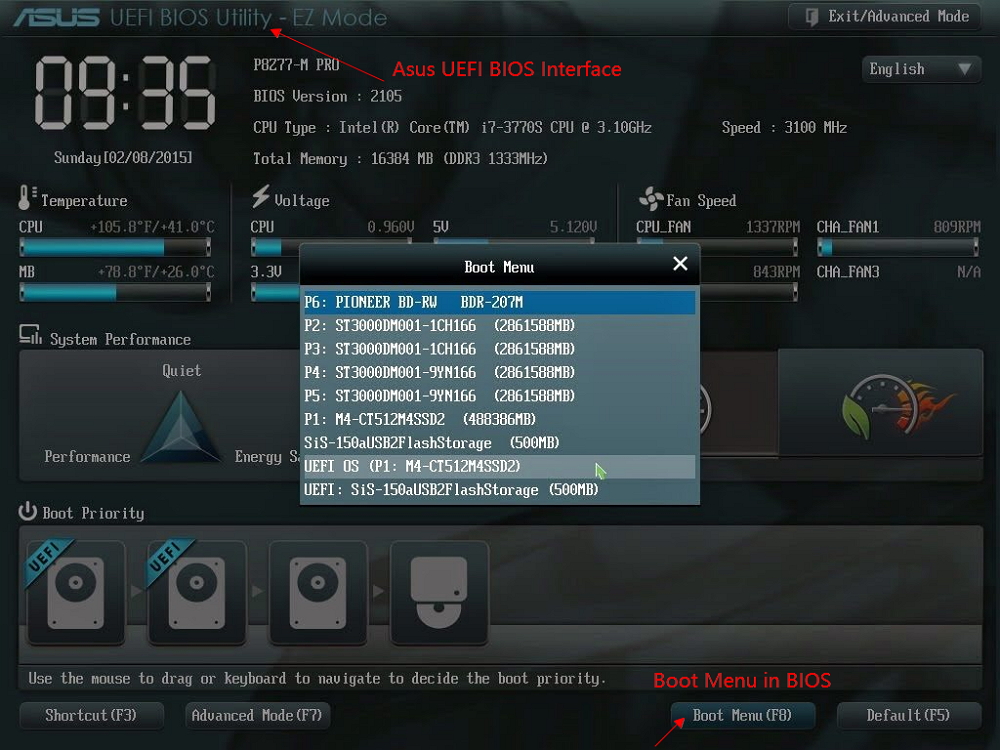 Case 1. If you want to keep both the old disk and the new disk
Restart PC and press F2 (F8,F10, DEL...) to enter BIOS settings.
In the Boot option, select new HDD/SSD as the new boot drive.
Exit BIOS and restart the computer.
Case 2. If you want to only keep the new disk
Unplug the old disk and make sure the new disk is well connected.
Connect the new disk and make sure it can be detected by the computer
Restart your computer.
That's all there is to it! With EaseUS Todo Backup, cloning SSD to HDD is easy and fast. So if you're looking for a clone software that can help you migrate your data from SSD to HDD, then EaseUS Todo Backup is the best choice. Try it now!
Updated by Gemma
Gemma is member of EaseUS team and has been committed to creating valuable content in fields about file recovery, partition management, and data backup etc for many years. She loves to help users solve various types of computer related issues.

Jean has been writing tech articles since she was graduated from university. She has been part of the EaseUS team for over 5 years. Her special focuses are data recovery, disk partitioning, data space optimization, data backup and Mac OS. By the way, she's an aviation fan!