In the age of the internet, it's more important than ever to have good virus protection software on your computer. With so much of our lives taking place online, our personal data is vulnerable to attack from hackers and cybercriminals. A good virus protection software can help to protect your data and keep your computer safe from attack. There are many different options available, but it's important to choose one that is best suited to your needs. Some virus protection programs are free, while others require a subscription. However, even the best free virus protection software is not always 100% effective. For the best protection, it's often worth paying for a premium subscription. By doing so, you can be sure that your computer is well protected against the latest threats. In this article, we have listed several proofed virus protection choices. Keep reading and choose the one that suits you the best.
Criteria of Good Virus Protection Software
When choosing a virus protection program, there are a few things you should look for:
Compatibility: Make sure that the software is compatible with your operating system and any other software you have installed on your computer.
Ease of use: The software should be easy to install and use. It should also have a user-friendly interface.
Effectiveness: The software should be effective at detecting and removing viruses, Trojans, spyware, and other malware. It should also have a good reputation for being able to protect your computer against new threats.
Value for money: There is no point in paying for a virus protection program if it doesn't offer good value for money. Make sure you compare the features and prices of different programs before making your final decision.
According to these four aspects, we list five virus protection options for you. 
Data Protection - EaseUS Todo Backup
Apart from antivirus software, you can protect your files and data with creating backup.
EaseUS Todo Backup empowers you to create a more flexible plan to backup either the file folders or the whole disks.
100% Free to use: Back up content and restore image for free.
Best Five Virus Protection for PC
1. Bitdefender Total Security
Among all the antivirus software, Bitdefender Total Security might be the most comprehensive one. It supports protecting multiple devices, Windows, Mac, iOS, and Android. Once purchased, you could put all your devices undercover. Bitdefender Total Security provides comprehensive protection against all types of online threats. The suite includes a firewall, anti-virus, anti-spyware, and anti-phishing tools, as well as a host of other features. Total Security is also equipped with a powerful parental control module that helps parents keep their children safe online. In addition, the suite includes a virtual private network (VPN) and a password manager. With all of these features, Bitdefender Total Security is the perfect choice for anyone who wants comprehensive protection against online threats.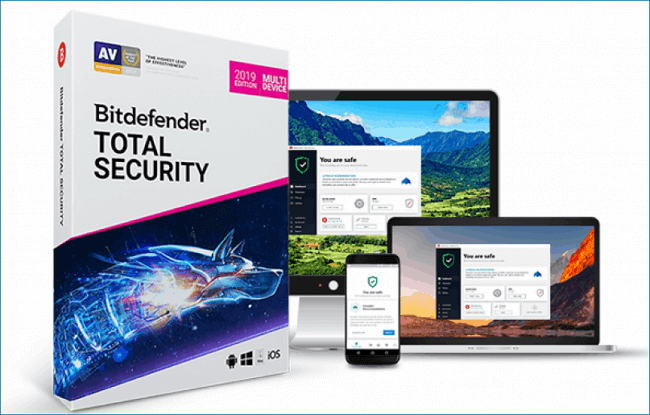 Highlights:
Industry-leading threat detection to deal with sophisticated malware
Protect against zero-day attacks with innovative technologies
Price Plans:
$39.98 - 1-Year Plan (5 devices)
$104.99 - 2-Years Plan (5 devices)
$139.99 - 3-Years Plan (5 devices)
2. Norton Security (360) Deluxe
Providing comprehensive, multi-layered protection for your PC, Mac, smartphone, and tablet, Norton 360 Deluxe from Norton by Symantec is an all-in-one security solution that helps defend against malware, ransomware, viruses, and other online threats. With real-time threat detection and removal, as well as advanced tools to protect your personal information and online privacy, Norton Security Deluxe gives you the peace of mind of knowing that you're protected against the latest online threats. In addition, Norton Security Deluxe comes with a 100% money-back guarantee*, so you can be sure that your investment is protected. So why wait? Get started today with Norton Security Deluxe.
*Activation is required for the money-back guarantee.
Highlights:
Additional 50 GB of cloud space for backup
Defend various types of malware: Cryptojacking, Formjacking, Ransomware, Remote Access Trojans (RAT)
Price Plans:
$49.99 - 1-Year Subscription (5 devices)
*Apart from Deluxe, Norton has other software packages such as Antivirus Plus, Standard, and Premium. You can go to the official product page for more detailed information.
3. Kaspersky Total Security
Kaspersky Total Security is an internet security suite that provides comprehensive protection for your devices and data. It includes features like real-time scanning, email and web protection, parental controls, and more. Total Security also comes with a number of tools to help you manage your passwords, encrypt your personal data, and back up your files. With Kaspersky Total Security, you can be confident that your devices and data are safe from the latest threats.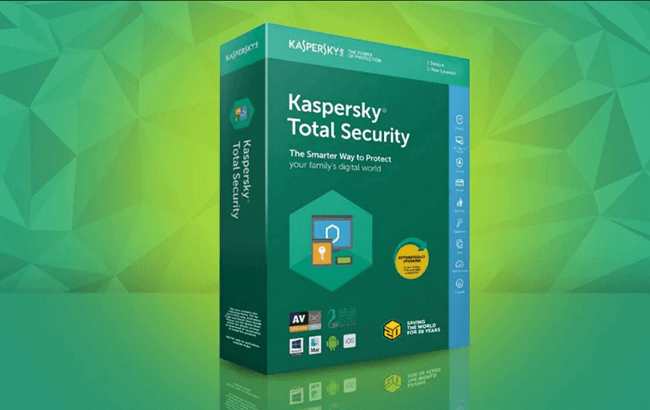 Highlights:
Free VPN with up to 300 MB of traffic per day
Buy one get two free: Kaspersky Password Manager Premium+Kaspersky Safe Kids Premium 
Price Plans: (For new customers)
$44.99 - 1-Year Plan (3 devices)
$49.99 - 1-Year Plan (5 devices)
$74.99 - 1-Year Plan (10 devices)
4. McAfee Total Protection
McAfee Total Protection is antivirus software that offers protection against malware, spyware, and other online threats. It also includes a firewall to protect your devices from incoming Internet traffic. In addition, Total Protection provides parental controls to help you manage your family's online activity, and it includes a web-based console that makes it easy to monitor and manage your devices from anywhere. Whether you're looking for basic protection from online threats or comprehensive security for all of your devices, McAfee Total Protection has you covered.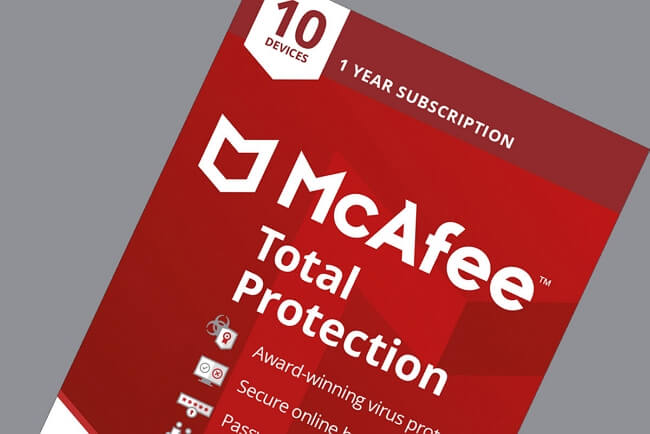 Highlights:
The premium plan supports unlimited devices
Multi-platform device compatibility: Protect your compatible Windows, Mac OS, iOS, and Android device
Price Plans:
$39.99 - Basic (1 device)
$49.99 - Plus (3 devices)
$74.99 - Premium (unlimited devices)
5. Webroot SecureAnywhere Complete
Webroot SecureAnywhere Complete is a powerful security solution that offers protection from all types of online threats. It features a real-time scanner that blocks malware and phishing attacks, as well as a firewall that blocks unauthorized access to your system. In addition, Webroot SecureAnywhere Complete provides a safe browsing environment by blocking dangerous websites and warning you of potentially malicious links. It also includes an anti-spam filter that blocks unwanted email, and a password manager that helps you to create strong, unique passwords for all of your online accounts. With all of these features, Webroot SecureAnywhere Complete is the ultimate security solution for your PC.
Highlights:
Supports protecting Chromebooks
Take care of users' identity, online shopping, and online banking information
Price Plans:
Virus Protection Methods
There are a number of ways to protect your computer from viruses. Perhaps the most important is to install a reputable antivirus program and to keep it up to date. Antivirus software scans your computer for known viruses and prevents them from infecting your system. It is important to note, however, that no antivirus program can detect every single virus, so it is also important to exercise caution when downloading files or visiting websites.
Another way to protect your computer is to create backups of your important files. This way, if your system is infected with a virus, you can restore your files from the backup and avoid losing data. Finally, it is also a good idea to keep your operating system and software up to date. Software developers often release updates that patch security vulnerabilities, so it is important to install these updates as soon as they are available.

Wrap Up
There are many different ways to protect your computer from viruses, and the best approach is to use a combination of methods. First, install an antivirus program and keep it up to date. Second, be careful about what you download and install on your computer. Third, avoid clicking on links in emails or instant messages from people you don't know. Fourth, create a backup of your important files or disks to external devices regularly. Finally, keep your operating system and other software up to date with the latest security patches. By taking these steps, you can significantly reduce the risk of contracting a virus.
Updated by Gemma
Gemma is member of EaseUS team and has been committed to creating valuable content in fields about file recovery, partition management, and data backup etc for many years. She loves to help users solve various types of computer related issues.
Taking everything into consideration, we can say that EaseUS Todo Backup Home can offer you a little extra sense of security with a set of advanced tools. The interface provides quick adaptation, every process guiding you all the way through so you don't get stuck or further damage your system rather than keeping it safe.

 Read More

EaseUS Todo Backup Free lets you create backups of your important files or your entire computer through its streamlined interface. Just choose the backup type you'd like to get started, and let the program do the reset.

 Read More

EaseUS includes all the features I expect from backup software like versioning, incremental backups, and scheduling. For more advanced users, EaseUS allows you to install a pre-boot environment onto your hard drive so you can use it to restore files without burning a CD or putting it on an external USB drive.

 Read More

EaseUS Todo Backup
Smart backup tool for your files and entire computer in Windows 10/8/7.
Install Windows on Multiple Computers at Once? No Problem!
Learn how to install Windows 11/10/7 and special programs/software on a batch of computers. Use 10 minutes to do the 10 hours work without making a single mistake!
Get Free Solution!