Internet Explorer favorites list is where you keep a list of all the sites you would like to visit. But, due to modernized technology trends, Microsoft has also made an updated browser like Microsoft Edge is its successor, and IE has been approximately retired. So if you were a user of IE, you need to backup IE favorites.
Why Do We Need to Backup IE Favorites
Internet Explorer is a big part of Microsoft. When Microsoft released Windows 11, one of the biggest outs from its ecosystem was Internet Explorer. They hadn't completely gotten rid of it at the time, but since the discontinuation of their latest version, IE 11, Microsoft no longer supports Internet Explorer. This makes it difficult, especially for those who do their daily browsing activities in Internet Explorer and have made a list of favorites in it. Besides, when your computer is affected by a computer virus, your IE favorites may get lost. This tutorial will show how to back up IE favorites on Windows 11/10/8/7.
How to Backup Favorites in Internet Explorer
Favorites are shortcuts indicating your favorite web pages. They allow you to quickly find and open the web pages you use often. Here's how to back up IE favorites. Here are three solutions. Choose the best one that serves you better. Solution 3 is highly recommended.
Solution 1. Export Internet Explorer Favorites to a File
Before proceeding, be aware that Internet Explorer must still be installed on your computer to export your favorites. If not, then you will have to add it. After adding it, follow the below steps:
Step 1. Open Internet Explorer, press "Alt," click "File" from the top left, and click "Import and export."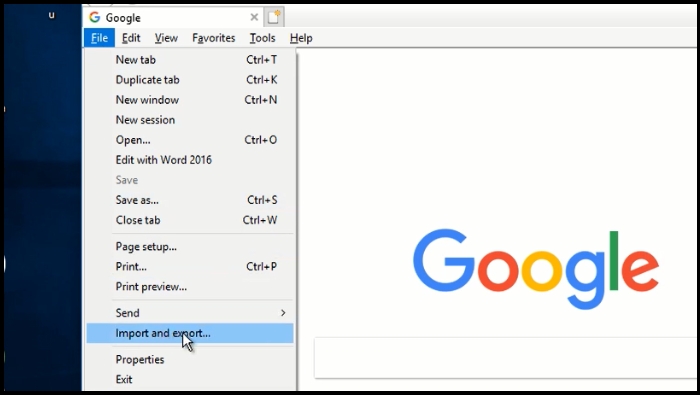 Step 2. After clicking "Import and export," you'll see a popup, and you will have to choose "Export to a file" and click "Next."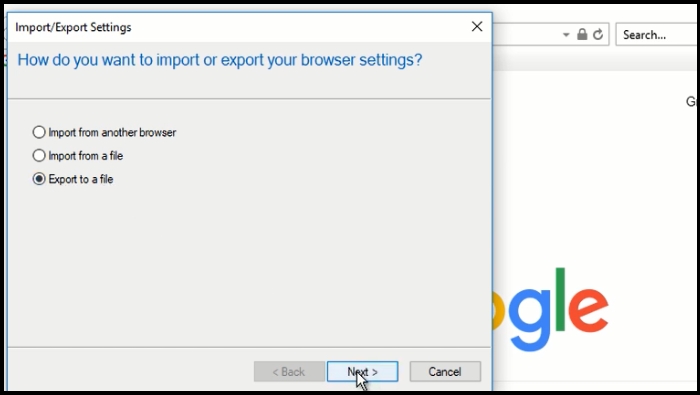 Step 3. Check on "Favorites" and click "Next."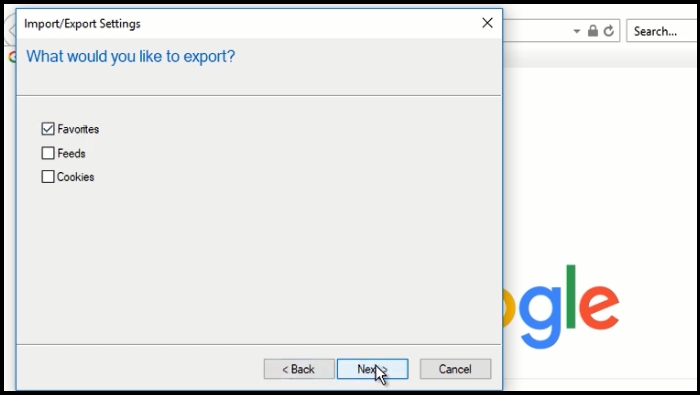 Step 4. You'll see your "Favorites" folder and click "Next."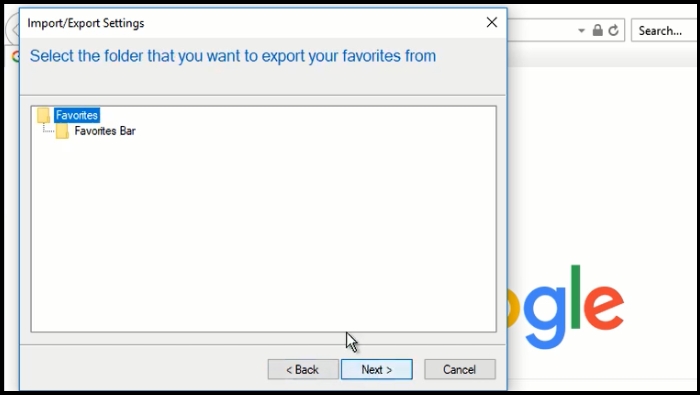 Step 5. Now, export the "Favorites" file to your computer and save it anywhere.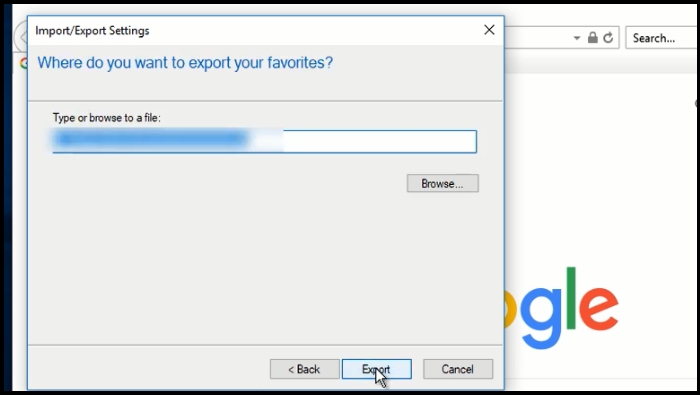 Solution 2. Manually Copying IE Favorites Folder
To manually copy the Internet Explorer Favorites folder, follow these steps:
Step 1. Open the Start Menu and type the below address.
C:/Users/Username/Favorites/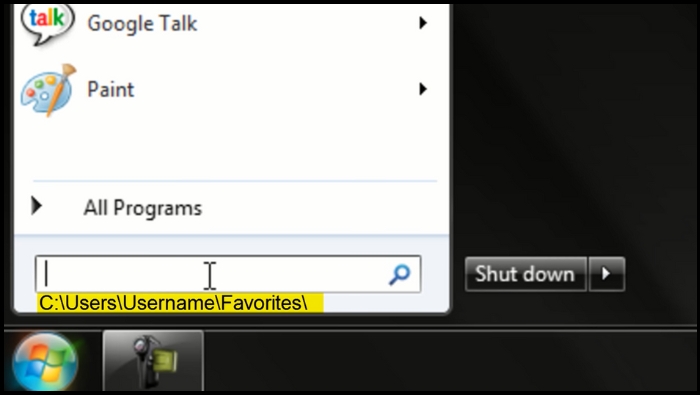 Step 2. You'll be redirected to the folder where all your favorites are stored.
Step 3. Select all the folders, and copy all.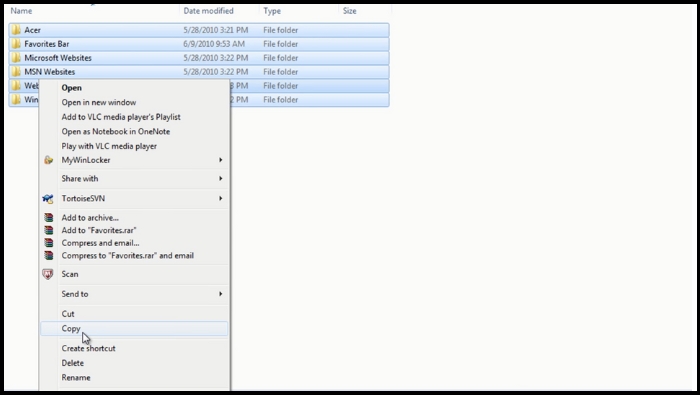 Step 4. Create a new folder anywhere on your computer, and paste all copied favorites folders into a new folder. Now, you can move these folders/files anywhere or to a new device through Email, USB, or cloud backup.
Solution 3. Backup IE Favorites with Professional Backup Software (Automatically)
The above 2 discuss methods that may consume your time and would be an effortful process. If you want to avoid any annoying situation and smoothly back up your IE favorites, you have an Amazing tool EaseUS Todo Backup. This backup software will allow you to save all our Favorites and other valuable data in our Internet Explorer.
EaseUS Todo Backup Home is an incredible backup utility for Windows 11/10/8/7. It allows computer users to automatically back up files, systems, disks, partitions, etc. It can also let you create different backups, such as scheduled backup, full backup, incremental backup, and differential backup. Furthermore, it enables you to install Windows on a new SSD without a USB and clone a hard drive. And it provides 250G cloud storage space for its users for free.
The steps are as follows:
Step 1. To initiate a backup, click the Select backup contents option.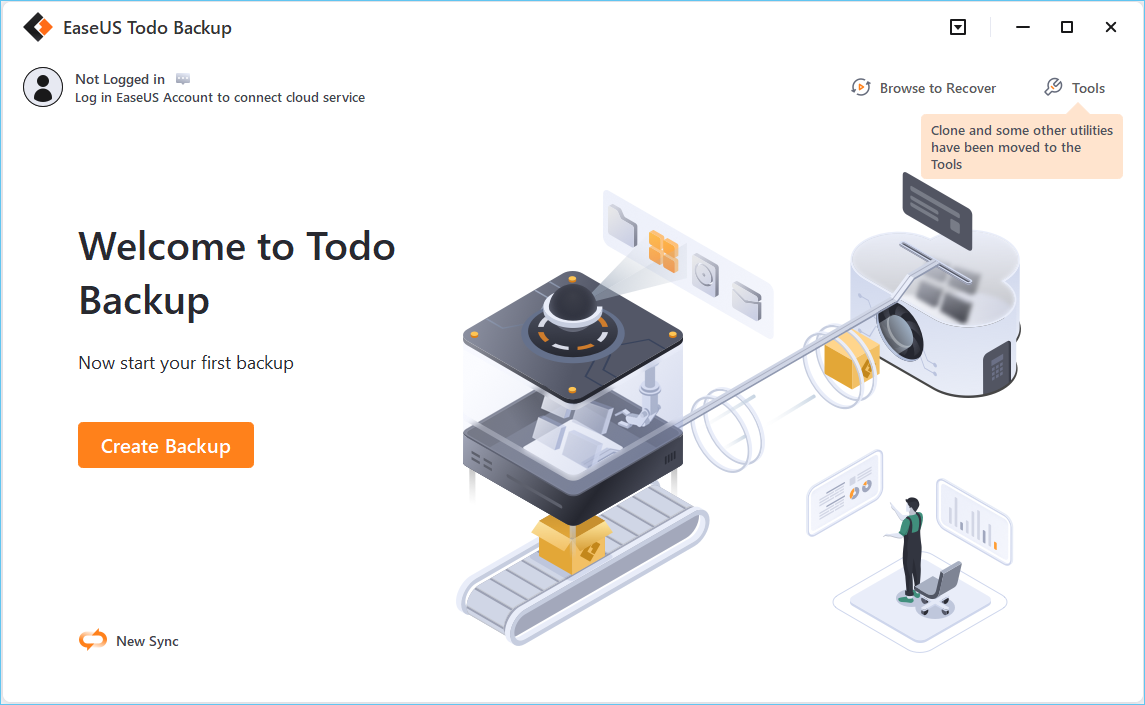 Step 2. There are four data backup categories, File, Disk, OS, and Mail, click File.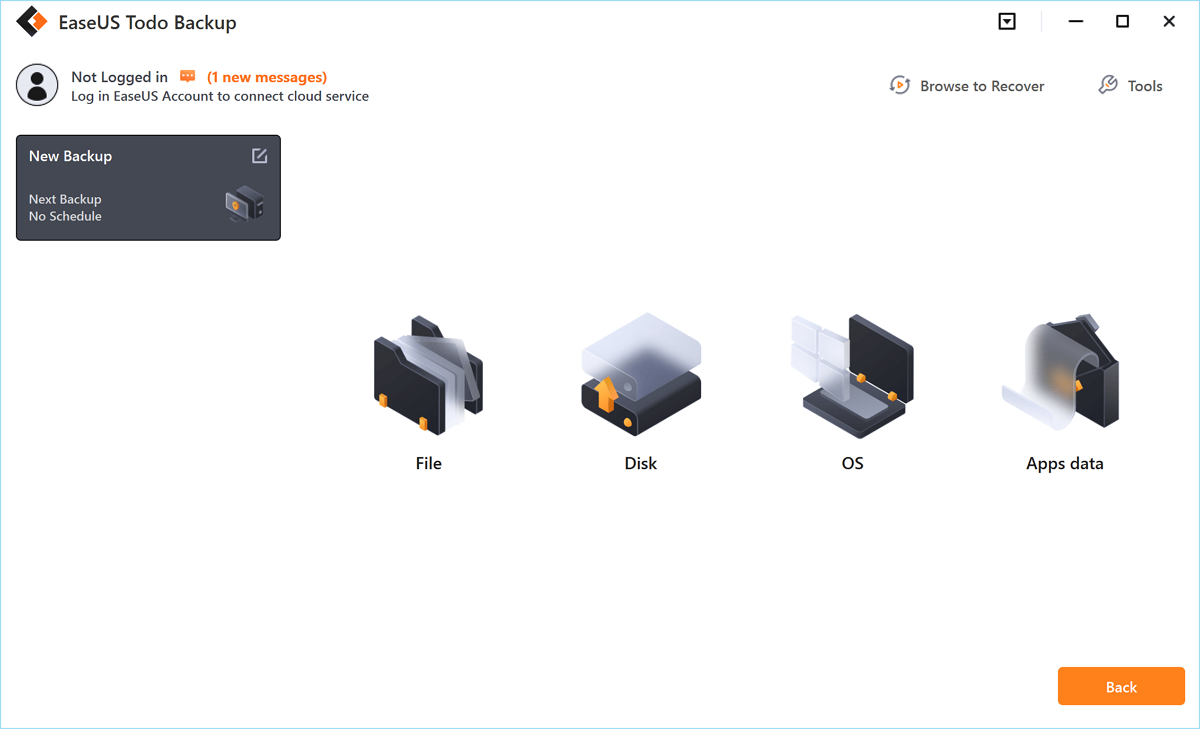 Step 3. On the left, both local and network files will be shown. You may extend the directory to pick the backup files.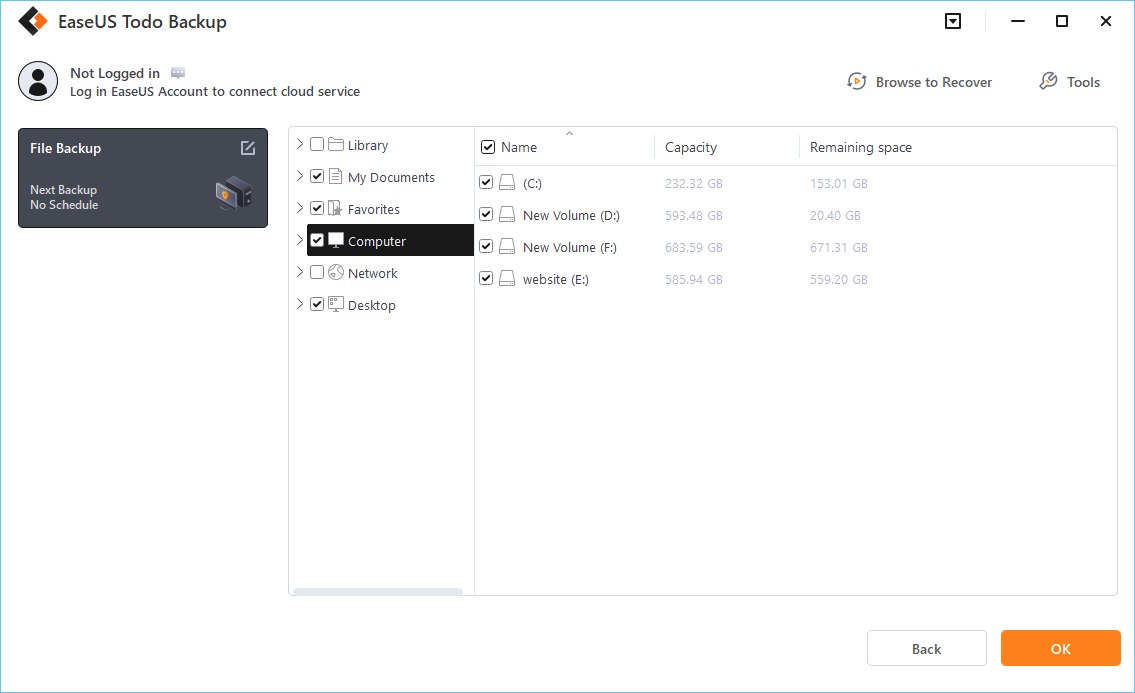 Step 4. Follow the on-screen instructions and choose a location to store the backup.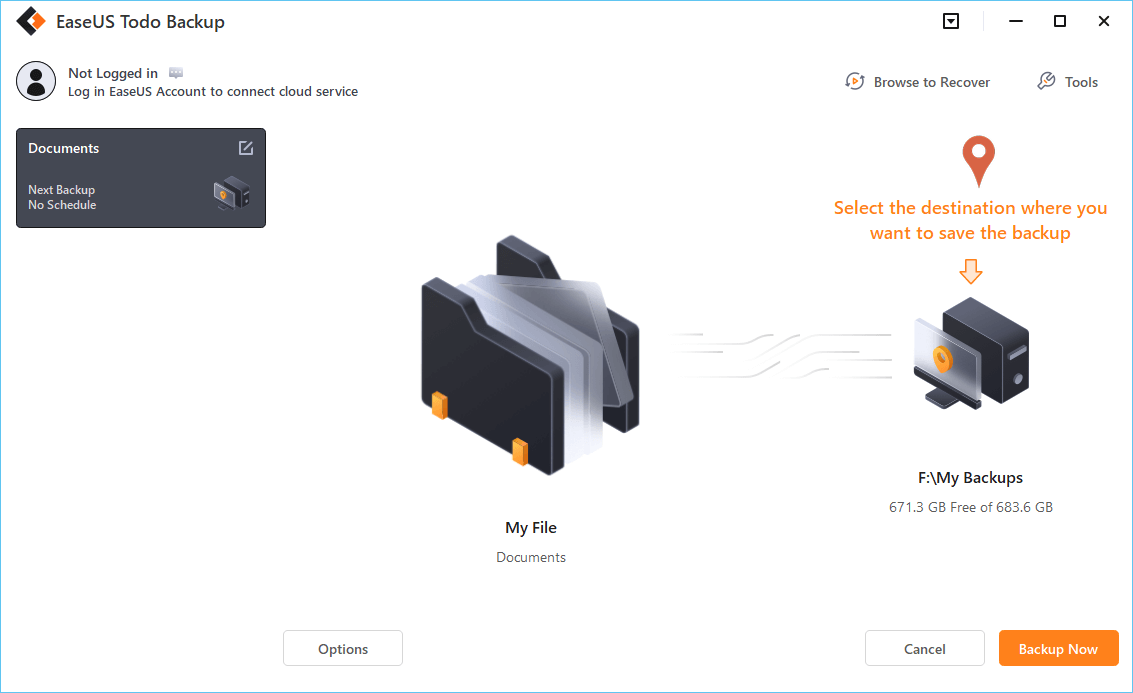 Click Options to encrypt the backup with a password in Backup Options, then click Backup Scheme to specify the backup schedule and start the backup at a certain event. There are also other additional choices you may choose to tailor the backup process to your requirements.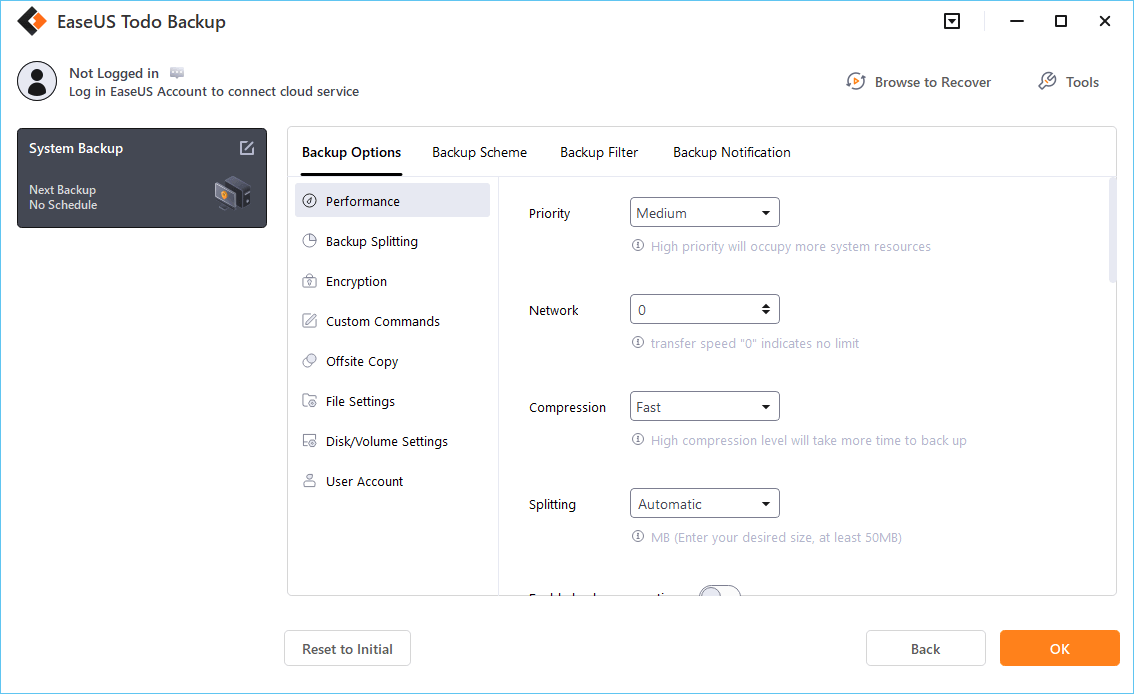 Step 5. The backup may be stored on a local disk, EaseUS' online service, or NAS.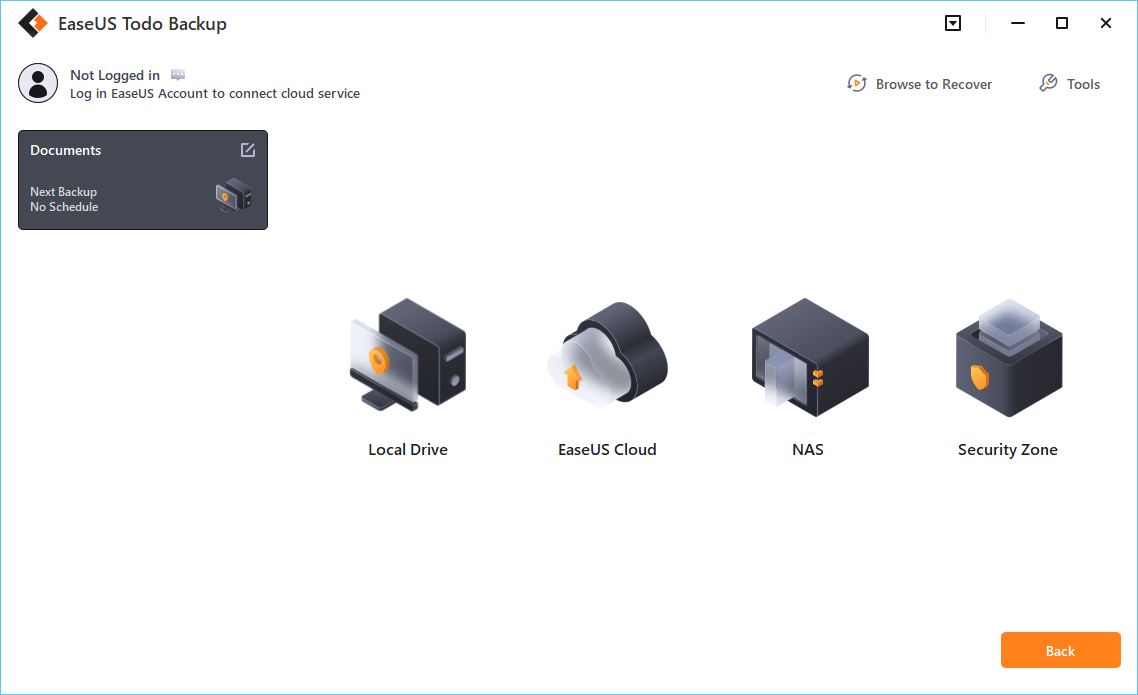 Step 6. EaseUS Todo Backup enables customers to back up data to a third-party cloud drive as well as its own cloud drive.
If you want to back up data to a cloud drive provided by a third party, choose Local Drive, scroll down to add Cloud Device, and then add and log in to your account.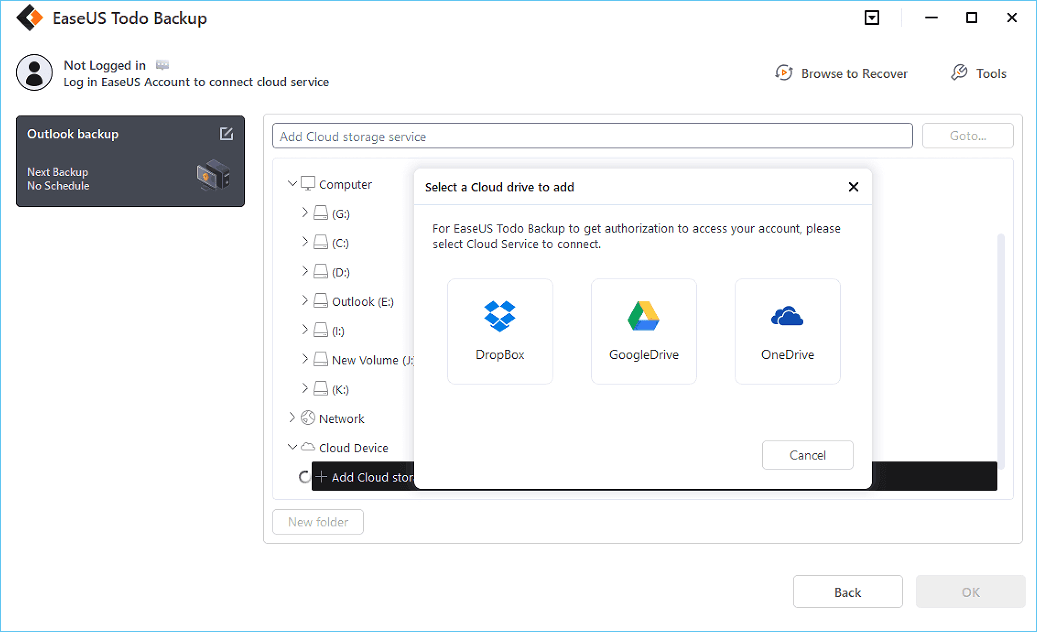 You can also choose the EaseUS cloud drive. Sign up for an EaseUS Account, then click EaseUS Cloud and log in.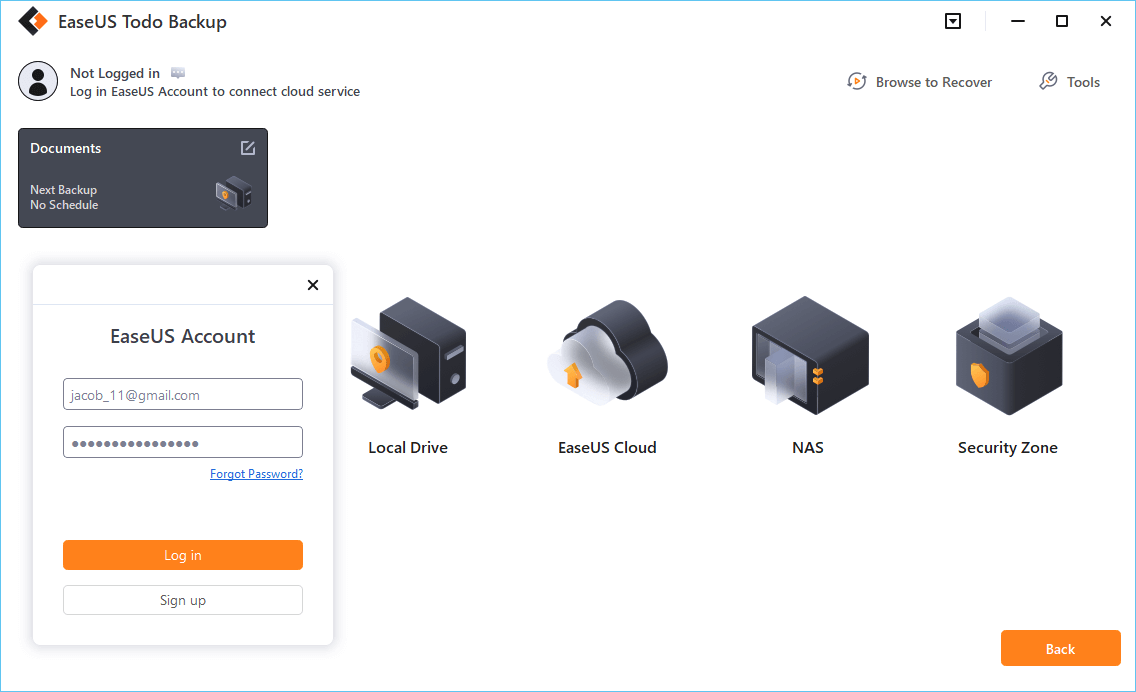 Step 7. Click Backup Now to begin the backup process. The backup job will be presented as a card on the left side of the panel after it has been finished. Right-click the backup job to handle it further.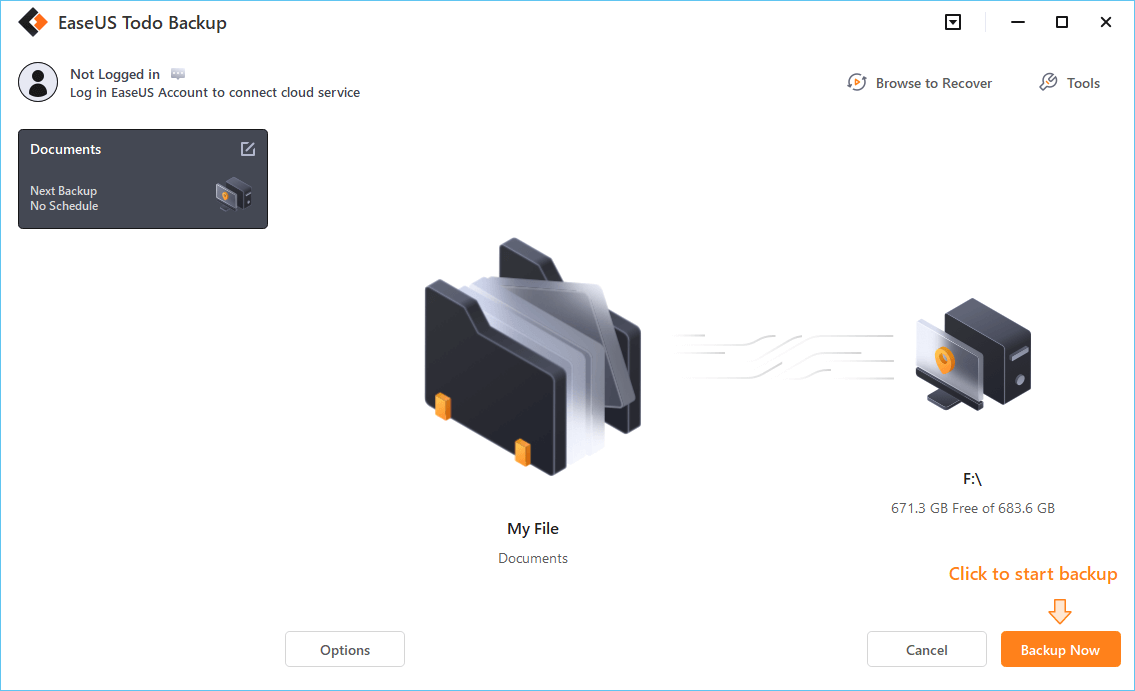 The Best Way to Back up IE Favorites
Having a backup of your favorite websites is very important. To backup IE favorites, you have several methods/options, as discussed above. But the most efficient and secure method is solution 3. We have a powerful free program with a simple interface called EaseUS Todo Backup Home that works in various operating systems, mainly Windows 11/10/8/7.
The EaseUS Todo Backup Home allows us to keep a backup and restore the copy that we have made. In addition, you can enjoy all its other incredible features and securely back up your valuable data. You can't find such a great all-in-one solution anywhere on the Internet. So, why are you waiting? Download EaseUS Todo Backup Home to eliminate worries about potential data loss.
FAQs
1. How do I transfer my favorites to a new computer?
Most browsers have a very simple import and export system that converts bookmarks into an HTML file, which can then be saved and transferred. Keep this in mind and do it from time to time, so we will have a backup file in case the browser is affected by a virus, or we have to reformat the computer unexpectedly. So, whatever reason, if you want to transfer your favorites to another computer, first, you need to get a backup by using solution 1 or 3 is highly recommended. After getting back up successfully in an HTML file, you have several ways to transfer it to a new computer, you can transfer it through Email or USB, and if you use the EaseUS Todo Backup, this tool will enable you to move all your data from your old computer to a new computer. But if you don't want to transfer all of your old system's data, you're still able to transfer specific data using this tool, including your apps.
2. Where are favorites for Internet Explorer stored?
Microsoft stores your favorites in your C Drive folders. Make sure the files are backed up, and go to the location where they are stored. Open file explorer and put the below link address in the Windows Explorer navigation bar.
C:\Users\username\Favorites\
3. Why are my favorites missing from Internet Explorer?
Occasionally you may need help regarding your favorites. Your favorites could be missing or disappear, and you can't load any bookmarks from the browser. Some programs may have changed some settings, and the Favorites folder path or related Registry value may have been changed or corrupted. If you are facing this problem, let's see how you can fix the problem.
Step 1. Open Windows file explorer and paste %userprofile% into the navigation bar. You will see a Favorites folder.
Step 2. Right-click the Favorites folder, choose Properties and go to the Location tab. Click Reset to Default, click Apply, and exit.
If you don't see the Favorites folder, you'll need to create it.
Now you can get your Favorites back in Internet Explorer. If not, try to restart your system.
Search your hard drive for a Favorites folder and check if the folder is moved anywhere. If you discover it, you can copy its content to the C: Users \ Favorites folder.
4. How do I restore my favorites in Windows Explorer?
If you accidentally deleted your favorites shortcut, no worries! Right-click the "Restore favorite links on the Favorites" element.
Note: This method is in windows 7. However, since Microsoft has changed its name, you can call it "Quick Access" in Windows 10/11.

Updated by Larissa
Larissa has rich experience in writing technical articles. After joining EaseUS, she frantically learned about data recovery, disk partitioning, data backup, and other related knowledge. Now she is able to master the relevant content proficiently and write effective step-by-step guides on computer issues.
"I hope my articles can help solve your technical problems. If you are interested in other articles, you can check the articles at the bottom of this page, and you can also check my Facebook to get additional help."
Taking everything into consideration, we can say that EaseUS Todo Backup Home can offer you a little extra sense of security with a set of advanced tools. The interface provides quick adaptation, every process guiding you all the way through so you don't get stuck or further damage your system rather than keeping it safe.

 Read More

EaseUS Todo Backup Free lets you create backups of your important files or your entire computer through its streamlined interface. Just choose the backup type you'd like to get started, and let the program do the reset.

 Read More

EaseUS includes all the features I expect from backup software like versioning, incremental backups, and scheduling. For more advanced users, EaseUS allows you to install a pre-boot environment onto your hard drive so you can use it to restore files without burning a CD or putting it on an external USB drive.

 Read More

EaseUS Todo Backup
Smart backup tool for your files and entire computer in Windows 10/8/7.
Install Windows on Multiple Computers at Once? No Problem!
Learn how to install Windows 11/10/7 and special programs/software on a batch of computers. Use 10 minutes to do the 10 hours work without making a single mistake!
Get Free Solution!