Are you feeling fascinated about the wonderful capacity of OneNote which allows you to use it on all your devices and share files via it boundlessly. You can also work with your friends, family, classmates and colleagues together and get things done efficiently. Don't wanna lose any files on OneNote? Effective tips for OneNote backup and restore on Windows 10 are available here now.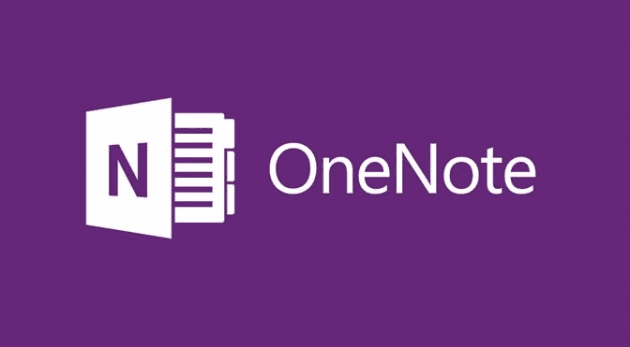 How to backup and restore OneNote
So why it's necessary to create backups of OneNote? Though OneNote might sound no longer new to you at all since it has complied with Office users for quite a long period. And the latest version of OneNote even allows you to clip any web pages online or offline. With this feature, you can connect and capture any amazing ideas or pics or even fabulous websites and view them later through OneNote.
In order not to lose precious files such as website clips, important emails on notebook or wonderful photos, it's highly necessary to create OneNote backups and restore them when unexpected problems happen.
How? Do you have any ideas to backup and restore OneNote? Don't bother if you don't have ideas about OneNote backup and restore. Here EaseUS will provide two free methods to backup OneNote on Windows 10 or other OS for you now.
Method 1. Manually backup and restore OneNote
Advantage: Free
Disadvantage: Backup files will take exact same space as original files. Enough storage space is highly necessary.
Microsoft provide OneNote users a great feature that users can create backups for OneNote as what Word, Excel and PowerPoint users can do.
Backup OneNote:
1. Launch OneNote > Click "File" > Click "Option" > Tap "OneNote Options" and click "Save & Backup".
2.On the right, under "Save", click "Backup Folder" > "Modify".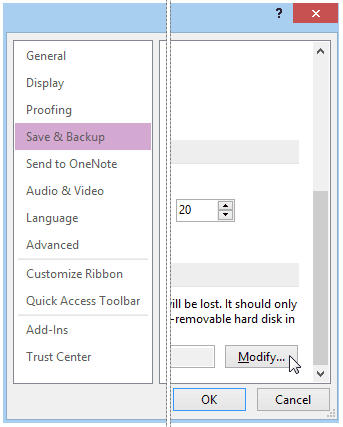 3. In "Select Folder", you can choose to backup OneNote files into a local spot on your network or an external hard drive.
4. Then click "Select" to accept the new location and click "OK".
OneNote will automatically backup your files each week as default. You can also set the backup frequency more often.
Restore OneNote from backup files:
1. Launch OneNote, on the File menu, click "Open Backup".
2. In the "Open Backup" dialog box, in the "Backup" folder, double-click the notebook folder that contains the file or files that you want to restore.
3. Select one or more backup files to restore, and then click "Open".
Method 2. Back up & restore OneNote with backup and recovery software
If you prefer an easier and simple solution for OneNote backup and recovery, EaseUS Todo Backup Home should help. It's fully compatible with Windows 10 and other Windows systems, allowing you to backup whatever you need within 3 simple clicks. Free download and follow next steps to backup OneNote files now:
Backup OneNote files with EaseUS Todo Backup
Step 1. Open EaseUS Todo Backup and select "File Backup".
You may have a large amount of vital data to be protected as time goes on, such as documents, pictures, music, and videos, etc. It is always a good habit to have a backup on a regular basis. File Backup is one of the best choices for you to get over unexpected data loss.
Step 2. Select the files that you want to back up.
Step 3. Select a destination to save your backup of the selected files.
You'd better create the backup file in some other storage media or in some other drive. If not, there may be a risk of the backup file getting corrupted or destroyed.
Advanced backup settings are useful when you want to create a flexible and automatic backup plan.
The schedule is to create an automatic backup plan.
Backup options are to edit the advanced parameters.
Image-reserve strategy is to reserve the limited image as per image retention rule.
Advanced backup settings are for reference only but not a prerequisite for backup.
Step 4. Click "Proceed" to execute your operation.
3 clicks to restore OneNote files with EaseUS Todo Backup
When you need to restore the OneNote backup files, 3 simple clicks will also bring your OneNote backups back:
1. Open EaseUS Todo Backup again.
2. Directly click the Recovery button to restore the backup you created before.
3. Choose one History version of the backup image, after confirming the contents, click the Next button and select target location to restore. Then click Proceed to start backup recovery.
Replace existing files - After checking this option, the original files and folders will be overwritten after recovery.
100% of people found this article helpful.
Frequently Asked Questions
Why choose EaseUS Todo Backup?

"The easiest way to protect your data and system files." —techradar

"EaseUS Todo Backup Free is one of the most popular free data backup applications available. This software offers a myriad of features and is extremely user-friendly. It provides a full system backup, meaning you can back up your entire operating system." —TopTenReviews

"EaseUS ToDo Backup Home is a great backup program, well suited to the home and SMB space." —PCWorld
What is the difference between Clone and Backup? In what cases should I use Clone?

Clone will copy one disk to another or one partition to another (unallocated space is also supported). Usually, this option is used to upgrade the current disk by creating an identical copy. Backup will generate a .PBD image file containing the selected files or system that can be restored from the .PBD image if needed.
What is the difference between System Backup and Disk Backup?

System Backup will auto-select the system boot related partition(s) as the backup source to make sure the system image can be restored properly. Disk/Partition Backup will allow you to manually select a whole disk or speficy a certain partition as the backup source. You will get the same backup result as System Backup if you manually select the system and boot partitions with the Disk/Partition Backup option.
As a computer newbie, what features should I use to protect my computer?

You can use System Backup to back up the system and boot partitions, use Disk/Partition backup to back up the data partition and add plans to run an automatic backup. If you use the computer frequently or have software that may cause boot failure of the computer, we would suggest you back up the computer every 1 to 2 days. For other situations, you can backup the computer once a week. In addition, you can schedule File Backup to back up the files which are changed frequently.
What kind of storage service should I use to save my backup images?

EaseUS Todo Backup can save backup images to internal disks, external disks, network drives, or free cloud(Google Drive, Dropbox, and OneDrive) and CD/DVD. It is suggested to save the images to the internal/external/network drives to save time as those kinds of disks have a better read-write speed. It is suggested NOT to save the image on the source disk, because once the disk is damaged, all the files on the disk will become unavailable and you will be unable to restore the image.
As a company network administrator, what features should I use to protect our internal computers?

It is recommended that you use the SQL Backup feature to back up your company's SQL server and Exchange Backup feature to back up the Exchange server. In addition, you can execute System Backup to back up the system and boot partitions on every computer and set a plan to execute the backup once a day or twice a week to ensure that the computer can be restored timely when it has boot issues. File Backup feature can be used to back up important user data. If there are a large quantity of computers, you can purchase EaseUS Backup Center to manage the backups on the client computers centrally.
About EaseUS Todo Backup
Be it a file, system, partition, or disk, EaseUS Todo Backup will help you back up or clone the item and provide you with multiple backup plans.