How to Back Up Hard Drive (HDD/SSD, External Disk)? Your Guide Is Here
Updated by
Gemma
on May 07, 2022
Quick Navigation:
Workable Solutions
Step-by-step Troubleshooting
1. Using EaseUS Software 

1. To Backup Hard Drive to External Disk...Full steps

2. To Restore Hard Drive Backups to Computer...Full steps

2. Using File History 

1. Backup Hard Drive Files to External Hard...Full steps

2. Restore Hard Drive Backups to Computer...Full steps
Windows operating system contains two features: File History, Backup and Restore, which assist you in regularly backing up your data and system to protect your computer from data loss, system corruption, and so on.
However, backup data files, including app data, continue to grow. After a while, you'll see that they'll take up as much space as they can. If your backup disk is full, no backups can be created, putting your data and system at risk. 
Regularly, You need to take some time to delete old backups or erase app backup files to free up space on the drive to create new backups. If you are having many questions about how to back up a hard drive, what needs to be backed up on a hard drive, or is there any third-party tool to back up the drive, then your quest ends here!!
Here we'll walk through the importance of backup hard drives, what needs to be backed up on a hard drive and how to backup using a third-party tool!!
Why It's Important to Back Up Hard Drive 
Disk backup is the process of creating a complete copy of everything on a hard drive and transferring it to another HDD/SSD or external hard drive. You can secure your computer data with a hard drive backup against the following disasters:
Virus attack
Careless formatting
Hard drive corrupted
Accidental deletion
OS crash or boot issue
It may be possible to recover hard drive data from various data loss situations using reputable data recovery software or a data recovery service. However, this is always a backup plan and not the best strategy to protect your files.
So, how do you make a backup of your hard disk? What needs to be backed up and many more. Just scroll below and get acquainted with all of your questions in a minute of time! The best thing is to back up data from a hard drive regularly using trustworthy hard disk backup software or a manual backup method.
What Needs to Be Backed Up on Hard Drive 
You should be convinced by now that backing up your data is critical. However, you may be wondering which files on your computer hard disk you should back up. In an ideal world, you would backup everything on your PC every time you created a new file or made a change to your data. In most circumstances, however, this is neither practical nor essential. Below we have highlighted two essential things that need to be backed up on a Hard Drive.
1. Complete System Backups
A comprehensive system backup can take a long time to complete depending on the size of your computer's hard drive and the quantity of data you have. And if you use an online backup service, it may take even longer - especially if you don't have a fast internet connection.
While full system backups might be time-consuming, they should be performed at least regularly. Whether you have a Windows computer or laptop, a Mac computer, or a MacBook, it is a good idea to create a full system backup as soon as you purchase the machine. Creating a backup on a new device (or installing an operating system) allows you to rapidly restore your hard disc to factory default settings by restoring the machine with the backup. Even if you could not back up a new device, you should perform at least one full-system back up as soon as feasible.
2. Essential Files and Folders Backup
Complete system backups of your computer hard disk may not be practicable or even feasible in some instances. If you have limited backup storage space or need to save backups online with a sluggish internet connection, creating full system backups may be inconvenient or impossible.
When full-system backups aren't possible, it's a good idea to back up critical files and folders progressively and regularly. If you get into the routine of keeping essential data files in a few specific folders, making quick backups of your essential files and folders should be relatively straightforward. When deciding which files to back up, choose critical documents, images, or any other things that would be difficult or impossible to replicate or replace.
Where and How to Backup Hard Drive 
A fast Google search will reveal that you have endless alternatives and possibilities for apps, platforms, and storage media to create a backup of your hard drive. However, not all backups are made equal, and some are unquestionably more user-friendly than others. Let's go over some of the most popular hard drive backup solutions to assist you in understanding some of your possibilities.
1. External Hard drive
You may simply back up to an external USB hard drive using your computer's built-in backup facilities if you have one. Use File History in Windows 10 and 8. Windows Backup is a program that may be used on Windows 7. Connect the drive to the computer every now and then and use the backup application, or leave it plugged in anytime you're at home, and it will back up automatically.
2. Local Drive Backups
Backing up your data to another hard drive is one of the simplest and quickest ways to secure it. If your system has many drives, you can back up files to a secondary drive, a USB flash or external drive, or even a drive on another computer on the same network. The processes for backing up to the device may differ depending on the type of local drive you use. Backing up to a local drive, on the other hand, usually entails little more than copying files from your primary drive to a backup hard drive or a recovery partition.
3. Backing Up to the Cloud
Backups to the cloud can be a good alternative if you have a relatively fast broadband internet connection – especially if local disc drive space for backups is restricted. Better online backup platforms and services make it easier to create entire or partial backups of your computer hard disc and then send them to the cloud for storage on encrypted, secure servers.
The external method is superior to the other two due to its security and feasibility. You may now have some questions, such as: Which approach should I use? Backup and Restore, File History, or EaseUS Backup Software? Some of you may be wondering, "Which backup tool should I use?" Here let's take a quick comparison to help you decide which tool is best for you:
Method 1. Using EaseUS Backup Software
Backing up your data is as simple as dragging and dropping your data files. However, if you want to verify that everything is stored in the correct location without taking up too much of your time, you should probably utilize an application. EaseUS Todo Backup is a well-known file backup application that will "sync" your information from an external hard drive to another hard drive or the Cloud. This application is robust and provides users with the maximum convenience in backing up external hard drives.
Pros
Cons

Back up your computer system, hard drive, and files using full, incremental, and differential backups.
Automate the backup and synchronization of your computer's contents according to your preferences.
Clone the hard drive, partition, volume, command line, and operating system.
Method 2. Using File History
File History is the primary backup tool in Windows 10, and it was first introduced in Windows 8. File History, despite its name, is more than simply a technique to recover past versions of files–it's a full-featured backup utility.
After you've configured File History, you can simply attach an external drive to your computer, and Windows will back up your files to it automatically. If you leave it connected, Windows will back up your data on a regular basis.
 Pros
Cons

Huge image size
Can't back up non-system drive files.
Editor's Pick: We recommend using EaseUS Software as your first pick for the backup hard drive because it is simple and effective in file backup.
Guide 1: Backup Hard Drive to External Hard Drive Using EaseUS Software 
When compared to Backup and Restore and File History, Windows backup software such as EaseUS Todo Backup makes it easier for novices to backup everything on their computers to an external hard drive. Individual files, entire hard drive partitions, or even the operating system and apps can all be automatically backed up. Let's have a look at how to quickly backup and restore your hard drive to an external device.
1. To Backup Hard Drive to External Disk:
As we all know, there is a plethora of backup software available on the market. When deciding how to backup your data, you must evaluate the cost, convenience, outcome, amount, and size of your files. EaseUS Todo Backup can provide you with the most incredible user experience possible. It is a professional, dependable, and simple-to-use software that allows you to easily backup a C drive to an external hard disk.
This fantastic backup tool also provides a safe hard drive disk copy from an old disk to a new one. Below let's look at the steps on how to Backup Hard Drive to External Disk:
Step 1. Open EaseUS Todo Backup and choose "Create Backup" on the home page, click "Select backup contents".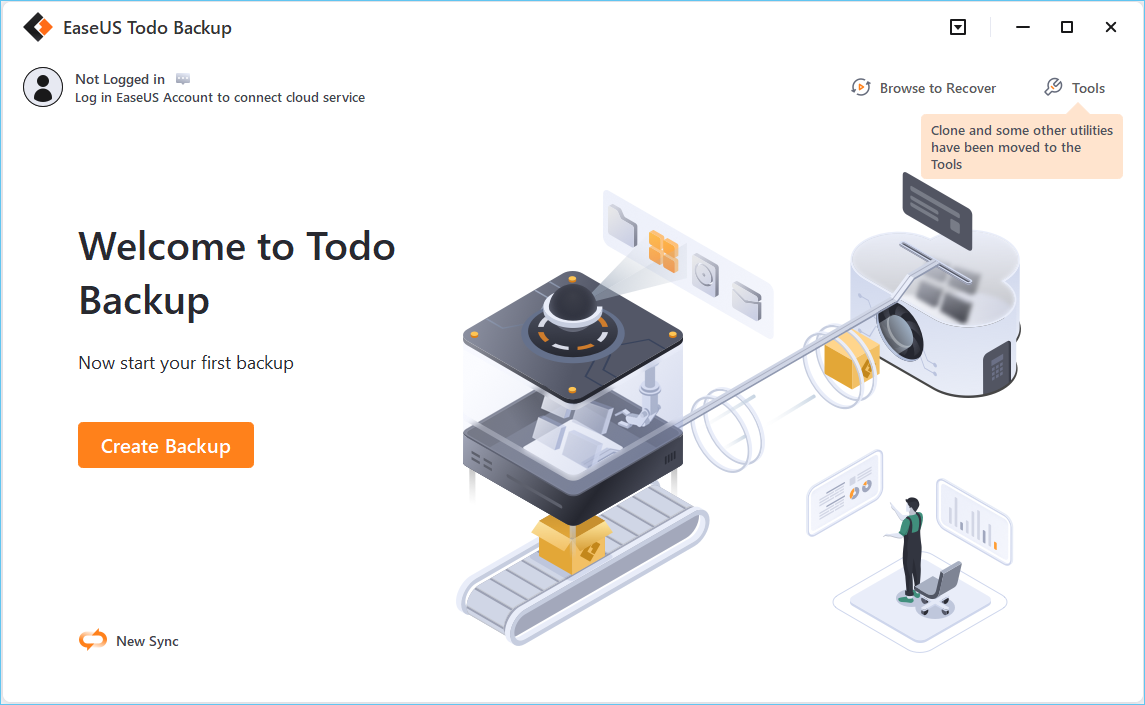 Step 2. As you want to back up your Disk, just click "Disk" to start back up.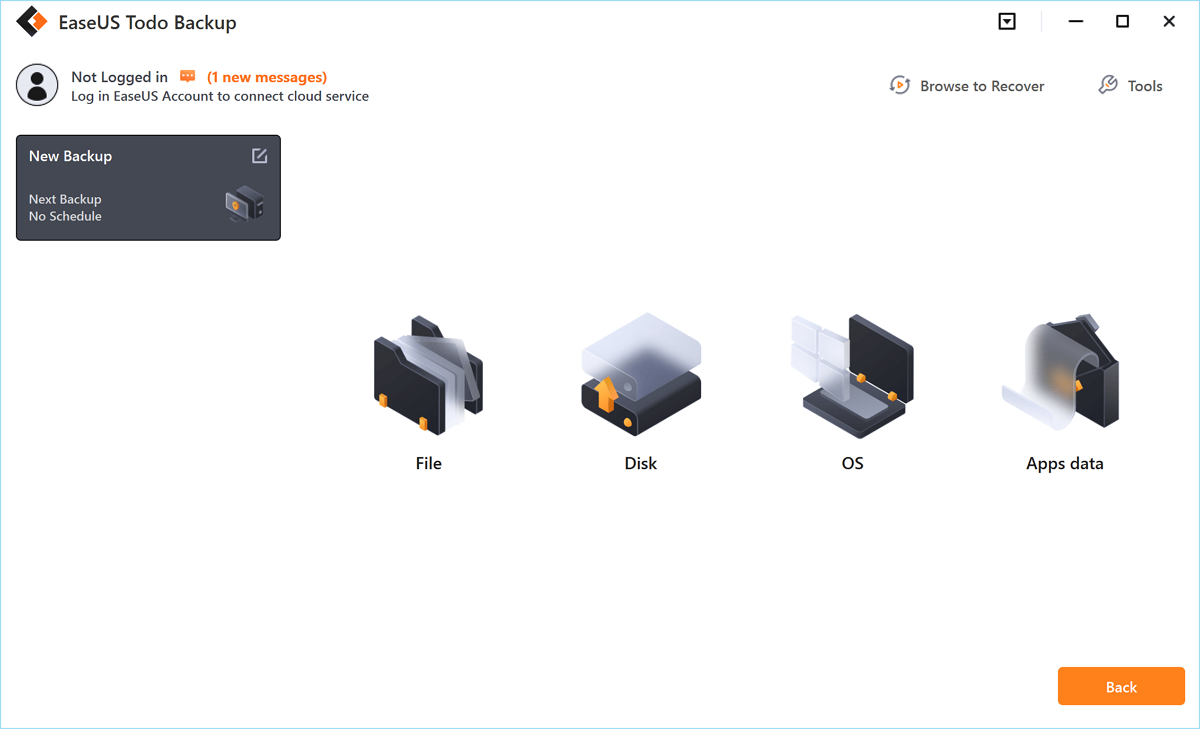 Step 3. EaseUS Todo Backup offers you options. You can choose to back up a whole disk or a certain partition as you need. And then click "OK".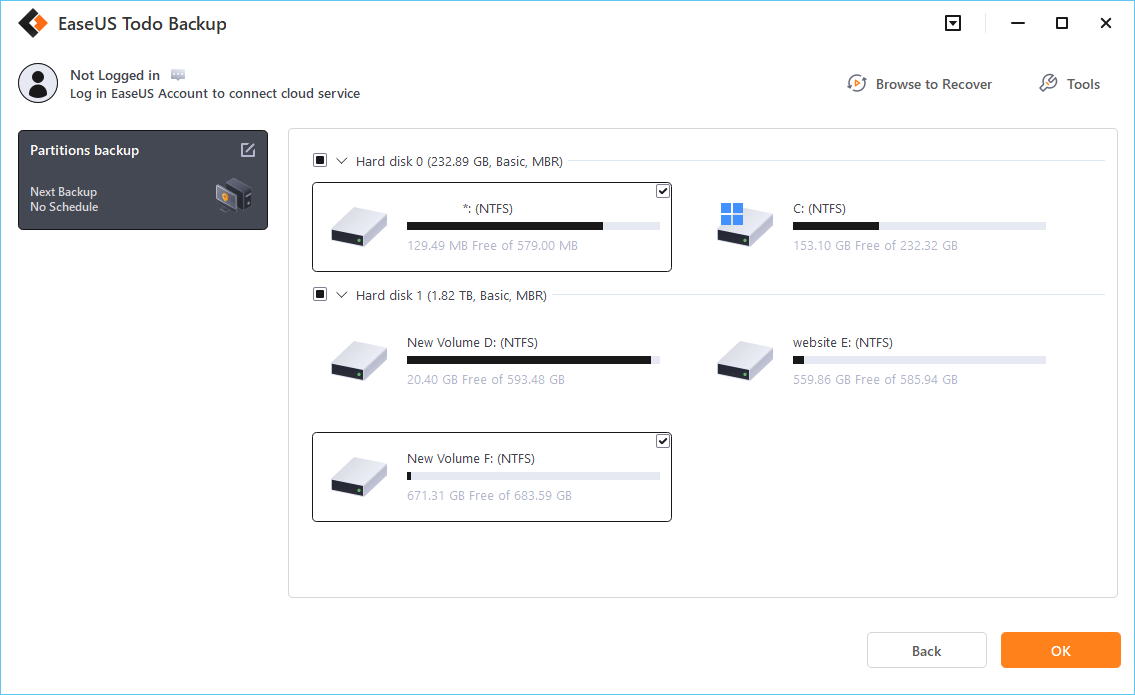 Step 4.  Select the destination where you want to save the backup. You can choose to save the disk to a local drive or to NAS.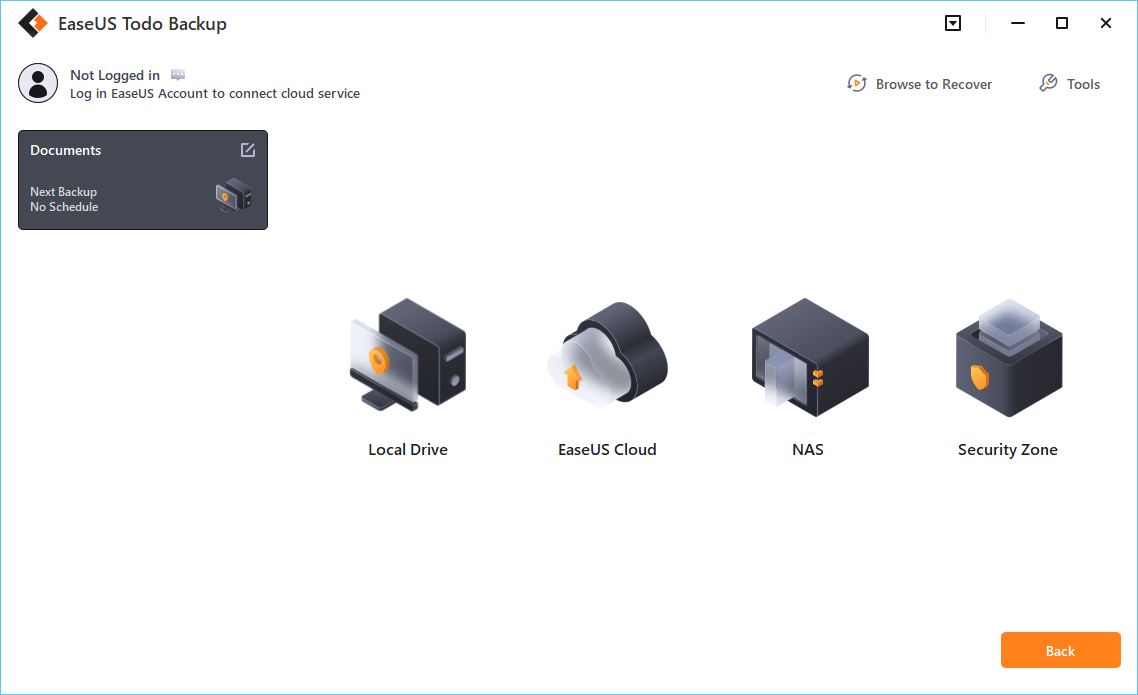 Step 5. Click "Backup Now", after the backup process is completed, you can right-click any one of the tasks to further manage your backup such as recover it, create an incremental backup, etc.
2. To Restore Hard Drive Backups to Computer
When you back up files on your computer, you have already left your data in a secure state. Then, in the event of a calamity, how can you restore the file and get your data back? This section provides step-by-step methods for recovering files and directories directly to your computer.
Step 1. Launch EaseUS Todo Backup, click "Browse to Recover".
Step 2. Guide to your backup destination, choose the backup file you want to recover. (The backup file created by EaseUS Todo Backup is a pbd file.)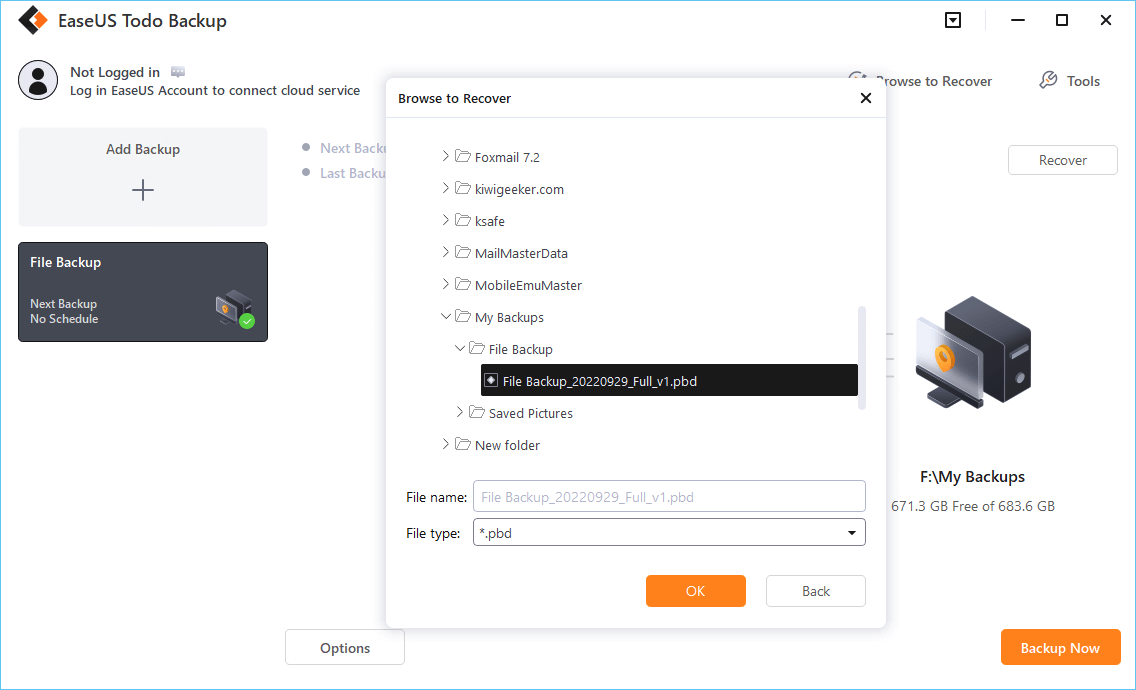 Step 3. Choose the recovery location. You can recover data to a specific location or to original location.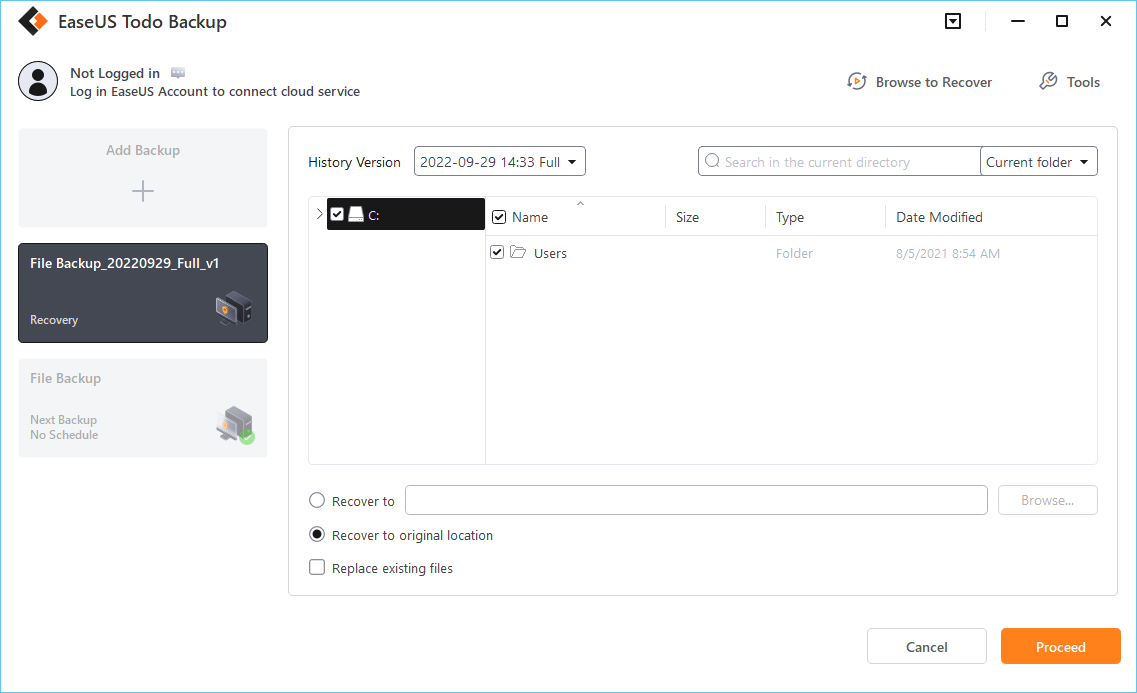 Step 4. Click "Proceed" and the recovery would start.
Guide 2: Backup Hard Drive to External Hard Drive using File History 
File History is a free built-in file backup utility that was introduced with Windows 8. This program lets you back up all of the basic and custom Libraries (including Public Folders), as well as the Contacts, Desktop, and Favorites folders. Scroll down to learn how to backup and recover hard disk files to external hard drives using File History.
1. Backup Hard Drive Files to External Hard Drive
Have a look at the steps below to backup files with file history:
Step 1. First, connect the external drive to your computer and verify that it is detectable.
Step 2. Click "Start," then type backup into the search box and choose it.
Step 3. Select an external device by clicking "Add a drive." The sliding button under the "Automatically back up my files" link will then be activated.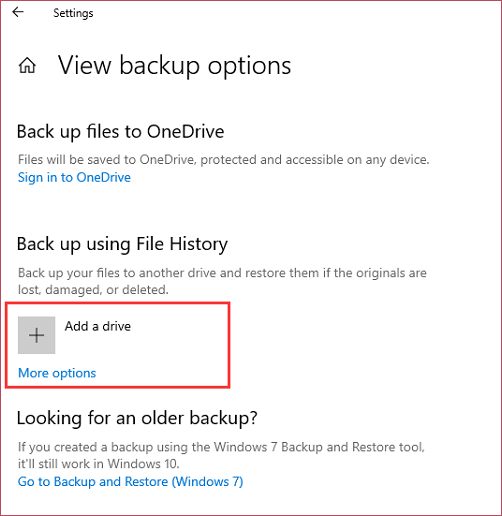 Step 4. To configure backup settings, choose "More options." Scroll below to "Back up my files," "Keep my backups," and "Exclude these folders" and select an option. Then, return to the top of the backup options and select "Back up now" to back up your files immediately.
2. Restore Hard Drive Backups to Computer
If you've backed up an important file or folder and can't find it, here's how to restore it on the computer.
Step 1. In the taskbar's search box, type recover files and then click "Restore" your data with File History.
Step 2. Find the file you're looking for, then use the arrows to see all of its versions.
Step 3. When you've found the version you're looking for, click Restore to save it in its original location. To save it somewhere else, right-click Restore, select Restore to, and then specify a new destination and you are done!
Conclusion 
Now we have come to the end of this article, here we've gathered two reliable and efficient methods for assisting all Windows users in creating hard drive backups in Windows 10/8/7. Hopefully, now you are aware of what Ease Us and file history do, so if you want to extract a certain history or data, then File history is the option to go for. Still, if users want to extract whole data, then EaseUs Todo backup software is highly recommended. 
Also, as a best practice, it is advised to save hard drive backups to an external hard drive or a cloud drive due to security and feasibility. 
Gemma is member of EaseUS team and has been committed to creating valuable content in fields about file recovery, partition management, and data backup etc for many years. She loves to help users solve various types of computer related issues.
Written by Tracy King 
Tracy joined in EaseUS in 2013 and has been working with EaseUS content team for over 7 years. Being enthusiastic in computing and technology, she writes tech how-to articles and share technical solutions about Windows & Mac data recovery, file/system backup and recovery, partition management and iOS/Android data recovery.
Taking everything into consideration, we can say that EaseUS Todo Backup Home can offer you a little extra sense of security with a set of advanced tools. The interface provides quick adaptation, every process guiding you all the way through so you don't get stuck or further damage your system rather than keeping it safe.

 Read More

EaseUS Todo Backup Free lets you create backups of your important files or your entire computer through its streamlined interface. Just choose the backup type you'd like to get started, and let the program do the reset.

 Read More

EaseUS includes all the features I expect from backup software like versioning, incremental backups, and scheduling. For more advanced users, EaseUS allows you to install a pre-boot environment onto your hard drive so you can use it to restore files without burning a CD or putting it on an external USB drive.

 Read More

EaseUS Todo Backup
Smart backup tool for your files and entire computer in Windows 10/8/7.
Install Windows on Multiple Computers at Once? No Problem!
Learn how to install Windows 11/10/7 and special programs/software on a batch of computers. Use 10 minutes to do the 10 hours work without making a single mistake!
Get Free Solution!