PAGE CONTENT:
People are gradually beginning to realize the necessity of backing up files when using their computers because of human errors, computer viruses, and hardware faults. Backing up files helps us recover important data at critical times. So, they are seeking file backup tools to assist them. That is the reason why so many cloud vendors offer different kinds of backup services.
Nowadays, Azure Backup is popular as a cloud backup solution. In this post, we will take a closer look at Azure file backup and its best alternative software.
What Is Azure File Backup?
Azure File Backup is a cloud-based backup service that allows you to backup and restore from Microsoft Cloud. Before you use it to back up your important files, you should know more about its advantages and disadvantages. Accordingly, you can decide how to use it to the best advantage.
Pros: 
Unlimited scale: Azure backup uses the underlying power of the Azure. cloud to back up and deliver files. And don't limit the amount of inbound or outbound data you transfer.
All-around security: It provides solutions for securing data in transit and at rest.
Centralized monitoring and management: It offers built-in monitoring and alerting capabilities in a Recovery Services vault.
Offload on-premises backup: It allows you to back up your on-premises files to the cloud with short and long-term backup.
Cons: 
Notifications missed: if you don't set for the first step, maybe you can't receive the backup failure notifications.
Internet issues: You can't access your data if you don't have Internet access. What's more, you need high bandwidth to back up large files.
Backup granularity (choose only some folders/files to backup) 
Disjointed: It is a collection of several different backup components, none of the components will meet every backup requirement by itself.
How to Back up File in Azure
Here are a few steps to guide you through the process of backing up files in Azure.
Step1. Log into your account in the Azure portal
Step2. Set a recovery services vault
Step3. Choose a storage account, then there will display the sets of files share in your account
Step4. Create a backup policy, including schedules and retention range.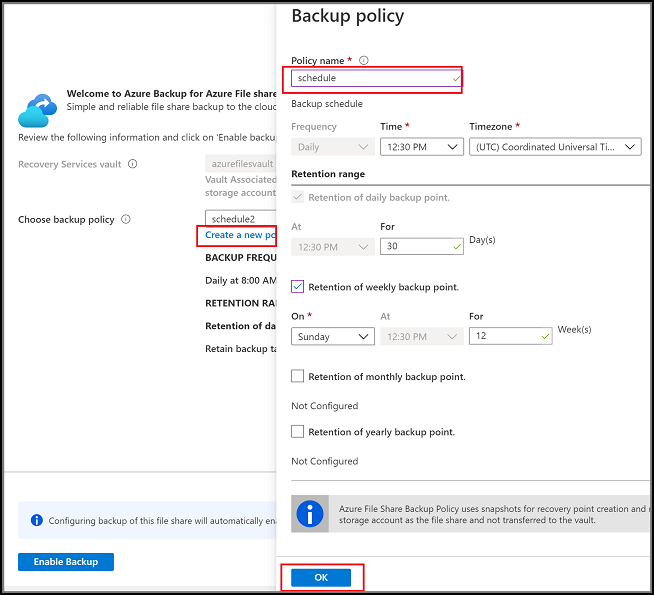 Step5. Select the file shares you want to back up.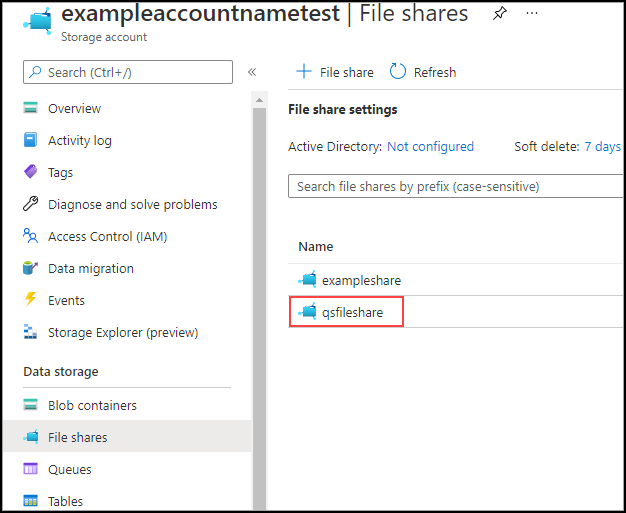 Step6. Select Enable backup to start backup your files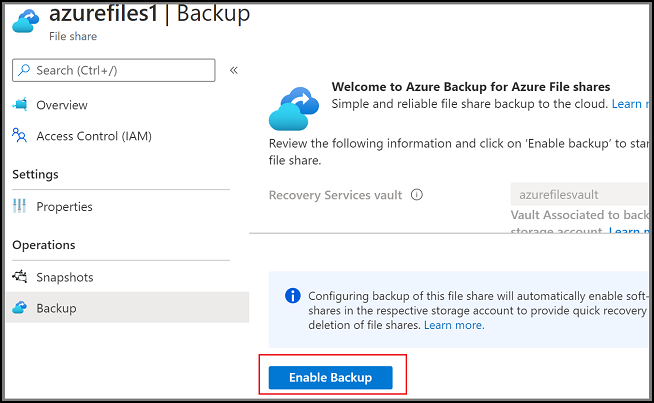 Step7. Track the backup process.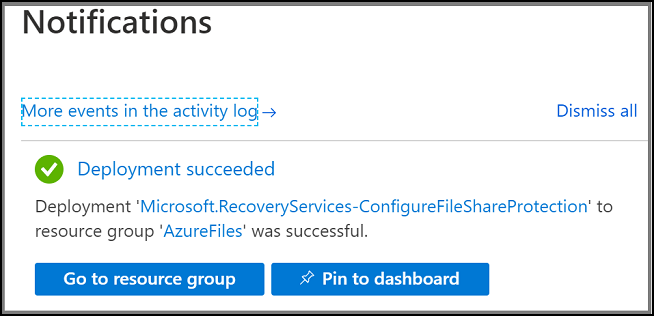 Azure File Backup is not going to be a suitable choice in every situation. In view of the disadvantages, it's important to evaluate third-party backup options. So EaseUS Todo Backup is highly recommended as an alliterative to back up files.   
Best Azure File Backup Alternative to Back up Files to Cloud & Local
EaseUS Todo Backup is reliable and free backup software with 13 years of experience. Not only support backing up your files to the cloud, but also access to local. The outstanding merits are below:
Efficient: Support more advanced options like a backup scheme, incremental backup, or differential backup. It makes your backups more efficient according to your need. 
Safe: support encrypting the backup system images to make your data safe.
Follows these steps if you need to back up your files to cloud or local:
Step 1. To initiate a backup, click the Select backup contents option.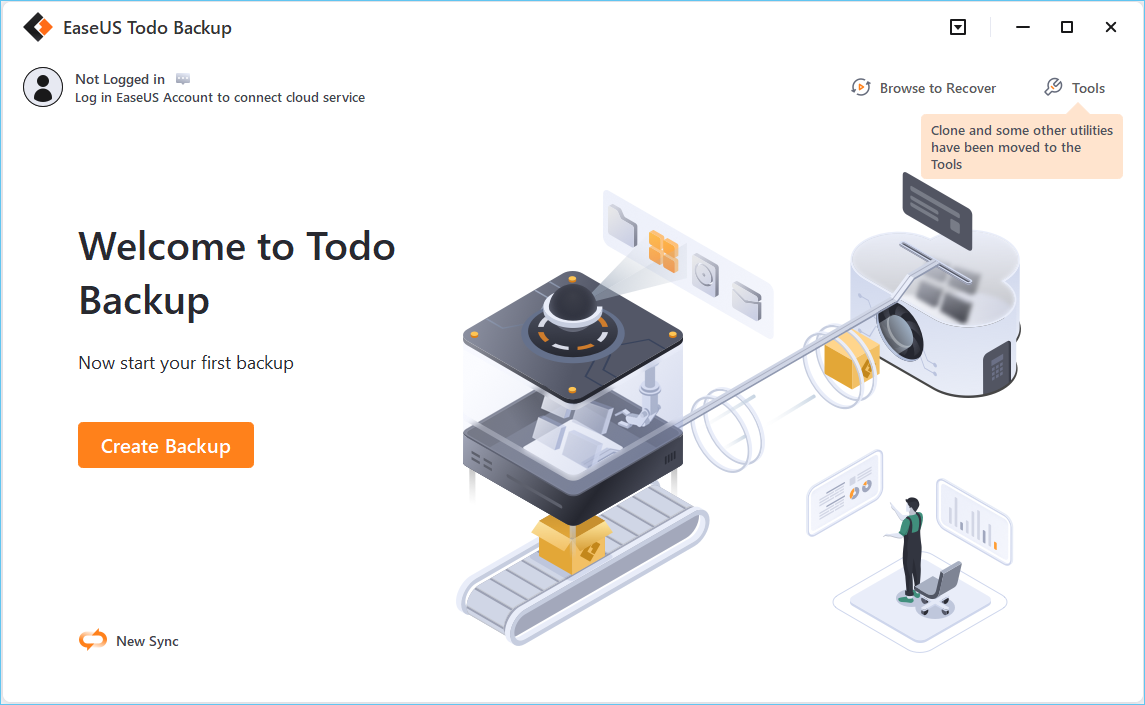 Step 2. There are four data backup categories, File, Disk, OS, and Mail, click File.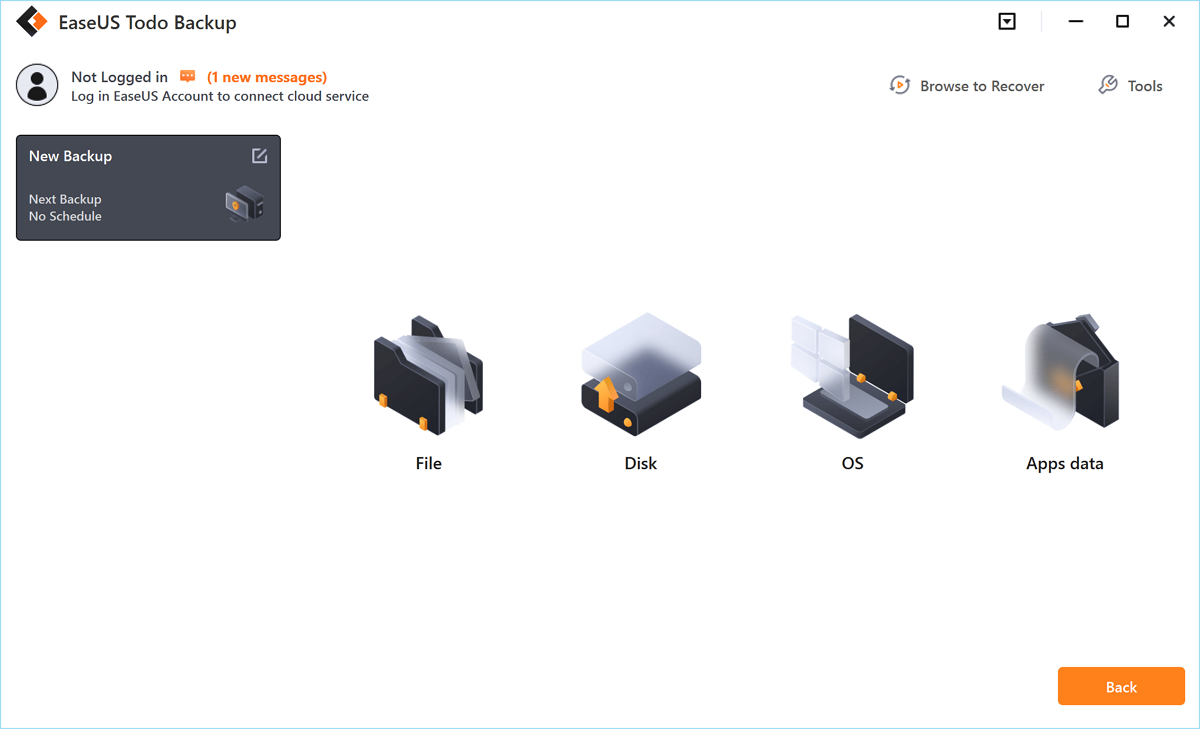 Step 3. On the left, both local and network files will be shown. You may extend the directory to pick the backup files.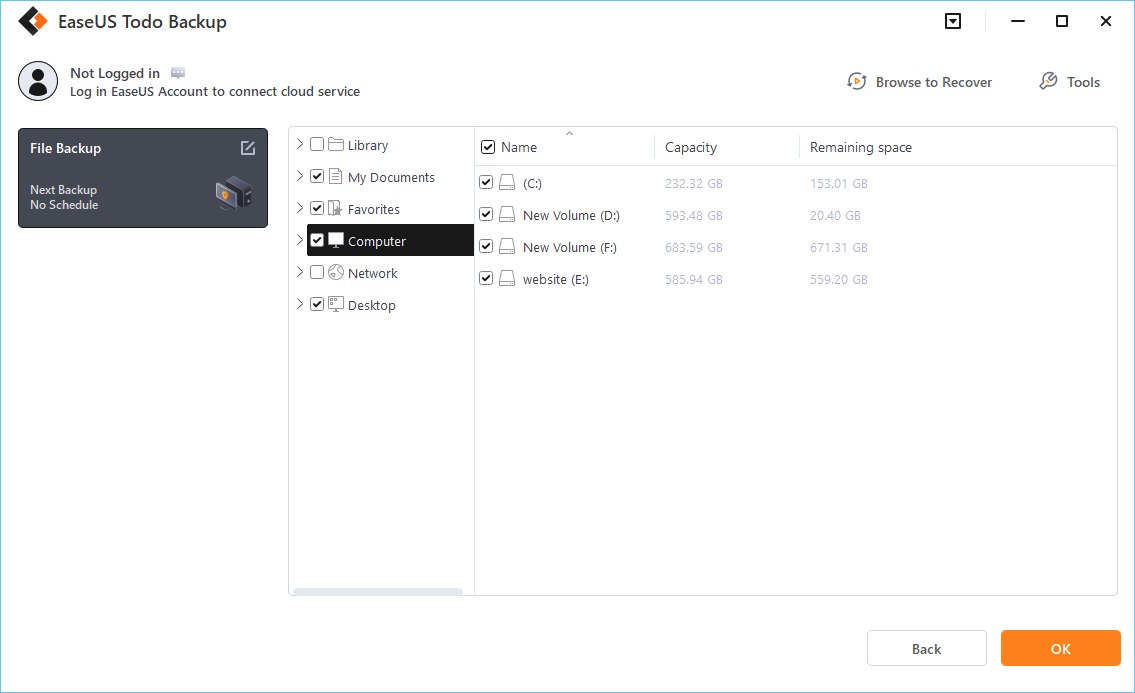 Step 4. Follow the on-screen instructions and choose a location to store the backup.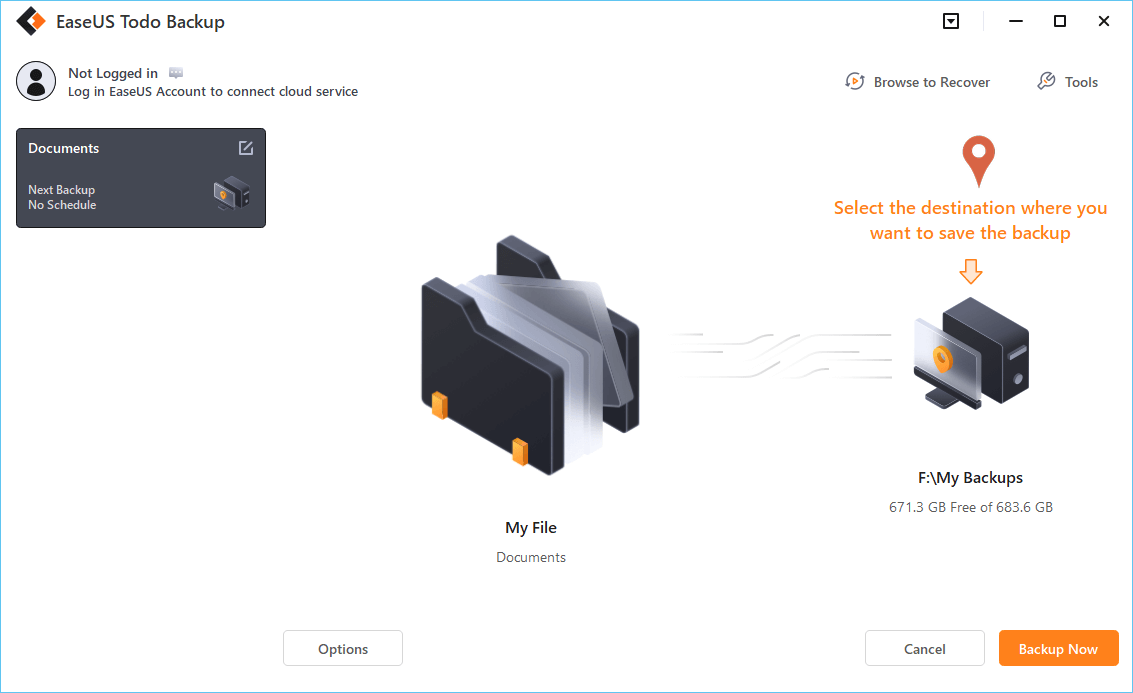 Click Options to encrypt the backup with a password in Backup Options, then click Backup Scheme to specify the backup schedule and start the backup at a certain event. There are also other additional choices you may choose to tailor the backup process to your requirements.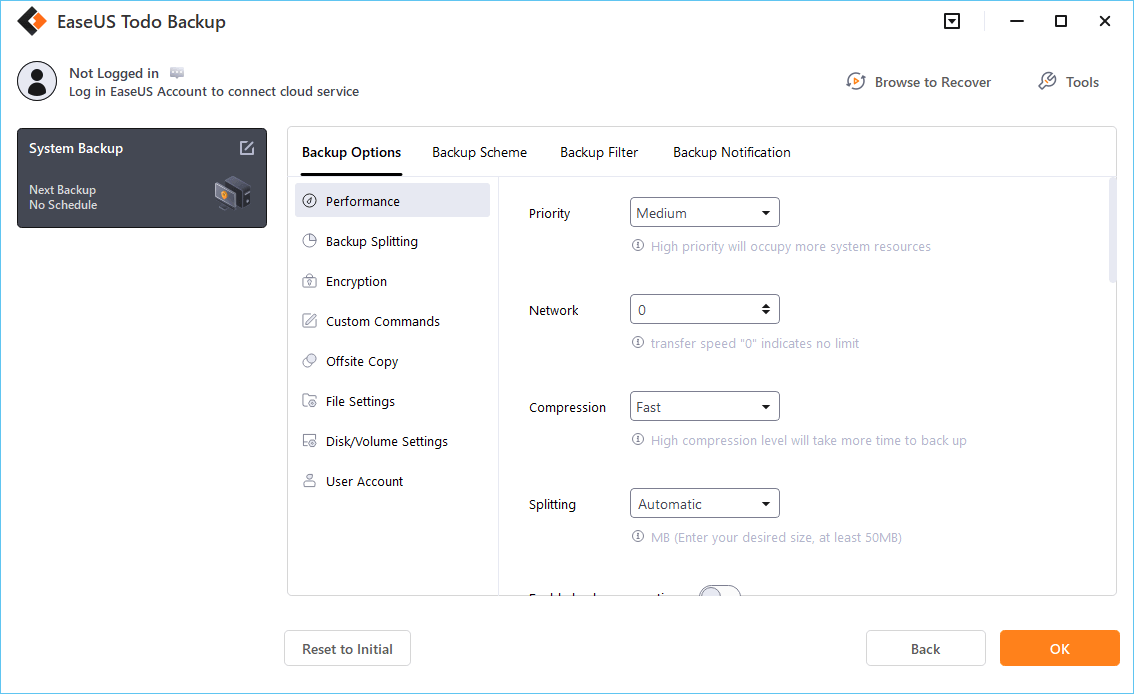 Step 5. The backup may be stored on a local disk, EaseUS' online service, or NAS.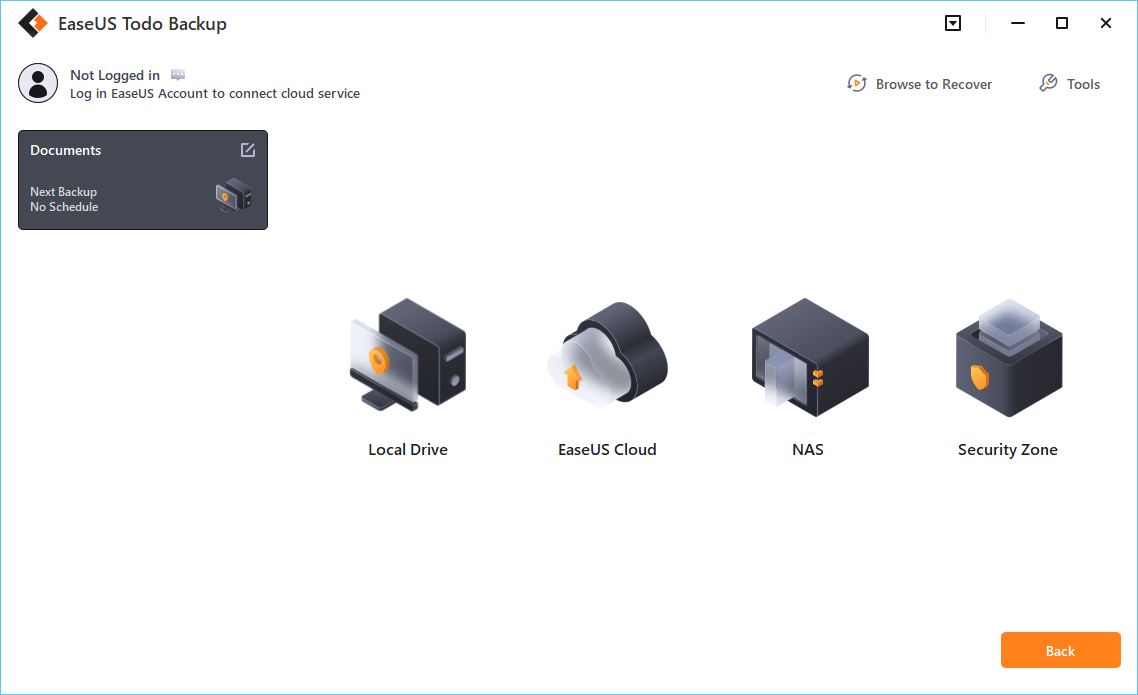 Step 6. EaseUS Todo Backup enables customers to back up data to a third-party cloud drive as well as its own cloud drive.
If you want to back up data to a cloud drive provided by a third party, choose Local Drive, scroll down to add Cloud Device, and then add and log in to your account.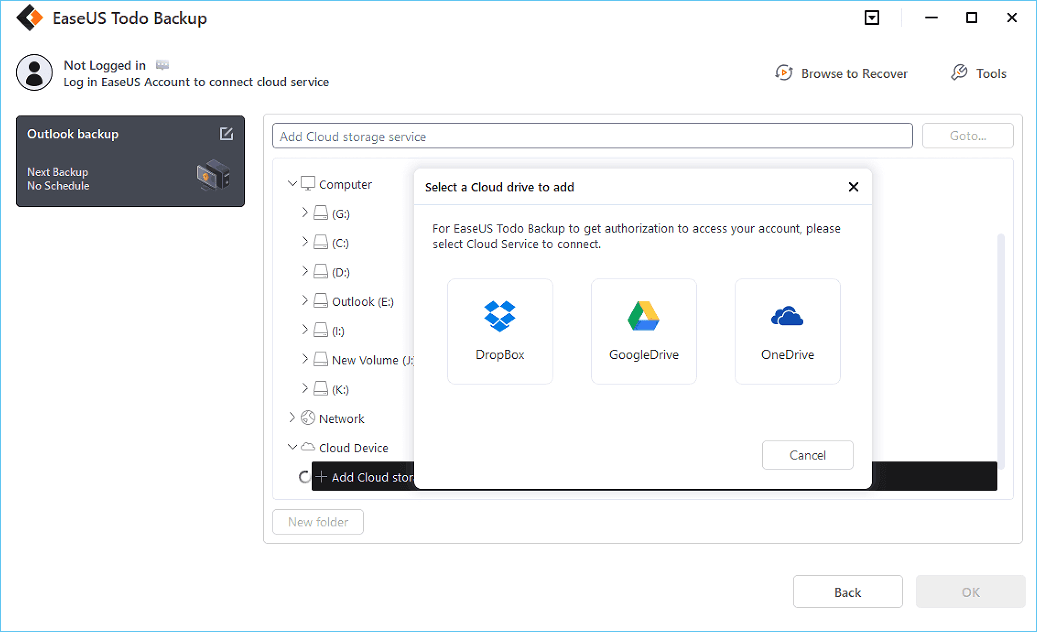 You can also choose the EaseUS cloud drive. Sign up for an EaseUS Account, then click EaseUS Cloud and log in.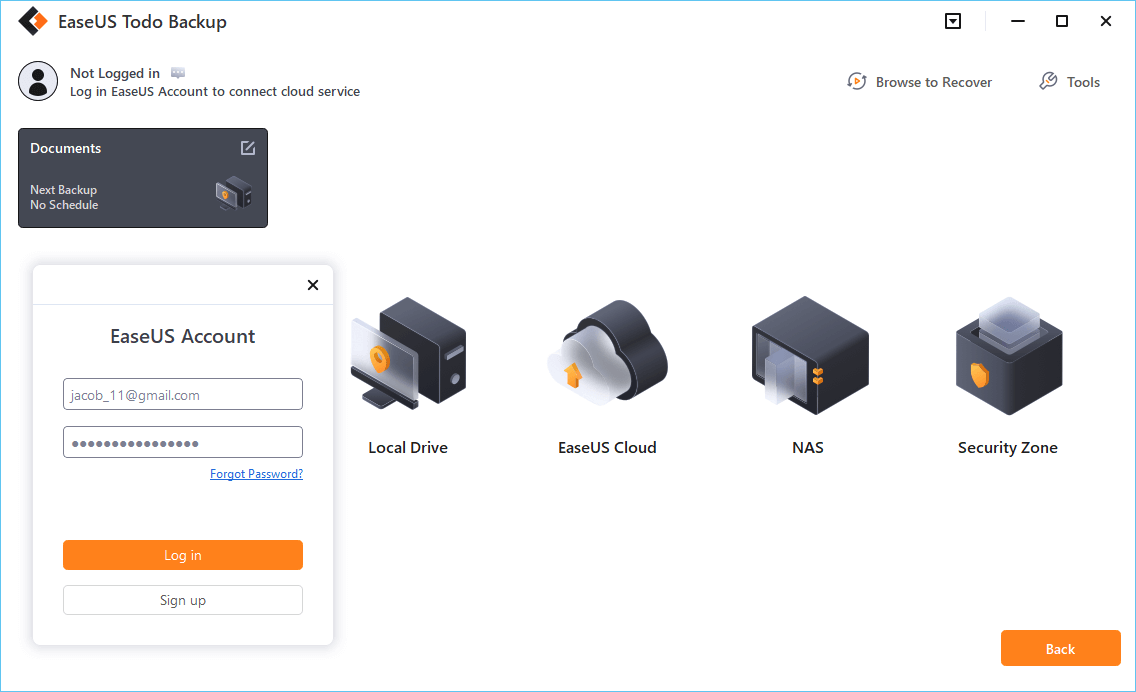 Step 7. Click Backup Now to begin the backup process. The backup job will be presented as a card on the left side of the panel after it has been finished. Right-click the backup job to handle it further.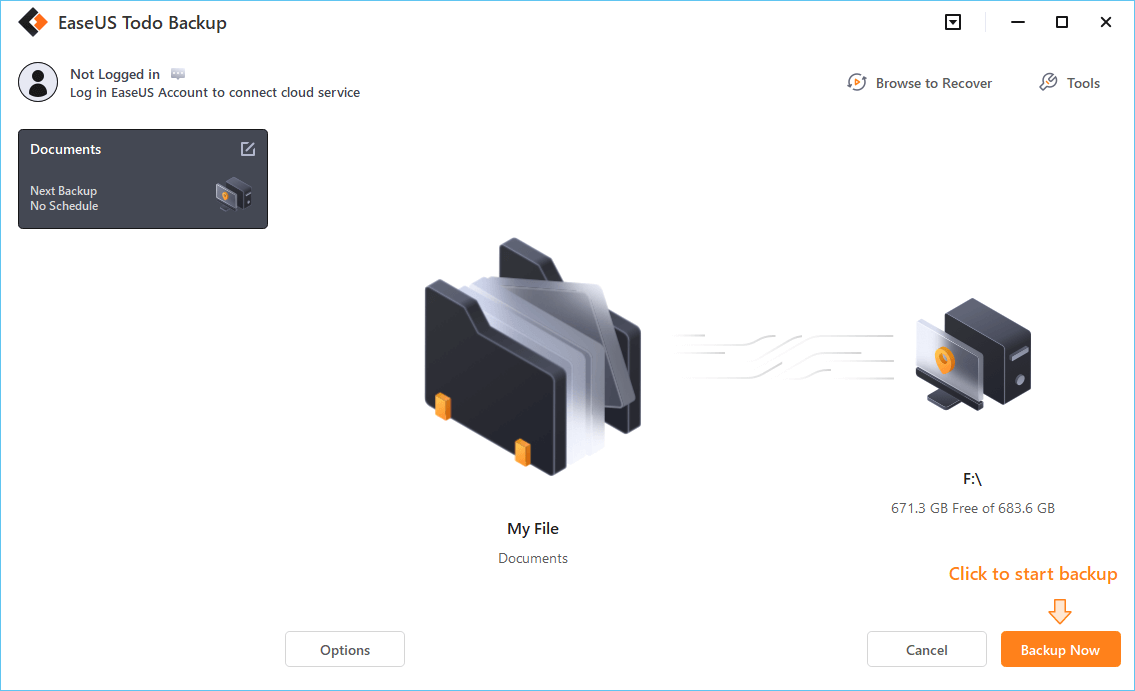 Azure Backup is a capable product for backing up files running within the Azure cloud. But if you have higher requirements, maybe you need to choose the best free backup software for windows 10/11. It's important to evaluate EaseUS Todo Backup alongside Azure file backup to see what will best meet your needs under different situations. Apart from that, we suggest you keep 3 2 1 backup rule in mind no matter what tools you use, no matter whenever you back up your files.
FAQs:
What is Azure file share?
An Azure file share is a convenient place for cloud applications to write their logs, metrics, and crash dumps. It also can be used as persistent volumes for stateful containers.
How do I deploy an Azure file to sync?
1. Prepare Windows sever
2. Deploy the storage sync service
3. Install the Azure file sync agent
4. Register Windows sever with storage sync service
5. Create a sync group, a cloud endpoint, and sever endpoint
6. Enable a server endpoint to proactively recall what changed in an Azure file share
7. Onboarding with Azure File Sync
What are Azure files?
Azure Files is an Azure File Storage service you can use to share files, development or debug tools. It enables you to access files remotely or on-premises via API through encrypted communications. 
 
Was this page helpful? Your supoport is truly important to us!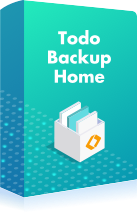 EaseUS Todo Backup
EaseUS Todo Backup is a dependable and professional data backup solution capable of backing up files, folders, drives, APP data and creating a system image. It also makes it easy to clone HDD/SSD, transfer the system to different hardware, and create bootable WinPE bootable disks.
Updated by

Daisy is the Senior editor of the writing team for EaseUS. She has been working in EaseUS for over ten years, starting from a technical writer to a team leader of the content group. As a professional author for over 10 years, she writes a lot to help people overcome their tech troubles.…

Read full bio

Written by

Jean is recognized as one of the most professional writers in EaseUS. She has kept improving her writing skills over the past 10 years and helped millions of her readers solve their tech problems on PC, Mac, and iOS devices. …

Read full bio