How do I unlock a phone with a broken screen?
"Yesterday, I dropped my Android phone and broke my screen pretty good. Now I can't unlock the phone since there's no response when I touch the screen. Is there any way I can control or access my phone and recover my data without having to use the touch screen. There are some really important pictures and music files. Please help!"
Breaking the screen of your smartphone is fairly a common occurrence. When it attacks, how to unlock and copy data off the phone with black, dead or cracked screen and become a problem. If you are not sure how to do it, please don't worry! Here are some tools and Android data recovery tips that might help!
Method 1. Retrieve data with Android broken screen data recovery software
EaseUS MobiSaver for Android works well in broken screen data recovery. With its help, it is no longer a problem to recover data from Android phone with broken screen. So, if you are looking for a way to unlock Android device with broken screen and retrieve your data, just download and try this program.
Note: EaseUS MobiSaver for Android only available for broken screen data recovery software when you have rooted your phone and enabled the USB debugging mode.
Step 1. Connect your Android phone to computer, launch EaseUS broken screen data recovery software, then click "Start" button to make the software recognize and connect your device.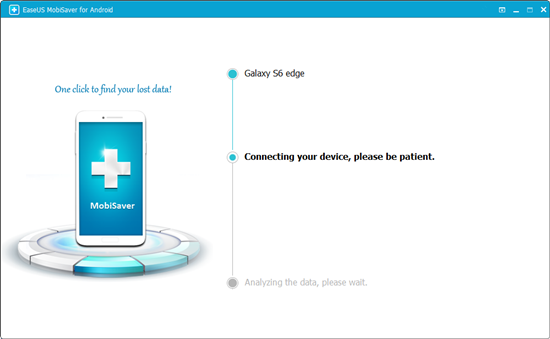 Step 2. After connecting your Android phone, the software will quickly scan the device to find all the existing and lost data. You can easily find the lost files you want by choosing the correct file types.
Step 3. Preview all the recoverable files one by one and then you can select out those you want quickly. Finally, you can click "Recover" button to export the selected files back and save them on your PC.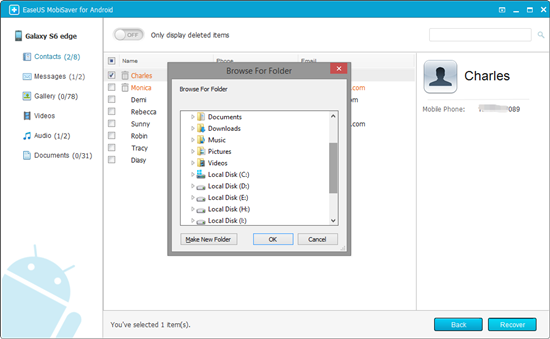 Method 2: Unlock phone with broken screen using a USB Mouse and the On the Go Adapter
If you don't have USB debugging enabled on your device, then try to unlock phone with broken screen using a USB Mouse and the On the Go Adapter which you should use to connect the phone to the USB mouse. You can easily find an OTG adapter online. Here, before starting, please note these tips:
Check if your device can be connected to a USB mouse here: http://www.corsair.com/en/landing/otg-compatibility-list.
Ensure your device is sufficiently charged because the Mouse may drain your battery.
Step 1. Connect the Micro USB side of the OTG adapter to your device and then plug in the USB mouse to the adapter.
Step 2. As soon as the devices are connected, you will be able to see a pointer on your screen. You can then use the pointer to unlock the pattern or enter the device's password lock.
Step 3. Go to backup the contents of your device to Cloud storage, PC or other external storage devices.