Super Mario Run, another fantastic mobile game right after Pokémon Go, released by Niantic, is now available for all iOS and Android users to free download and play the game now. However, some Android users complain that they cannot access to download a pure APK install files of Super Mario Run for Android devices.
Relax! You are at the right spot and here in this article you'll find detail guide for Super Marion Run APK download and install for Android now. No data loss issue will occur and if you have lost some valuable personal files after installing game files such as Super Mario Run, you can also follow this article to get lost game files or personal data restored with ease now.
Note: It's been proved that Super Mario Run APK for Android will not be released till 2017. So if you are trying to download a installing APK for this game, you shall be very careful if someone or some website tell you that they have the APK files. And please do wait for the official announcement from Niantic about when the real Super Mario Run for Android will be available.
Though it may be a little bit late for Android users to enjoy Super Mario Run on their phones or tablets, it's still necessary to know what to do for fully get Android devices ready for the coming game and where to download the pure APK installation files for Super Mario Run when it's available for Android devices. Now let's see how to get everything prepared and get the game with right downloading access without losing any files:
Step 1. Backup and extract Android data before install Super Mario Run
In order to avoid unexpected data loss issue or fail to install Android games such as Super Mario Run on Android devices due to low internal memory space, it's highly recommended for Android users to backup and extract some Android data and files to free up space for Super Mario Run or other games before downloading APK. How?
If you have an external SD card in your Phone, you can also use the external SD card to install Super Mario Run. But if you don't have one or you are worried about losing fancy data on your phone, please do let professional Android data recovery software to extract and even restore lost files on Android devices so to free up internal memory space for Super Mario Run for you. Here you may try EaseUS MobiSaver for Android which supports you to do the job within 3 simple steps. Just free download and activate it with below steps to free up space on Android device now:
1. Connect your Android phone/tablets to computer
Install and run EaseUS MobiSaver for Android and connect your Android phone to the computer with USB cable.
Then click "Start" button to let the software read and connect your device.
NOTE: As the software can only access the rooted Android device, you need to make sure that your phone has been rooted before recovery.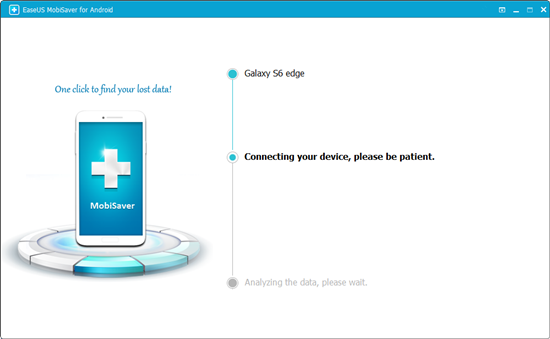 2. Scan Android phone to find the all data
After connected your Android phone, the software will quickly scan the device to find all the existing and lost data including your lost files.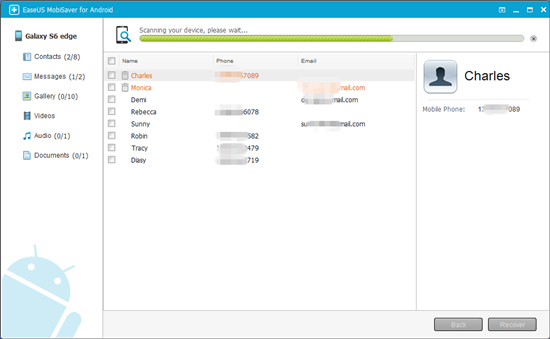 3. Preview and recover found data from Android phone/device
Preview all the recoverable files one by one and then you can select out files that you don't use often to extract from your Android device.
Finally, you can click "Recover" button to extract all selected files to a safe spot on PC once.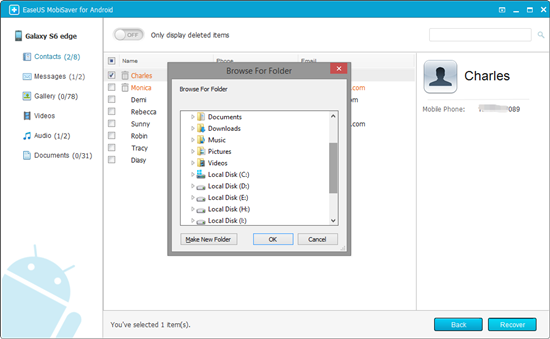 If you lost valuable data on Android devices, you can also follow the above 3 steps to restore lost data with EaseUS MobiSaver for Android as well.
Step 2. Free up space on Android device for downloading and installing Super Mario Run
After Step 1, you've successfully created backups for your Android phone or tablets and now you can try to remove or delete those files that are not quite important or cannot be used frequently on your phone so to free up enough internal space to download and install games.
With enough space on Android device, you'll have a fast and smooth game playing experience with Super Marion Run.
Step 3. Download pure APK for Super Mario Run on Android
Though it seems that quite a lot Android users claimed that they've got the Super Mario Run on their phone, it's been improved that most of them have downloaded malware and some are even playing a similar game with Mario inside.
Anyway, it's been noticed that the real Super Mario Run will be soon available for users to download on their Android devices in 2017. When it's available for users to download and install, where do you play to get it?
Here we'd like to offer you a direct access with pure APK for Super Marion Run on your Phone. You can directly click below link to get access to download Super Mario Run on your phone:
Download pure APK for Super Mario Run on Android
By clicking this link, you'll directly get an access to Super Mario Run on Android.
Another way to download Super Mario Run is to find it in App Store on Android phone when it's published:
Go to App Store > Tab Games > Search Super Mario Run > Click Download
Then you'll get it on your phone and enjoy this new game downloaded, you can install it on Android and play it with fun.