Overview of Samsung Smart Switch
Samsung Smart Switch software was developed exclusively for virtually any Samsung Galaxy devices, being used to seamlessly transfer personal data, media files and apps from either Apple or Android smart phones with or without using a Windows PC and Mac. The easy phone data transfer utility is now updated to support the latest Android 6.1 Marshmallow and iOS 9 and allowed to run on Windows XP (SP3), Windows Vista, Windows 7, Windows 8 and Mac OS X 10.5 or later, with which Galaxy device users can execute the following operations:
Samsung Smart Switch between mobiles
Smart Switch Mobile lets you transfer a wide variety of content from your iPhone (via iCloud or using Micro USB to USB adapter) or Android device to your Galaxy device.
Samsung Smart Switch for PC/Mac
With Smart Switch for PC/Mac, you can upload the data and apps from your old device to a PC or Mac and transfer all of them to your new Galaxy device.
Why A Samsung Smart Switch Alternative
It's a fast and painless way to use Samsung Smart Switch to transfer contacts, photos, music, videos, messages, call logs, notes, calendars, memos and more from the old mobile to a newly purchased one, however, note that the target phone has to be a Galaxy device. Do people using non-Samsung mobile phones have an equivalent Samsung Smart Switch program to make phone transfer with ease? Next I'm going to introduce the best Samsung Smart Switch alternative for all the Android and iOS devices users. Apart from Android data transfer and iPhone data transfer, this Samsung Smart Switch software like tool can also be used for phone data backup and restoration.
Recommended Smart Switch Equivalent for All Android Phones & iOS devices
The phone data transfer guide in below can be applied to cases of phone data recovery as well. You can't do the transfer directly between two mobile devices but rely on an intermediate set, which can be either a Windows computer (Windows 10/8.1/8/7/XP/Vista is supported)or a Mac.
1. EaseUS MobiSaver for Android
EaseUS MobiSaver for Android supports all data transfer and lost data recovery from Android phones under Android 6.0 Marshmallow, Android 5.1/5.0 Lollipop to a Windows computer and then you're allowed to copy the imported data to another Android phone, no matter it's a Samsung mobile or not.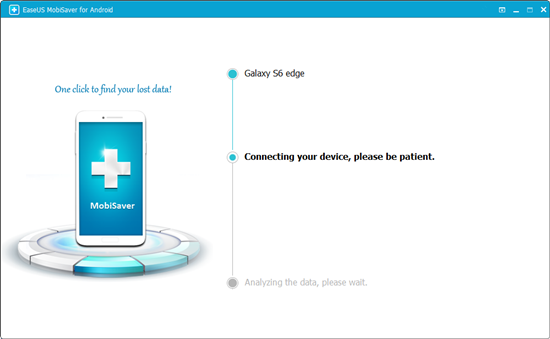 2. EaseUS MobiSaver for iOS
EaseUS MobiSaver for iOS works 100% compatible with any iOS 9.x devices, by which users can make the iPhone data transfer as well as iPhone data recovery from the device, iCloud or iTunes backup.