Pokémon Go Update Resets Game Progress Back to Level 1 on iOS/Android/Windows Phone
"I'm trying to stay calm but why did my Pokémon Go reset and I lost all my levels and Pokémon? Anyone else has this problem?"
"My Pokémon Go app was reset and I lost everything. I was Level 14 and I had just caught Charmander today. Actually crying..."
"My Pokémon Go account was reset back to level 1. I was level 20. Is there any way to get my Pokémon Go progress back? After update my account was reset to the beginning, so I lost all Pokémon and all the money I put into this game? Horrible!"
Pokémon Go becomes a craze in this summer, and all the young and old participated in the game. Lately, they got a horrible surprise that Pokémon Go update on iOS and Android phones resets their game progress back to the beginning. They lost all Pokémon Go game data, money and Pokémon they caught in days and nights! Now they desperately want their efforts back. So, in the following part, we're going to offer two ways from experienced Pokémon Go players to restore Pokémon Go game files after Pokémon Go update and reset.
Solutions: Restore Your Pokémon Go Game Data, Progress, Levels and Pokémon
First, troubleshoot Google account
On Reddit forum, a man said that he has helped his wife regain all Pokémon after update resets the app. And later, many players voted his sharing, saying they followed his solution and get all their lost back. Here's how he make the problem all right.
"If you appear to be starting over after logging in, it is because you're logging in with a different Google account. Authentication on iOS was changed to use the SafariViewController instead of WebViewController. This means it shares cookies with Safari, so you may already be signed in or it may autofill your email/password...but not the correct one. Quit the app, sign out of all Google services in Safari, and try again."
Second, use data recovery software to retrieve all lost game data
The first attempt seems to be very simple and effective. However, Android users may feel disappointed, because no one shares a proper method for Android Pokémon Go game data recovery so far. In fact, we've found them an alternative, which is applying an Android data recovery tool.
EaseUS MobiSaver for Android is a proficient game data and files data recovery software which would effectively help recover lost, deleted and erased Pokémon Go game data due to Pokémon Go update reset. Here's how you can employ the software to restore Pokémon Go game history automatically.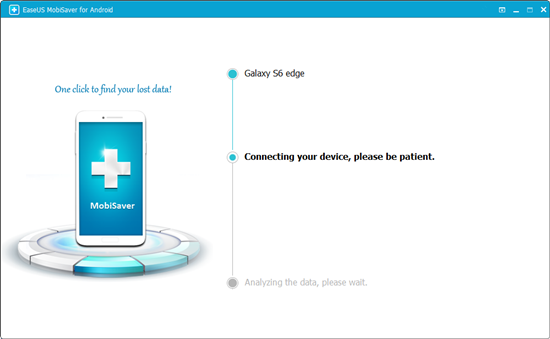 Download and launch EaseUS Android data recovery tool -> scan Android device -> preview and recover Pokémon Go game files.