Best partition manager 64-bit freeware to manage your partition easily
Free 32 bit & 64 bit partition manager is needed more as 64 bit OS is more and more commonly used by home users. The terms 32-bit and 64-bit refer to the way a computer's processor (also called a CPU) to handle information. The 64-bit versions of Windows can utilize more memory than 32-bit versions of Windows.
Why we need free partition manager 64 bit software?
Having partitions on a hard disk almost works like having different hard disks. One of the main objectives of having partitions in a hard disk is for separation of user files from operating system files and makes best use out of your device.
By partitioning, you can keep user files in a separate partition from another that hosts the operating system, and it would be ideal to have a separate partition for each system if you need to prepare for a multi-booting setup from a single disk. Other than these purposes, you might also want to refer to other benefits for disk partitioning like extend partition, copy partition, partition recovery, merge partitions etc.
64 bit partition management can also be done with Windows' built-in Disk Management utility, but most average users will like third party or standalone free 64 bit partition manager software, which offers easy user interface and features. EaseUS Partition Master Free is such a free partition manager 32 & 64 bit software we would like to share.
Free partition manager 32 bit & 64 bit software - EaseUS Partition Master Free
EaseUS Partition Master Home freeware allows you to easily create, delete, format, convert or explore partitions under Windows 2000/XP/Vista/7/8, 32-bit and 64-bit. Savvy functions like resize, move, merge, split, hide or unhide existing partitions are also offered for free. Plus, EaseUS Partition Master Free freeware also includes partition/disk copy wizard and partition recovery wizard to protect your data with double safety.
This free partition manager 64 bit software also provides top-class user experience by using an intuitive, user-friendly interface. Only relevant tasks are enabled when a partition is selected, and there is no need to worry if you're not familiar with the freeware, as the tasks will not be executed until you confirm and apply the operations.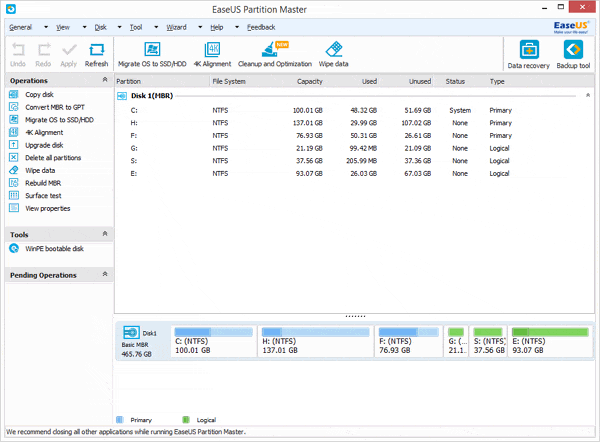 Free 32 bit & 64 bit Partition Manager - EaseUS Partition Master Free
EaseUS Partition Master is in all respects similar to Partition Magic, which was the benchmark in partition manager for many years, so that the customers' habits are perfectly protected.
EaseUS Partition Master provides different editions to meet different users' need:
Do not forget to backup your data! Reliable Windows backup software for business and home users.
System, file backup and disaster recovery.
Backup system state or save important data.
Automatic backup and much more.
Related Articles: